As we've explored previously, private jet experiences seem to be the way forward in a world where conventional air travel remains out of the question — for those who can afford it, that is.
During these extraordinary times, struggling airlines have been coming up with various ways to sate hungry appetites for travel. You might have heard of commercial planes offering short trips, even just circling above Hong Kong for an hour or two, or even initiatives where you can dine on a grounded plane, just for the experience of being in an aircraft again. But why suffer through the masochistic experience of cramped cabins when you can spread out in an eight-person private jet? It takes a truly worthwhile experience to pique our interests. In the spirit of Mid-Autumn Festival — which is as much about celebrating the autumnal harvest after the full moon as it is about lavish feasting with the ones you love — VistaJet and the Mandarin Oriental Hong Kong have recently partnered up to celebrate the occasion. The 'Once in a Blue Moon' campaign was created with the 1 October full moon in mind, for guests to admire the brightest moon of the year up close — 40,000 feet up in the sky.
Available now for the limited time through 15 October, the package includes a two-hour flight departing from Hong Kong to any available destination, or even just in the regional airspace (VistaJet currently flies to 187 destinations around the globe, but that will depend on current border and quarantine restrictions). Guests will be able dine on an extravagant eight-course in-flight menu prepared by chef Wong Wing-keung, the executive chef of Man Wah at the Mandarin Oriental, Hong Kong.
The menu features an array of classic dim sum and banquet-style dishes, but with the Man Wah's exquisite touch with some of the best ingredients available. Think siu mai with succulent Hokkaido scallops, double boiled matsutake and chicken broth with fish maw, a tender braised chicken and abalone casserole, fresh crab claw with vermicelli. A particularly laborious traditional dish of barbecued duck leg and an accompanying duck sausage — stuffed with chicken liver and taro — is one of chef Wong's highlights.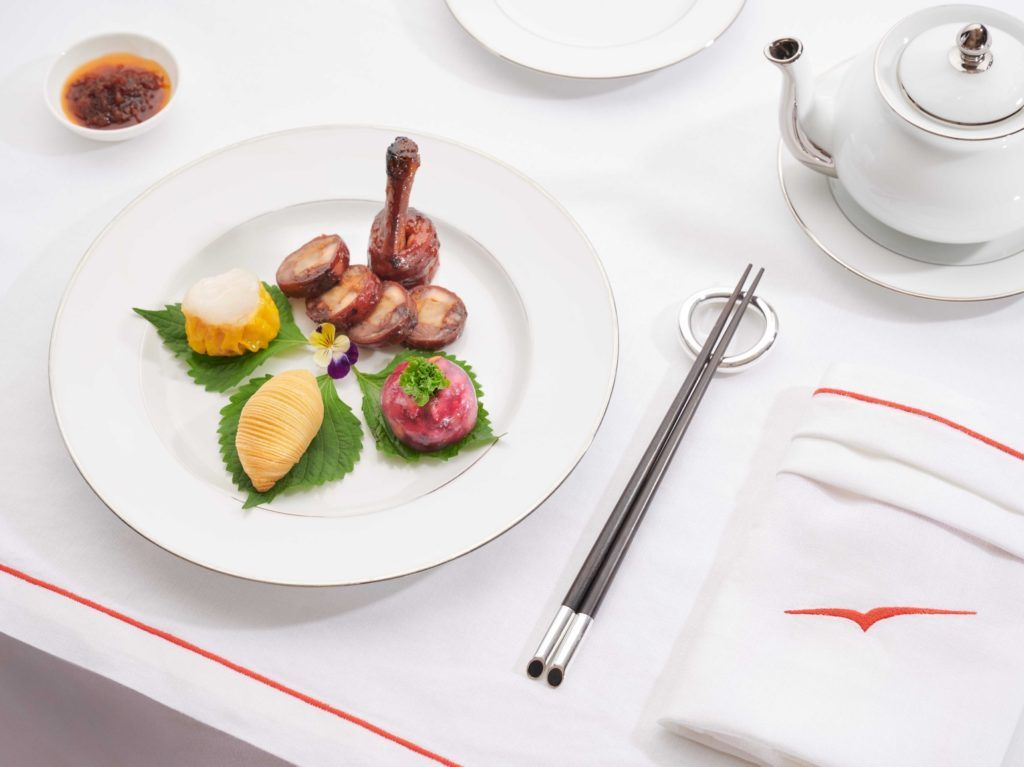 But that's not all — the package also include a staycation at the MO, including a slew of special inclusions, such as a private cooking masterclass with chef Wong himself, where you get to learn recipes dating back to the Qing dynasty. The 'Once in a Blue Moon' package is quoted at a ballpark price of HK$31,500, but may differ depending on the destination of choice, jet type, number of room nights at the Mandarin Oriental and more.
Alternatively, you can also choose to shelve your flight for later until the end of the year. As long as you book before 15 October, you can get up to US$5,000 off your next flight and have the menu at the Krug Room for lunch instead.
Interested in just the menu at the Krug Room? It's a grand total of HK$2,080 for the menu per person, with 72-hour reservations in advance required (call +852 2522 0111 or email mohkg-restaurants@mohg.com) for a minimum of four guests. Available Wednesday to Sunday for lunch only.
Learn more at VistaJet online.