Located across the East River from lower Manhattan, Brooklyn may no longer be an up-and-coming borough, but it's still New York's thriving hub for designers, local artisans, musicians, street artists, you name it — all seeking a creative outlet and like-minded community. More relaxed and laid-back than bustling Manhattan, Brooklyn's sheer size allows plenty of room to breathe — particularly attractive for outdoor enthusiasts who want to spend their day biking the Brooklyn Bridge or jogging along the waterfront at Brooklyn Bridge Park.
A trip to this borough delights all the senses, whether you're sipping the latest craft beer from Brooklyn Brewery, contemplating street art in Bushwick, or teasing your taste buds with hundreds of artisanal food vendors at Smorgasbord. Or why not spend a cultural afternoon soaking in the art at Brooklyn Museum? Remnants of the area's industrial past can be seen in the many warehouses, lofts and docks that comprise the neighbourhood; Brooklyn is, after all, the birthplace of the industrial-chic aesthetic that's since proliferated around the world. The next time you find yourself in Manhattan, don't miss out on a trip to its more eclectic neighbour. Below, a must-hit list for this hipster haven.
Eco-luxe doesn't get much better than 1 Hotel Brooklyn Bridge, the design-led hotel conceived by INC Architecture & Design, built on an 'outside-in' ethos. Perched on the pier with killer views of the Brooklyn Bridge and East River, this waterfront retreat has made countless best-of lists — and rightfully so.
With spaces featuring a blend of reclaimed, recycled materials and lush green landscaping, 1 Hotel Brooklyn Bridge feels like a cross between a nature reserve and a chic urban hangout. Thoughtful touches in the guest rooms speak to the eco-conscious 21st-century traveller, from ultra-soft 100% cotton organic sheets, to the industrial steel palette with pine flooring, a preserved moss garden by the sink, and even your own individual filtered tap water dispenser.
Without a doubt, the highlight of the hotel is the rooftop pool and lounge, offering a 270-degree view of the Manhattan skyline, with Lady Liberty in the distance. After a dip in the swimming pool, cosy up on one of the plush lounge sofas to nibble on cheese platters and a refreshing cocktail from Harriet's, with live DJs playing at dusk. To complete the cleansing experience of a stay at this eco-hideout, retreat to Bamford Haybarn Spa at the end of the day to indulge in a range of holistic treatments.
This OG pizza joint has long been known as one of New York's finest: hailed by many as the best pizza in Brooklyn. Our take? It certainly has all the trademarks of a delicious pie: crisp-edged crust cracking to reveal a pillowy interior — not too thick and not too thin — zippy tomato sauce, and a good crust-to-sauce-to-cheese ratio. The best part? They're served piping hot (seriously, you'll need a minute or so before you can even pick up a slice).
The pizzeria has an old-timey feel with its traditional red-checkered tablecloths, and while the location right below the Brooklyn Bridge draws in throngs of tourists — if you time it right, you can get in without waiting between the busy lunch and dinner rush. This is a pie-only joint (no slices), so come with a buddy or two.
The trend of young chefs embracing and reinventing the food of their ancestral homeland continues at Win Son, opened by Trigg Brown and Josh Ku. Taking inspiration from their numerous food safaris around Flushing, Queens, the duo have created a cheap and cheerful menu inspired by Taiwanese street eats — from black sesame mochi doughnuts to three-cup chicken, turnip cakes, oyster omelets and scallion pancakes. Wash down the sharing-style meal with well-balanced cocktails such as the cooling chiña colada with an herbaceous kick of cilantro and basil.
Missy Robbins has been hailed by many as the pasta queen of New York. At her stylish eatery in South Williamsburg, Misi (sister restaurant to Lilia), Robbins is dishing out some of her most memorable pasta dishes yet — starting with the sheep's milk ricotta-filled occhi, sunshine-yellow parcels sprinkled with salty bottarga. Whether it's chickpea ravioli perfumed with rosemary or linguini hit with the funky tang of anchovies, you can't go wrong with simply closing your eyes and pointing at the menu.
This Brooklyn mainstay has been serving up sensational BBQ for years, and has since expanded to another location in Sunset Park. At the flagship restaurant, you can sample the famous pull-apart brisket and lamb banh mi, as well as Oaxacan-style chicken with salsa verde and corn tortillas, and pulled pork tacos with spicy ranch dressing. A slew of sides range from whisky sour pickles to Texas-style queso mac 'n' cheese, while the banana cream pudding is a must-order for dessert.
Brooklyn's full of divey bars, but if you want to dress up and head somewhere a bit fancier, there's no beating Westlight at the stunning William Vale Hotel, towering high above the city. At the 22nd-floor rooftop bar, you'll find the well-heeled set snacking on elevated bar snacks and sipping US$20-plus wines and craft cocktails, all while soaking in the breathtaking views. Head there early to beat the snaking line at the elevators.
One of the progenitors of the craft beer revolution, Brooklyn Brewery remains a must-visit for hops enthusiasts. The 4,000-sq.-ft. warehouse produces some of the best craft beer in New York, starting with the flagship amber-hued Brooklyn Lager, with its distinct floral aroma. Head to the Tasting Room to try other brews from the Brooklyn Chocolate Stout to the dry and fruity Defender IPA.
On any given day, you'll find crowds of joggers and commuting cyclists traversing the length of the Brooklyn Bridge; at just over a mile long, it's one of the best ways to soak in the city while getting fresh exercise. A dedicated pedestrian walkway is roomy and elevated above traffic, so you don't need to worry about the noisy cars zooming by. The bridge affords great views no matter which end you start from. From Brooklyn, find the entrance at the intersection of Tillary Street and Boerum Place.
Acres of green space make up the newly expanded Brooklyn Bridge Park, lending plenty of room for quiet pause and contemplation (not to mention photo ops) following a brisk walk across the bridge. The new Pier 3 offers a large central lawn for enjoying a picnic under the shaded pines as you watch the ferries carve a path across the East River. Or, head to the exploratory labyrinth with interactive games and mazes. After you've worked up an appetite, join the queue at Juliana's nearby for a slice of wood-fired pizza, or grab a seat at the iconic River Café in their floating-barge dining room.
Independent designers and artisanal producers have long made Brooklyn their home, which makes the borough the place to shop if you're looking for a unique one-of-a-kind-gift. Bedford Avenue is Brooklyn's main drag and well-known amongst locals and tourists alike, but venture north to the lesser-known Grand Street in Williamsburg and you'll find a host of boutique stores and undiscovered gems.
One favourite store amongst locals is Bird, an arbiter of the Brooklyn-chic aesthetic sporting sustainable-minded attire arrayed in a multitude of colours and textures. Other places to hit include hybrid gallery and retailer About Glamour, and fine jewellery boutique, Quiet Storms.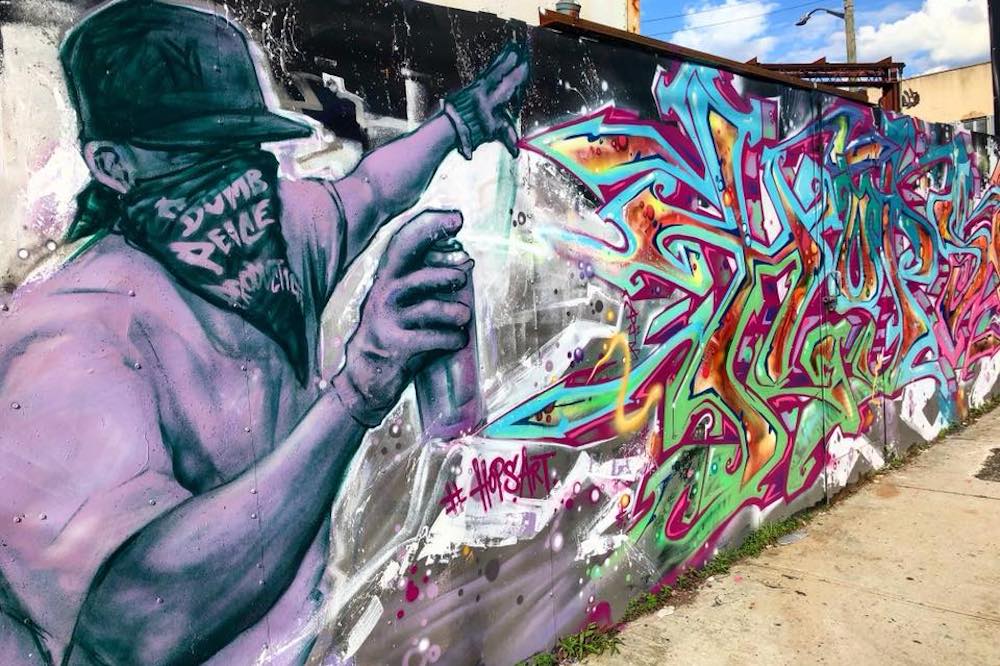 Colourful murals and graffiti art line the warehouse walls of Bushwick, where you'll locate some of the best street art in all of NYC. Here you can spend a day soaking in road-side art to your heart's content, with mosaics, stencils, stickers and all sorts of graffiti art plastered across houses, fences and warehouse walls. At the crossroads of Truman Street and St. Nicholas Avenue, you'll find The Bushwick Collective, made up of dozens of artists from around the world who have painted hundreds of walls in the neighbourhood.
Occurring every Saturday (Williamsburg) and Sunday (DUMBO) from April through October, the Brooklyn Flea Market is one of the largest in the city, a treasure trove for getting your hands on vintage antiques, collectibles, furniture, clothing and more. Here, you'll find hundreds of top vendors gathering to sell their vintage wares and handmade arts and crafts. Of course, the Brooklyn Flea also operates Smorgasburg, the largest weekly open-air food market in the country — an essential rite of passage for any first-time foodie to New York. Make sure you hit both to experience the best of Brooklyn's creative community.