For most of us, we're keeping Christmas travels close to home this year. By that we mean shuttling across Kowloon, Hong Kong Island and the outlying islands with the city's latest staycation deals.
With international travel put to a grinding halt, so has annual holiday plans to celebrate the festive season abroad. No checkbox has been ticked on travel bucket lists this year and no milestones met for adventure aficionados either. But that's not to say there's no way to satiate the travel bug — explore the city with its plethora of hidden experiences; bar-hop at some of the very best hotel bars; and treat yourself to a feel-good spa escape with Hong Kong's selection of fabulous staycations.
The Mandarin Oriental Hong Kong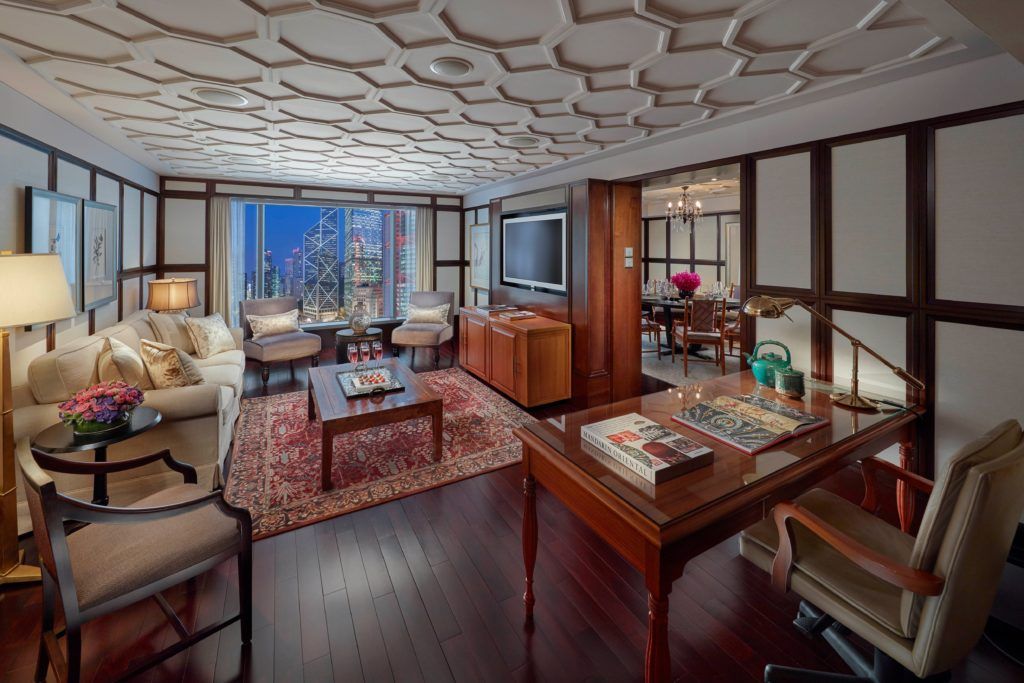 At The Mandarin Oriental Hong Kong, festive cheer is headed into full swing with roasted chestnuts passed around the lobby over the holiday period, and mulled wine with mince pies handed out on both Christmas Eve and Christmas Day. A 'Hong Kong Retreat' (exclusively available for Hong Kong residents until 31 January 2021) makes for an ideal getaway with luxurious accommodation, daily breakfast for two at Clipper Lounge or Café Causette and complimentary house wine for stays booked between 22 December 2020 and 6 January 2021.
Those planning for more can will enjoy the 'Celebration Suite' package, available until 28 February 2021. Apart from 25 percent off selected suites and a complimentary guest room on the same floor, the package includes celebratory room décor, breakfast for four at either the Clipper Lounge or Café Causette, complimentary champagne, and tasty welcome treats including Madeleines and the Mandarin Cake Shop's signature rose petal jam.
Mandarin Oriental Hong Kong, 5 Connaught Road Central, Central, Hong Kong, + 852 2825 4850
Rosewood Hong Kong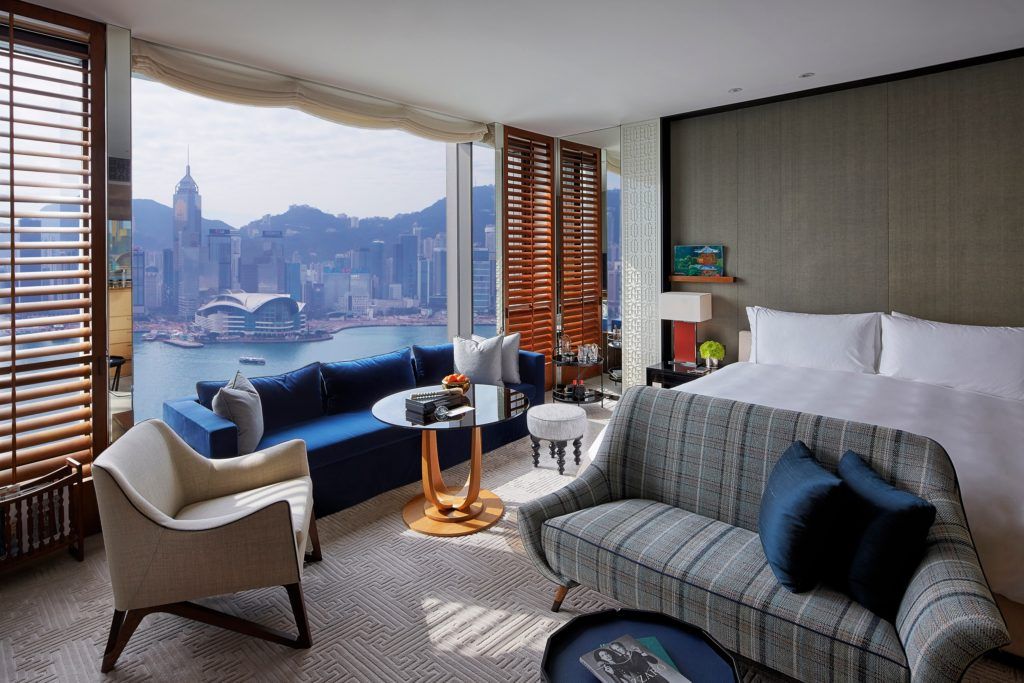 Ferry across the harbour to the luxurious Rosewood for a getaway that will set you in the true festive mood. From now until 31 December, the hotel has transformed its glitzy marbled interiors in a photo-worthy winter wonderland, including a snow-covered Christmas forest set up at the main entrance. Four holiday packages are offered ranging from December to the start of the New Year, including the 'Festive Staycation,' available from 1 to 30 December. The package features an overnight stay in one of the lavishly decorated rooms, daily breakfast for two, a festive meal at Holt's Cafe or Asaya Kitchen and shopping privileges at K11 Musea including a HK$500 gift voucher and Klub 11 Gold Card Membership. The 'Christmas Escape' is available from 24 to 26 December and celebrates the holiday season with luxurious accommodation, daily breakfast for two, festive Christmas brunch or dinner with the option of free-flow, a Klub 11 Gold Card Membership, and K11 Musea Gift Vocher for HK$500.
Larger parties can opt for the 'City and Sea Staycation,' available on selected weekends (20 to 22 November, 11 to 13 December or 18 to 20 December). Set for a group of four, it includes a one-night stay in a glamorous two-bedroom suite, Manor Club access, a set dinner at either steakhouse Henryor classic Cantonese cuisine The Legacy House, breakfast at Holt's Cafe, and a second-night stay at sea aboard the exclusively charactered Princess Yacht, staffed with a Rosewood butler and chef, and will tour Hong Kong for stunning alfresco dining and sunset cocktails.
Rosewood Hong Kong, 18 Salisbury Road, Tsim Sha Tsui, Hong Kong, +852 3891 8888
The Landmark Mandarin Oriental Whether you've been naughty or nice this year, enjoy a full festive experience with The Landmark Mandarin Oriental's 'Santa is Callin'' staycation. The package is applicable to all rooms and suite types and is designed with a list of benefits that work to create a holly jolly stay. It includes round-trip limousine transfer, Christmas turn-down amenities, a bespoke Christmas welcome, HK$1,000 spending credit at the hotel, 20 percent off spa and dining vouchers (suitable for use at Amber, Somm, Mo Bar and PDT on selected dates) and premium gifts from Amorepacific, Goutal and Magnus & Novus. The staycation package is available from 16 November through to 31 December.
The Landmark Mandarin Oriental, Landmark, 15 Queen's Road Central, Central, Hong Kong, +852 2132 0088
The Langham Hong Kong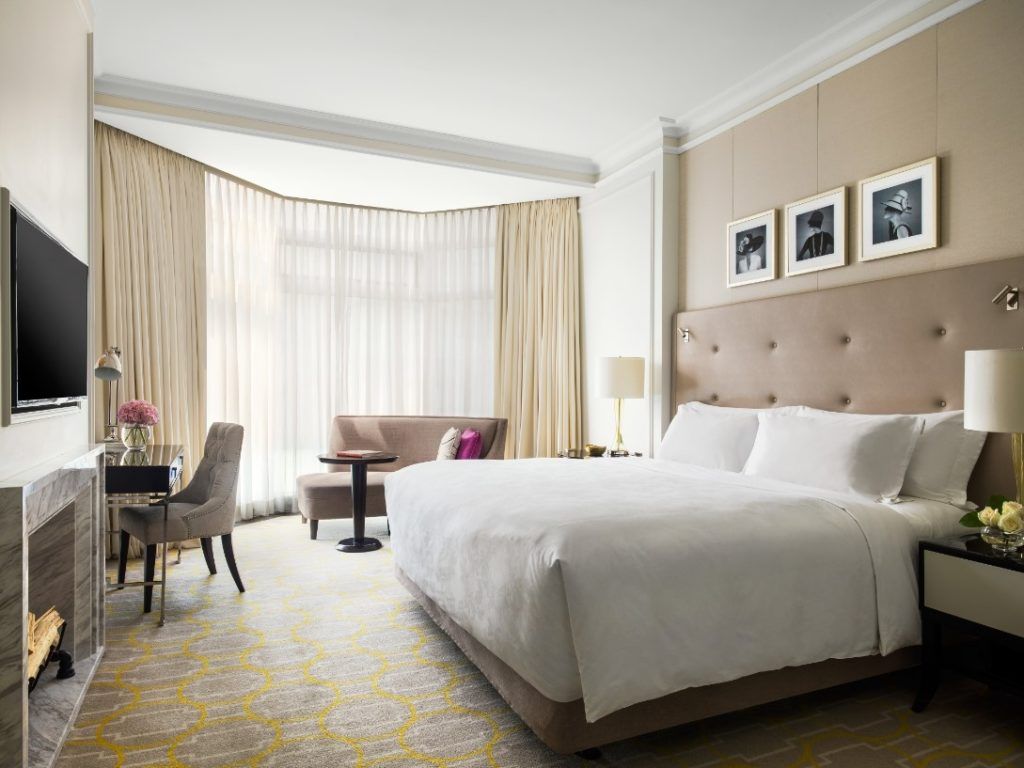 Holiday season is coming to town at The Langham Hong Kong. The hotel is rolling out a special 'Design the Candyland of Your Dreams' festive package, available from 1 December till 7 January, aimed to tease and tickle all the senses. Included is a one-night stay at the hotel's lavish Superior room, along with a box of Christmas Candyland decorations, breakfast for two, a HK$1,000 in-room set-dinner dining coupon, and a free pass to pillage through the room's mini bar, stocked with seasonal festive treats and is available for one complimentary replenishment. While there, join the hotel for the range of celebratory pop-ups to get into the holiday spirit, with the help of carollers, ballet performances, and a weekend Christmas market. The annual tree lighting ceremony falls on 2 December where the nine-feet-tall fir tree decorated with oversized candy canes and bonbons will be unveiled.
The Langham Hong Kong, 8 Peking Road, Tsim Sha Tsui, Kowloon, Hong Kong, +852 2378 9988
The Mira Hong Kong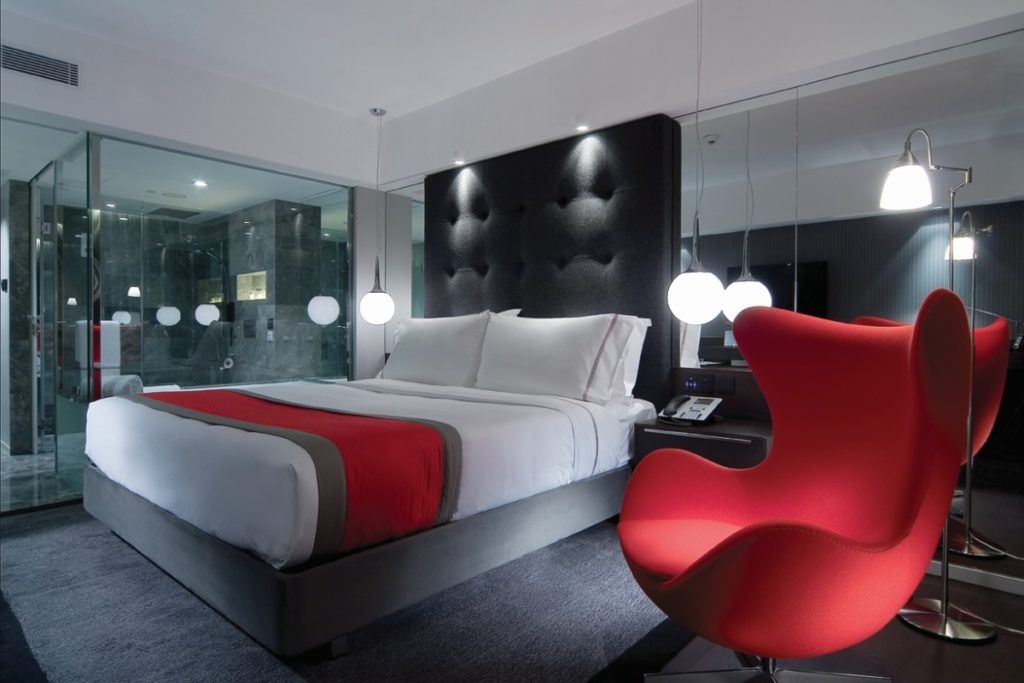 There are many things that make the holiday season so delightful; chestnuts roasting on an open fire, yuletide carols sung by a choir, and now a 'Cosy X'mas StayCay' with The Mira. On offer for two nights only, Christmas Day and Boxing Day (25 and 26 December), the package for two brings the best of the holiday season with a one-night luxurious stay overlooking the lit-up cityscape of vibrant Christmas lights, breakfast and a festive semi-buffet dinner at the Mira Club lounge and a Christmas gift surprise to be fittingly opened exactly during your stay.
The Mira Hong Kong, Mira Place, 118-130 Nathan Road, Tsim Sha Tsui, Hong Kong, +852 2315 5606
The Murray Hong Kong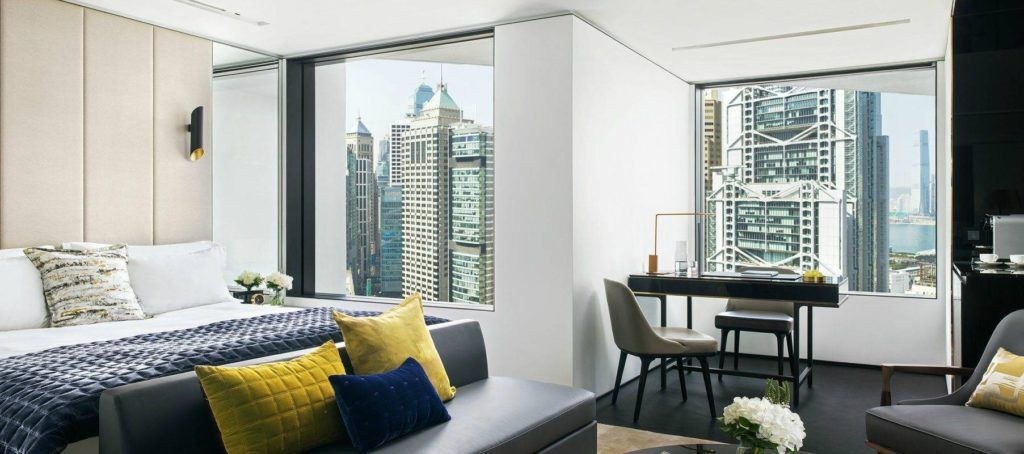 Making sure that the festive season spent locally will be a memorable one, The Murray Hong Kong prepares two extravagant holiday getaways: The 'Murray Merry December,' available 1 December through to 23 December, ushers in jovial moods both merry and bright with a daily breakfast for two, afternoon tea with a complimentary prosecco, premium coffee and tea, and chef's selection of evening canapés at Murray Lane. For something a touch more indulgent, the 'Murray Festive Escapade', available from 24 December to 3 January, is packed with similar perks including the daily breakfast for two, afternoon tea with prosecco, premium delights at the Murray Lane, with an additional HK$2,000 dining credit per night. The hotel is also hosting a Christmas Market from 17 to 26 December to spark the city's holiday spirit, offering delectable treats and delights, gifts and more.
The Murray, 22 Cotton Tree Drive, Central, Hong Kong, +852 3141 8888
JW Marriott Hong Kong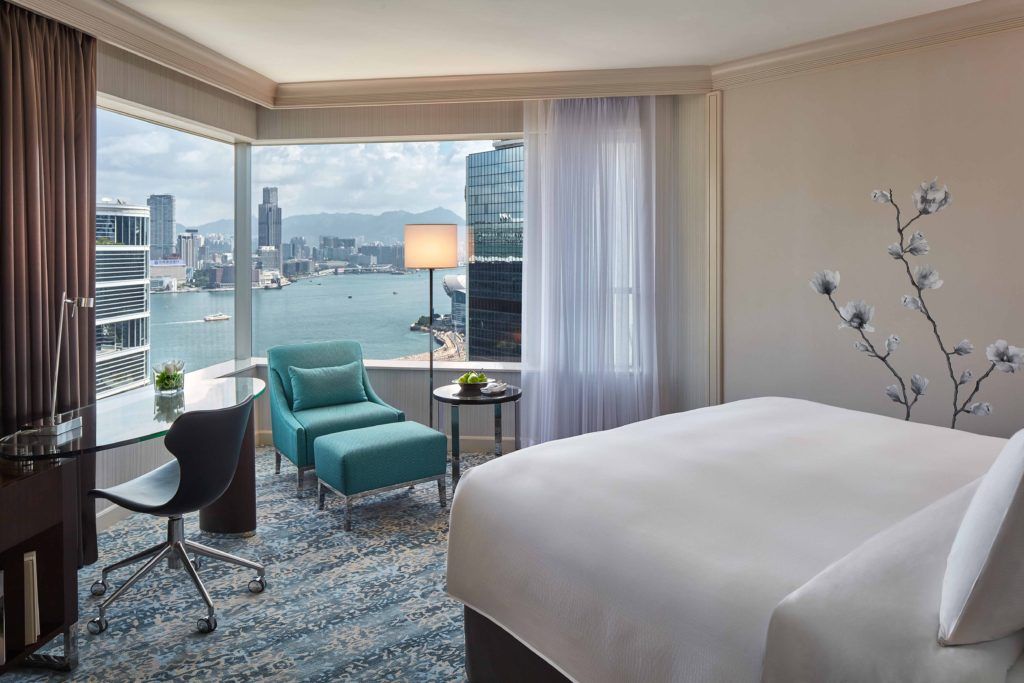 There's a festive package for everyone at JW Marriott Hong Kong, underscoring the very notion of sharing at Christmas. The straightforward, recline and relax option, 'JW Festive Staycation', includes a luxurious one-night stay, buffet breakfast at JW Café and a festive dinner buffet at The Lounge for two. For small group celebrations and grand romantic gestures, 'Celebrate@JW' includes a stay in a beautifully decorated room, buffet breakfast at JW Café, a choice of afternoon tea for two at Flint or HK$500 dining voucher and either a one-hour photography service or a bottle of Moët & Chandon champagne with a extravagant bouquet of 33 roses. The 'JW Family Fun' is catered to groups with little ones in tow, offers an extended stay in connecting rooms with flexible check-in and check-out times (30-hour stay for check-ins between Sunday and Thursday and 24-hour stay from check-ins on Friday and Saturday), four-person breakfast buffet at JW Café, dining credit, a bottle of wine, and selected refreshments to be enjoyed poolside.
JW Marriott Hong Kong, Pacific Place, 88 Queensway, Admiralty, Hong Kong, +852 2810 8366
The Peninsula Hong Kong Be whisked away to a winter wonderland with The Peninsula's 'Festive World — A Nordic Inspiration' staycation from 1 December to 3 January. Decorating part of the hotel's guest rooms in a welcoming festive theme, the harbour-side rooms are transported to the icy landscape with a cosy fireplace and vivid Northern Lights-inspired turn-down. The package also includes daily breakfast for two at The Lobby, one-way hotel limousine transfer, HK$500 dining credit on selected hotel restaurants, and one selected historical journey, with a choice of Motoring for a insight into a 1934 Rolls-Royce vintage; Grand Dame for a storied history of the hotel; Cinematic for a classic movie showing at a unique spot; and Aviation for a trip to the hotel's helipad for a memorable photo. Stays on Christmas Day will also be surprised with a special visit from a round-bellied someone. Take a wander around the hotel's festivities including a beautifully decorated Christmas tree and a magnificent gingerbread village complete with cable cars, snow peaks and circling steam locomotive and train.
The Peninsula Hong Kong, Salisbury Road, Tsim Sha Tsui, Hong Kong, + 852 2910 1628
The Ritz Carlton Hong Kong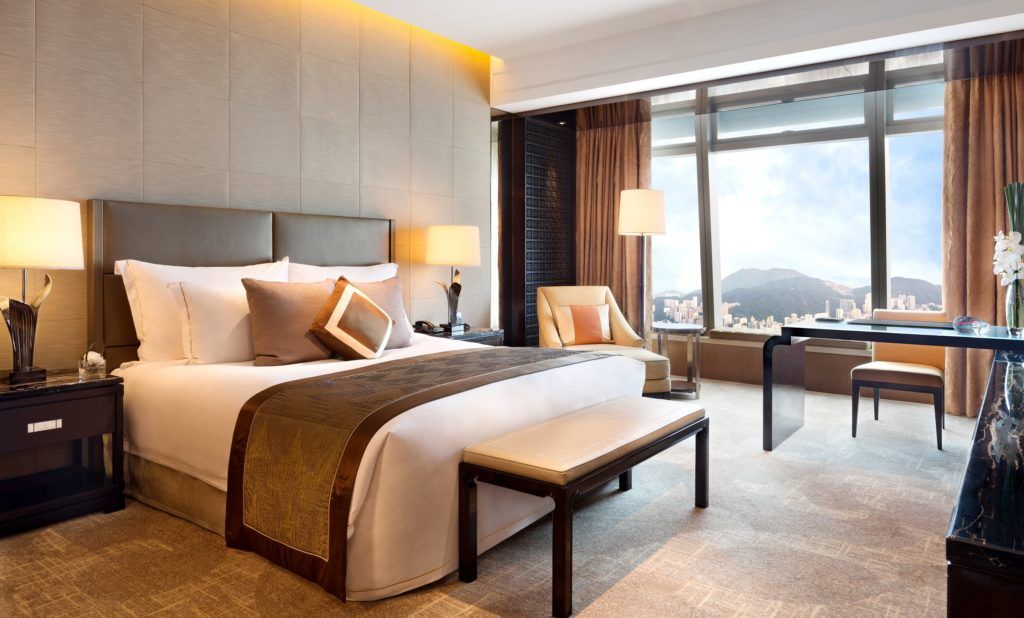 Here's a staycation that will delight all family members this holiday season, including furry, four-legged friends: 'The Pawfect Stay' at The Ritz-Carlton Hong Kong is inviting two pups or kitties (weighting 20kg or below) for an exciting night away at the world's highest hotel. Choose from a choice of three rooms: Deluxe Victoria Harbour Room, Grand Seaview Room or Deluxe Suite, and enjoy 20 percent savings on in-room dining (available on selected dates), a picnic basket for two (including treats for accompanying kitty or pooch), and a range of pet-friendly perks including a complimentary pet stroller at a first come first serve basis, pet sitter service, plush bed, potty pads, food and water bowls, and a Lion Pierre plush toy for fervent chewers.
The Ritz Carlton Hong Kong, International Commerce Centre, 1 Austin Road, West Kowloon, Hong Kong, +852 2263 2100
The Hari Hong Kong Festive celebrations are made enjoyable with the company of close friends and family, add a staycation from the city latest opening, it will be a holiday to remember. The Hari Hong Kong is the Harilela Group's latest follow-up to the Hari London, opened in 2016, and homecoming back to Hong Kong. Tapping Tara Bernerd & Partners once again for the design, the property embraces modern luxury and prizes exceptional, intimate hospitality. Settled in the heart of local neighbourhoods Wan Chai and Causeway Bay, the hotel is scheduled to open on 12 December. For a well-deserved holiday, the hotel is offering a 'Welcome to The Hari' package for a staycation in the brand-new establishment. It includes a night-stay at either of the King or Twin Room, a HK$700 dining credit at the hotel's new restaurants and late check-out until 3pm. The offer will be available until the end of March next year.
The Hari Hong Kong, 550 Lockhart Road, Wan Chai, Hong Kong, +852 2129 0388
Four Seasons Hong Kong Holiday getaways may be confined to within the city this year, but the Four Seasons Hong Kong's array of staycation packages will be handy in planning the celebrations you want, whether it be for family fun, wellness escape, or a simply a chance to reconnect. For the holidays, the hotel is offering 'Suite Escape', available from now to 28 February, with 50 percent savings off the best rates and exclusive access to Lane Crawford's Platinum Suite for a complimentary personal styling session. For a stay that will instil a more merry mood, the 'Festive Staycation' begins on Christmas Eve through to 3 January for a minimum two night stay and includes daily breakfast for two at The Lounge or in-room dining with 30 percent savings on the best available rates. For families who stay during the most happiest time of the year, take part in complimentary kids activities including nail art and cookie decorating classes.
Four Seasons Hong Kong, 8 Finance Street, Central, Hong Kong, +852 3196 8333