Your taste for the finer things in life doesn't mean you have to sacrifice the offbeat travel experience. Lucky for you, Asia's abundant with extraordinary luxury resorts and hotels, some rustic, utterly one-of-a-kind, and even bordering on peculiar. Here are a few unique luxury escapes we've handpicked for you from around the region.
Featured and hero images courtesy of Keemla, Phuket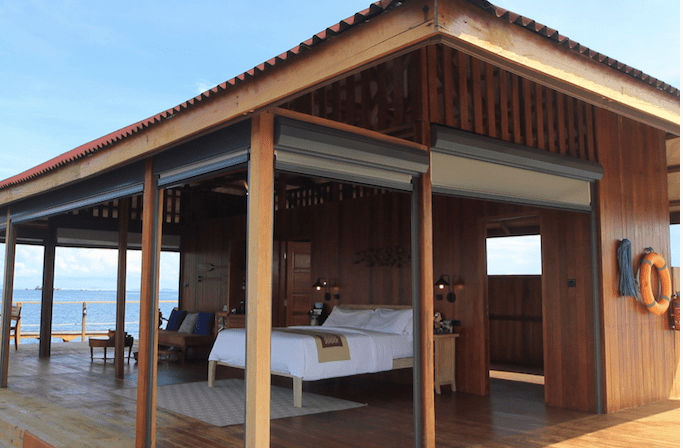 Banyan Tree Bintan has transformed the humble kelong into a luxury experience. An eco-friendly villa, it's located 250 metres away from the main resort and is accessible to guests only via pokchai, a motorised wooden boat.
The villa is a traditional work of art, and the architecture is made of local Indonesian timber with classic furnishings. Like all Banyan Tree property, expect luxurious touches such as silk and buckwheat bedding. Everything about your stay here is geared towards a digital detox. While you will find WiFi and a TV in your villa, you're encouraged to hit the waters — whether it's diving, kayaking, snorkelling or fishing with the local fishermen — relax over books or boardgames. You don't have to leave to get fed when it comes to breakfast. Choose from an in-villa menu, with your choice of food hand delivered by a Banyan host on a pokchai. Other meals are best enjoyed at a local village or by the beach. 
Going and leaving is akin to a ceremony, with staff sounding the terompet (local horn) as you disembark from your pokchai, before you feast on welcome offerings, have your feet soaked in a foot bath and swap your city shoes for island footwear (sandals made of pandan). Before your departure, you're encouraged to make a wish as you free a boat made of banana leaves, and scatter flower petals in the ocean.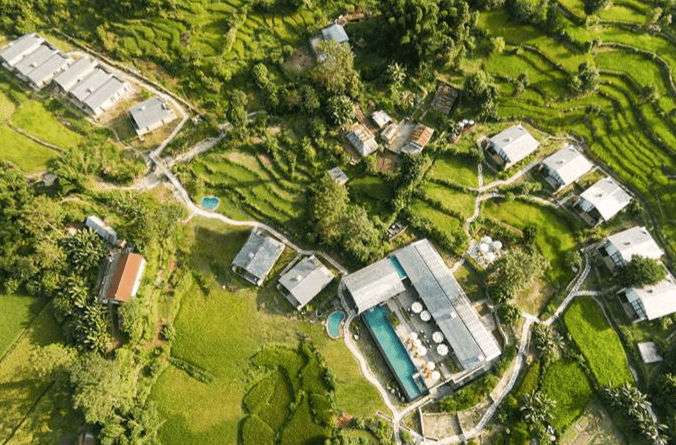 Burrowed away in a forested valley with the Himalayan mountain range as a backyard, The Pavilions Himalayas is set on an organic farm that gives back to the local community. This is eco-luxury at its best and the property is governed by three 'W's as part of its philosophy: Work, wisdom, and wealth. The resort and its 14 villas are powered by solar energy, while the farm is the source for all its cuisine. 
Stay packages here are designed with a purpose. Guests can join in on cooking classes held at FAB Hospitality school, which the resort supports by providing its students with vocational training; visit the local villages; as well as tour the farm.  
There are three categories of villas available, all of which take on a traditional Nepalese design. Each villa looks out to a stunning landscape of the mountains and forested hills. Experiences here are catered to the intrepid traveller, with visits to island temples and mountain museums, treks to magnificent stupas, and guided tours and hikes beyond Pokhara.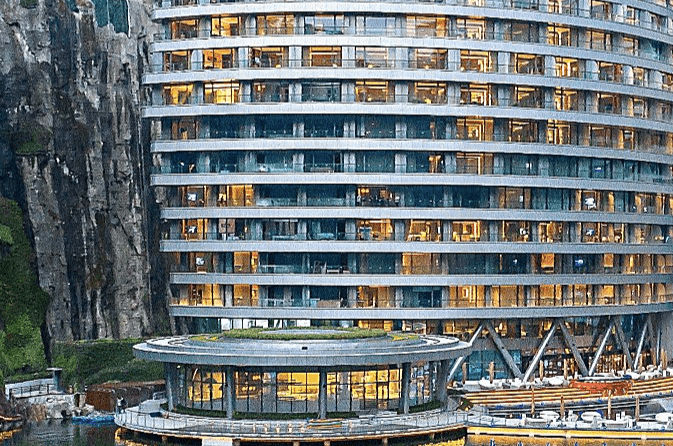 This destination hotel is the stuff of dreams. Located in Shanghai's Songjiang, the world's first underground hotel is an engineering and architectural feat. It was built into an abandoned quarry in the Sheshan mountain range, and features 336 rooms spread across 18 floors with sixteen underground, and the other two levels  underwater. The latter boasts six duplex suites, each equipped with aquariums, a theatre box for the nightly water show, and a balcony. Design-wise, the hotel's aesthetics is, as chief architect Martin Jochman calls it, a "visual echo" of the quarry settings. Rooms are decked in earthy neutral tones, with accents of blue. The architecture takes on a distinct silhouette that follows the quarry's natural contours and lines, while its lift banks, resemble a waterfall  which exists in its literal form just adjacent to the hotel. Around the quarry, plenty of activities await for guests to take in the magnificent scenery including kayaking, rock climbing and even zip-lining.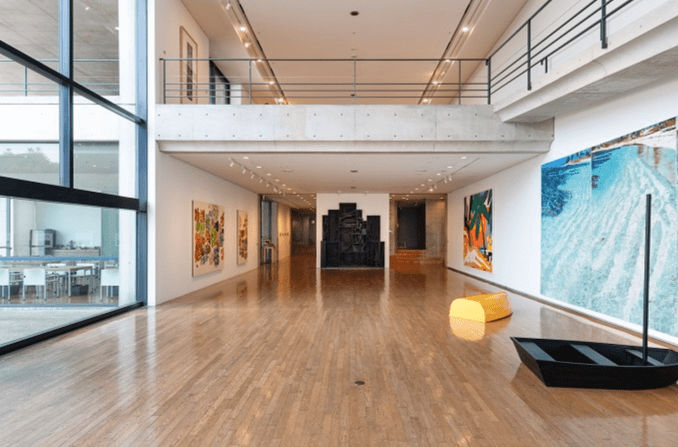 Do you find yourself lingering in art galleries? You'll feel right at home in Japan's Benesse House as the hotel is located within a museum. Artworks on display in the gallery include sculptures, paintings, and life-sized installations but it doesn't stop there as guest rooms are decked with art too. Choose from four room categories, all of which offer winning views that range from that of the sea to the mountains of Shikoku via expansive windows.
Even without the nuts and bolts of a healing facility, Benesse House is a well-being centre. Art, nature, and architecture come together in a stunning symbiosis on this space atop Naoshima Island, which is built high on the ground for stunning views of the Seto Inland Sea. Expectedly so, the architecture is simple, and minimal with abundant use of glass, concrete, and wood.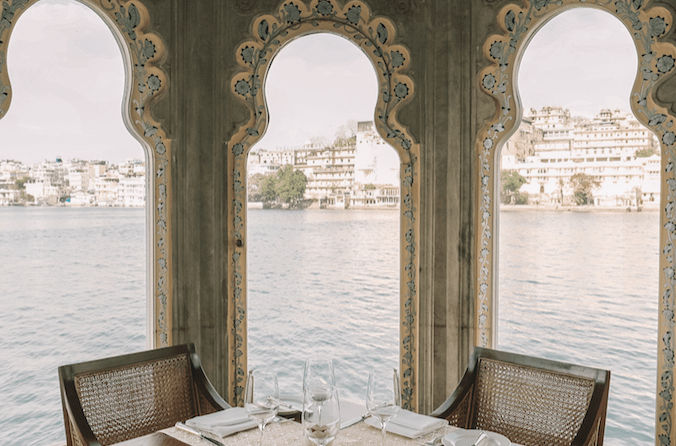 Rising out of Udaipur's Lake Pichola like a regal marble masterpiece is Taj Lake Palace. Once the pleasure palace of Maharana Jagat Singh II of the royal dynasty of Mewar, it was formerly known as Jag Niwas and shot to fame when it became the location for the 1983 James Bond film Octopussy.
Luxury lovers will lap up the hotel's exclusivity. It is deliciously isolated, and only accessible via a boat. The lavish lair features elaborately carved pillared terraces, walls covered in semi-precious stones and ornamented niches, in its sprawling courtyards which are dotted with fountains and gardens. There are a total of 65 rooms and 18 suites, with breathtaking views of the nearby City Palace, Aravalli Hills, Machla Magra Hills and Jag Mandir. You'll find original fixtures and motifs from bygone era still intact and as ornate as you'd imagine; these are complemented with sumptuous fabrics, crisp linens, and carved woods.
You'll dine princely here too, as restaurants serve up Rajasthani and contemporary European delicacies worthy of the Maharajas. Unwind in the lap of luxury — hop on the spa boat for treatments fit for royalty. Its many famous guests included Queen Elizabeth and Jacqueline Kennedy.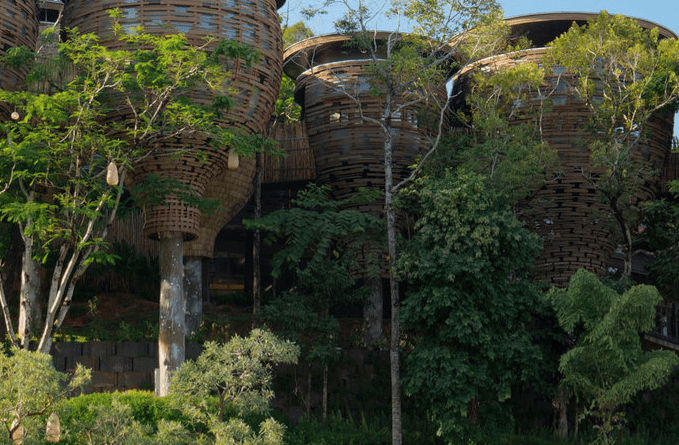 A fantastical forest hideaway awaits hip travellers in Phuket. Tucked away in the hills in the woodlands, it is designed around four fictitious Phuket tribes: the 'Pa-ta-Pea' (Earth), the 'Khon-Jorn' (Wanderers), the 'We-Ha' (Sky), and the 'Rung-Nok' (Nest) people. Its most astonishing architectural feature is the pods that soar into the sky. These are made of wood-plastic composites, bamboo accents and rubber shingle roofing, and house the resort's communal areas such as the lobby and wine lounge.
Four villa categories make up the resort but it is its Bird's Nest variety that has garnered the most hype on Instagram, thanks to its structure of lattice-like exteriors, and illusion that appears as though it's suspended in the forest. Architecture aside, each of the villas come with their own pools, monsoon showers, oversized beds and standalone bathtubs. Keemala also scores points for its location. It's far removed enough for a quiet getaway, yet near to all of Phuket's action, including Patong Beach.
See the original post here.