LVMH Group's uber-swanky hotel brand Cheval Blanc — currently operating across France, Switzerland and the Maldives — announces details of its inaugural property in North America.
There's no shortage of luxury hotels to choose from if you're a high roller in Los Angeles; and yet it seems like newcomers are always trying to muscle in on the turf of well-established haunts like the Beverly Wilshire or Hotel Bel-Air. Except in this case, the newest face on the block isn't some cookie cutter collection of bungalows — it's a Cheval Blanc hotel.
The project marks Cheval Blanc's first foray into the United States and — in line with the brand's stated goal of offering '"new residential experiences in the world's most exclusive destinations" — is being developed as a 115-room property, that will sit at the intersection between Rodeo Drive and Little Santa Monica Boulevard.
"LVMH has a long and successful presence on Rodeo Drive", said Bernard Arnault, the group's Chairman and CEO, in an announcement late last week. "We look forward to expanding our role in the city with this exceptional new destination."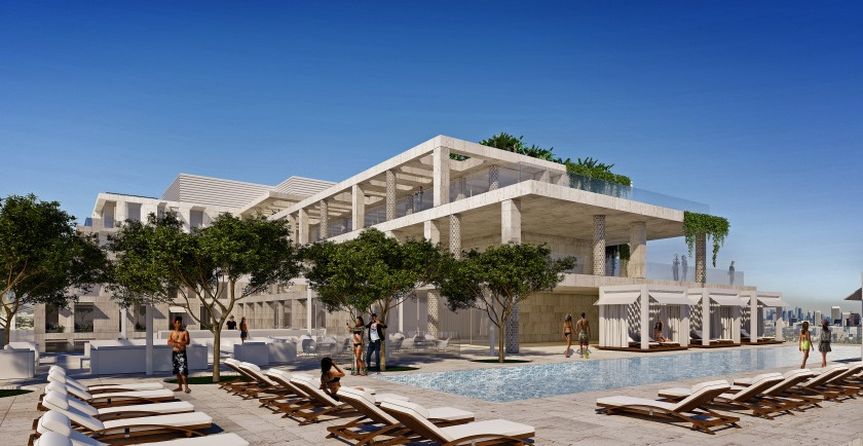 For this expansive project, Cheval Blanc called on long-time LVMH collaborator Peter Marino, who previously designed the multi-faceted Louis Vuitton flagships in Seoul, London and (naturally) on Rodeo Drive. The New York architect — notable for his comments about how "[the aesthetics] of all hotels in LA are just a little tired" — approached the property's construction with a humanist eye, incorporating French and SoCal themes in the building materials and colour palette. Site-specific artworks — another signature aspect of Marino's collaborations with LVMH — are also set to play a starring role.
Unlike many of its adjacent competitors, the Cheval Blanc Los Angeles will not include any conferencing or ballroom facilities. The brand's emphasis on seclusion and luxury with a residential twist has manifested as a private club, two swimming pools (one of which doubles as a private penthouse) and what are being touted by local real estate types as some of the biggest rooms in Hollywood. The site cost half a billion US dollars alone, according to LVMH America CEO Anish Melwani. The Cheval Blanc Los Angeles is projected to open sometime in 2025.
To learn more, visit Cheval Blanc Hotels online.