With the global Covid situation still on the slow mend, many brides are moving ahead with smaller celebrations. Bridal designer Christina Devine talks through the latest wedding trends for a micro-wedding with five different look and you can wear them once the world opens up again.
"Additional styles that were once reserved for engagement celebrations and afterparties are now moving to the centre of attention. Just because you have to sacrifice on the size of the guest list, doesn't mean you have to compromise on style." Christina explained. "The new styles of 2021 come in a range of silhouettes and textures and may just be the answer to the age old wedding dress question: 'Can I wear it again?'"
Follow along as we break down Christina's latest collection, captured on the streets of Hong Kong.
The trench is the new jumpsuit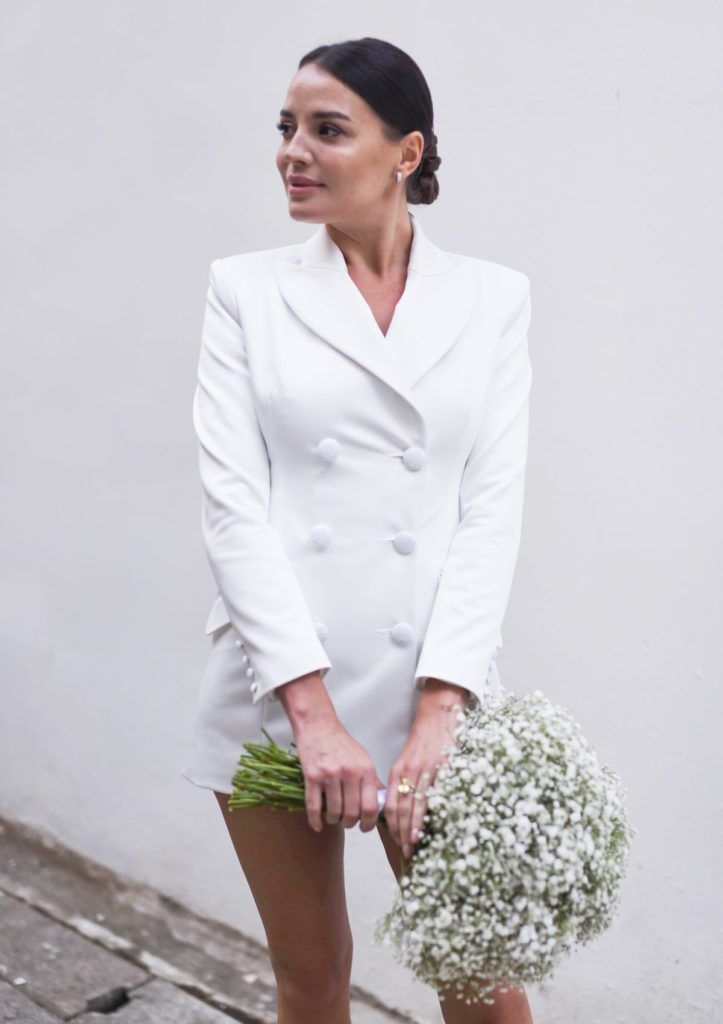 The bridal trench is the perfect balance of classic and contemporary. A double breasted bodice is flattering with just the right amount of coverage for an intimate ceremony. Look for a style that stays fitted through the waist and drops to a fuller hem at the hips. This adds a feminine touch to a statuesque shape. With a long sleeve and higher neckline, don't be afraid to play with a short hemline. It's the perfect moment for a great shoe.
Our Dakota Trench Coat in a lux satin blend captures all of this, and then more. Not only will you look perfectly polished at your ceremony but you can pair it with a wide leg pant and wear it again once the office reopens.
Play with texture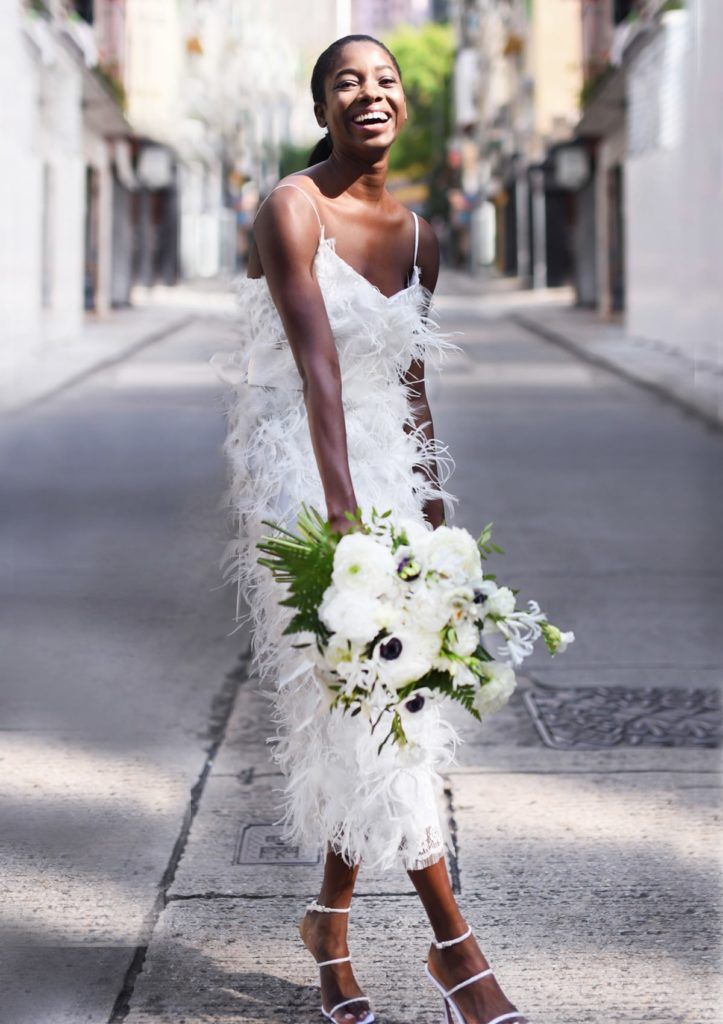 Many brides love the idea of beading, embellishments or 3D florals, but it can quickly become overwhelming on a full length gown. A mini dress is the perfect place to play with textures. Three-dimensional embellishments add movement and energy to an ensemble, making the wearer the absolute centre of attention. The trick with this type of volume-adding fabric is to look for a silhouette that is fitted or belted at the waist. It's all about playing with proportions.
Our ultra-flirty Brooklyn slip dress in lace with feathers and beading is a treat! Rewear this look and be an absolute stunner for a black-tie event or opening night at the opera.
Classic touches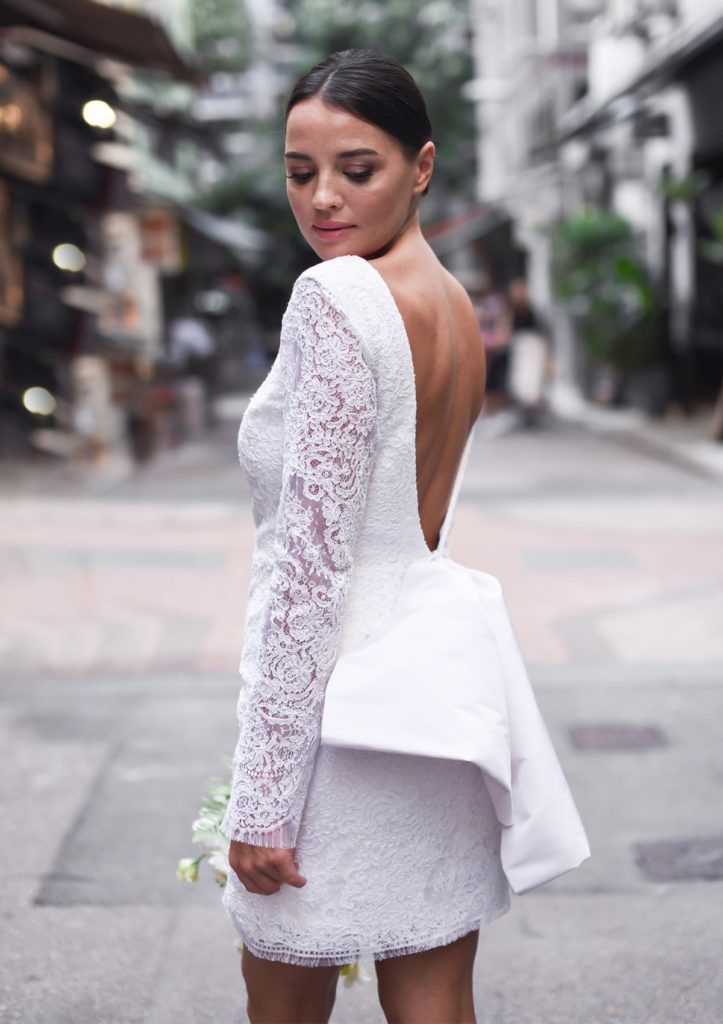 Just because you're having a smaller celebration doesn't mean you should miss out on the full extravagance the comes with being a bride. Quite the opposite, actually. Corded lace, sheer overlays and draped bows are just some bridal details that will always stay in style. Re-envisioning these classic touches on a mini shape will make the silhouette feels fresh and modern, while still adding that ultra-luxe feeling.
Imagine floating around your intimate rooftop reception in our gorgeous Poppy mini dress in French leavers lace with removable silk faille bow detail. Once that's over, style the Poppy with a black ribbon wrap belt, sans the bow, and you're ready for a summer cocktail party. Remember those?
Statement sleeves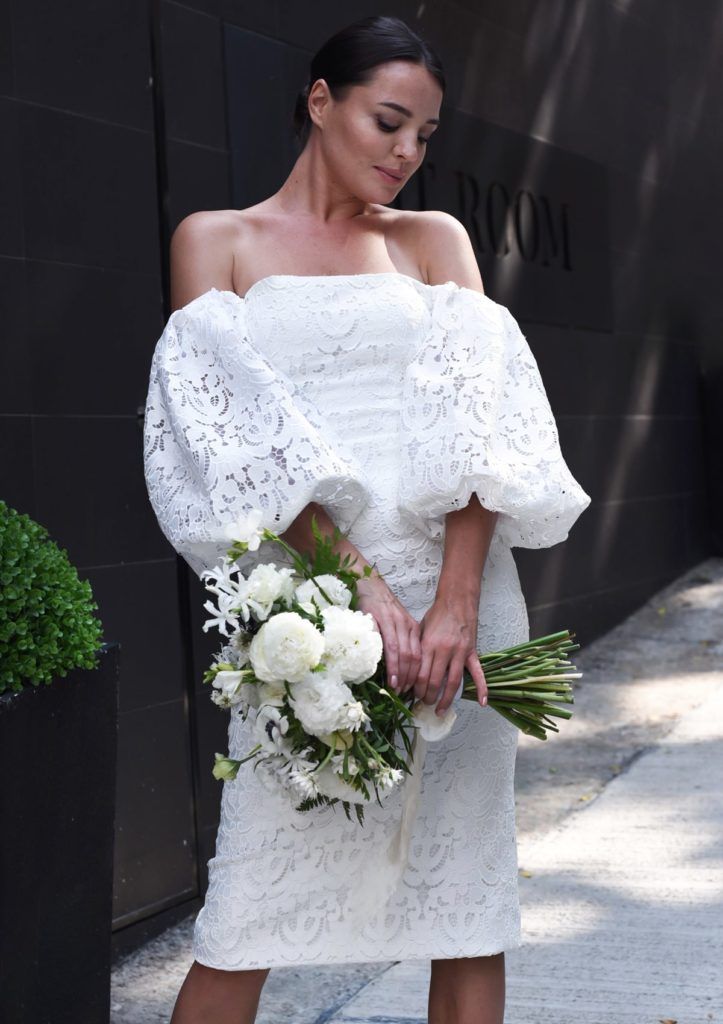 Sleeved wedding dresses have been a style staple since Queen Victoria started the white dress trend in the 1800s. Originally worn for religious modesty and to make the ever-shrinking corseted waist look even smaller, full sleeves can add flirty volume to the upper body, while drawing attention to the face of the wearer. The amplified sleeves of 2021 are all about the drama from off-the-shoulder styles that expose the décolletage.
Our Bella dress hits the mark with the right balance of fullness, glamour and skin. When to re-wear this? I am dreaming about this dress for a girls night out paired with colourful statement earrings and a bold red lip.
Go bold but make it timeless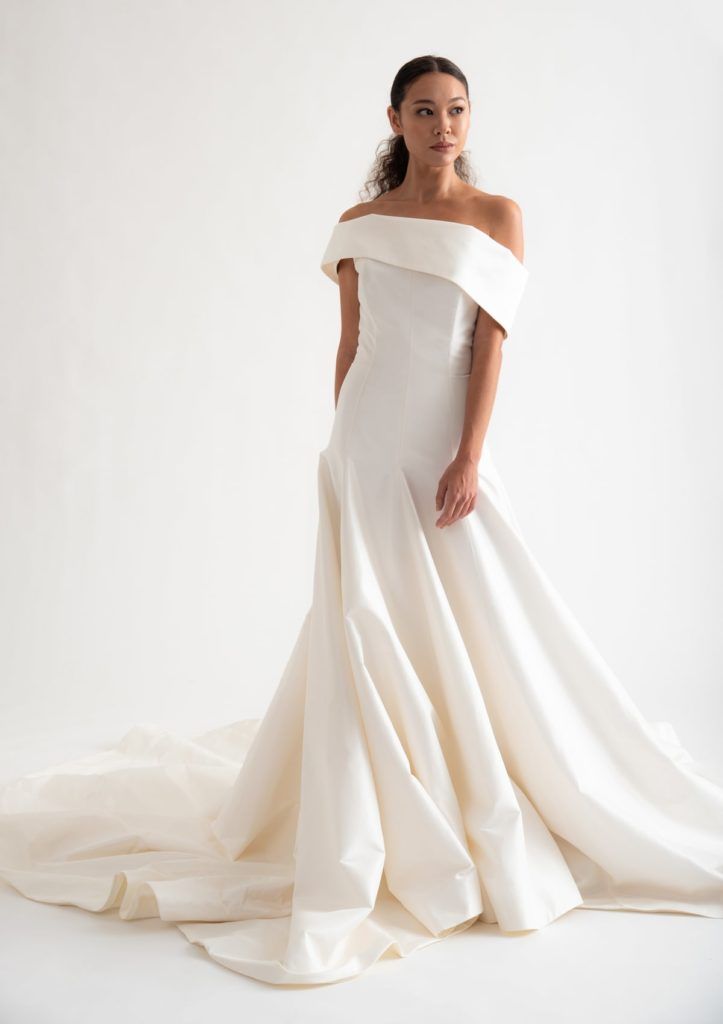 I am an absolute believer that every bride needs to follow her style-heart for her wedding day. And if that means a big, 10-layered tulle ballgown, then go full throttle! Putting off your wedding for another year may not be realistic. You have a life! You can't remake your wedding Pinterest board again!
This is your moment to shine no matter what type of celebration you're having. Your guests will love the effort and the excuse to get dressed up after a year of sweatpants.
Our Palma gown is made in the ultimate timeless bridal fabric: silk taffeta. The drop waist bodice will make anyone look like a star. How would I re-wear this, you ask? For your five-year vow renewal amongst family and friends that couldn't be there for the first one. The trick here is to go for something that will stand the test of time and still look fresh years from now.
For more looks, browse the Christina Devine latest collection here, or book at appointment at hello@christinadevine.com.
All images courtesy of Christina Devine.