A revolving-door list of current art exhibitions in Hong Kong; updated monthly for your convenience. Keep this page bookmarked!
An empty Sunday afternoon? Need recommendations for a first- (or second-, or third-) date activity? Yearning for some artistic inspiration? Pencil down a list of your favourites from our round-up of the best art exhibitions in the city — and make a day out of it.
Rules and regulation in light of COVID-19 restrictions are ever-changing. As usual, please contact the galleries prior to visiting.
"Futuraland"
When: 3 – 16 June
It's count-down to lift off for two weeks straight in June — right in the belly of FUTURA's X-6000, 6-metre tall rocket ship holding court in the centre of Landmark Atrium, Central. Marking the artist's return to Hong Kong, "FUTURALAND" sets the scene for an intergalactic vignette, complete with seven FL-006 alien-like sculptural forms rendered in collaboration with creattive studio AllRightsReserved and Futura Laboratories. On-site one floor below at BELOWGROUND is a special "FUTURALAND" x Futura Laboratories pop-up; with limited-edition items from Off-White, Billionaire Boys Club and SILLYTHING on sale.
Landmark Atrium, 15 Queen's Road Central, Central, Hong Kong, +852 2500 0555
Only a Joke Can Save Us
When: 14 May – 4 July
"Every joke is a tiny revolution."

— George Orwell
---
We've all heard the sayings. Laughter is the best medicine. Grin and bear it. Humour — in whatever form it takes — is a specified remedy; a powerful mirror to which we reflect on society at large. Present Projects' 'Only A Joke Can Save Us' is a group exhibition, bringing together works by Bo Choy, Hu Rui, Cyrus Hung, Kensuke Koike, Kieran Leach, Mak Ying Tung 2, Yan Xinyue, Pow Martinez and Yu Cheng-ta who use humour as a starting point for reflection; then, solidarity, critique and, perhaps, justice.
Present Projects, 3F, Tak On House, 13 Wong Chuk Street, Sham Shui Po, Hong Kong
AU Tze Long, Ben FELTEN & Michael KENNA: Nude Studies
When: 13 May – 13 June
Nude Studies is a triptych effort between photographers Au Tze Long, Ben Felten and Michael Kenna exploring the age-old visual fixation: the human nude. Au headlines through intimacy and the female gaze; Felten through double-exposures of plants on cyanotype-printed nudes; and Kenna espousing colour rather than his typical black-and-white prints.
Blue Lotus Gallery, G/F, 28 Pound Lane, Sheung Wan, Hong Kong, +852 6100 1295
Frank Auerbach / Tony Bevan: What is a Head?
When: 15 May – 3 July
The name of this exhibition poses a question: "What is a head?" That's a question artists Frank Auerbach and Tony Bevan — both separated by one generation — have pondered upon; a question that have plagued artists the world over from the beginning of recorded time. Think self-portraits. Busts. Filmic close-ups. Yorick's skull. This dialogue between Auerbach and Bevan is curated by Michael Peppiatt.
Ben Brown Fine Arts, 202, The Factory, 1 Yip Fat Street, Wong Chuk Hang, Hong Kong, +852 2522 9600
Lee Man Sang & Wensen Qi (Vincent Cazeneuve): Roots
When: 11 June – 31 July
'Roots' is a duo exhibition featuring works between Lee Man Sang and Wensen Qi (Vincent Cazeneuve), challenging the definition of the word as a metaphor for one's values and identities. As a concept not borne out of nature, but crafted by humanity and the boundaries we've crafted out of sand, soil and experiences that are fully human.
Sin Sin Fine Art | Sin Sin Atelier, Unit A, 4/f, Kin Teck Industrial Building, 26 Wong Chuk Hang Road, Hong Kong, +852 2334 9423
Jessica Zoob: This Moment
When: 4 June – 14 August
'This Moment' is British painter Jessica Zoob's body of work mediating on the pivotal time humanity is currently facing with regards to the environment. "This collection is about the precarious state of our planet, how passionate I am about it, how desperately I care for it, how fragile I understand it to be and how hopeful I am that with enough support and knowledge and people becoming less ignorant about what they are doing, by making good choices, by being willing to change and embrace the wild, we can actually protect and save our world and make it into the wonderful place it should be," said Zoob. "I hope to encourage people to stop and gaze, to be reminded of the beauty of nature and to be inspired to protect it."
10 Chancery Lane Gallery, G/F, 10 Chancery Lane, Central, Hong Kong, +852 2810 0065
I & the Me
When: 19 May – 27 June
'I & the Me' is a mediation on sociologist George Herbert Mead's theory of self; a thesis that bisects the self into halves. One half represents the self internalised; the other, the self informed by external stimuli. This group exhibition at The Shophouse invites artists Anders Lindseth, Iabadiou Piko, Josh Reames, Julian Watts, Kour Pour, Mahsa Tehrani, Osamu Kobayashi, Yves Scherer and Zhang Ji for an exercise in self-evaluation, asking each to create two pieces of artworks — the first representing 'I'; the second, 'Me'. In doing so, the presented diptychs are self-portraits of 'the self' and 'the artist'; a commentary on the artistic profession as one lodged within an ecosystem that celebrates celebrity — no matter the cost.
The Shophouse, 4 Second Lane, Tai Hang, Hong Kong
Zanele Muholi: Somnyama Ngonyama (Hail the Dark Lioness)
When: 18 May – 15 August
Presented in conjunction with Art Basel Hong Kong 2021 and in collaboration with Muholi Arts Project (BaMu).
Zanele Muholi describes her 'Somnyama Ngonyama (Hail the Dark Lioness)' self-portraiture series as photographing "the journey, self-image and possibilities of a black person in today's global society." Totalling over 50 photographs, this exhibition conflates both photographer and subject with Muholi personifying both roles. Highly personal and autobiographical, 'Somnyama Ngonyama (Hail the Dark Lioness)' calls to pride in representation; specifically, "for this black face to be recognised as belonging to a sensible, thinking being in their own right."
Pearl Lam Galleries, 601 – 605 Pedder Building, 12 Pedder Street, Central, Hong Kong +852 2522 1428
Josh Sperling: Spectrum
When: 8 May – 12 June
The notion of a blank canvas, to some, signals potential. Boundless creativity in the making. For Josh Sperling, however, it's restrictive. A mere suggestion of a starting point. From afar, Sperling's 'Squiggles' are sculptural, almost ceramic-appearing elevations. From up close, though, you'll notice each and every 'Squiggle' is a blank (albeit, saturated) canvas; hand-stretched across personalised plywood formations. A slow ascent through spokes of the colour wheel graduates through a cavernous room in K11 Atelier's Perrotin gallery, marking Josh Sperling's first show in Hong Kong.
Perrotin, 807, K11 Atelier, 18 Salisbury Road, Tsim Sha Tsui, Kowloon, Hong Kong, +852 3758 2180
Mark Grotjahn: Horizontals
When: 18 May – 7 August
I like less looking, more doing.

— Mark Grotjahn
Mark Grotjahn's 'Horizontal' exhibition is a culmination of the artist's paintings from his 'Capri' series; a body of work produced in 2016 for Casa Malaparte on the isle of Capri, Italy. Grotjahn's explosive use of colour, movement and perspective captures the rugged terrain of Capri in motifs that echo that of German Expressionism, Italian Futurism and American Abstract Expressionism.
Gagosian Hong Kong, 7/F Pedder Building, 12 Pedder Street, Central, Hong Kong, +852 2151 0555
Conversations: 'After Nature'
When: 14 May – 16 June (Part 1)
The first of a three-part exhibition, 'After Nature' hopes to prompt conversation by juxtaposing works by leading Chinese and British artists alongside one another; a compare-and-contrast exercise that holds a timely socio-cultural significance. Part 1, opening mid-May, presents British Abstract Expressionist painter Albert Irvin alongside Chinese abstract artist Li Lei, with the former centred around renderings of cityscapes and the latter, a more internal 'mindscape'. This triptych exhibition series also serves to celebrate 3812 Gallery's 10th anniversary.
3812 Gallery, 26/F, Wyndham Place, 40-44 Wyndham Street, Central, Hong Kong, +852 2153 3812
Curtain
When: 15 May – 25 July
The mundane materiality of a curtain — that of a textile window covering, blocking out sunlight — acts as a leading motif through this exhibition; a collaborative effort between Para Site and Rockbund Art Museum. A curtain hides; conceals. It also separates; holds court as a partition. The lifting of said curtain, too, serves as a precursor to performance. Bookmarking theatrical spectacles; from the first applause to the last standing ovation. Many artworks featured for 'Curtain' realises questions of surveillance and questions of technology, boundaries and humanity digitised. This exhibition opens at Para Site's Quarry Bay home-base on 14 May, then moves to Soho House's gallery space from 15 May.
Para Site, 22/F, Wing Wah Industrial Building, 677 King's Road, Quarry Bay, Hong Kong, +852 2517 4620
Soho House Hong Kong, 22/F, 33 Des Voeux Road West, Sheung Wan, Hong Kong, +852 5803 8888
Myonghi Kang
When: 17 May – 17 November
The idyllic, painterly canvases of Myonghi Kang — on view through November, transforming Villepin on bustling Hollywood Road into a hideaway sanctuary — mediate on her relationship with the natural world; a demonstrated practice over five decades in the making, with her chosen mediums of representation oscillating seamlessly between painting, poetry and philosophy.
Villepin, 53-55 Hollywood Road, Central, Hong Kong, +852 3709 0913
The Real World
When: 18 May – 31 July
The myriad of artistic pursuits represented at David Zwirner Hong Kong's 'The Real World' — including traditional painting and drawing to video and installation pieces — is a sundry distillation of the various artists represented at this group exhibition. Each featured work by Felix Gonzalez-Torres, Raymond Pettibon, Jason Rhoades, Diana Thater, Rirkrit Tiravanija and Lisa Yuskavage are individualised approaches to the ways in which the artist challenges the status quo; each, too, representing pioneering approaches to art that addresses fully current and human topics such as identity, gender, sexuality, consumerism and the status of the built and natural environment.
David Zwirner Hong Kong, 5-6/F, H Queen's, 80 Queen's Road Central, Hong Kong, +852 2119 5900
Chu Teh Chun: Symphony
When: 13 May – 31 July
Chu Teh Chun's signature aesthetic — a celebrated integration of traditional Chinese painting techniques with that of Western abstract art — came to be in 1956, following a move to Paris and a formative viewing of French artist Nicolas de Staël's works. Alisan Fine Arts' 'Symphony' celebrates the centenary of the artist, showcasing a selection of 16 works. Beyond this exhibition, a selection of Chu's ink paintings will be on display at Alisan Fine Arts' Art Basel Hong Kong booth.
Alisan Fine Arts, 21/F Lyndhurst Tower, 1 Lyndhurst Terrace, Central, Hong Kong, +852 2526 1091
Paulina Olowska: 30 Minutes Before Midnight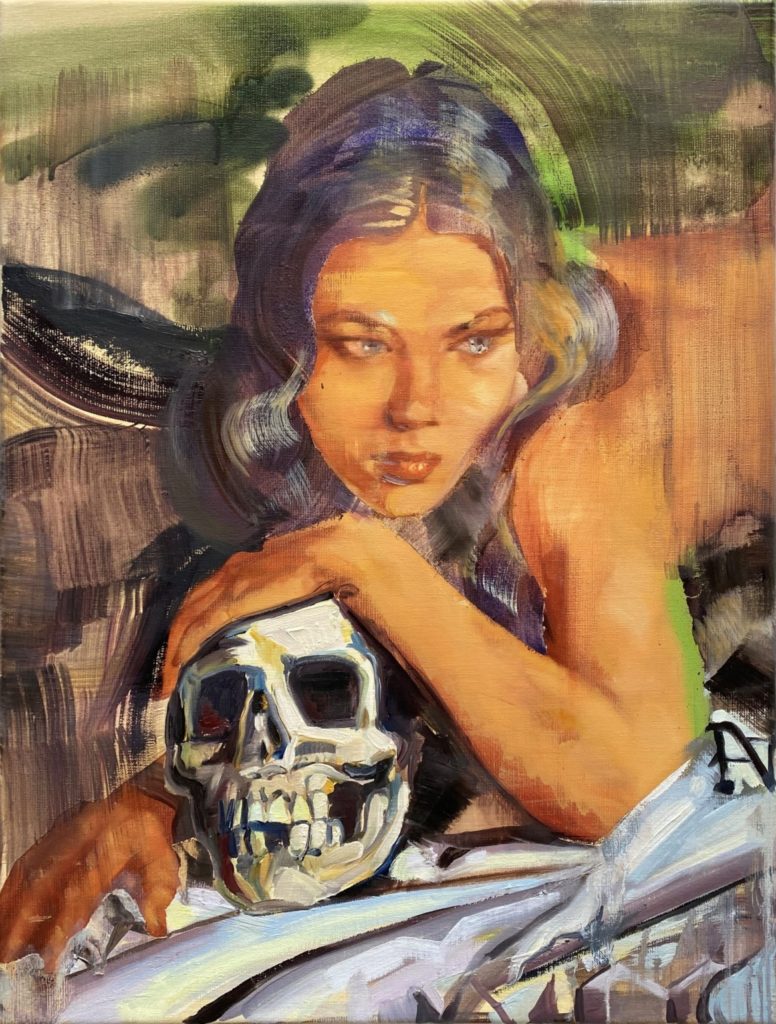 When: 19 May – 19 June
"The half hour before midnight is for doin' good. The half hour after midnight is for doin' evil — seems like we need a little of both tonight."

Minerva in Midnight in the Garden of Good and Evil (1997)
"Our culture is replete with religious and symbolic images of women that are either subservient or sacrificial and that do not hold and reflect the multiplicities of women's creative powers."

Juliet Miller, The Creative Feminine and her Discontents (2008)
Paulina Olowska's oeuvre considers the various stereotypes defining the representation of women, womanhood and femininity in the history of art, with each painted protagonist asserting and redefining the capacity of the female gaze. Marking her second solo exhibition in Hong Kong, Olowska' exhibition '30 Minutes Before Midnight' alludes to John Berendt's novel Midnight in the Garden of Good and Evil and its film adaptation.
Simon Lee Gallery, 304, 3/F The Pedder Building, 12 Pedder Street, Central, Hong Kong, +852 2801 6252
Christine Ay Tjoe: Spinning in the Desert
When: 18 May – 28 August
A firm favourite on our list of influential contemporary Asian artists to know, Christine Ay Tjoe addresses themes of philosophy and spirituality; a theme intrinsically present in her 'Spinning in the Desert' exhibition at White Cube Hong Kong. This new series of large-scale paintings are responses and reflections on the changes imposed on humanity during the pandemic, with deeply expressive gestures borne from Ay Tjoe's meditative, trance-like state whilst creating. Each piece builds on the idea of 'ingrown' shoots and are titled after the biological term 'cryptobiosis'.
"This is about the specific, rare, and beautiful ability of living things," she explained. "Cryptobiosis offers the idea to virtually halt movement and any definite aim ahead; offering possibilities for a longer life and greater hope instead."
White Cube Hong Kong, 50 Connaught Road Central, Hong Kong, +852 2592 2000
Wu Chi-Tsung: Exposé
When: Through 13 June
A perfunctory gaze will perhaps write off Wu Chi-Tsung's 'Exposé' exhibition as a simple series of mountainous landscapes; this perfunctory gaze would be wrong. Curated by Ying Kwok, 'Exposé' deep-dives into an extraordinary wrinkled-paper technique that mimics that of valleys, troughs and crevices; minute, natural-appearing details that would happen upon any geographic rendering. The textured cyano-collage process used, however, is completely randomised, with each fold and crease on Xuan paper a happy accident.
Galerie du Monde, 108 Ruttonjee Centre, 11 Duddell Street, Central, Hong Kong, +852 2525 0529
Creations Enlivened: Metal
When: 20 March – 24 July
The tough, robust connotations of metalwork and metalsmithing are rendered null at Crafts on Peel's Creations Enlivened: Metal exhibition, which showcases metallic works of art by craftsmen from Hong Kong and Japan that lean a touch more towards intricacy. Traditional masters of the craft were paired alongside contemporary artists and designers for this collaborative exhibition, with the commissioned work a showcase of the passing of the guard where time-honoured skills are passed down and, as thus, preserved.
Crafts on Peel, 11 Peel Street, Central, Hong Kong, +852 2510 0637
Jack Whitten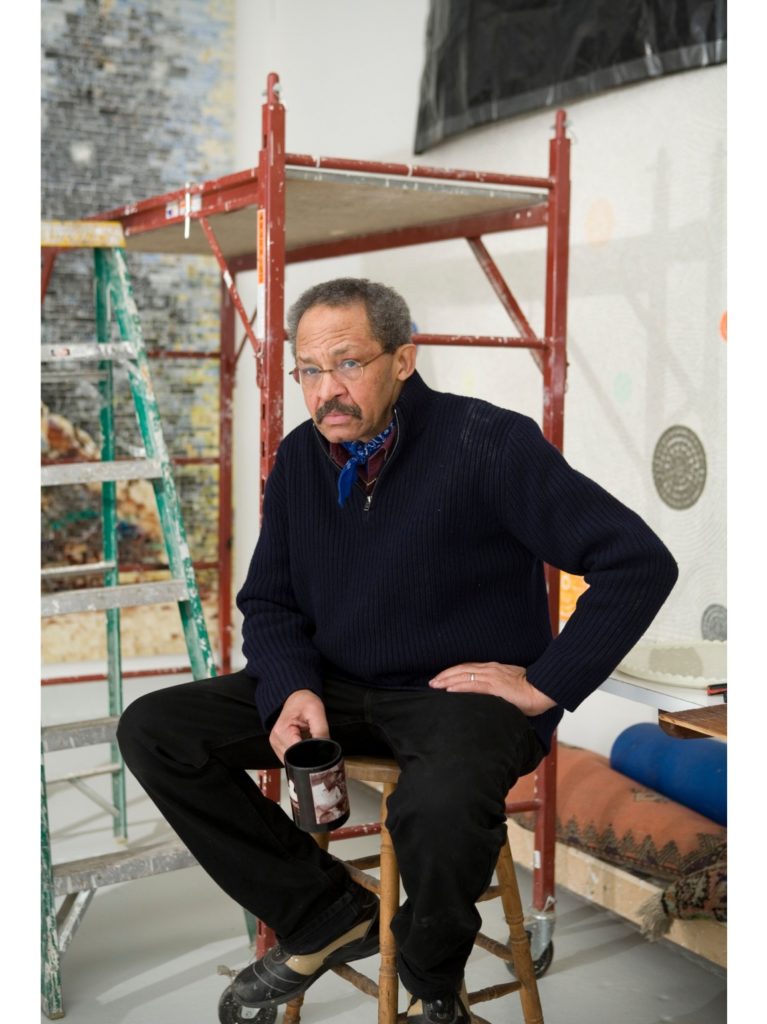 When: 30 March – 31 July
"I can build anything I want to. I'm not a narrative painter. I don't do the idea or the painting being the illustration of an idea. It's all about the materiality of the paint."

Jack Whitten
If there's a word to describe Jack Whitten's oeuvre of work, it's 'singular'. A process as seemingly mechanical — see; layers upon layers of geometric shapes — as it is intensely gestural and emotional, Whitten blurs the boundaries between sculpture and painting; in doing so, creating his own, distinct visual language. This will be Jack Whitten's first solo exhibition in Asia, courtesy of Hauser & Wirth Hong Kong.
Hauser & Wirth Hong Kong, 15-16/F, H Queen's, 80 Queen's Road Central, Hong Kong, +852 3958 7188