K11 MUSEA, the formidable fortress that has been holding court next to Rosewood Hong Kong sets a benchmark as Hong Kong's most sophisticated museum-retail complex yet. The brainchild of New World Group's Adrian Cheng, K11 MUSEA is the K11 brand's flagship property — much like its neighbour Rosewood Hong Kong, helmed by his sister Sonia Cheng, is the hotel's global flagship.
As a key part of the US$2.6 billion Victoria Dockside development, it's all an effort to revitalise the Tsim Sha Tsui waterfront, which according to Adrian Cheng "has lost its legendary charm since the late 90s." He adds, "K11 MUSEA will be Hong Kong and Asia's new cultural destination, where global millennials can come together and discover their muse."
To do so, Cheng has pulled out all the stops to create a one-of-a-kind retail experience, particularly enlisting '100 Creative Powers' to mastermind the architecture, interiors and artwork. As Cheng says, "where K11 MUSEA stands today has historically played a vital role in the exchange of ideas, and as the confluence of cultures in Hong Kong. It is therefore my vision to reinvigorate this district with 100 creative powers and continue our mission in incubating local and global creative talent."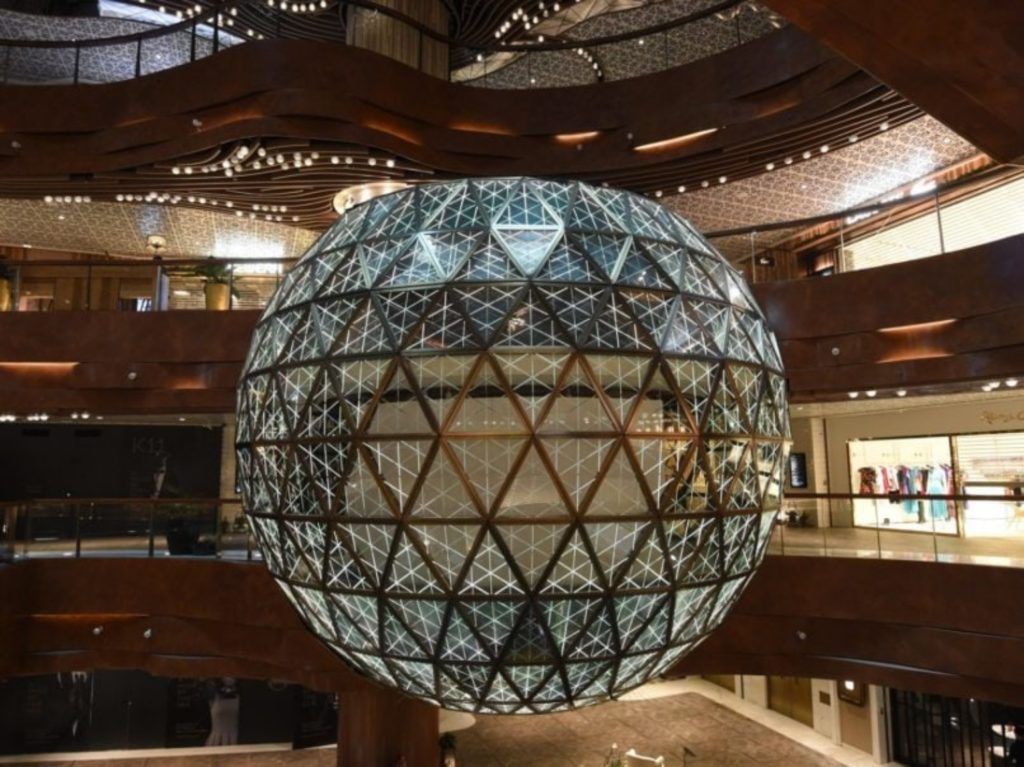 Measuring a whopping grand total of 1.2 million sq. ft. and spanning over ten floors, the retail giant boasts numerous international brands, including some of their largest stores in Hong Kong. It's billed to be an immersive, multi-sensory space; an attempt to make art and culture more democratised for the everyday shopper.
The building's architecture is a collaborative effort led by Kohn Pedersen Fox and James Corner Field Operations. James Corner also had a significant hand in the wave-like redesign of the Avenue of Stars. The entire complex is inspired by the concept of 'A Muse by the Sea,' as apparent in its name.
Other design firms that also had a hand in the blueprint include Ronald Lu & Partners, Hong Kong design firm LAAB, OMA, led by famed Dutch architects Rem Koolhaas and David Gianotten and UK lighting design practice Speirs + Major.
Inside its walls, K11 MUSEA also boasts over 40 world-class contemporary art pieces, featuring works by Hong Kong artist Samson Young (presented with a mini golf-inspired art installation below), Carol Bove, Paola Pivi (known for her neon-hued polar bear sculptures), street artists Bao Ho, Katol of collective Startfromzero and Ron English. Those keen on new media and video art will want to head to the Gold Ball exhibition space — what looks to be a massive disco ball in the shopping mall atrium — located on the second floor.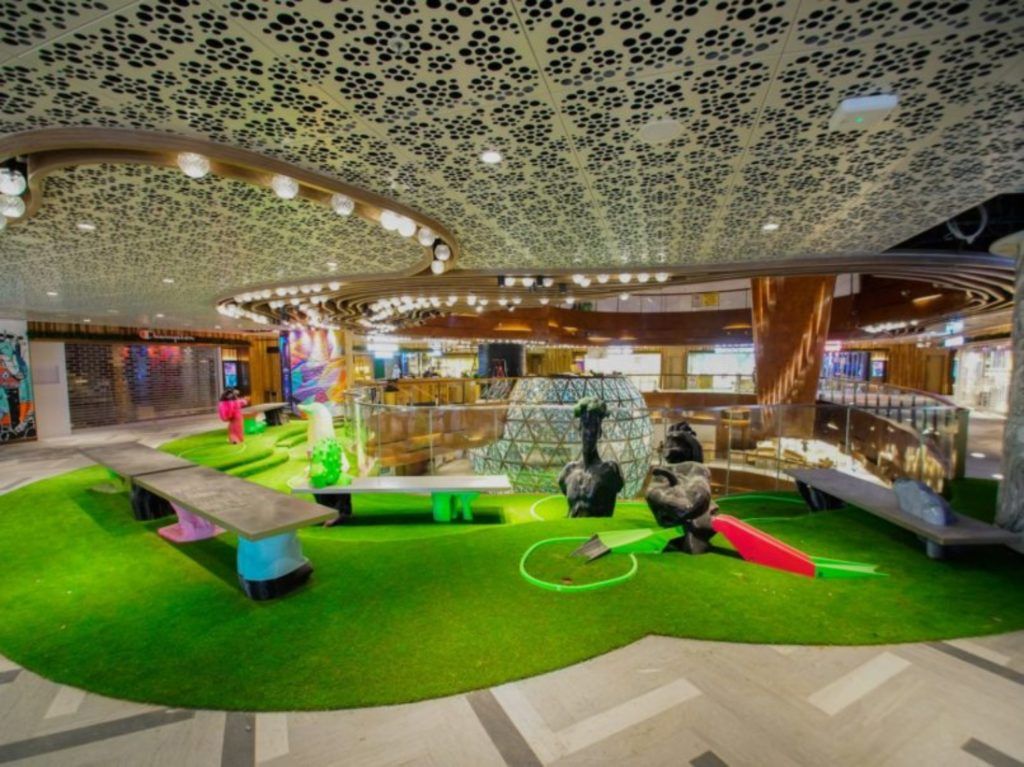 You'll also find artistic touches wherever you look — from the floral backdrop of the 'Koncierge' information desk to the undulating lines and pearly lamp fixtures that repeat throughout the central atrium, ceilings and escalators. Named the 'Opera Theatre', the theatrical central atrium features a 7-metre-high skylight. Tinged with warm lighting and brass touches, the space feels more like Aladdin's cave of wonders than a shopping complex.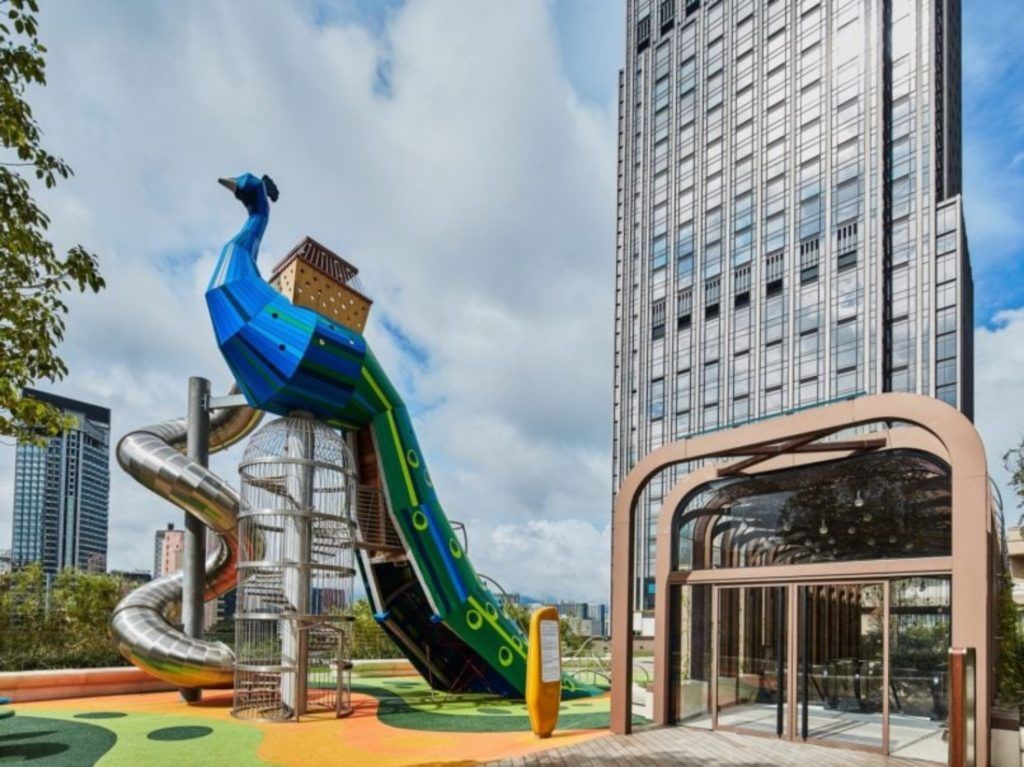 Outside, a new family-friendly playground is possibly the most breathtaking one we've seen — a 9-metre peacock climbing frame and tubular slide, designed by Denmark's award-winning playground designers Monstrum. Also featured is the Legoland Discover Centre, with a multi-storey Donut Playhouse filled with family-friendly edutainment and shops. There's also an oval lawn for outdoor cinema screenings and special events, as well as an alfresco dining destination. On the sixth floor, K11 MUSEA's tagline as the 'Silicon Valley of Culture' is realised: with an Art and Culture Centre indoors — one that opens up opportunity for museum-grade exhibitions — and a Sculpture Park outdoors.
K11 MUSEA boasts many exciting openings, with areas dedicated to technology, streetwear, high fashion, beauty and dining. Here are all the highlights.
For hungry shoppers: – Cobo House returns as a fine-dining concept in K11 MUSEA.
– Soil To Soul follows a strict vegetarian philosophy, with Korean temple cuisine a centrepiece.
– Koffee Mameya, Tokyo's speciality coffee-bean café, opens its first overseas branch with seating.
– The Hong Kong flagship of Fortnum & Masons, featuring retail and restaurant space spanning 7,000 sq. ft.
– Afternoon Tea, Japanese home décor store turned café, featuring customisable afternoon tea sets and ingredients freshly flown from Japan.
– London millennial favourite, Avobar, an all-day diner and brunch hotspot dedicated to avocado.
– Popular Japanese sweets café A Happy Pancake, with its second outpost in Hong Kong.
– Chatterbox Cafe by Mandarin Orchard Singapore, home of the acclaimed Mandarin Chicken Rice and one of Singapore's oldest serving the dish.
– Takano Ramen, Tokyo Michelin favourite for four years running, opens its first restaurant in Hong Kong, where it will make ramen fresh in-store each day.
– Kiki Noodle Bar, cult-favourite Taiwanese noodle and bubble tea brand opens, hot off the heels of a flagship opening at IFC Mall, featuring two new exclusive bubble teas and two new noodle dishes.
– The second outpost of American fast food chain Five Guys in Hong Kong, and the very first on Kowloon side.
– HeyTea Lab, a sit-down café by the famed Instagrammable bubble tea brand, featuring eclectic alcoholic concoctions and special drinks exclusive to K11 MUSEA.
– Hong Kong actor Moses Chan's own café, Blooms Coffee.
– Per Piacere, Italian gelateria which churns fresh gelato in-store, as well as serves artisanal ice pops, chocolate, cicchetti (snacks) and coffee.
– The Food Playground with over 10 international cuisines.
For fashion and design aficionados: – K11 joins forces with Antonia for K11|ANTONIA — a multi-brand experience curated by the influential Italian institution.
– Chiara Ferragni's first flagship store in Hong Kong.
– MaskOn._'s third brick-and-mortar store in Hong Kong; the first in Kowloon.
– The new MoMA Design Store Hong Kong spanning over 6,000 sq. ft. It's not just the first MoMA store in Greater China, but also the largest museum-quality design store in Asia.
– L'École, School of Jewelry Arts by Maison Van Cleef & Arpels, opening its first outpost outside of Paris.
– Yohji Yamamoto's debut flagship in Greater China, sized at over 2,000 sq. ft. and located at the mall entrance.
– The largest Loewe store in Hong Kong.
– The largest Gentle Monster shop in Hong Kong.
– COS opens its largest retail branch in Hong Kong, spanning over 5,000 sq.ft. showcasing its signature clean minimalist design.
– Milan's romantic boho-chic brand Twinset's first Hong Kong branch.
– Italian streetwear label GCDS's first store in Greater China, with a retail space of over 1,300 sq. ft..
– Mackage, Canadian outerwear brand's first Asia flagship.
– Italian sneaker brand Golden Goose's first independent store in Hong Kong.
For entertainment geeks and techies: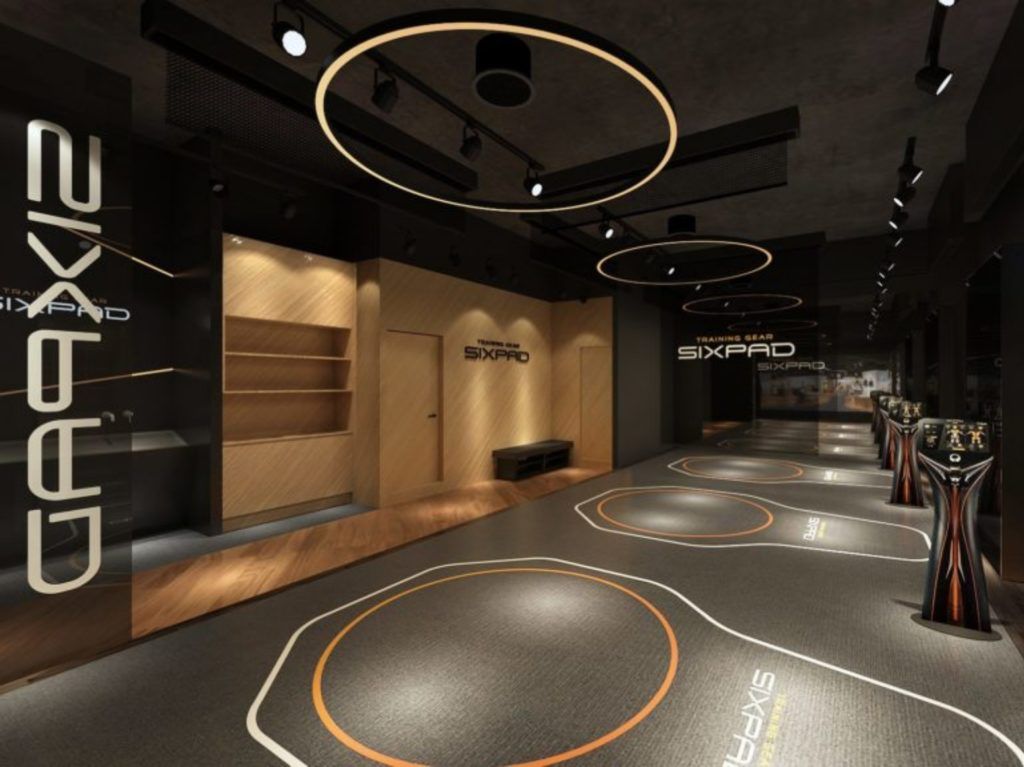 – Sixpad Station, an innovative new fitness training centre hailing from Roppongi, featuring electrical muscle stimulation (EMS) suits by the tech brand.
– K11 Art House, the new flagship UA Cinemas theatre, featuring the very first IMAX Laser projection system.
– Wireless charging stations across the premises, cleverly hidden in coffee tables.
For beauty lovers:
– The largest retail space in town for British perfumery house Penhaligon's.
– The latest dedicated Tom Ford Beauty shop in Hong Kong.
– The second retail space of Miller Harris, London-born fragrance house, newly introduced to Hong Kong this summer.
– The first retail space dedicated to Serge Lutens, French perfume brand named after the filmmaker, photographer and designer.
– The first standalone Charlotte Tilbury Beauty Wonderland in Hong Kong.
– Polish natural soap brand Yope's first retail store in Hong Kong.
– The first dedicated Givenchy Beauty boutique in town.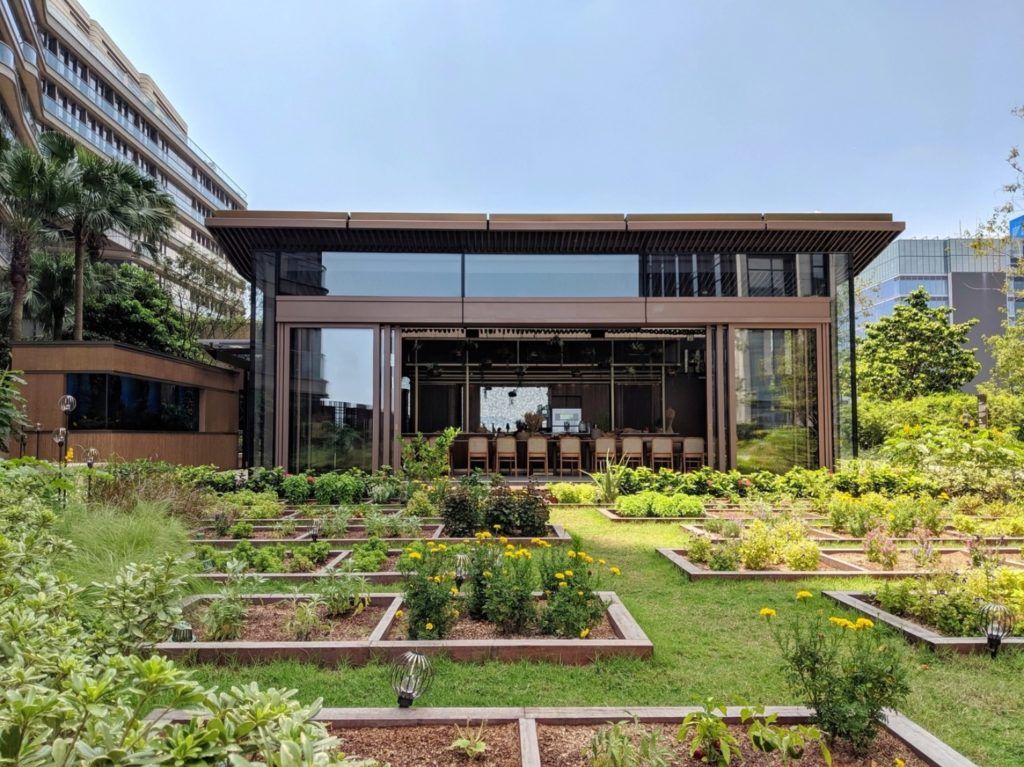 Proving that K11 Group doesn't just have its head in the commercial clouds, K11 MUSEA also boasts the world's largest green walls wrapping its facade — with over 50,000 sq. ft covered in live greenery (that's about 18 tennis courts' worth of foliage). On the roof, you'll find an urban farming space. There are also enclosed green cabinets of exotic plants to educate the public. Long before the opening date, the K11 MUSEA project has also been awarded the US Leed (Gold) and the Hong Kong Bean Plus (Gold) standards, both green building pre-certifications proving that sustainability is key to its design.
This article was originally written by Evelyn Lok on 28 August 2019, and updated by the Lifestyle Asia Hong Kong team on 16 February 2021.
K11 Musea
Address
K11 Musea, Victoria Dockside, Tsim Sha Tsui, Hong Kong