Sure, the mooncakes are delicious and it's a great excuse to get together with family and friends for a full celebratory feast, but Mid-Autumn Festival is also known for the grand lantern displays that fill the city with a beautiful festive glow. It's an experience that shouldn't be missed. Here's where to go to enjoy some of the city's best Mid-Autumn displays.
Lee Tung Avenue: Lanterns to the Moon
Should you be looking for the consummate backdrop for your annual Mid-Autumn snap on Instagram this year, pay a visit to the pretty paved walkway of Lee Tung Avenue.
The 200-metre street is sheltered with a glowing canopy of traditional tasselled lanterns –– 688, to be exact –– hanging above coffee shop patios and fairy-lit trees, lighting the way with festive shades of red, pink, green and purple.
Tai O Lantern Festival
For a couple weeks each year, the sleepy fishing village of Tai O is set aglow with rainbow lanterns, dotted above local stalls and woven between the narrow streets for Mid-Autumn Festival.
Organised by local art group Tai O Fei Mao Li, the 2,500 spherical lanterns are hand-painted by various communities in Hong Kong and arranged by Tai O locals and volunteers. Catch the mesmerising lighting ceremony each day from 6:30pm – 9pm until 30 September.
Take note: The lantern lighting ceremony will not take place on 21 and 22 September due to overcrowding in the village in respect of celebrating residents.
Tai O Lantern Festival, Kat Hing Street, Tai O, Lantau, New Territories, Hong Kong
Image courtesy of @katy_chibi / Instagram
Lake House
Make Mid-Autumn truly memorable at the Lake House, a grand colonial home set in the quaint greenery of Lake Egret in Tai Po.
Begin with a dedicated Mid-Autumn menu, enjoyed lakeside at the venue's resident modern Cantonese restaurant, Le Vow, then make your way to the adjacent giant patch of green which has been lit up with a three-metre moon installation with 40 rabbits and glowing toadstools until 22 September.
Lake Egret has been transformed into a wishing pond, lit beautifully by the glow of floating wishing lotus flowers. Following easy tag-and-follow instructions, release a flower and make a wish of your very own.
Lake House, 2 Hung Lam Drive, Tai Po Kau, Tai Po, New Territories, Hong Kong, +852 3974 0808
The Peak: Moon Rabbits at The Peak Tower Rabbit Garden
The higher you go this Mid-Autumn, the closer you'll be to the moon, which is said to appear larger, rounder and more magnified during the holiday. So get your cameras ready!
As you make the ascend up the moon-lit path to The Peak, you'll be guided by a friendly pack of 30 glowing rabbits en route. They'll make the trip all the way to the Rabbit Garden up at Sky Terrace 428, where they'll stop, rest and get in position for some very colourful photographs.
Sky Terrace 428, 1 Lugard Road, The Peak, Hong Kong, +852 2849 7654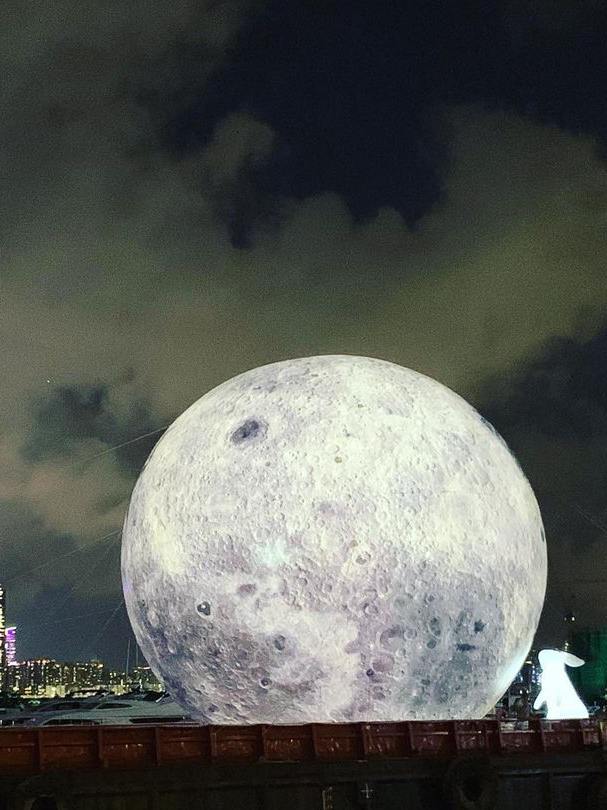 Kwun Tong Promenade: Fly Me To The Moon
Tales of Mid-Autumn Festival are often told in anecdotes shrouded in the myths and lores of the moon: Chang'e, the Chinese goddess trapped above. The Jade Rabbit, her only companion.
Celebrate then, with a theatrical tribute. Kwun Tong Promenade has been set up as the stage of a 15-metre high inflatable moon until 22 September –– Hong Kong's largest. Afloat just along the harbour-front at the tail-end of a moving platform, the installation, arranged by local entrepreneurial advisory GP42, is showcased against of fairy lights and lanterns in mimic of a starry sky on a clear evening, with over 100 moon rabbits curiously perched around.
Vessel 02 (V Gallery), 90 Hoi Bun Road, Kwun Tong, Kowloon, Hong Kong
Image courtesy of @nananashine / Instagram.
Wong Tai Sin Temple & Temple Mall
Coinciding with Mid-Autumn Festival, Wong Tai Sin temple is celebrating 100 years this year. The Sik Sik Yuen Centennial Carnival decorates the time-honoured temple with giant lantern displays that light up like clockwork every evening at 6pm until 24 September. Many of the pieces harken back to classic Mid-Autumn traditions with nods to the notable references under the Intangible Cultural Heritage, including the Jade Bunny, the animals of the Zodiac and the recreation of cultural imagery such as 'Two dragons playing with a pearl' (雙龍戲珠).
Traditional performances, Chinese opera, pitch-potting (投壺) and archery will also be available on site.
Neighbouring Temple Mall is also hosting celebrations of their own. A 3.5-metre interactive installation, 'Golden Autumn Lumiere', is a mirrored room decorated with a ceiling of lanterns that will change colours in sync to your every movement.
Victoria Park
Since its first festival in 1974, Victoria Park has touted title as the city's largest and grandest collection of lantern displays. For this year, the park attributes its show-stopping piece to a six-metre high merry-go-round, crated by local paper craft master, Hui Ka-Hung. Amongst decorations created by local students are also some animal-themed show pieces: an elephant family, birds, flowers and ornate flower vases.
In other parks across the city, lantern displays have also taken oven the green-primed football pitches, with Sha Tin Park pertaining to a underwater theme with dolphins and turtles, and Tin Shui Wai with yet another show-stopped, a five-metre high Phoenix emerging from a traditional ornate lantern.
Light-up time for all parks with be from 6:30pm to 11pm, and extended till 12am for Mid-Autumn day (today!).
Image courtesy of @intikung / Instagram
Hong Kong Cultural Centre: The Other Side of the Moon
And finally, a humorous addition to Mid-Autumn tradition that's bound to bring a little chuckle.
This Mid-Autumn, The Hong Kong Cultural Centre has collaborated with local artist Dylan Kwok for an energy-saving installation set in the fountain behind Tsim Sha Tsui's landmark clock tower. Six giant bunnies, identified as 'phubbers' (phone-snubbers), are seen head-down, laser focused on the tablets grasped tightly between its paws, lit only by the faint glow from its tiny screen –– a satire commentary on our internet-dependent community. Play into the irony and flick up for a friend.
Hong Kong Cultural Centre, L5, Auditoria Building, 10 Salisbury Rd, Tsim Sha Tsui, Hong Kong, +852 2734 2009
Header image courtesy of Temple Mall / Golden Autumn Lumiere