Swipe up for more. Like for like. Hashtags abound. Brainrental's 'K11 Art Mall ACTIVE/IDLE' experience is a tongue-in-cheek pastiche of culture-at-large's insatiable reliance on social media.
'Digital Fitness', as ideated by Hong Kong-based creative trio Brainrental, is a response to a state of affliction. A thoughtful, interactive showcase poking fun at the obsessive — addictive, even — ways in which social media consumes our lives. Building out a full gym complete with a locker room, treadmills, yoga mats and a free-weights section, the 'K11 Art Mall ACTIVE/IDLE' show interweaves gym equipment with pointed socio-cultural commentary.
There is a clear correlation between effort and satisfaction — or, effort derived from physical and mental exertion that leads to satisfaction — that exists in both heart-thumping HIIT session and an Instagram post, flooded with hearts. One of the most blatant examples at the showcase was 'The Power of Like', an installation created in the image of a seated cable row machine. A single pull back — knees bent, then straight — will activate a larger-than-life-sized thumbs-up motion. Again: physical exertion meets satisfaction, delivered via a lifted thumb.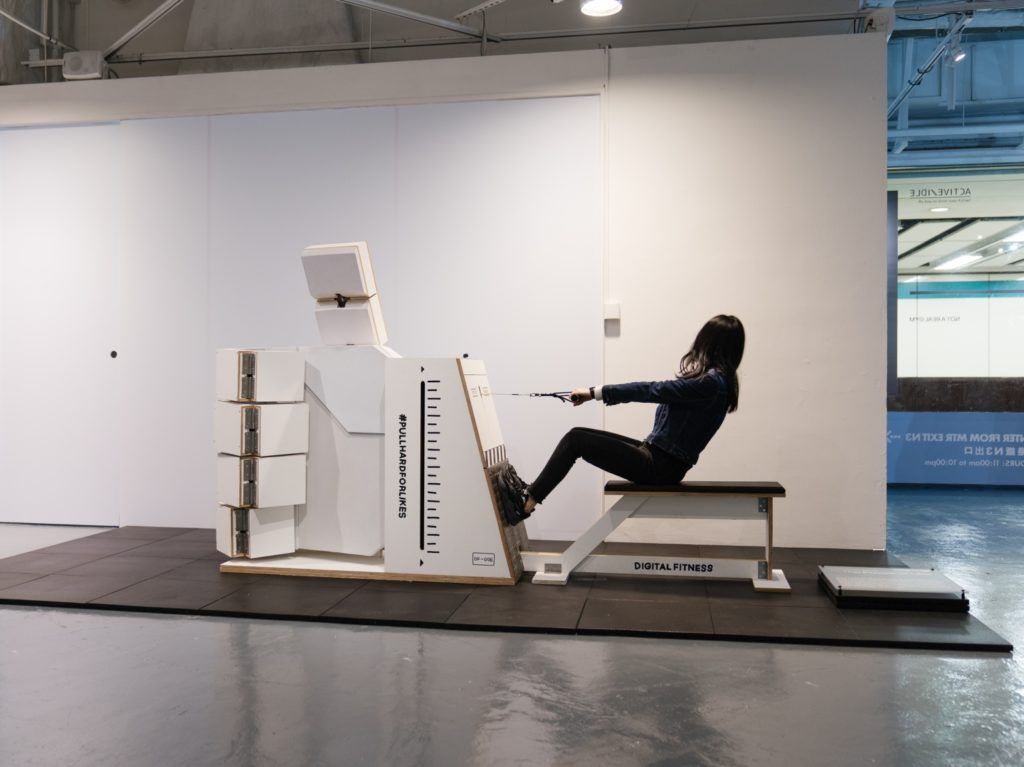 A play on treadmills, the 'Feedmill' scrolls through a series of hand-drawn memes. The participant does not physically stride atop the belt, however. Instead, the 'Feedmill' activates by view of vision; that is, through the viewer's eyeballs aimed and moving at the camera positioned at the crown of the machine. Ultimately, it's the eyes — not quads or calves, as would be conventional — that become fatigued.
Do not let even the tiniest of details go without contemplation. A revamped first-aid box, for example, hangs on the wall across the bay of lockers. Rather of band-aids and gauze, the glass-front kit holds USB-C cables, a bottle of electronic cleanser and an extra iPhone case, courtesy of CASETiFY.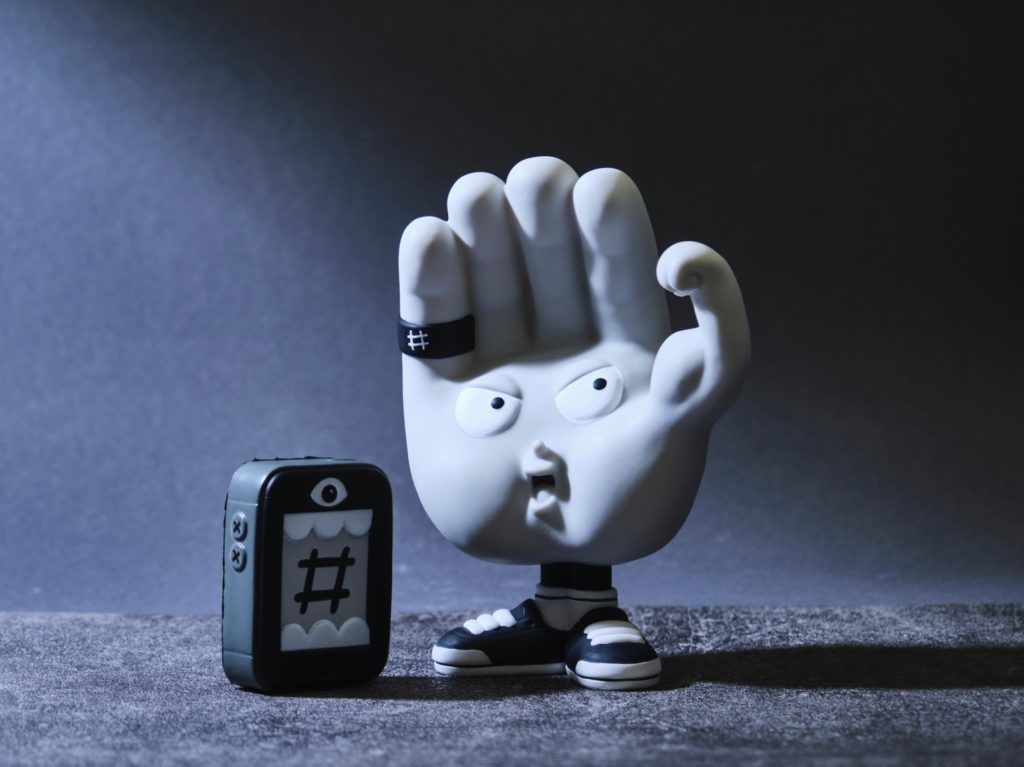 Several floors above lies a retail extension of this Brainrental exhibition; an 'InConvenience Dept.' in tribute — and consternation — to 'convenience stores' everywhere. Recreating a brick-and-mortar storefront, InConvenience Dept. presents an antidote to online shopping; a walk-through experience that encourages exploring, touching and feeling — as opposed to 'Add to Cart' at a click of a button. On sale are 'Digital Fitness'-themed products like Jimmy figurines (HK$680) and an iPhone-shaped stress ball, as well as in-collaboration products like Jimmy-branded CASETiFY cases (HK$429-469) and Brainrental x Found CBD gummies, oil and balm. Other up-and-coming local designer brands featured at InConvenience Dept. include B'IN Select, Walk on Water, Matter Matters,
Liberation and Metalwork.
All images courtesy of Brainrental and K11 Art Mall.
K11 Art Mall ACTIVE/IDLE runs from 12 March to 9 May. chi k11 art space, K11 Art Mall, B207, B2/F, 18 Hanoi Road, Tsim Sha Tsui, Kowloon, Hong Kong, +852 3118 8070