…And we made it. Well done, everybody. Rounds of applause; pats on the back. 2021, done and dusted. With Christmas a few sleeps away and with dinners and parties and whatever "soirée" corporate has decided to name as euphemism for lukewarm mugfuls of mulled wine on a Thursday afternoon, you've probably got a lot on your (hopefully festive, red-green decorated) plate this month. Phew. If you have a spare moment, though, here are some things to do. Just in case you're not still shopping for that Secret Santa party you've forgotten you committed to. Whoops.
If you're ready to ring in the year with flutes of bubbles in hand…
Moët & Chandon's Time Square Pop-up
When: 27 November 2021 – 2 January 2022
If you've not already had a flute of champagne this month just yet, you know there'll be some in your very near future. It's December! The month of indulgence! Of celebration! Of fizzy glasses of bubbles that clink and toast to well wishes!
Moët & Chandon's golden pop-up — you can't miss it; it's all golden and bauble-strewn and suspended as the centrepiece of Time Square's atrium — delivers just the thing, with an exclusive gift-wrap service available to customers who purchase any Moët & Chandon champagne from city'super (B1) or Liquid Gold (Shop 904B, 9/F). Stop by on 11 December from 2–6pm for an exclusive hand-calligraphy personalisation, available for all Moët & Chandon formats above 75cl.
2/F Atrium, Times Square, 1 Matheson Street, Causeway Bay, Hong Kong
If you still have some people to check off your "Christmas To Buy" list…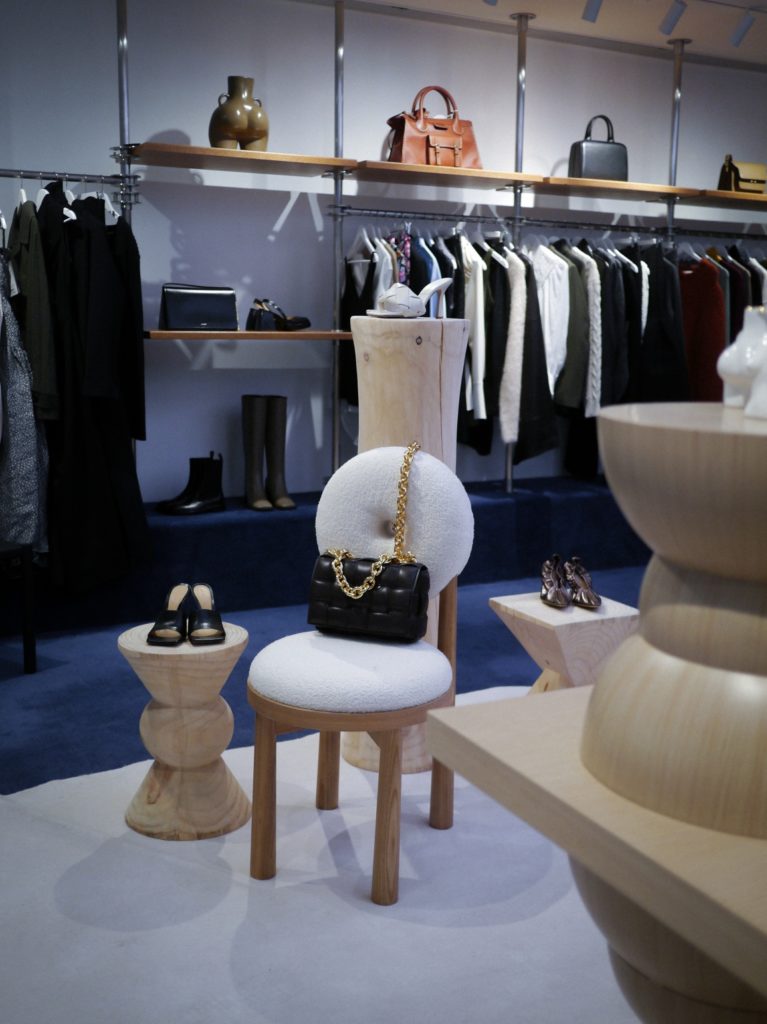 MATCHESFASHION's Holiday Gifting Pop-up
When: Through 12 December
If you've run through our exhaustive slew of gift guides and is really, instead, itching for some IRL retail therapy, MATCHESFASHION's pop-up at LANDMARK'S Belowground — the e-comm platform's first-ever physical presence in Hong Kong — should be first on your list of places to hit.
From Totême and Bode to Studio Nicholson and more, the gifting suite features the likes of brands you've been drooling after on Instagram. Now, in a space designed by EDITECTURE inspired by 5 Carlos Place, MATCHESFASHION's London headquarter, consider your Christmas "To Buy" list sorted, with items that span across fashion, jewellery and homeware. Something for everyone!
MATCHESFASHION, B/F, Shop B6, Belowground LANDMARK, 15 Queen's Road Central, Central, Hong Kong
If your tresses are in need of some TLC (and you get to make yourself a bouquet for the trouble)…
TONI&GUY x Floristry by Art of Living "British Hair Care x Floral Jamming Workshop"
When: Various dates and times, including 16, 23 and 30 December and 6, 13, 20, 27 and 28 January (Click here for more information)
TONI&GUY's flagship re-opening runs in tandem with a limited-time pop-up floral workshop hosted in collaboration with Hong Kong's Floristry by Art of Living through December and January.
The hair-styling session-cum-floral workshop promises tresses blow-dried into works of art by TONI&GUY's team of experts and a floral work of art you're going to have to make yourself. (It's fun! Trust!)
Tickets are priced at HK$1,380 (Valued at HK$1,780), including entrance to the "Whimsical Floral Jamming Workshop" and a TONI&GUY deep moisturising hair care, wash and blow styling gift voucher. Purchase here.
TONI&GUY, G/F, 15 Wyndham Street, Central, Hong Kong, +852 2191 9819
If your pup wants to go on a walkie to Lee Gardens…
Lee Gardens x First Initiative Foundation (FIF): FURRYTALES
When: 28 November 2021 – 9 January 2022
Spread throughout Lee Garden One and Lee Garden Two are three pet-friendly, charitable pitstops ideated in collaboration with First Initiative Foundation (FIF).
"FURRYTALES" encompass an art exhibition featuring the works of artists Zhu Jinshi and Kitti Narod; the former of which is responsible for the Magical Garden's 6-metre-tall Christmas tree. Then, from a family portrait lounge in the Lee Garden One Basement (pets very welcome!) to the interactive rooftop space complete with a pet adoption corner, there's something exciting for the entire family: two- or four-legged.
Hysan Avenue, Lee Garden One; Basement, Lee Garden One; Rooftop Event Space, 3/F, Lee Garden Two, Causeway Bay, Hong Kong
If your quota for All I Want For Christmas Is You has already started its run…
Love Endures: The Harmonics Choir LGBTQIA+ Christmas Concert
When: 15 December at 8pm; 18 December at 3pm
Christmas is not Christmas without some sing-along tunes — jingle bells not necessary, but greatly appreciated — that warm your heart. The Harmonics Choir, Hong Kong's largest local LGBTQIA+ and Allies community choir, will be performing on the 15th and 18th with a set-list that spans eras, styles and rhythms, including festive favourites like Silent Night and, we hear, Broadway hits. Fingers crossed for Defying Gravity.
Tickets are priced at HK$250 and can be purchased here.
1/F, The Sanctuary, Methodist International Church, Wesleyan House, 271 Queen's Road East, Wan Chai, Hong Kong
If you want to shop for good causes…
The BaseHall Christmas Market by The Good Sons
When: 11 December
In the spirit of the season of giving, BaseHall's Christmas Market is a collaborative event held in tandem with The Good Sons, a local retail concept with aims of bringing awareness to cool local brands as well as awareness (and revenue!) to charities all over the world.
On 11 December, BaseHall will be decked out in festive cheer, with vendors like wine purveyor La Cabane and fashion reseller HULA on hand to inspire some last-minute Christmas shopping. Also present: puppies from the Lifelong Animal Protection Charity that need good, loving homes — for the holiday and beyond.
Entrance is free; register here.
BaseHall, 1 Connaught Place, Central, Hong Kong
All together now: I don't want a lot for Christmas…
Cozy Acoustic Sessions at The Wild Lot
When: 18 December, 5 – 10pm
The Wild Lot's inaugural "Cozy Acoustic Sessions" will feature the tunes of your favourite indie artist — or introduce some to your upcoming Spotify favourites — including the likes of Kiri T, cehryl, Jodie Chan, Isaac Chan, moon tang and stephanie teng and, equally as important, a Festive Bao and cocktail from neighbouring Little Bao Soho included with a ticket purchase.
I'm not sure if they take requests, but they can't not sing a collective, harmonised All I Want For Christmas Is You, right? It's December; it's legal now. Request it.
Tickets are priced at HK$450 and can be purchased here.
The Wild Lot, Shop B, G/F, 6-10 Shin Hing Street, Sheung Wan, Hong Kong
(Hero image courtesy of Lee Gardens and First Initiative Foundation)