We're only a day away from Valentine's Day and if you're someone who got caught up and forgot to guy a gift for your partner, worry no more. We've got your backs! From skincare to makeup, we've got some impeccable hampers and gifts that make for a perfect gift for your loved ones.
Whether you're celebrating Galentine's with your girl gang or you're all set to make your bae feel loved, we've got some incredible gifts that you can indulge in to make them feel special. Having said that, when it comes to girls, beauty and skincare is one category that one can never have enough of. Flowers and chocolates sure know their way to everyone's hearts, but a perfectly curated beauty hamper is what hits differently, right? So, listen up boys and girls, if you're in a fix about how to make the women in your lives feel loved, well then listed below are a few beauty gift hampers for Valentine's day to treat your bae the way she deserves. From amping up their makeup game to adding yet another soothing step to their skincare routine, here are a few beauty gift hampers for Valentine's day to choose from.
Kimirica
We've made it easy to find the right gift for your special someone. India's leading self-care brand 'Kimirica' brings you "The art of fifting" with its range of thoughtful gift sets and exclusive Valentine's gifts to convey love & care for your partner. So, opt for their bestseller love story experience set and let it envelop you in the luxurious ambiance of your very own love story.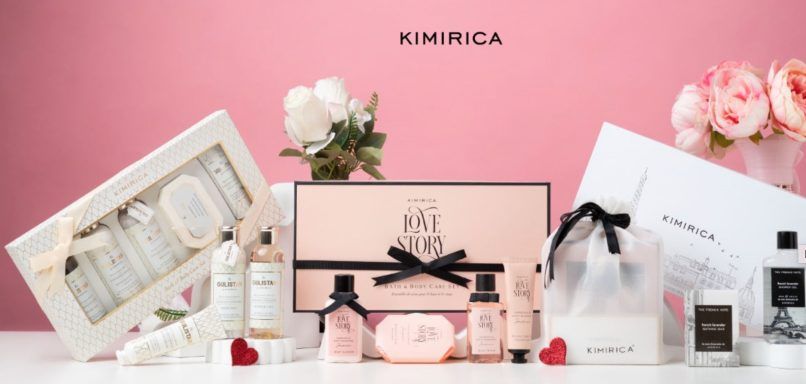 Makeup Eraser
Speaking of Valentine's beauty gift hampers, the recently launched Makeup Eraser India's special delivery 7-day set is Ultra-soft, hypoallergenic, & dermatologist approved, and it makes for a perfect for your bae. WOW
If your girl's a skincare enthusiast then WOW's ubtan skin care kit is just the right choice for her! It is known for it skin-rejuvenating and exfoliating qualities. The ubtan scrub helps to remove dead skin cells, ingrained dirt, and tan, while also moisturizing and softening the skin to leave it shining and velvety smooth.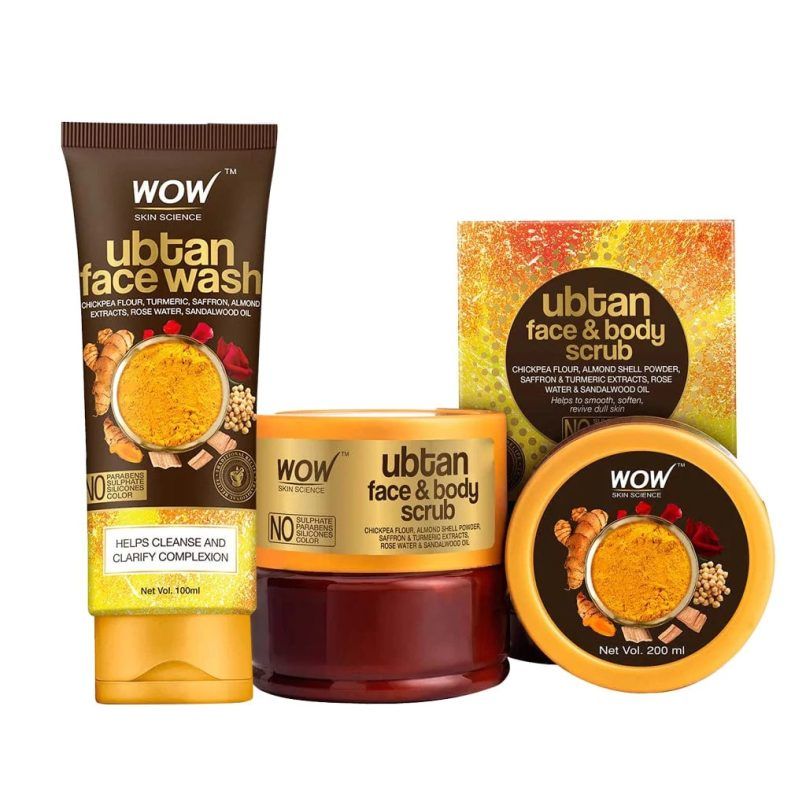 BiE
Love is clearly not the only thing in the air this Valentine's day, but in this pair is too! BiE's 'love is in the pair' kit is all set to take your girl on a soothing trip along with a nourishing and hydrating experience.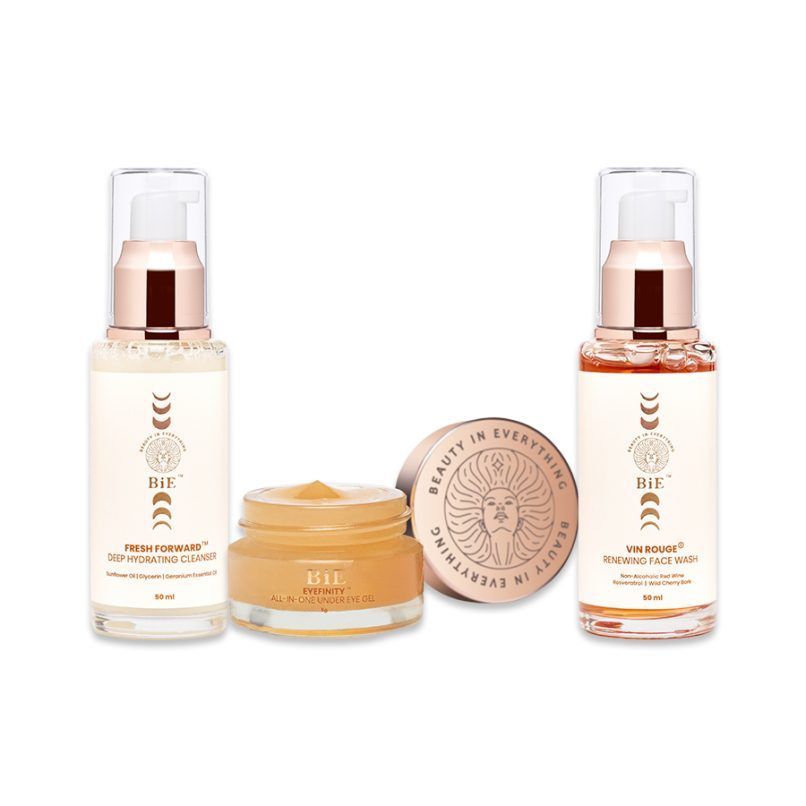 Neal's Yard
Enhance your radiance naturally with Neal's Yard Remedies Wild Rose Body collection. Formulated with provitamin A-rich organic wild rosehip seed oil and a balancing blend of organic geranium and patchouli essential oils, this beautifully fragranced and luxurious collection will intensely nourish and enhance your skin's radiance, for a natural glow. This Valentine's collection is the perfect gift for the special woman in your life.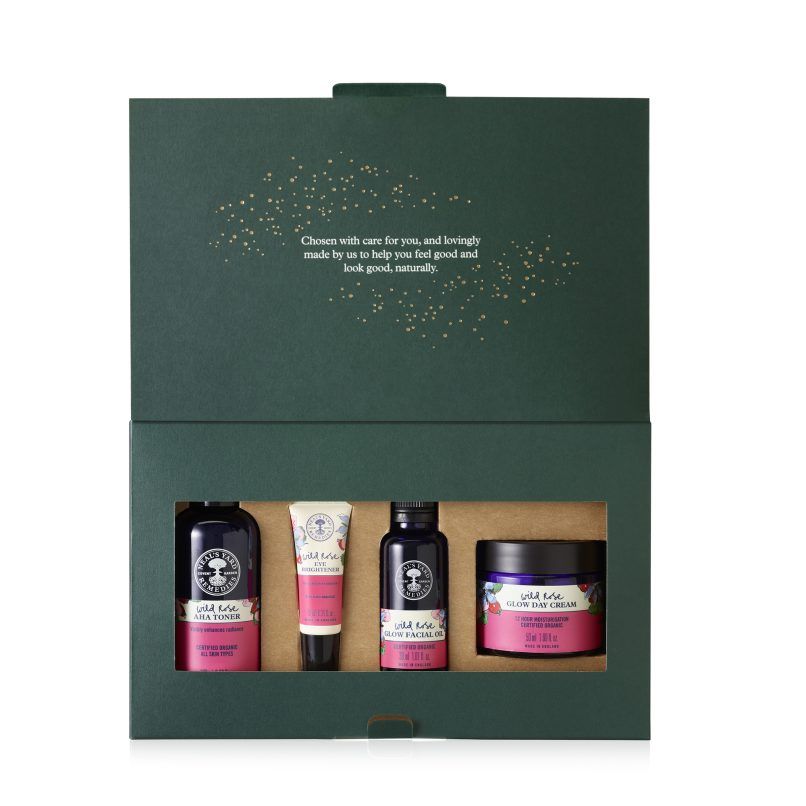 Moira
If you're looking for beauty gift hampers this Valentine's day then Moira's pink bundle is ready to make your baes fall in love with makeup even further. The hues of this collection are for every moment, every mood, every skin tone, and everyone!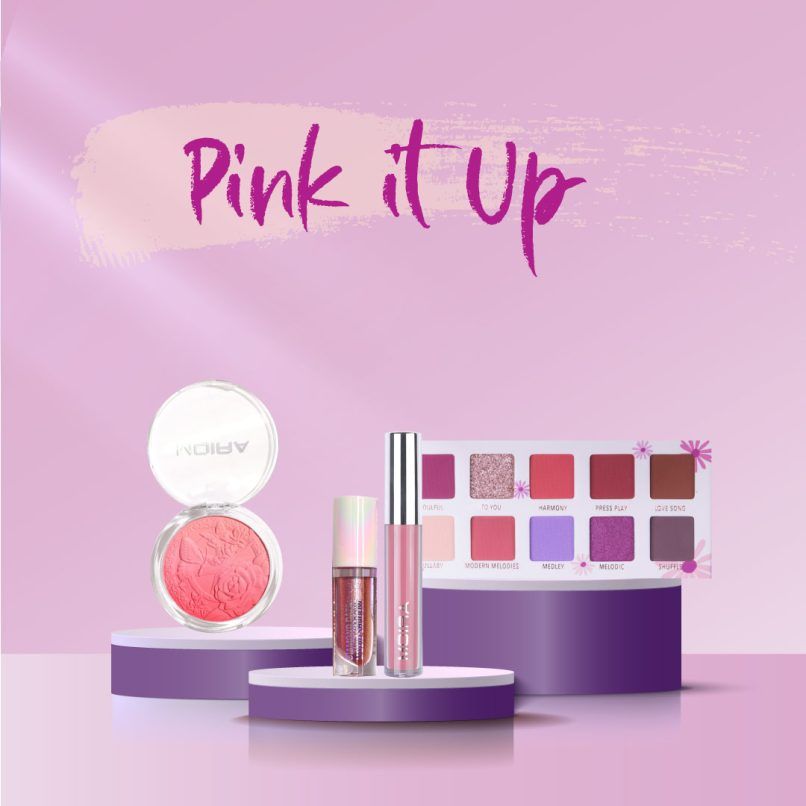 Amrutam
What sugar is to lemonade is what luxury is to romance – making the latter just so much better! This unique combo with wholesome recipes for skin, hair and health makes for an impressive gift this Valentine's season. With 12 unique products packaged in mini-sized bottles, this kit makes for the perfect companion when you and your partner are on the go. Luxuriously packed in a gift bag, this travel essentials kit is ideal for celebrating new milestones in your relationship!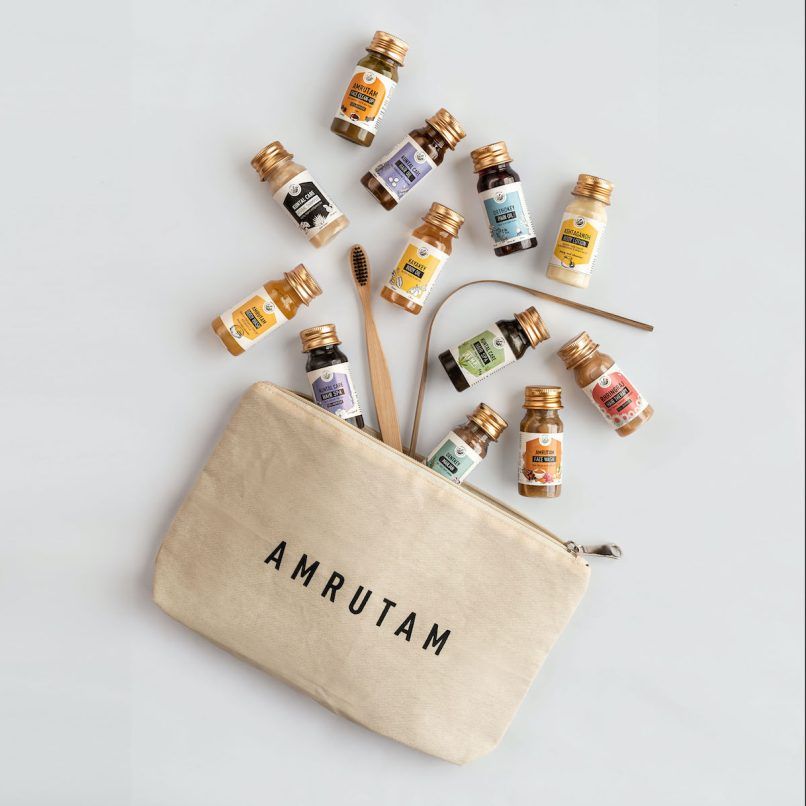 Quench
This Valentine's Day treat your loved one and their boo to clear, bright skin with the Quench 'all you need skincare kit'! This kit is filled with skin-loving bestsellers that deep cleanse, boost radiance and intensely hydrate, leaving behind soft, smooth and rejuvenated skin!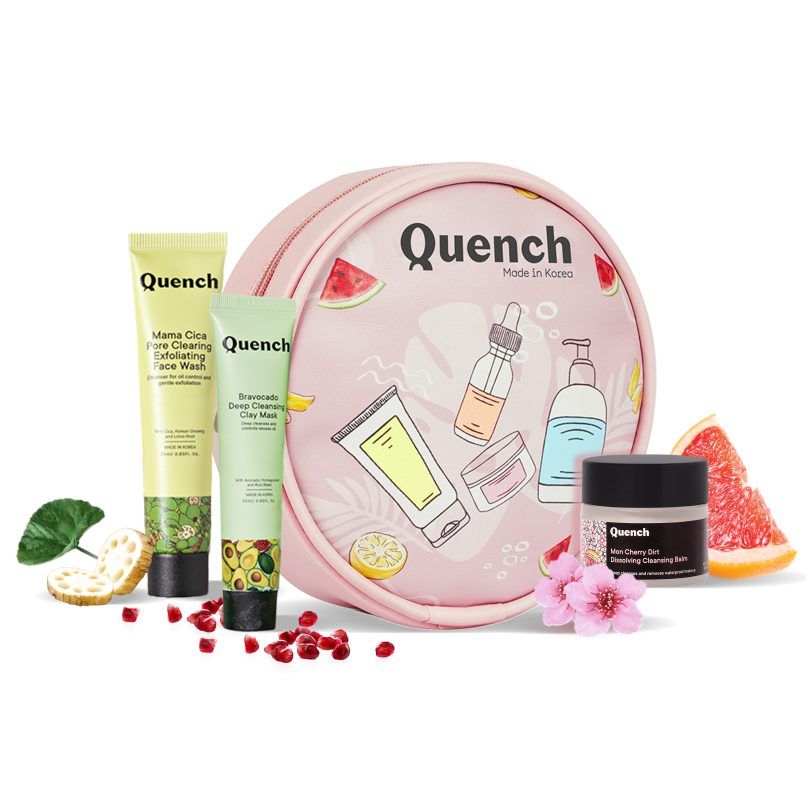 The Ordinary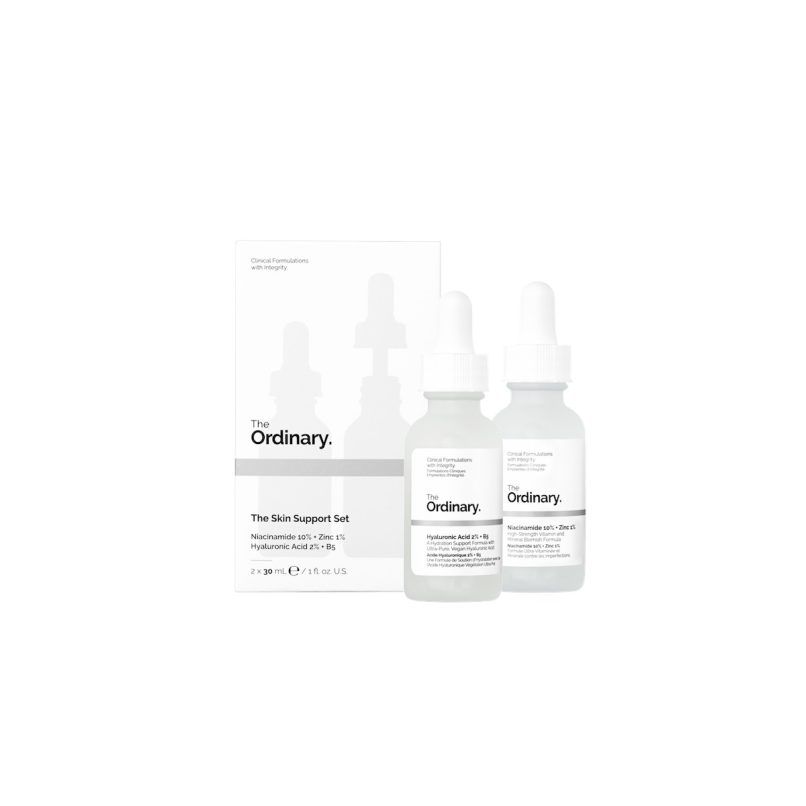 Give your woman's skin the support it needs – with a concentrated dose of B5, B3, and HA, all in one powerful set. It's the perfect duo to give skin a boost for smoother, brighter, plumper results with every use.
Skinvest
Skinvest, the newest edition to the Indian skincare business is here to transform the way you feel about your skin through our clinically proven, effective, gender-neutral, innovative, and fun products. So, let us start this Valentine's Day by gifting our loved one's this 5 product kit brewing in the beauty bracket.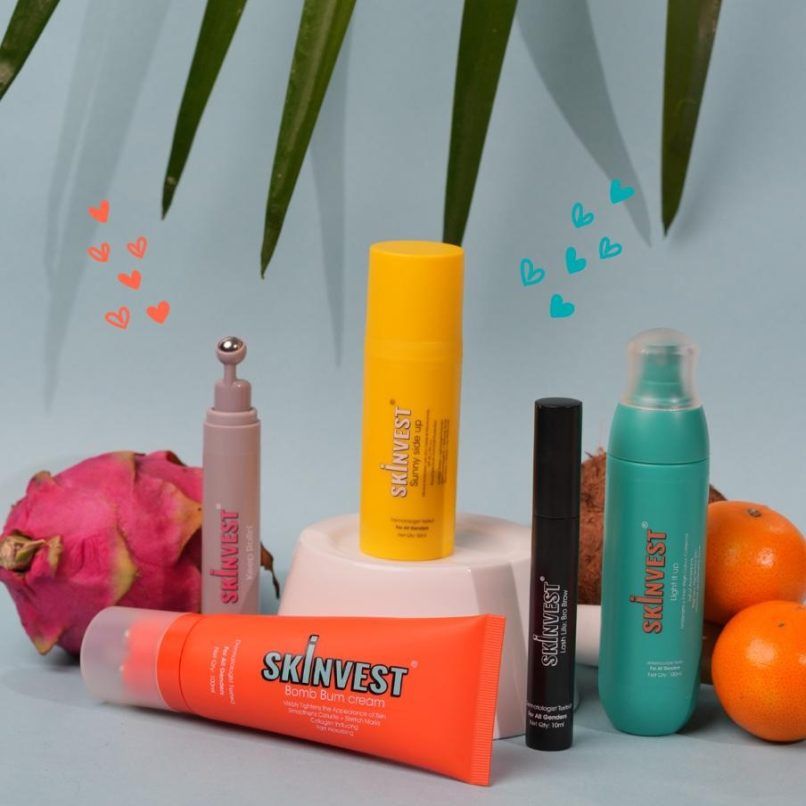 Vilvah
Vilvah has designed a beautiful gift set for the skincare queen in her. Gift her this gift set and she'll never get over the excitement. From lip balm to a face mask, everything she needs for a glow-up is inside this box! Sandiva
Formulated without sulfates and parabens, the SPF duo from Sandiva skincare products contain nature-inspired ingredients, and experimenting with new-age formulas are vegan containing pure sandalwood from the renowned house of Gokul Santol. Make your loved ones feel special by gifting them with the pure scent of sandalwood packed in minimalistic packaging offering unique skincare formulations.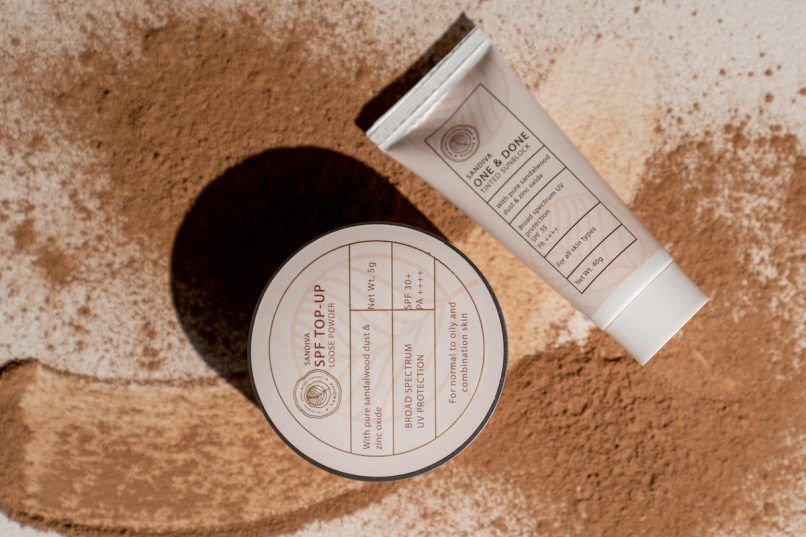 Put Simply
The 'Barrier Hero Bundle' from PUT SIMPLY has all the essentials required for a daily skincare routine. The kit includes a cleanser, moisturiser, and sunscreen that have been expertly formulated with humectants like niacinamide, emollients like ceramides, and soothing Centella Asiatica to keep the skin's protective barrier healthy and optimally functioning.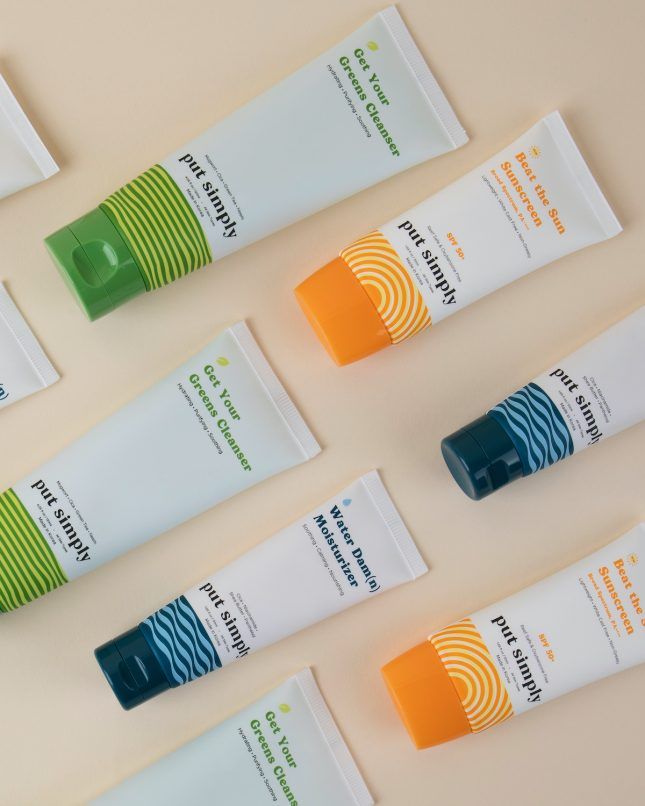 The Skin Diet
A nourishing and nutritional superfood-infused skincare kit, The Skin Diet Company's soothing products make the perfect gift for you and your loved ones. A balanced diet for both the skin and the soul, it's a simple brand that focuses on 'skin minimalism' to fuel the skin with multiple benefits.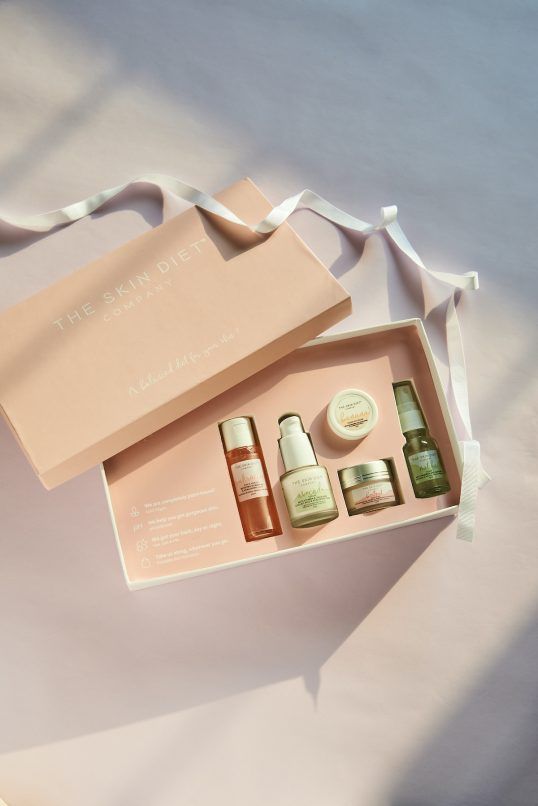 SoulTree
Encased with premium Ayurveda makeup essentials, pamper your lady this Valentine's Day with the Roop-Rang Skincare Kit. An amalgamation of products from one of the best-selling ranges, the Advanced Kumkumadi range, the products are infused with the potent 100% organic Mogra Saffron and some makeup classics that one can never go wrong with.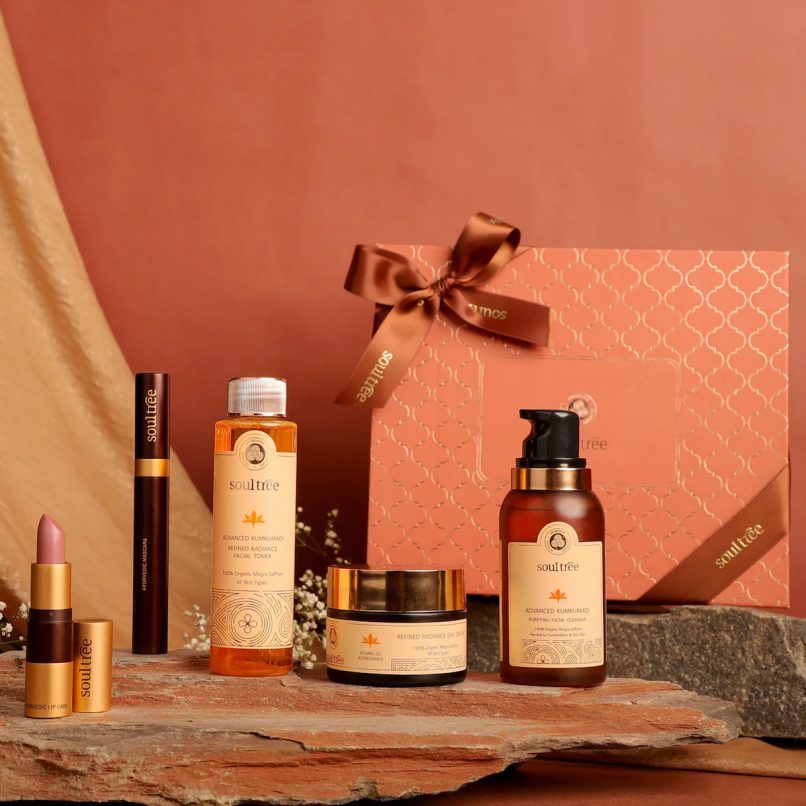 Renee
Choosing the right beauty gift hampers shouldn't be a task for this Valentine's Day, especially when we have such thoughfully curated hampers. This kit from Renee has got everything from Kajal, eyeshadow palettes to even faux nails to add that glam quotient to your woman's look this Valentine's Day.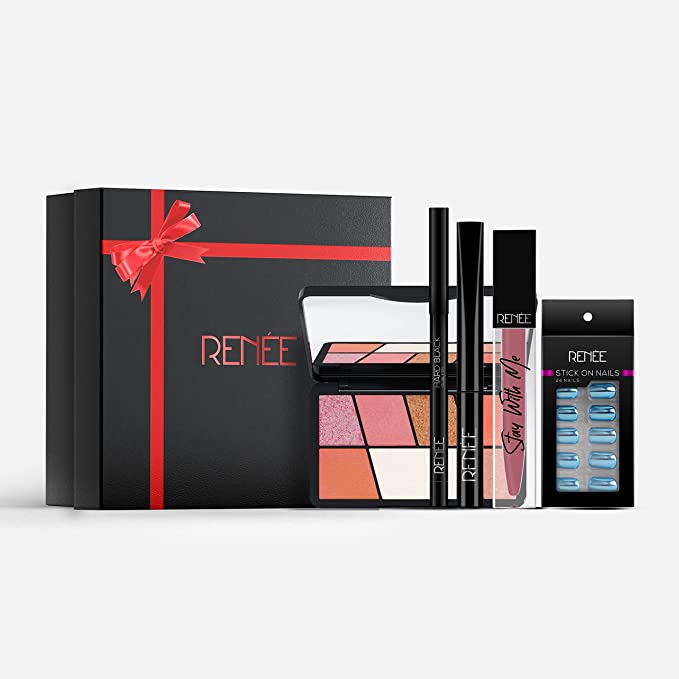 Type
Type Beauty is here with a bundle of nourishing lip lusters to amp up your girl's makeup collection and add that one product in her vanity kit that is just her type!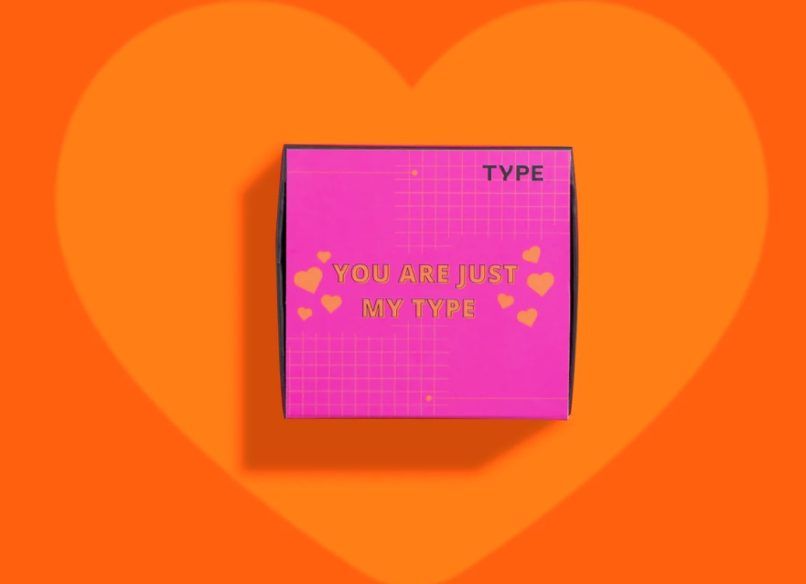 Sugar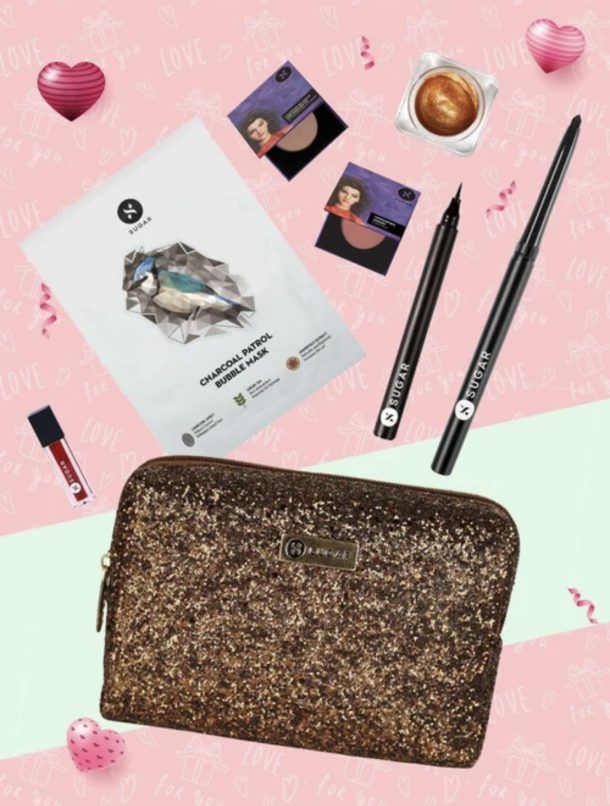 What better than a date night kit to woo your girl on your Valentine's Day, right? Sugar is here with some of their best products stacked up into one kit so as to give your girl a perfect glow on their Valentine's date night.
Nourish Mantra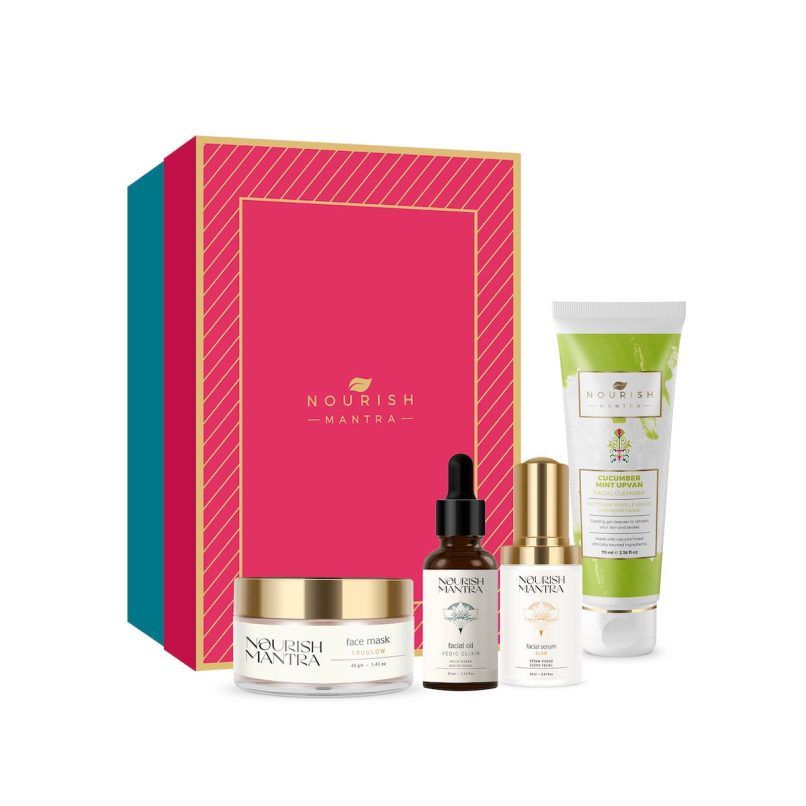 Get your glow on with Nourish Mantra's Glow Kit. Give your bae the best of beauty gift hamper or just treat your gal pals with this special gift set.
L'OCCITANE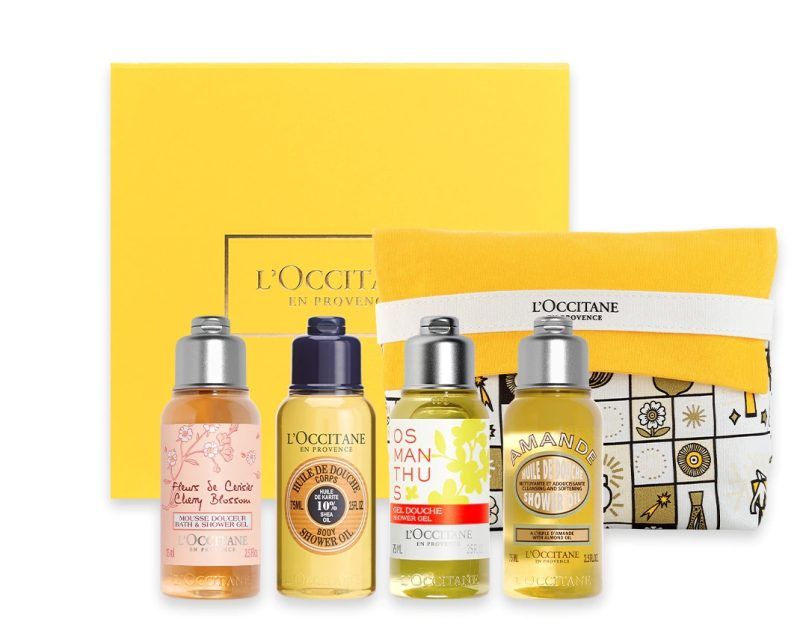 From shower gels to oils, this floral shower quatour set from L'OCCITANE is here to act as a perfect gift for the women in your life this Valentine's Day.
Typsy Beauty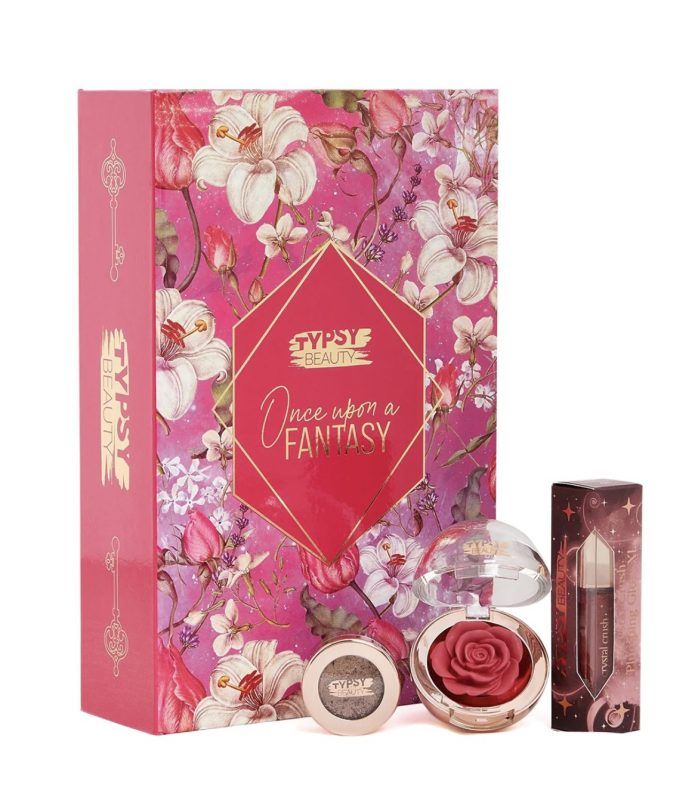 Get bold with Rose Gold!! This comprehensive lip + cheek + eye gift set consists of the Crystal Crush Plumping Gloss in the shade Rose Quartz which has shimmery copper hues, our most viral 3D Enchanted Rose Blush in the shade Princess Charming for a vibrant flush of colour to the cheeks, and a glittery cream-based foil shadow in complementary copper hues named Twinkling Treasure. The ideal gift if there ever was one!
Simply Nam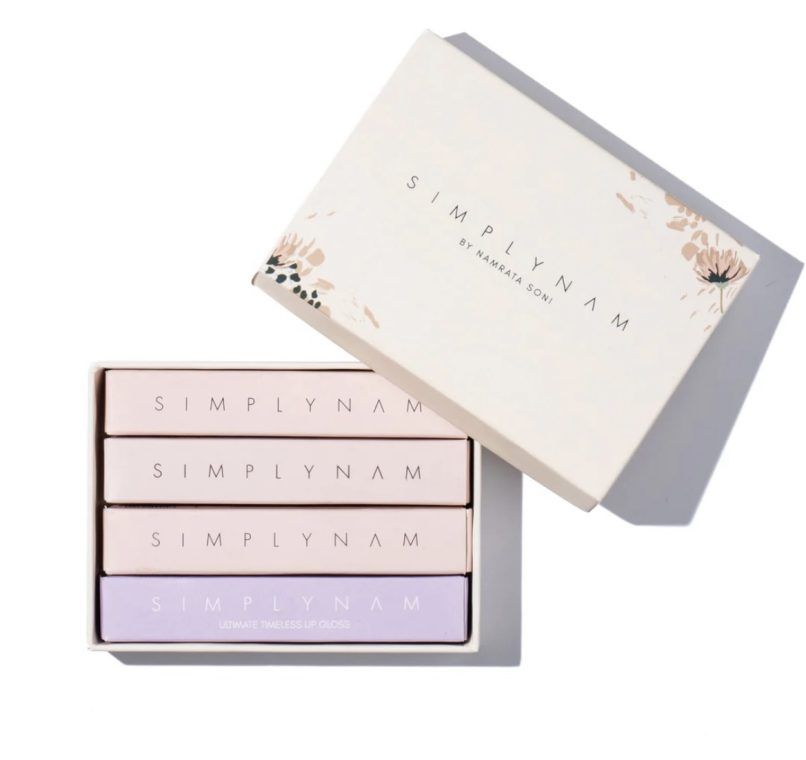 Curated by Namrata Soni, these shades are for you if you're looking for the ultimate party glam lip shades. The party glam kit consists of Ultra Matte Liquid Lipsticks: Hanna – Mauve, Shilpa – Fuchsia, Poonam – Cool Red, and Lip Gloss : My Way, a Deep Burgundy
Innisfree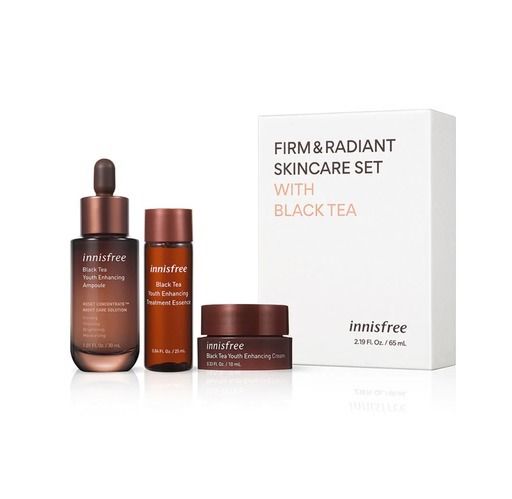 Meet the Youth-Boosting Black Tea Anti-aging set For firmer, smoother, and brighter skin. Help your woman reclaim her skin's maximum potential and obtain the synergy effect with the combined use of Innisfree's black tea set that targets skin elasticity from the first use
Indulgeo Essentials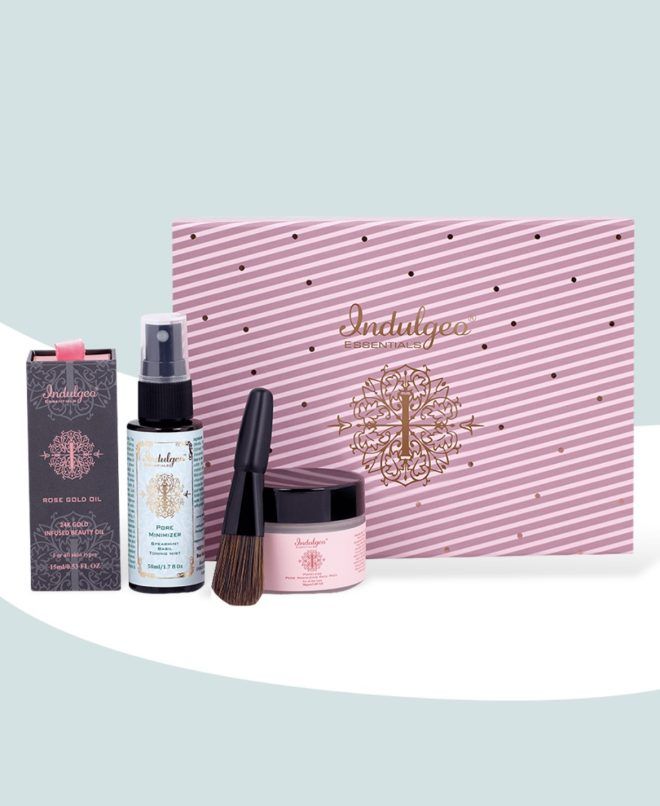 Get bold with rose gold! This comprehensive lip + cheek + eye gift set consists of the crystal crush plumping gloss in the shade rose quartz which has shimmery copper hues, our most viral 3D Enchanted rose blush in the shade princess charming for a vibrant flush of colour to the cheeks, and a glittery cream-based foil shadow in complementary copper hues named twinkling treasure. The ideal gift if there ever was one!
Soap Chemistry Rich, natural and wholesome organic soaps and an entire range of skin and body care by Soap Chemistry. The brand believes in locally sourced products and allows your to build your own hamper. A cautious curated and customised hamper for your partner, isn't that just perfect?
Shankara Since its inception in 2001, Shankara, inspired by Ayurveda, has been creating all-natural beauty and wellness products, handcrafted to the highest standards. Their offerings nourish the body, mind, and spirit as they harmonise the ancient wisdom of the East and the modern scientific alchemy of the West to sustainably create a unique line of completely natural, result-oriented products. Luxurious and effective, these make for a perfect gift for your partner for the changing seasons.
Avon
As Valentine's day inches closer, level up your gifting game with the carefully picked-out Avon gift box. If your significant other loves all things beauty & wellness, then you are in the right spot.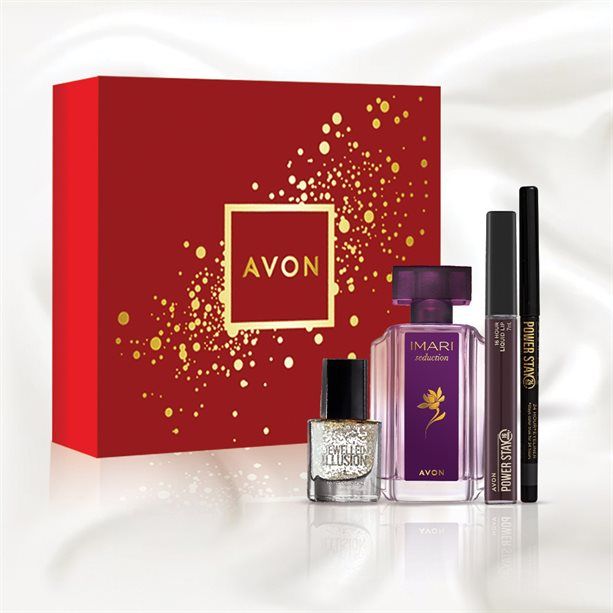 Faces Canada
Faces Canada has got you covered with their cupid-approved Valentine's kit that has everything your makeup-lover lover would love to own. The kit encloses all new comfy matte crayon, shiny strobe cream, fresh eyes kajal, magneteyes eyeliner, and magneteyes mascara! Not just that, it comes with an exclusive trousseau absolutely FREE!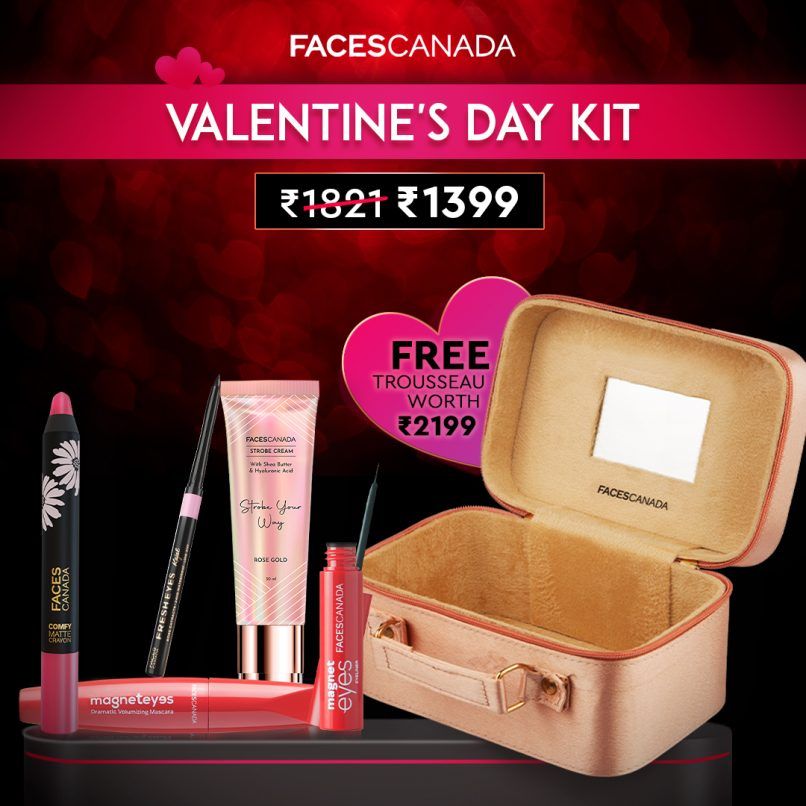 The Lip Balm Company
Lips, love, and Valentine's day are inseparable. What's a better way to celebrate with your special person on this day of love, than with the stunningly beautiful V-Day gift box from The Lip Balm Company! Featuring 3 versions – for her, for him, and for them, this V-Day gift set comes with an amazing combo of 4 lip balms, packaged in a beautiful heart box, customized with the names of the couple!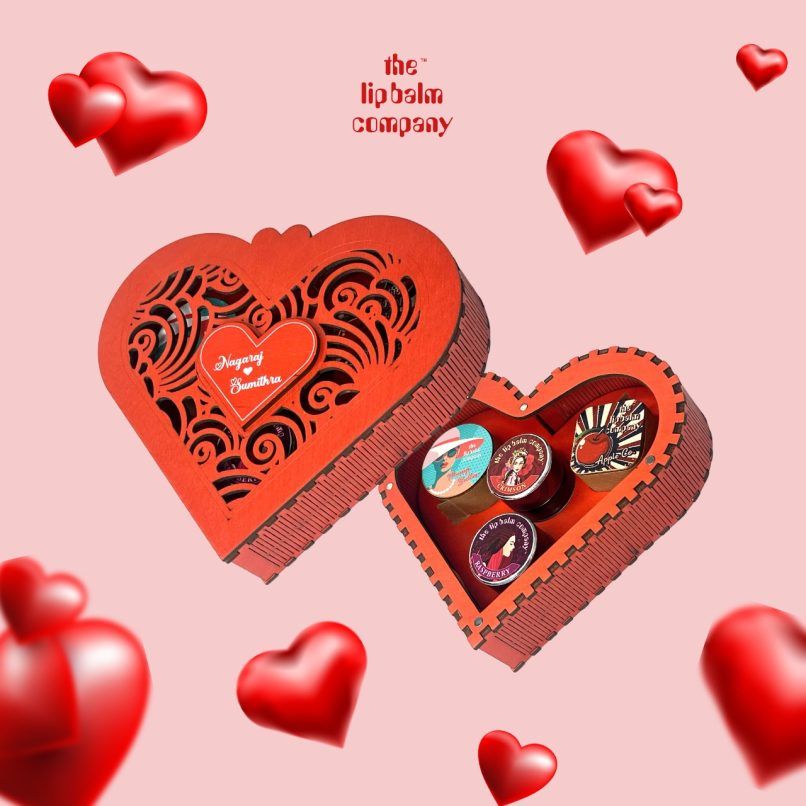 Hero Image: Courtesy Shutterstock Featured Image: Courtesy The Skin Diet Company