The one thing common among George Clooney, Milind Soman, and Barack Obama is their gorgeous salt and pepper hair. While in the past, grey hair might have been a symbol of ageing and a sign of wisdom, today it has evolved into a style statement of sorts. Whether grey, silver, or a natural mix, evocatively referred to as salt and pepper, this look is gaining popularity with gentlemen across the world.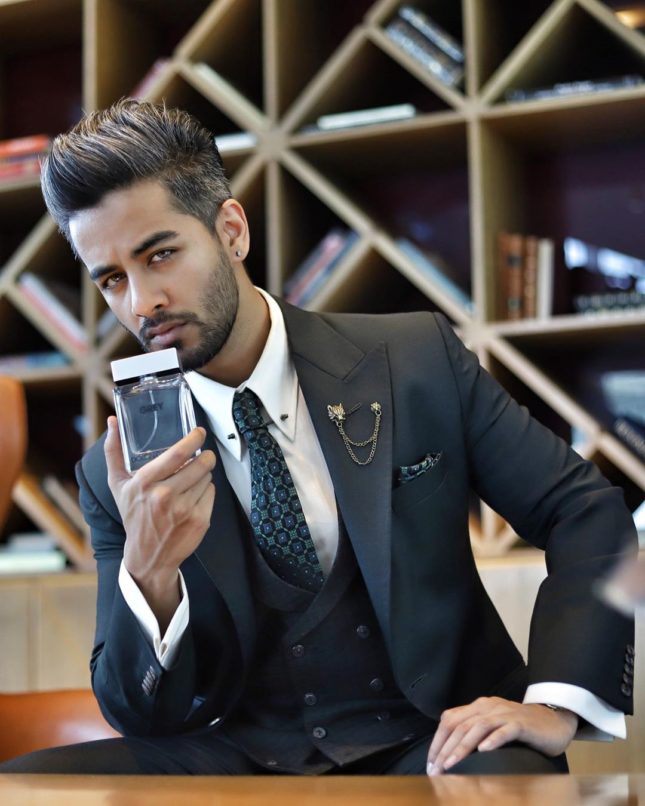 It's no surprise then that there are a slew of hair colour options in the market these days promising to turn your youthful dark locks into the suave silver fox look. Bloggers and influencers too seem to be sporting their silver hair with pride, making it a signature. 
"I started turning grey when I was 24," says Delhi-based businessman and content creator Abhinav Mathur (@_abix), 36, who is known for his unmistakable silver bouffant. 
"A couple of years ago, there was this whole ash-grey hair trend going on, so I decided to let my greys grow out and not colour it. People started asking me why I was not colouring it, but eventually, started getting used to it. Now it's become a signature style," says Mathur.
However, did you know that if you do choose to sport natural silver hair, there is a certain level of maintenance and appropriate grooming involved? In order to maintain that gorgeous silver sheen and the texture, hair experts recommend that you use products specifically designed for silver hair. 
Here are a few tips that you can incorporate in your daily hair regimen. But first, you need to know what causes grey hair. 
What causes grey hair? 
There are a multitude of reasons that can cause your hair to grey. Here are the most common reasons that can either cause grey hair or multiply the greys you already have. 
Genetics play an important role in deciding the colour of your hair and how soon/late they will start greying. As per a study conducted by the Indian Journal of Dermatology, Venereology and Leprology (IJDVL), if your ancestors' hair had started greying at an early age, it's likely that it can happen to you too. The same study goes on to state that race and ethnicity, too, determine greying of hair. 
Lack of vitamins like D, E, B-12 and H (biotin) not only inhibits hair growth but also adversely affects the production of melanin that causes  greying. Melanin is a natural skin pigment that determines the colour of skin, hair and eyes. The more melanin your body produces, the darker your hair will be. 
Stress can be another reason behind the increase in greys. Irregular sleep patterns, not eating well and anxiety, are some of the many factors that culminate to stress. A New York University study observed that stress can decrease the number of cells responsible for hair colour.
Certain medical conditions like alopecia, vitiligo and thyroid can also weaken your defense against hair greying. 
Studies have linked premature hair greying with smoking. A report by the Italian Dermatology Online Journal suggests that smokers are 2.5 times more likely to have grey hair before 30 as compared to non-smokers. 
Excessive use of harsh hair products, especially those containing hydrogen peroxide — a known bleaching agent — can also give you more than a few grey strands to worry about. 
A quick guide on tips for grooming salt and pepper hair –
A good cut
Start with a good cut. Experts will tell you that a good cut is the first step to highlight your silver strands. It is important to look for a hairstyle that will highlight your natural hair colour, and when cut and styled well, it can really be an eye-catcher. 
Let your stylist recommend the style best suited to your natural hair colour. "There are many different shades of grey that occur. Soft hairstyles work best for completely white hair with warm golden or blonde undertones. Similarly, for dark grey hair, a short hairstyle with well-defined lines really enhances this colour," says Bony Sasidharan, national key accounts manager at Schwarzkopf Professional India.
Products for grey hair
Whether your grey hair is natural or coloured by a professional, you need to choose the right products. "Silver and grey hair is best treated with an anti-yellow shampoo. It has purple and blue pigments that cancel out the yellow tone and add a beautiful silver sheen to white hair or cool blonde hair. You can alternate between this type of shampoo and your regular product as needed," says Sasidharan.
Tried and tested is Schwarzkopf's Goodbye Yellow shampoo packs in anti-yellowing properties, which boosts shine right away. Free from sodium lauryl sulphate and sodium Laureth sulphate, this neutralising wash provides anti-yellow action in an instant tonal deposit that counteracts and neutralises underlying warm tones. 
Another great product recommendation, especially if you have had your hair coloured to this look, is Kérastase Blond Absolu Bain Ultra Violet. Not only does this shampoo, with its gorgeous purple-blue colour, neutralise undertones, but it also works on the overall texture of the hair fibre. This intense neutralisation effect reduces the brassy tone and enhances the silver and the grey. The shampoo and its accompanying conditioner also work well on salt and pepper hair.
When it comes to styling products, best recommended is a hair wax over a hair gel. Hair wax or pomade has a matte effect and hence works well to showcase the silver colour, which would otherwise get concealed by the wet look of a conventional gel. 
Expert tip: When you use a thin comb to style your hair with wax, it creates a beautiful strand effect in your silver hair. 
Overall maintenance
Like all hair types, your silver hair also requires you to lead a healthy lifestyle, regular oiling and conditioning, and nourishment.
"In terms of maintenance, I do like to oil my hair a lot, using Kama Ayurveda's Bringadi Hair Oil, which helps on the overall texture and sheen of the hair. Lately, I have also been using onion juice on my hair, which really works. And of course, I do consume my vitamins," says Mathur, who insists that more men should start making the salt and pepper look a statement.
Should I dye my hair grey?
It is always better to care for your hair and ensure that you nip any problem in the bud. But if you are someone who wants to ride the trend tide, then you can always dye your hair grey and rock the silver fox look. 
Although, it's advisable to not try dyeing your hair at home. Consult a skilled colourist, it's better to ensure that you are in safe hands — someone who understands your hair type and has experience in the job. Even before you set up an appointment with a colourist, make sure you have a good haircut that will suit your dyed hair. 
If you already have grey hair, flaunt it with panache. 
Outfits that compliment grey hair
Grey hair shouldn't stop you from flaunting vibrant colours. There is no dearth of options when it comes to fashion choices to compliment the salt and pepper look. 
From well-fitted formal wear to relaxed silhouettes, don't be afraid to experiment — the world is your oyster. The sombre colour will go well with any ensemble without taking away the attention from your outfit. 
Take cues from Zayn Malik and get your streetstyle game on point. The singer flaunted the silver hair look a few years back. He is known to experiment with his hair colour and has flaunted pink, lavender, and ash blonde in the past.  
On the other hand, George Clooney can be your style motivator when it comes to rocking a formal suit with those silver locks or Ryan Reynolds can be your inspiration for tips on how to effortlessly wear semi-casuals and those thick-rimmed glasses.