When it came to makeup, the year saw so many interesting products grace our pages, from fairy lights-like liquid eye shadows to hydrating powders to highlighters that can give you a glow like no other. And as a Beauty Editor, my desk is filled to the brim with new products every week and that means, going through hundreds of lip glosses and hydrating foundations to find ones that really rocked the LSA world this year. Here's a list of 10 best makeup products that changed our world this year.
Primer: The Smashbox Vitamin C Glow, Rs 3,050
One of the biggest launches this year and of course, a perfect accompaniment to a glow, this primer is now a staple for us. It's a known fact that Smashbox Primers are always good but this one takes our hopes up higher and makes you skin radiant in minutes. It's totally light-weight and comes in a water-gel formula so your makeup glides on like velvet once you apply it.
We also loved: The Bobbi Brown Vitamin Enriched Face Base
Foundation: DIOR Forever Skin Glow Foundation, Rs 4,900
An iconic foundation, the Dior Glow Foundation is just a great formula – it's long-wearing, it's great for coverage and has the perfect water-oil balance. If you are looking for a foundation that goes on velvety and gives you that amazing filter – then this is the one you should look up. It's also super hydrating.
We also loved: Charlotte Tilbury Airbrush Flawless Foundation
Concealer: M.A.C Studio Fix 24-Hour Smooth Wear Concealer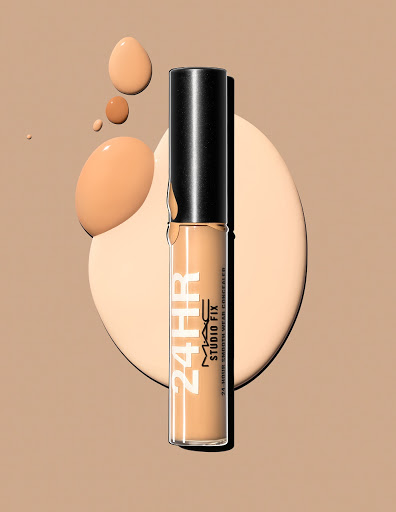 M.A.C will never go wrong in our eyes but somehow, everyone only talks of their foundation. The hidden gem is the concealer – it smoothens the under eye skin and completely hides dark circles. It's coverage is beautiful and makes your pores look smaller. The finish is the best – almost natural, effortless finish.
We also loved: Maybelline New York Fit Me Concealer
Blush: Daughter's Earth Cheek Tints, Rs  975
I'll be honest, I stopped wearing blushes and started looking at blush tints – the creamiest ones to give me that glowing, lived-in feel. The best thing about staying at home is indulging in cream blushes that look natural in zoom meeting. Daughter's Earth, I'm happy to admit got the best, subtle but beautiful tints and we are in love with the formula.
We also loved: Ilana Beet Tint
Highlighter: Charlotte Tilbury Mini Filmstar Bronze & Glow, Rs 2,700
It's almost blinding and extremely natural-looking at the same time. Trust the queen of glow, Charlotte Tilbury to get that formula right – the fact that this is multi-purpose, has a bronzer and highlighter in one makes it a wonderful addition to your makeup box. It's got that beautiful pearl pigment that blends in effortlessly and reflects the light – so stunning.
What we loved: BECCA Shimmering Skin Perfector Pressed Highlighter
Liquid eyeshadows: Pixi Beauty Liquid Fairy Lights, Rs 1,460
Well, sometime around last year, Still came out with liquid eyeshadows with super shimmers – just one shade that you can use on it's own or as a topper. Now, there are more labels venturing into this – from Huda beauty to Pixi and we tried out this version – the Pixi Liquid Fairy Lights that stay put on your eye giving you that stunning shiny lid – complete with a velvety feel and an insane pigment. The best bit is – it's multi-purpose as well. You can use it as a liner, shadow, lip topper and on your hair as streaks.
We also loved: Stila Suede Shade Liquid Eye Shadow 
Mascara: L'Oreal Paris Voluminous Lash Paradise Mascara, Rs 799
All the hype aside, this budget formula can give any high-end mascara a run for their money. It makes your eyes look large and wispy – the mascara lengthens and volumes – almost like you are wearing false lashes. It's also a non-clumpy, non-smudging formula.
We also loved: Too Faced Better Than Sex Mascara
Loose Powder: BECCA Hydra-Mist Set & Refresh Powder, Rs 3,300
This powder is probably not what Becca is known for but let's be honest, it's one of the best things the internet has thrown up this year. The smoothest, most finely-milled powder that contains hyaluronic acid, it's a winner for us this year. It's weightless, cools the skin and adds moisture – now give su another powder that does all three, we'll wait.
We also loved: Coverfx Perfect Setting Powder
Kajal: Plum NaturStudio All-Day-Wear Kohl, Rs 495
Known for their skincare, one doesn't go near makeup. But with this one product, Plum has nailed it – it's the Kajal that totally takes care of your eyes all day long. The gel-like texture makes it smooth and easy to glide on while the black colour just stays on – it's a budget buy and it ticks all the boxes for us.
What we loved: Colorbar It`S A Scandal Kajal
Eyeshadow Palette: Huda Beauty Mercury Retrograde Eyeshadow Palette, Rs 5,375
The only palette that you need to invest in this year – the Mercury Retrograde Palette is as good as they come because it has such stunning hues that work for the day and the night. The 18 Galactic-Inspired colours are texture-wise, so pigmented and go from coppers to sheers to matte to glitters – just a very versatile palette if you ask us.
We also loved: Charlotte Tilbury Luxury Palette Of Pops 
Lipstick: Kiro Live-in Creamy Matte Lipsticks , Rs 800
If there was a lipstick we'd wear all year long and for all of our life, it will be the Pink Guava from clean beauty label, Kiro. Kiro's lipsticks, especially their matte ones surprised us with their stunning formula and their creamy non-transferring pigments – just perfect for women who love matte shades but have dry lips. The colours are a riot – Stoned Rose, Dusty Rose and Pink Ginger are our faves.
We also loved: Estee Lauder Pure Color Desire Rouge Excess Lipstick