Close on the heels of Lara Dutta launching her skincare label, it's now time for another Bollywood A-lister to get into the beauty business – Katrina Kaif has launched her beauty brand Kay Beauty in partnership with Nykaa. And no, neither is this a one-time collaboration like Manish Malhotra's My Glamm, nor a capsule collection like Kareena Kapoor for Lakme; it's not even a small off-shoot like the Masaba X Nykaa collaboration. Kay Beauty is a long-standing, pan-India brand that is set to launch it across 50 Nykaa stores, online and on the app. The product range is extensive – there are 48 shades of lip crayons itself – there are more innovative products in the pipeline, and plans to launch more variants. "As a person, I'm very demanding of myself. Kay Beauty has been created with this same rigour, asking a very demanding question – how can we get more out of makeup? The answer that the collection offers is a unique formula of makeup products that are long-lasting and ultra-glam, and cares for your skin," says Kaif on her push to create a label that resonates with millennials. "Each product is infused with 'kare' ingredients so that you can indulge in makeup without any guilt. It was also very important for me that the collection was versatile enough to cater to different skin tones, ages, and emotions. With the range of shades and buildable formulas, every woman can find their look. I've taken all the knowledge I've gained in my career and put it into these products. I hope that they give you the tools to explore your creativity and celebrate your own unique idea of beauty."
View this post on Instagram
At the launch yesterday, we checked out the offerings. The launch collection will feature seven lip, eye, and brow products to create three international beauty trends – the 3D Lip, Sultry Eyes, and Natural Ombré Brows. The products that help create these trends are the Matteinee Lip Crayons, Matte Action Lip Liners, Maestrobe Metallic Lip Toppers, Kohl Star 24 Hour Kajal, Ink Artist Gel Kajal, High Drama Smoky Kajal and the Brow Studio Eyebrow Definer Pencil.
The shade variations were interesting – there are at least 10 nudes and a few pinks we liked. The liners were super pigmented, and there's even a fun product called the strobe lip topper that can be used on top of your lip to give you that metallic effect. Kaif calls the collection #MakeupThatKares, so expect ingredients that nourish the skin, while delivering a longwear, high-performance finish. The packaging is easy on the eye, and the range starts at Rs 249. The name finds its roots in the moniker friends use for Kaif. It's also a word play on 'being okay', 'being yourself', and 'staying true to yourself'. Her video campaign shot beautifully by Zoya Akhtar, and featuring Raja Kumari, Saina Nehwal, Kusha Kapila and more, is a testament to the actor's personal interest in #KayToBeYou.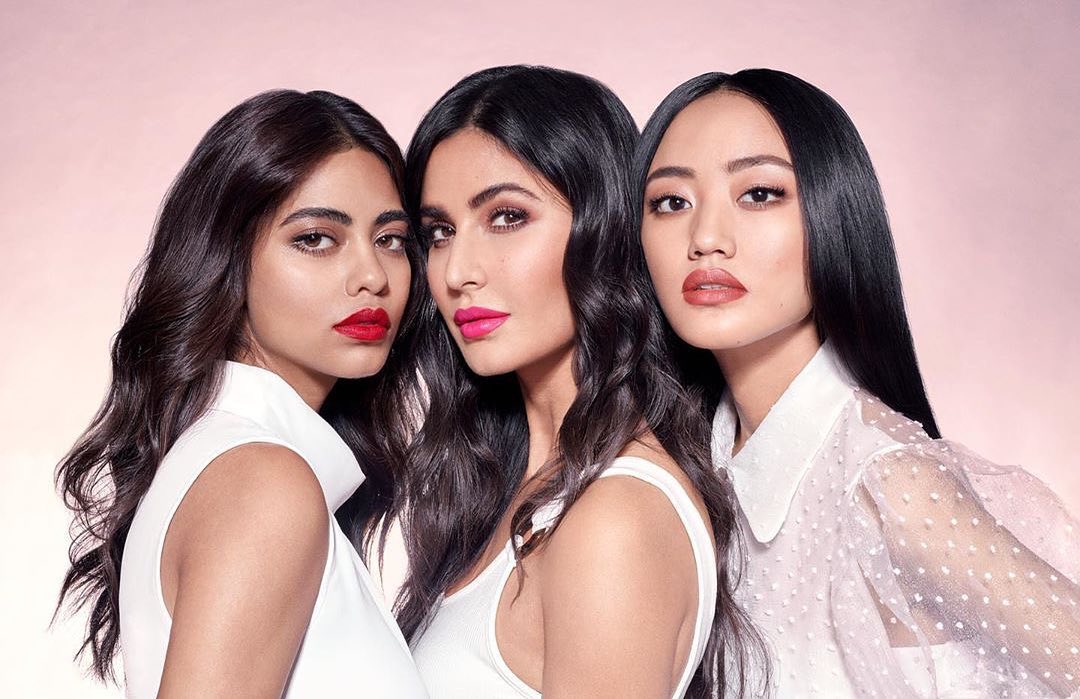 The label stands on the three principles (also a play on Kaif's initials) – Kolor, Kover, and Kare . Kolor represents the colour cosmetics with eyes, lips and nails; Kover and Kare, set to launch soon, will include high performance face products and nourishing ingredients respectively.
Here are our top 3 picks from the collection currently on counters: These are matte crayons whose texture is soft and satiny, and sit beautifully on the skin. There are 24 shades of lip crayons and these have an 18-hour stay. With a high colour payoff, our favourite for brown skin is Fraternity. Other stunning ones include Climax and Faux-Pas.
Maestrobe Metallic Lip Toppers, Rs 699 There are 12 unique liquid to powder lip toppers in cool colours, which give you that sophisticated chrome shimmer finish. How does one get 3D lips? Once you fill in the lipstick, then just dab a bit of the topper in the centre and it highlights the look. Best shade: Cover Girl. If you're looking for that thick, gel-finish kajal, this is the one. Super pigmented and enriched with ceramide and chamomile, it doesn't crease and keeps your eyes refreshed and nourished. You can even smudge it slightly for a smokey effect. Pick the shade Onyx, a true black.
Follow Kay Beauty for more updates about its next launch.