After dropping thoughtfully curated skincare kits and makeup products in our beauty regimes, Manish Malhotra is back with yet another range. The new long-stay luxury face makeup range is here to give you a perfect goddess-like matte finish and amp up your makeup collections even further. The designer talks about the inspiration behind the new range and his shift towards the beauty genre.
Bollywood celebrities sure are known for donning many hats on and off the camera and being a beauty entrepreneur is definitely one of them. Having said that, apart from our favourite celebrities foraying into the domain of beauty, Indian couturier Manish Malhotra was one of the first Indian designers to have a piece of this pie. Apart from showcasing his sartorial excellence for more than 3 decades, he decided to take a leap into the beauty space in 2018 by trying his hands on skincare and makeup with MyGlamm. Who knew that the designer who was responsible for changing the face of fashion in cinema and throwing some dapper soirees in B-town had a knack for beauty too?
Speaking of which, since Manish Malhotra's earlier launched products have found a permanent place in our vanity kits, it's time to make way for a totally new face makeup range. The long stay luxury face makeup range consists of a bronzer, concealer, primer, and foundation and is here to prep you for your date nights and your D-Day. And just like you we were curious about having a detailed insight into the designer's latest launch and his journey from being a couturier to a beauty entrepreneur, so we decided to catch up with him in regards to the same.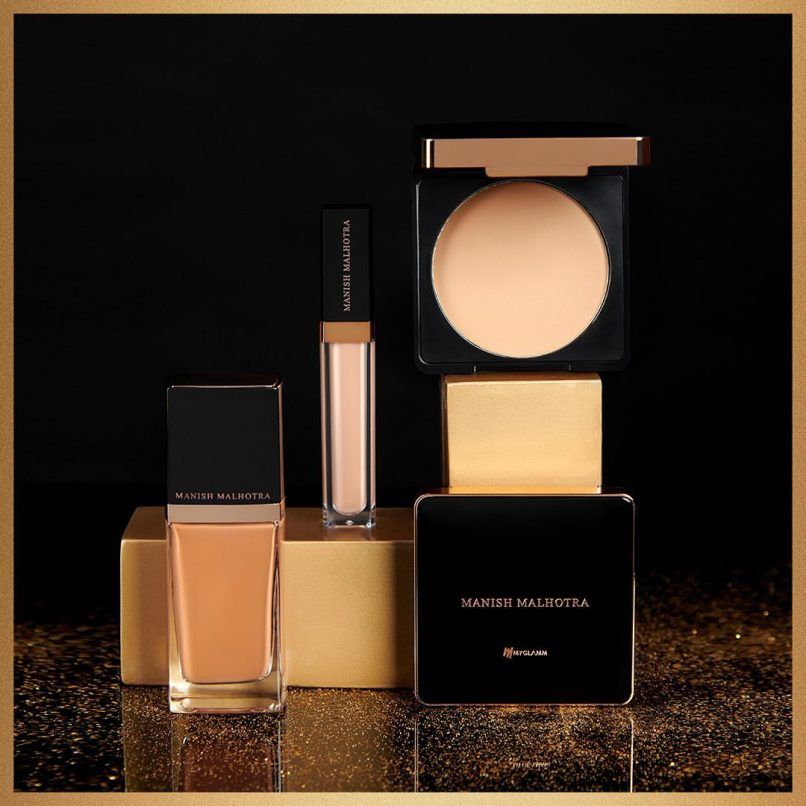 In conversation with Manish Malhotra about his new makeup line
What is the inspiration behind this Face Range collection?
With the Long Stay Luxury Face Makeup Range, we wanted to marry the best of skincare and makeup to create a range of products that would help create a flawless look while nourishing your skin. We believe makeup is an extension of one's personality and helps bring out the star within. This was the primary inspiration behind the collection – to introduce a range that helps people shine and feel confident about who they are.
How are you enjoying the journey from a couturier to a beauty entrepreneur?
I mean I'm still a couturier, I've just broadened my horizon. This journey has been very exciting. As a designer, I always love exploring newer dimensions of my existing gamut of work. Since fashion and beauty are two beautifully intertwined industries, building a beauty brand of my own has been quite satisfying. Manish Malhotra Luxury Makeup exclusively by MyGlamm has been around for four years now, and I am humbled by the love it continues to receive.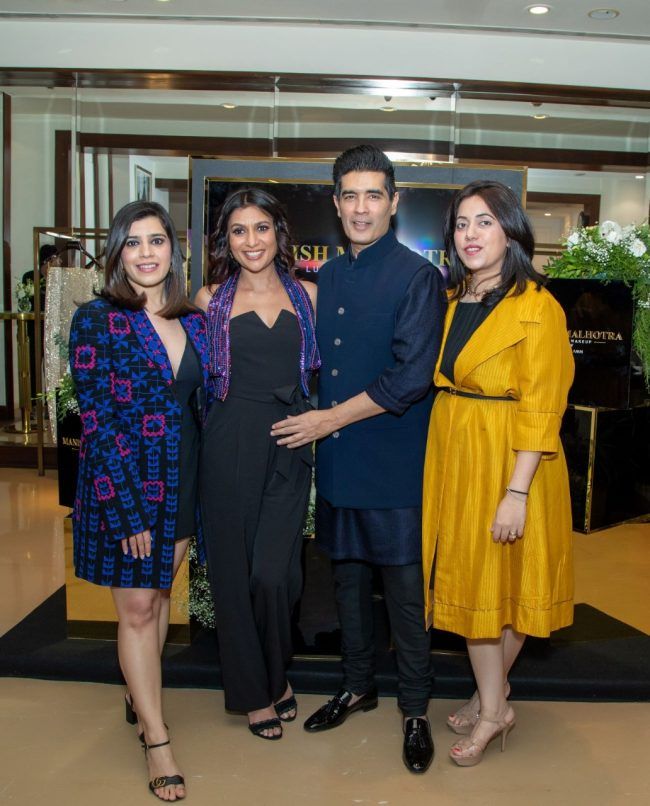 What is the reason behind this shift toward the beauty genre?
Beauty is a space of creativity, self-expression, and freedom. My foray into the genre was to make refined beauty more accessible and create a range of luxurious products that people enjoy using. I want people to celebrate who they are, to promote positivity. The Long Stay Luxury Face Makeup Range is an extension of this brand ethos and a celebration of the star within you.
What goes into Manish Malhotra's daily skin routine?
I like to keep my skincare simple. I use the Amla mosituriser and rose lip mosituriser to keep my skin hydrated and apply sunscreen every day.
What is your current favourite beauty trend?
For me, the major trend is embracing who you are. Radical self-expression and flaunting your real skin. And of course, the coming together of makeup and skincare as a beauty trend is fantastic. That's precisely what we've built the new Face Range around.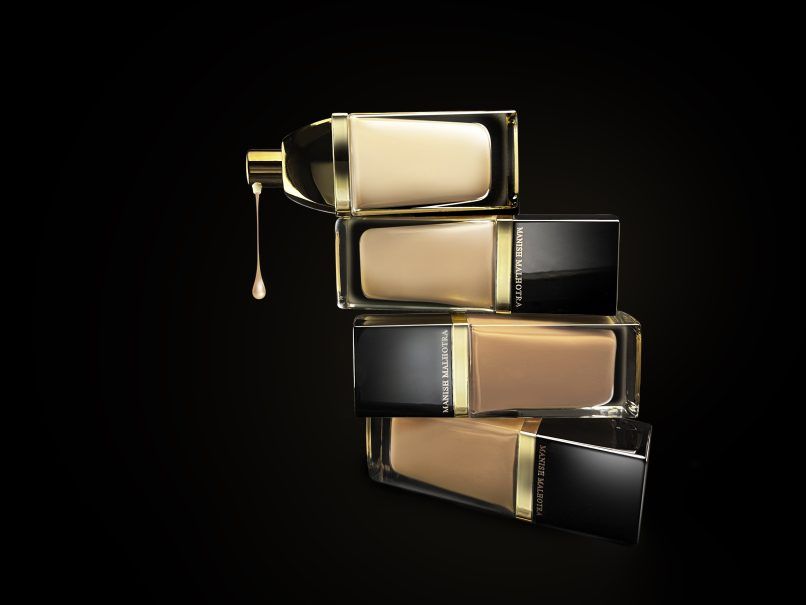 We would also like to know what makes these beauty products different from other make-up and beauty brands.
What I love about the Long Stay Luxury Face Makeup Range is that it's suitable for Indian skin tones and varying weather conditions across the country. All the products are dermatologically tested, sweat-free, water-resistant, and long-lasting. These elements make the makeup experience indulgent from start to finish and are an easy way to step into the glamorous Manish Malhotra Universe.
What products should we be excited to look out for from the Face Range Collection?
According to me, all the products from the Long Stay Luxury Face Makeup Range are beautiful. The primer is cream based and gives the skin a moisturizing glow, the concealer is made for flexible wear, the foundation is made with organic Italian red-orange extract which improves the skin's resistance, and the anti-shine compact powder has SPF 30 which protects your skin from pollutants and UV rays. Each product is unique and keeps the well-being of the skin at the fore, which is what Manish Malhotra Luxury Beauty is all about.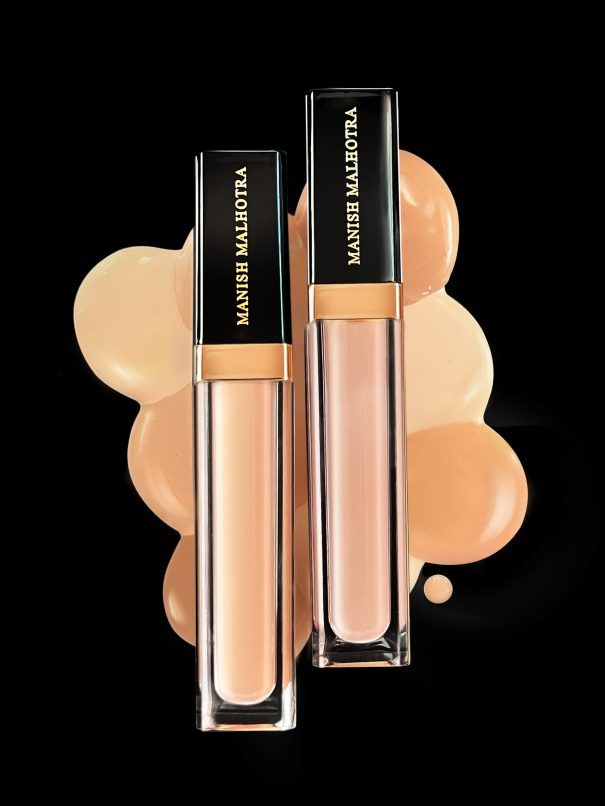 Lastly, what are your personal favourite products from the Face Range Collection and why?
My favourite product from the collection has to be the Luminous Moisturising Primer for it creates such a flawless base to build your makeup. It reduces the appearance of pores and evens out the skin tone. The best part is that it is both moisturizing as well as radiating. Besides the Luxury Long Stay Face Makeup Range, I love the Long Stay Powder Matte Lipsticks we've recently launched in 12 stunning shades that magically melt onto your lips and are packed with antioxidants.
Hero Image: Courtesy Manish Malhotra Featured Image: Courtesy Manishmalhotrabeauty/IG