The world belongs to two kinds of makeup addicts, the ones who love the bright, bold colours and the ones who like to keep it tinted and light. Over the last few months, the market has been swarming with lip and cheek tints – from indie, homegrown labels. The fact that they come with an organic, clean approach puts them in the limelight  as the perfect additions to your makeup kit if you are tired of the festive glitter and over-the-top looks. And lip tints are touted as the new everyday lipsticks, because working from home is all about indulging in 'barely-there' makeup and 'no-makeup' zoom calls.
Some skincare labels like Daughter's Earth has come out with two new lip and cheek tints that were added to their makeup category this month. Their already popular Original Pink Tint (Rs 975) is all over Instagram and it paved the way for two more interesting colours, Pinot Noir, a stunning grape shade and Coffee Nude a beautiful brownish nude that suits all Indian skin tones. Lip and cheek tints in particular in that sense, are seen as a good way for homegrown skincare labels to venture into the makeup category easily, as they are seen as an extension of lip balms. "To me, skincare, makeup, wellness – they all speak to our need to look good and feel good about ourselves. At Daughter Earth, we live by the philosophy of minimal products and maximum nutrition. The butters we chose, the antioxidant-rich ingredients and the anhydrous format are all aligned to that philosophy. Nourishing your skin and adding a pop of colour shouldn't be two different things when they can coexist so well," explains Prashanthy Gurugubelli, the founder of Daughter Earth.
Their newest lip and cheek tints are a preservative-free formulation made with pure plant butters and botanicals, and rich pigments from natural iron oxides and pigments that are reef-safe, vegan, clean and cruelty-free. No crushed carmine that comes from fried insect wings, no beeswax or fats derived from animals and that's makeup that one can wear comfortably everyday. "From a production standpoint, making these is eco-friendly compared to say a lipstick because the wastage is less, the energy consumed is less, and you aren't adding any byproduct back into the water or earth," adds Gurugubelli.
Another label that has maximum reposts and many a testimonial is Earth Rhythm, a well-known organic label from Gurgaon headed by Harini Sivakumar. The label known for its potent skincare formulations has started venturing into makeup through lip and cheek tints for over a year now. Their latest fare though is the Tinted Lippie Puck It that is a sun-protecting and moisture-locking, to tinting and nourishing makeup must-have. Infused with cocoa butter and shea butter and other skin-softening oils including sweet almond oil and grapeseed oil to lend up to 24-hours of hydration, this  lip and cheek tint gives you a flushed and dewy look in minutes. Let's not forget that they also come with SPF 30, that means, they are perfect for the Indian climate and come in 6 stunning shades ranging from cherry to rose and everything in between.
Looks like the clean beauty movement is here to stay but what's safe and what's certified? "The make up/beauty industry has that one ingredient that rules the market, it's mica. Although Mica is a naturally occurring mineral, mica is processed synthetically to get them in various bright colours. Also mica is not sustainable and ethically sourced most times. When we first launched the lip and cheek tint, the colorants used in the product are Ecocert certified pigments which means that these fulfil three important aspects towards the environment – they are cruelty free, not harmful to the environment and free from toxic ingredients," explains Sivakumar about why Earth Rhythm keeps it certified and transparent. 
Other well-known homegrown, natural and organic labels for cheek and lip tints are Ilana Organics, for their Beet Tint (Rs 1,220), a beetroot pigmented natural lip and cheek tint that gives you that pouty red stain that has staying power and looks oh-so-natural.
The new label Salt Petre Tinted Balm Gloss (Rs 475) is another addition to your makeup arsenal. It's just one shade – a beautiful beet red shade that works on everyone.
Luaer, another very well-known organic, clean makeup label has recently launched their Luaer Multi-pots (Rs 950). Perfect to use as a blush, lipstick, eyeshadow, highlighter and everything else in between. The three stunning shades are Oma, Tara and Deva, – natural, paraben-free, silicon-free and phthalate-free options for those looking for simple versatile makeup.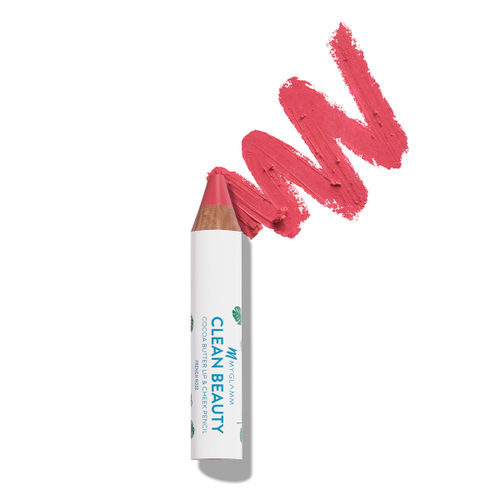 The Indian homegrown label MyGlamm now has now eliminated SLS, paraben and formaldehyde from the composition and created their new Clean Beauty range. All products are vegan and cruelty- free ensuring protection of your skin and the environment. The Cocoa Butter Lip and Cheek Pencil (Rs 790) in two shades; French Rose and Tea Rose. They give you full coverage and come with a creamy matte finish.
With more and more women working from home and looking for lightweight, natural and easy additions to their makeup routine, these lip and cheek tints are here to stay.