It's National Sunscreen Day! Not a Hallmark holiday but a day dedicated to every dermatologist's favourite skincare essential. On the occasion of National Sunscreen Day, we decided to share with you how you can apply this UV-protecting cream and have fun with it.
Gone are the days when sunscreen application involved applying a thick cream that left a white cast behind. New innovations in the space of sunscreen mean that the local sunscreen brand you're choosing has nailed the formula to give you a lightweight, full-coverage product with ample SPF to shade you from the sun. The innovations have also extended to the application of the product. We now have spray sunscreens and roll-on sunscreens to aid the process.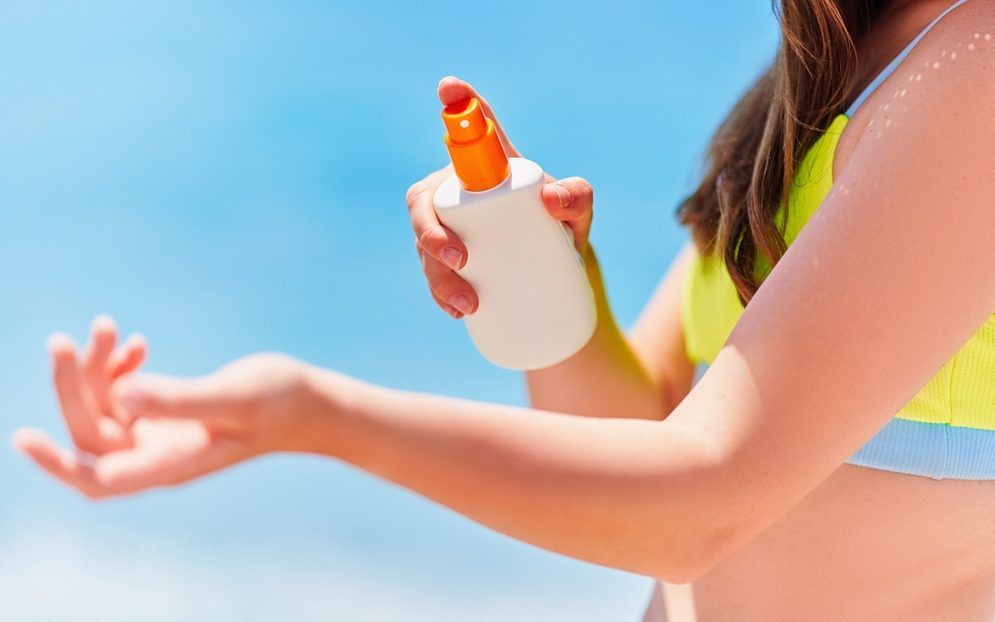 Spray sunscreen is applied in the form of a mist directly onto the skin as it comes in an aerosol canister. While we love how easy they are to use it's important to understand the efficacy as well as the advantages and disadvantages of using the product. Weighing in on this is award-winning dermatologist, Dr Kiran Sethi of Isya Aesthetics. "Spray sunscreens are very effective as long as you get the right quantity. The usual two-finger length is about 2mm per cm square so spray generously on your palm and apply on your face and neck. The problem with spray sunscreens is that there is an aerosol component which according to certain studies may be damaging to your health. However, this hasn't been proven yet. I find spray sunscreens to be the best for body areas as it spreads easily and gets absorbed quickly." Roll-on sunscreen or sunscreen sticks are also a fun way to apply, and most importantly reapply sunscreen. It's been gaining a lot of momentum of social media platforms with a lot of homegrown brands joining the bandwagon. We ask the experts to weigh-in on this fun-sized product. "In general, the efficacy and efficiency of spray and roll-on sunscreens depend on several factors, including the formulation, application technique, and individual use. When applied correctly, both spray and roll-on sunscreens can provide effective sun protection," shares Dr Batul Patel, leading dermatologist and founder of The Bombay Skin Clinic. For instance, she points out, that "sometimes sprays, when applied to larger areas of the body, can leave behind a few exposed areas. In the case of roll-on sunscreens, it may depend on the formula's ability to provide an even and sufficient layer of protection, especially if the product is not spread evenly across the skin. Also, roll-on sunscreen can sometimes increase the chance of cross infection and risk of acne breakouts."
In the battle between roll-on and spray sunscreens, the former is facing some strong opposition, "The problem with roll-on sunscreen is that it can feel a bit thick and you can get never get the right quantity. It might seem like you're getting the right amount but it's seldom so. I'm personally averse to roll-on sunscreens as you end up feeling sticky," says Dr Kiran Sethi. Yet the lure of the sunscreen stick sticks on, and we are constantly tempted to try out new non-sticky formulas. After all, it looks like a fun product to apply post-makeup or simply on the go. If you're looking to try some new sunscreen options, here are the best homegrown spray and roll-on sunscreens in the market.
Hero and Featured Images: Courtesy Shutterstock.