If you look at the ingredient lists of the skincare products on your beauty rack, you'll notice that glycerin is present in majority of them. Glycerin, the skincare industry's premier behind-the-scenes showrunner, does things for your skin that you can't even imagine. Continue reading to learn everything you need to know about glycerin for skin.
What is Glycerin?
Glycerin is a colourless, thick, viscous liquid that is found in plants and animals. It is derived from plants or synthetic ingredients in topical skincare.
It's a humectant, which means it helps keep moisture in the skin and draws water from deeper layers to the surface. It also absorbs moisture from the air to provide extra hydration.
Benefits of Glycerin for skin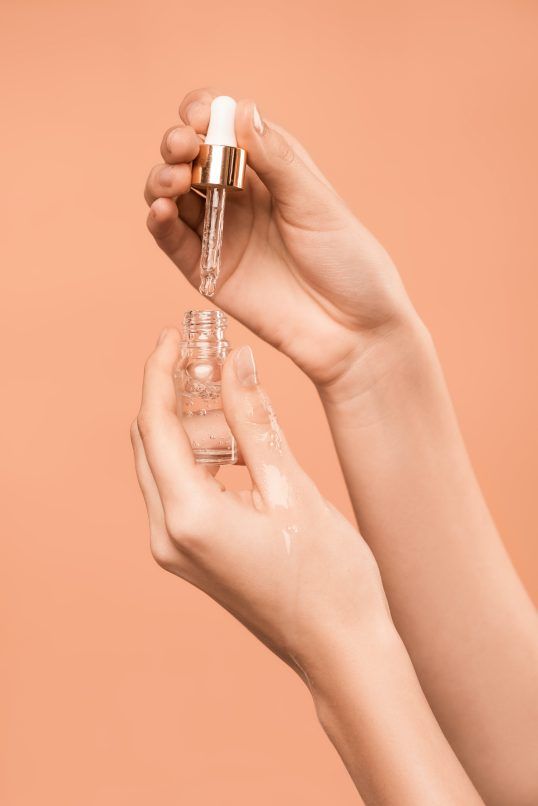 Acts as a moisture magnet
As a natural humectant, it draws water from the atmosphere and locks it into your skin, preventing it from evaporating. According to studies, applying glycerin on a regular basis can significantly improve and restore your skin's overall moisture levels, resulting in plumped-up, dewy-looking skin.
Restores skin tone
Prolonged exposure to pollution and dust can cause skin discolouration. By evening out the complexion, glycerine for the face can effectively solve this problem. Skin that is well-moisturised appears brighter. Glycerin gives the skin a luminous glow while also making it more even-toned and smoother.
Exfoliates
Glycerine is an excellent exfoliator in addition to its moisturising properties. It also nourishes your skin, making it look healthy and glowing.
Tightens and firms
Being a humectant, the moisture it draws to your skin will make it plumper and tighter in a matter of weeks or even days. We're confident you'll notice a difference.
Soothes the skin
Glycerin works wonders on angry or irritated skin. It has a soothing effect on the skin and can help relieve skin discomfort.
Creates a protective layer
Glycerine forms a protective layer on the skin, shielding it from UV rays, dust, and dirt. Not only that, but it also retains moisture in the skin, keeping it supple and radiant.
Reduces signs of ageing
Glycerin helps to hydrate the skin, which helps to smooth out the appearance of fine lines and wrinkles. According to research, long-term use can slow and prevent premature ageing of the skin, improving skin resiliency and youthful appearance.
Side effects of Glycerin for skin
When used as an ingredient in skincare products, glycerin has no known side effects; however, it may cause an allergic reaction if used in high concentrations: In general, glycerin is a very safe skincare ingredient. However, allergic reactions or irritation are possible, albeit rare, as with any product.
How should you incorporate Glycerin into your skincare routine?
Glycerin is found in most moisturisers, where it is frequently combined with other potent ingredients to help trap its hydrating benefits in the skin, leaving skin super smooth and soft with the added benefit of reducing redness.
Another glycerin-containing daily skin-care product? Your cleanser. Glycerin works in face washes by keeping your skin moist and protecting it from irritation and dryness.
If you look at the ingredient list of almost any skin-care product you already use, you'll notice that glycerin is present. However, if you really want to reap the benefits of glycerin, you can buy straight-up vegetable glycerin and dab a little bit of it onto super dry patches of skin or cracked spots, such as elbows or heels.
Eventually, glycerin is a universal crowd-pleaser that is a safe and effective hydrating ingredient for everyone. It's probably already in the products you're using, but if not, look for it right away.
Our edit of the best products with Glycerin
Shop the best products with glycerin here
Shop the best products with glycerin here
Shop the best products with glycerin here
Hero Image: Courtesy Shutterstock; Featured Image: Courtesy Pexels
Frequently Asked Questions (FAQs)
Question: Is glycerin good for the skin?
Answer: Glycerin is beneficial to the skin because it functions as a humectant, a substance that allows the skin to retain moisture. It can help to hydrate the skin, relieve dryness, and refresh the skin's surface. It's also an emollient, meaning it can soften skin.
Question: Can we apply glycerin directly on face?
Answer: You can use glycerin as a moisturiser, but because it is thick, using only glycerin on your face may not be a good idea. It attracts dirt, which can cause acne and pimples. It should always be diluted. Before applying it to your face, dilute it with water or a little rose water.
Question: Can glycerin remove dark circles?
Answer: Using glycerine as an under-eye cream at night improves dark circles and leaves your under-eye skin soft and smooth. It is better compared to the majority of regenerating creams on the market.