As the going gets tough, the tough get going…mostly towards self-care and new beauty labels that soothe your mind, soul and body. Just like you, we too love discovering new labels that profess nothing but self love and pampering with a touch of Ayurveda – because traditions are dear to us and if they meet modern needs, we hit the proverbial jackpot. Here is our edit of the 7 Ayurvedic products that are making social media their home with some interesting new-age ideas.
Beetroot Lip Scrub by TAC – The Ayurveda Co
One of the new entrants into the Ayurvedic segment, TAC – The Ayurveda Co is a label that is affordable and has managed to create a few interesting products. This homegrown Ayurvedic brand's most popular product is the Beetroot Lip Scrub – a self-care formula that gives you smooth, soft, pillowy lips. It comes with organic and natural ingredients and is free from Parabens and SLS. It's star ingredient? Cane sugar. Hydration for your lips, with the goodness of beets – what's not to love?
 Niraj HydroMatte Oil Free Face Gel by Vedix
Customised Ayurveda – that's the new frontier and Vedix is India's first Ayurvedic label that crafts skincare and haircare according to your needs. Created with ancient Ayurveda-approved potent natural ingredients, the range is all about basing your skincare off your Dosha. With summers close on our heels, the Niraj HydroMatte Oil Free Face Gel from Vedix is the go-to moisturiser to try. It's perfect for grease-free mornings and improves moisture retention while strengthening the skin's barrier and the gel formula is hydrating and easily sinks into the skin.
Face Clean Up | Do-it-yourself face & skin repair by Amrutam
Amrutam is a lifestyle Ayurvedic label that has been doing the rounds on the internet for their specialised formulas and new-age products. Their most popular product is the Face Clean-Up wash that is known to deep cleanse your pores and remove every ounce of dirt from your skin. Plus, in the age of masking, it can also help with acne, mask and dark spots. The ingredients like kesar and chanson do give your skin that coveted glow almost immediately.
Kasturi Manjal (Musk Turmeric Powder) by Shesha Ayurveda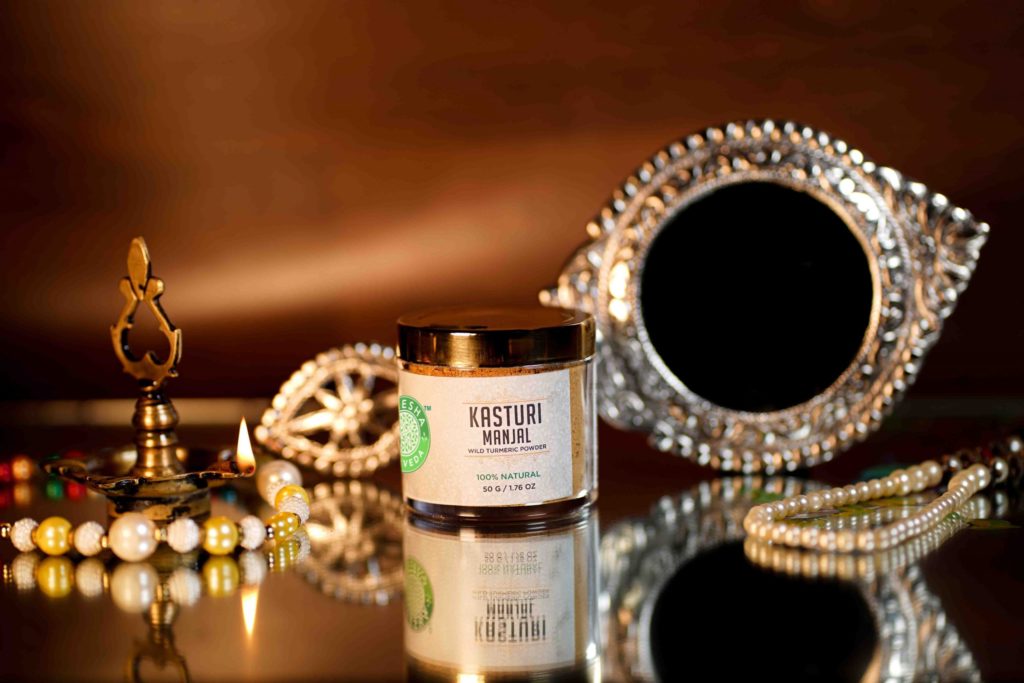 Kerala-based Ayurvedic label that showcases organic powders and hair oils has a treasure-trove of products that are perfect for women looking at new ways to self-care. Their most unique offering is the original white wild turmeric powder or Curcuma Aromatica – a rare one that is handpicked from organic farms of Kerala. It makes your skin smooth, taken care of and nourishes the skin beautifully imparting a stunning glow.  It has anti-bacterial and anti-inflammation properties that really fight acne and irritation while deep cleansing your skin.
Organic Moringa Oil by Kama Ayurveda
Classic Ayurvedic label, Kama has always come out with stellar formulas that suit everyone from oily to dry to dehydrated skin. Among many of their products is a gem – the Organic Moringa Oil, a super rich oil that contains antioxidants and vitamins A & E and has managed to carve a small hole in our heart for its efficacy. This hydrating oil is light and fast-absorbing and encourages renewal of skin cells and repairs the skin from environmental aggressors.
Rose Water by Sadhev
Sadhev is a new Ayurvedic label that is backed by a team of experienced Ayurvedic vaidyars who create therapeutic formulas that meet modern needs. Of all their interesting offerings, the most popular seems to be the rose water – it's a simple concoction but is packed with hydration and freshness that can make any millennial beauty addict, happy. Sadhev's Rose Water is made with exotic centifolia roses – so expect refreshing scent and moisture to hit you at once.
Budget Buy: Bella Vita Organic
Bella Vita Organic is a budget Ayurvedic label that has a wide array of genuinely interesting products that are perfect for those looking at effectiveness via affordability. And perhaps one of the most unusual and unique formulas we ever came across is the Celebshine Body Luminizer that is almost like a gloss or highlighter for your skin. This body highlighter Coes packed with natural shea and mango butter with coconut and almond oil – so much hydration and so much nourishing.