One of India's biggest beauty bloggers, Ankita Chaturvedi of Corallista is a veteran content creator, who has been the face of Smashbox India, and collaborated with the likes Farsali, The Face Shop and more. An IIT-ian / engineer-turned-entrepreneur, she switched paths to become a beauty influencer, recently also graduating as a makeup artist from the Make Up For Ever Academy in Paris. With a dedicated community of 1 million+ followers on YouTube and Instagram, her relatable tutorials, genuine beauty reviews, flawless storytelling, and self-care journey are all examples of the thoughtful content she has come to be associated with.
This year, Corallista, the blog celebrates a decade, a feat that not many beauty content creators in India can boast of. And with it comes in Corallista's first big product collaboration with Ayurvedic label Daughter Earth — a highlighter is skincare and makeup rolled into one. With super finely milled pigments and ethically sourced natural mica, it offers the glow you need in 2021.
We caught with the lady who recently moved to London with her fiancé on her beauty journey, favourite skincare, and makeup loves.
Your idea of beauty? 
Whatever helps me feel more comfortable, confident, and fearless.
What is your daily skincare regime in the AM? 
I've had to overhaul my entire routine since moving to the UK a month back. I've been struggling with a challenging combination of extremely dehydrated skin with breakouts (I don't breakout very often). I start with my day with the Sukin Cream Cleanser along with a low pH face wash like the Cosrx one. I do several layers of hydration — that's the ONLY way my skin retains moisture through the day.
I've been loving the Dr Jart+ Ceramidin Cream Mist and I top this with a cushiony cream. I'm rotating between Curel and La Roche Posay at the moment! I love the Comfort Moisture Creme from MAC as well, a very underrated product. And sometimes I also a few drops of the Becca Skin Love Glow Elixir before I put on my moisturiser.
To top this off, a few drops of facial oil (Herbis Botanicals on my shelf right now) and a moisturizing sunscreen — the Forest Essentials Sun Fluid has been working beautifully as it's watery but hydrating and smells heavenly. I also use Paula's Choice 2% BHA Liquid, the only thing that keeps breakouts at bay for me, sans the dryness.
Supplements you are taking for good skin and hair?
Nothing at the moment. But I've taken Omega 3, biotin, and spirulina in the past.
Do you try any spot treatments or specialised products for your skin?
I love the Kiehl's Blemish Spot Treatment.
What is your makeup box filled with – talk us through some of the stars?
Eyes: Silky Pen Liner in Brown by Pixi, elf Bite-size eye shadow palette in 'Berry Bad', Air Volume Mascara from L'Oreal Paris, and The Face Shop Mascara for my bottom lashes. And the Charlotte Tilbury Pillow Talk Mascara is amazing. Can you tell I love mascaras?
Face: Nykaa Skingenius foundation, L'Oreal Paris Perfect Match Concealer (my Holy Grail), and setting powders from Hourglass which are phenomenal.
Blush: Loving the new Kay Beauty ones at the moment. Tickled Pink is my favourite.
Highlighters: My own co-created with Daughter Earth it's just so easy to wear as it's a cream. And Becca Ignite Highlighter in Passion.
Lipsticks: Anything with pink or berry and brown together will always be my favourite. I love a slightly deeper earthy nude as well, that's not too flesh-toned. My go-to is Browning Glory by Sugar Cosmetics. I've been doing either a matte lip at the moment, a soft berry, like Charlotte Tilbury Walk of No shame or a nude, super glossy one.
Others important products: Benefit Ka-brow for my brows. Rediscovered it recently and now I can't do a day without it.
What is your PM skincare routine like?
Stays the same as my AM routine minus the sunscreen. And I use a cleansing oil (DHC, at the moment) and a bamboo washcloth to remove my makeup.
What about your wellness routine – is there a process you follow?
My wellness routine has gone for a complete toss with the move, but as I'm starting to settle in a bit, I've resumed my regular yoga sessions with my teacher, I'm trying to get back into running, though it's so cold here at the moment and that makes it a little challenging. I'm a big advocate for therapy and I love a weekly session with my therapist. It's like a mental declutter and organisation for me.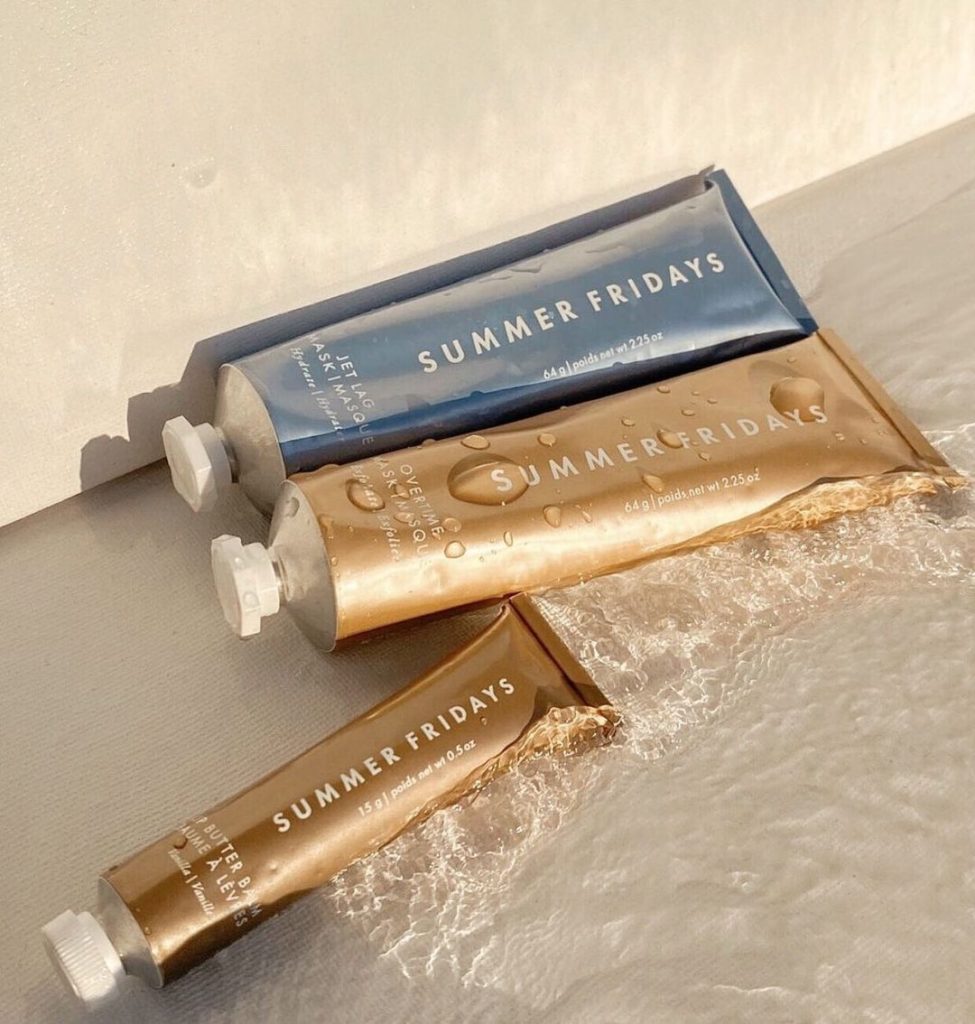 What are the pampering sheet masks / facial masks you use?
I don't use a lot of sheet masks anymore once I realised the environmental impact they have. But when I do, I like to use the L'Oreal Paris Crystal Micro-essence sheet mask — the sheet is fine and adheres to the skin beautifully. I also love the Forest Essentials sheet masks for when I want to indulge myself. 
In facial masks, I like the Summer Fridays Jet Lag one — the blue tube is so wonderful when you are feeling too dry. And I'm currently testing out the Kiehl's Avocado Melt mask since dryness is my biggest concern at the moment. And for when I want a bit of a cleanse, I use Glamglow YouthMud or the Mitti Masque by Pureearth.
A very 'extra' product you have in your kitty that everyone must try?
Hourglass face powders, Aesop hand washes and bath gels, Bobbi Brown Extra Lip Tint in Bare Raspberry, Pat McGrath eye shadow palettes.
Haircare routine you follow?
I want to get better at taking care of my hair. I can do makeup in my sleep but I often struggle with hair. I've relied far too long on salon blow-drys. Currently using the Aveda Botanical Repair range and it's working well. I've been enjoying styling my hair myself lately and one of my favourites at the moment is the Dyson Airwrap and the Philips Auto Curler (best stuff for curling hair, especially for the poorly skilled like me). 
Travel products you love?
A rich, thick moisturiser like the Weleda Skin Food, a hand cream (Kiehl's hand salve), a lip balm (Bobbi Brown Extra Lip Tints are amazing), a brown eye pencil, and a fluid, hydrating concealer.
Nail must-haves?
I am a big fan of gel nails and I usually get them done professionally. I barely own any nail products anymore. And luckily, I have healthy nails so any basic body lotion or cream works well enough.
Your most extravagant purchase in beauty?
I'm extremely grateful that I get sent a lot by PR to test out. I feel the most indulgent when I spend on something that is quite basic or that you use up quickly, like a lip balm or a mascara. The Bobbi Brown tinted lip balms are just so lovely — I recommend them anyone with dry lips (or a general love for lip balms). I spent an ungodly amount on Make Up For Ever when I was at their academy for a course. Luckily, we had a student discount. Also, Pat McGrath eye shadow palettes.
The product that changed your life? 
That's a tough one to answer. I'm rarely loyal to products as there are just so many great brands and products in the market, and I love trying out new stuff. Learning the right techniques to use certain products, rather than the product itself has been life-changing for me. But if I had to choose one, I'd go with Paula's Choice 2% BHA Liquid. I've recommended it to too many people.