Sonam Babani is a luxury fashion influencer who has been on our radar for a while now and we love her impeccable style, stunning closet, and of course, her makeup and skincare reccos.
With flawless skin and managing to look effortless every time we catch her on Instagram, Sonam Babani has modelled for designer Gaurav Gupta and also collaborated with luxury labels like Dior, Louis Vuitton, and Gucci. Her handle, Fashioneiress is testament to her work as a celebrity stylist, luxury consultant, and model amongst other things.
We asked Sonam Babani about her skincare and makeup routine.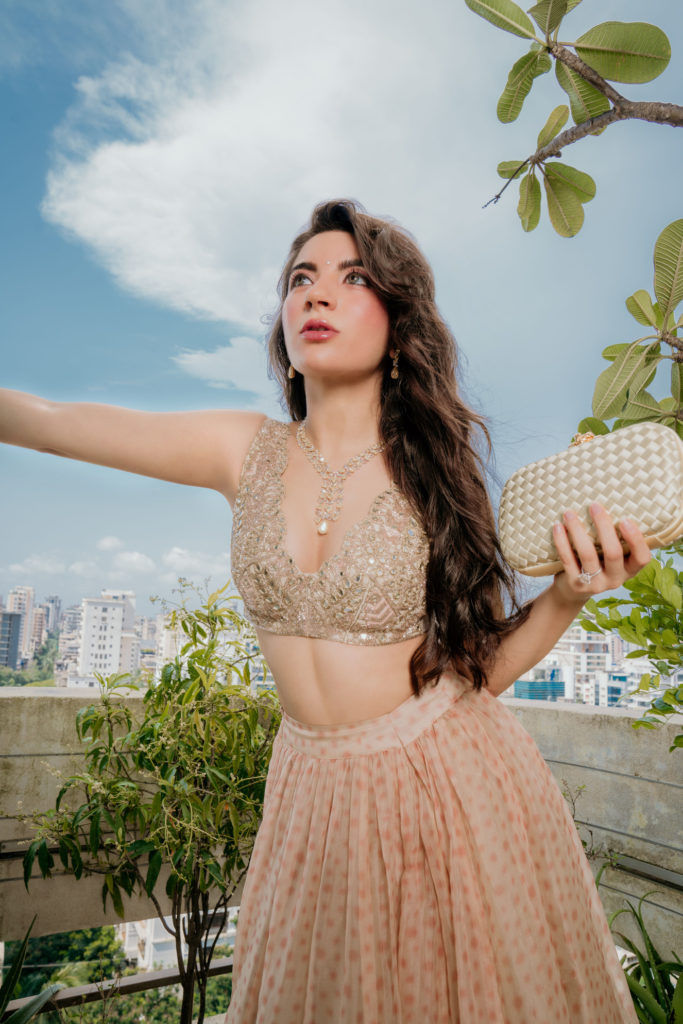 What's your idea of beauty?
'Less is more' and 'Skin is In' — those are my mantras. I don't have a fixed idea of beauty, I feel like beauty is subjective and different people are beautiful in different ways. That said, I do believe that good glowing skin is always in.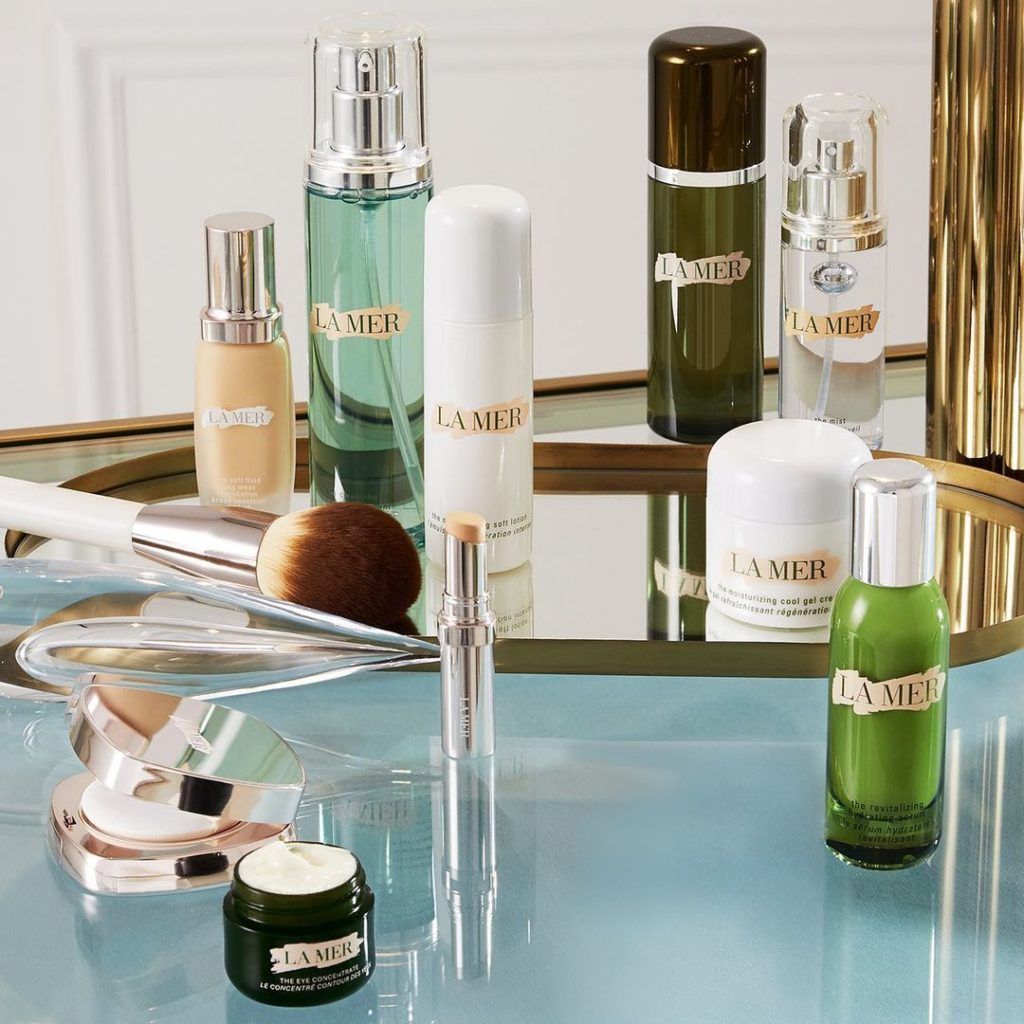 What is your daily skincare regime in the AM? 
I follow three basic steps in the AM — I start with the La Mer Cleansing Foam, followed by my trusted Clinique iD or Physiogel Hypoallergenic Daily Moisture Therapy Cream, followed by my favourite Dr. Barbara Sturm Sun Drops. Sometimes I mix the drops into my moisturiser as well.
What kind of skin do you have and what extra care does it need?
I have ultra-sensitive skin, so I need to be super careful about what products I use. Because I'm in the business of beauty, I do get a ton of skincare and makeup products for review. So I try to use the most important ones and keep my testing to a minimum. Since my skin is sensitive, I don't use products with fragrance in them and try and keep away from products that come with added colour as well.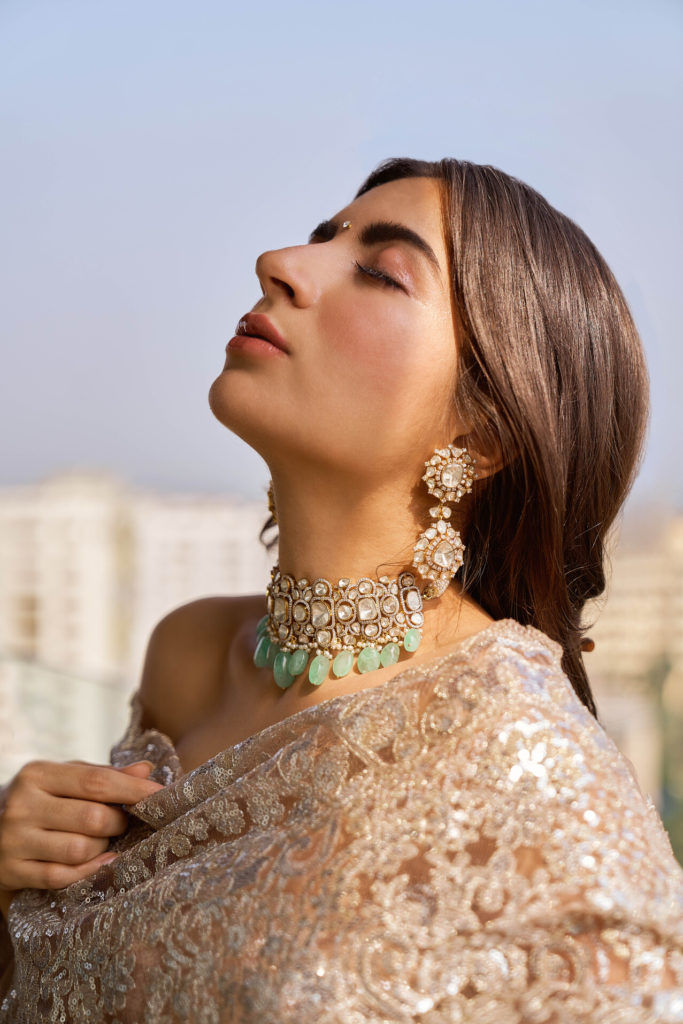 Supplements you take for good skin and hair?
I don't take vitamins. I have dabbled with Vitamin C but I'm not consistent enough to follow it every day. I believe that if you follow a wholesome diet and eat clean, you don't require additional supplements.
Do you try any spot treatments or specialised products for your skin?
The La Mer Eye Balm Intense is one indulgence but I use it only on really tiring days. 
What is your makeup box filled with — talk us through some of the stars?
Eyes: Tom Ford Eye Defining Pen and Brow PerfectingPencil, the Benefit Precisely, My Brow Pencil, and Brow Zings Eyebrow Shaping Kit are a part of all my beauty routine. And a ton of Huda beauty eye palettes. 
Lips: I love the DIOR Lip Glow Hydrating Lip Balm Color so I have one in every pouch. And my other favourite is the Fresh Sugar Lip Balm Sunscreen SPF 15 — I'm currently using it in Cherry. I love lip and cheek tints and stains so I tend to buy more of those. 
Face: I use the NARS Sheer Glow Foundation for shoots but for vacations and night-outs I use the Pure Radiant Tinted Moisturizer Broad Spectrum SPF 30. I leave my skin bare otherwise.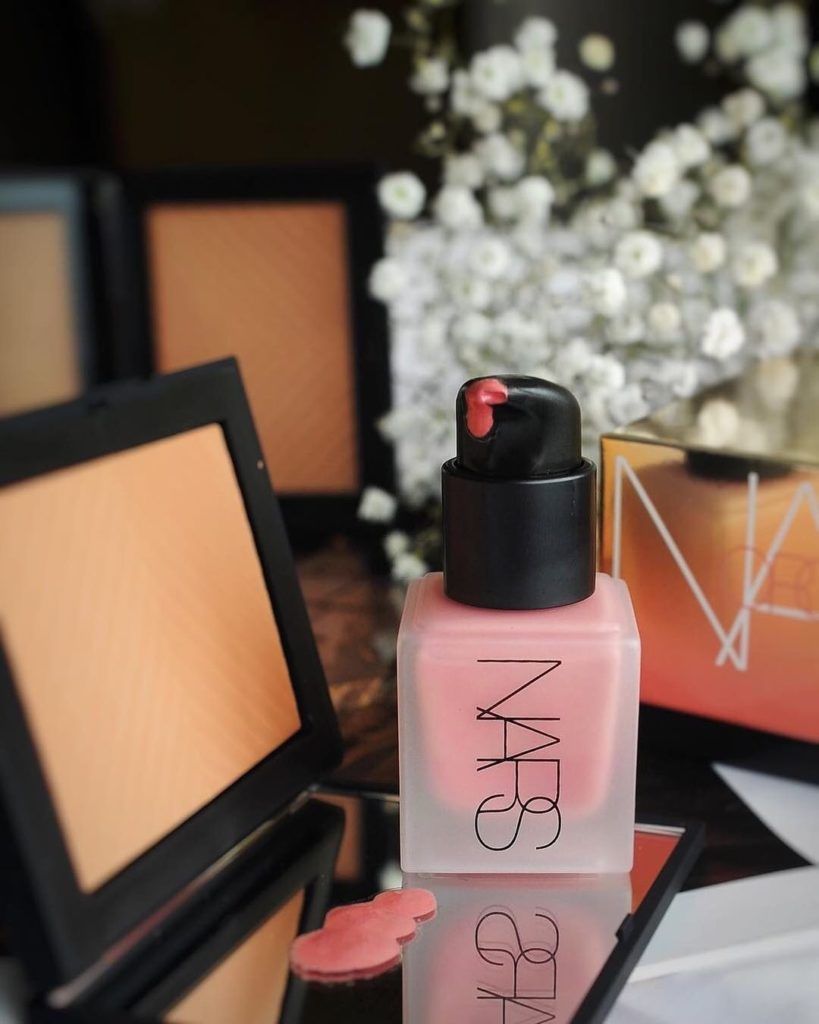 Blush: I use the NARS Liquid Blush in Orgasm, it has a gorgeous sheen to it and it looks super glam. On days I want to play it down, I use the Bobbi Brown Blush in Apricot.
Highlighters: Becca Becca Becca – I use this in all shades but Champagne Pop is my favourite. 
Lipsticks: I love the Dior 999 Red and Mehr from M.A.C Cosmetics are shades I can't do without in my kit.
What is your PM skincare routine like?
It's pretty much the same as the morning routine but I add in an oil to replace the SPF. These days I'm using the Sea Buckthorn oil from the Dearist.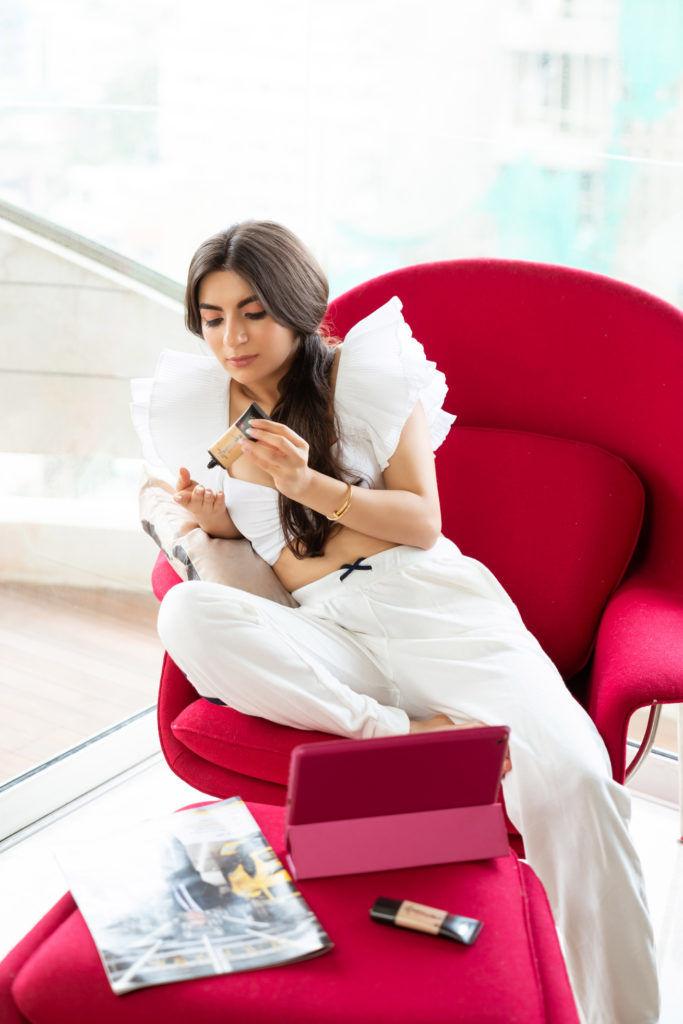 What about your wellness routine?
I make sure to eat clean and workout as much as I can. I feel like what you put inside your body, reflects on the outside. Coming to exercising, I think nothing can give you a glow like a good sweat session and working out also helps secrete happy hormones, and you know what they say about happy girls.
What are the pampering sheet masks / facial masks you use?
I try not to use sheet masks because I have very sensitive skin. If I have to do a mud mask it's usually Kaolin Clay mixed with steam distilled rose water.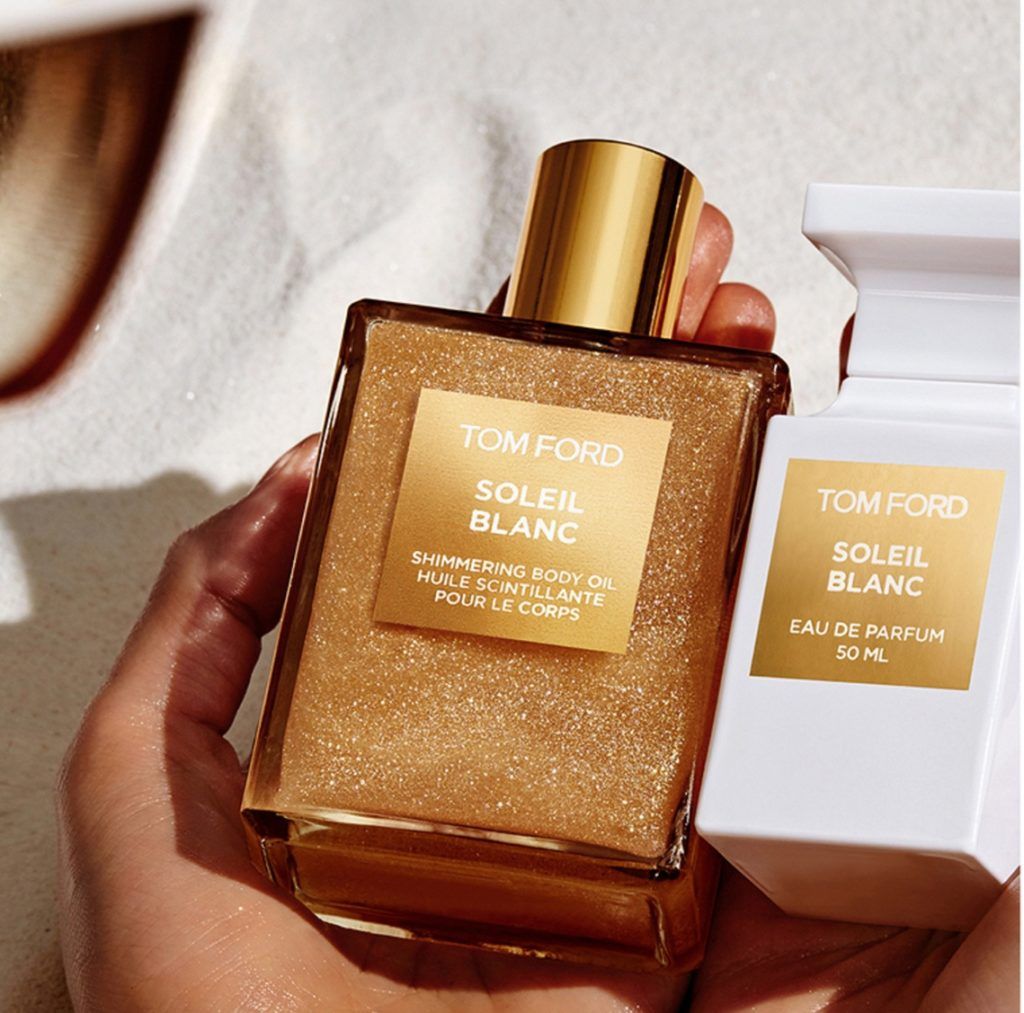 A very 'extra' product you have in your kitty that everyone must try?
The Tom Ford Soleil Blanc Body Oil. It smells like heaven and looks super extra, definitely makes you feel like a million bucks.
Hair-care routine you follow?
I say no to colour and semi-permanent treatments so I have virgin hair, which is fairly easier to care for. I'm currently using the Aveda Botanical Repair Range Shampoo and Conditioner, and I diligently use the Dyson Air Wrap to style (this uses less heat than other products) which saves my hair from a lot of damage. 
Travel products you love and carry?
I like carrying easy makeup for my travel, multi-use products like a lip and cheek products are key. Currently, I'm using the Glossier Cloud Paint and Josie Maran's Lip and Cheek Oil, my NARS Tinted Moisturiser, DIOR Diorshow Pump 'N' Volume HD Mascara, and a Lash Curler for lengthy lashes along with Tweezerman tweezers to keep my brows groomed.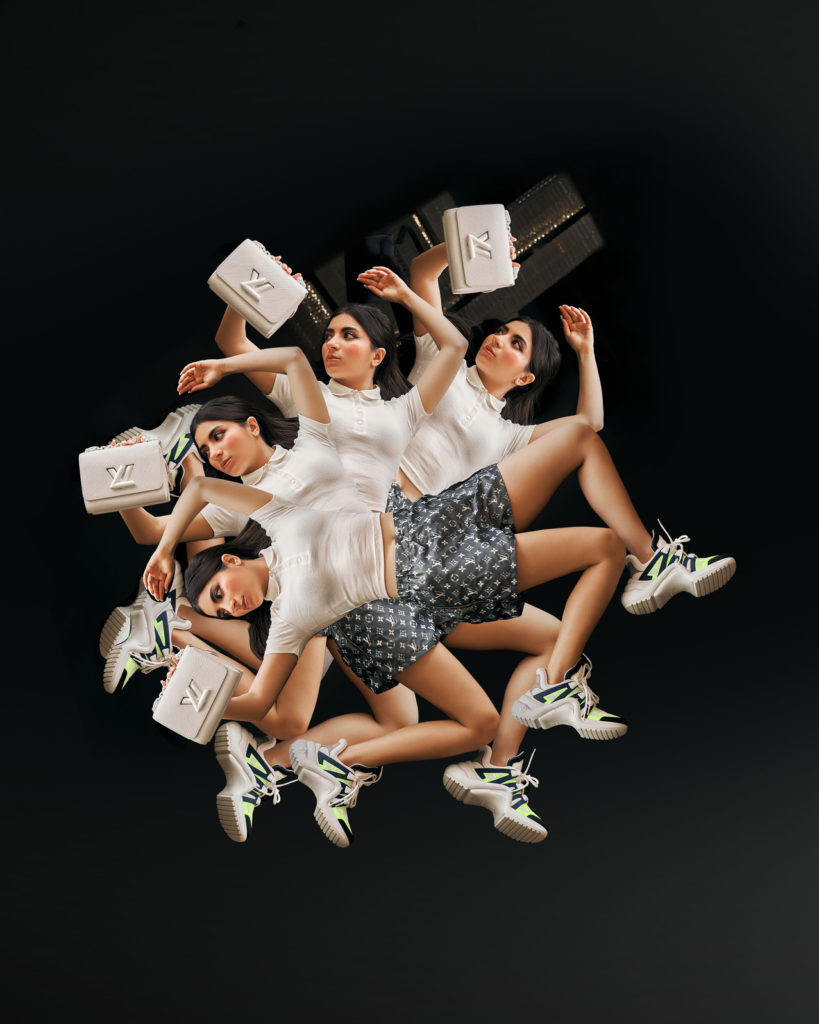 Nail must-haves?
The Nails Inc. Top Coat and the Sally Hansen Nail Hardener Base.
What is your most extravagant purchase in beauty?
My Chanel makeup pouch kit.
Images: Courtesy Sonam Babani