We got you one half of House of Misu, Mitali Sagar's beauty routine.
The power-duo from House of Misu has always been the country's most popular influencers. Mitali Sagar and Summiyya Patni have been best friends for more than 20 years and started MISU Fashion Consultants to fill the gap in fashion and styling. Now, after a few years, they are the top voices in fashion and beauty and everything lifestyle-related. We got an interview with Mitali Sagar, an Indiana University Grad with a degree in Fine Arts, Apparel Merchandising, and Art History who started as a fashion entrepreneur but ended up being an informative voice in the new Instagram landscape.
Her easy to do beauty tutorials, her love for innocuous products, and her expertise in makeup has got her many accolades and fans. Moreover, she's got an exciting beauty routine that you can follow. Not only because she's got some amazing tips but also because she's an expecting mom with a whole new arsenal of products to include into her already-interesting regime.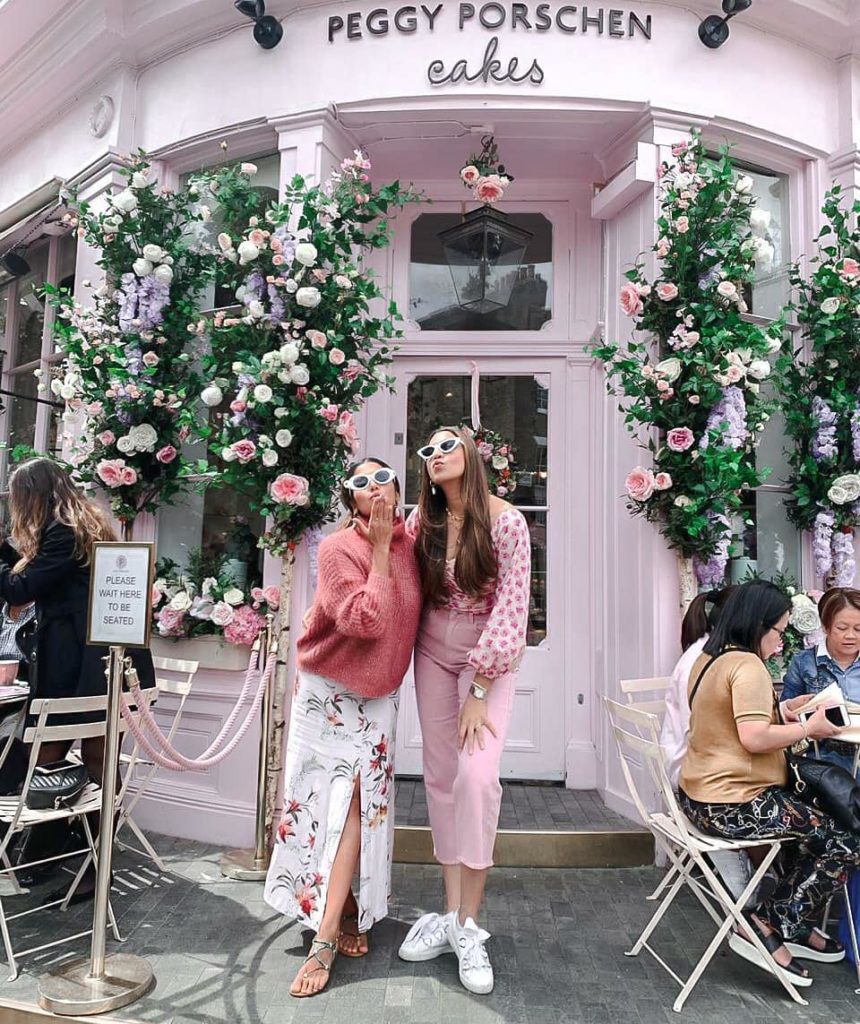 What's your idea of beauty? Is there a definition you live by?
There is a saying I know, "Everything has beauty, but not everyone sees it,". I think that's true – it's subjective, it's a choice. I think for me, the definition of beauty is about choosing to see the beauty within myself and others. It's not just the physical attributes but something that glows from a person from within. Something happy, goodness, great qualities – if they emirate from a person, that's beauty.
What is your daily skincare regime in the AM? 
Ever since I got pregnant, my skincare regime has changed because some ingredients and formulations are not suitable for me at this time. Though the steps remain the same, the products have changed. I still specifically use Vitamin C and toners somewhere in my routine. These days with pregnancy, you get dark spots so I'm using the Innisfree Whitening Pore White Toner which contains Vitamin C. The Innisfree Green Tea Seed Serum is another good buy that I'm using now. I used to use the L'Occitane Immortelle Reset Serum in the day but because of the humidity, am looking at something a little lighter. I also use a moisturiser – right now, its between L'Occitane Divine Youth Oil or the Innisfree The Green Tea Seed Cream. Basically these are the three things am using right now – and I use an Innisfree / Clinique Sunscreen on top of it.
What kind of skin do you have and what extra care does it need?
My skin is usually combination leaning towards dry, so I paid attention to that, and I never let it get dry or flaky. After a shower, I use hydrating products to keep dryness at bay. I carry a small jar of cream with me, and if I feel it's drying, I reapply. The best way to take care of your skin's barrier is by making sure it's always hydrated, and that helps slow down the ageing process too. Now, since I'm pregnant, my skin has balanced out – sometimes it's slightly on the oily side, sometimes dry.
Supplements you are taking for good skin and hair? 
I don't take any supplements. I make sure my diet has foods that are rich in vitamins for my hair and skin. Healthy fats, good protein, a mix of antioxidants and vitamins, and drink loads of water. I don't eat refined sugar and keep to wholesome food by making the food myself or incorporating healthy ingredient swaps. I'll use honey instead of sugar or whole wheat instead of maida.
Do you try any spot treatments or specialised products for your skin?
I have tried spot treatments for spots and freckles after a few beach trips we had because of sun exposure. I tried the Kiehl's Clearly Corrective Dark Spot Solution, it's another amazing product. My Drunk Elephant T.L.C. Framboos Glycolic Night Serum has been another amazing product. Now, I just stopped using the night serum because I'm pregnant, and I used to love it.
What is your makeup box filled with – talk us through some of the stars?
What about your wellness routine – is there a process you follow?
I try to stay active all the time and hate being in a negative state of mind, so I try to stay non-stressed. I do a functional training class online with my trainer about twice a week. I walk three times a week. Wellness is about what goes into your body and how you use your body – so that's the process I follow.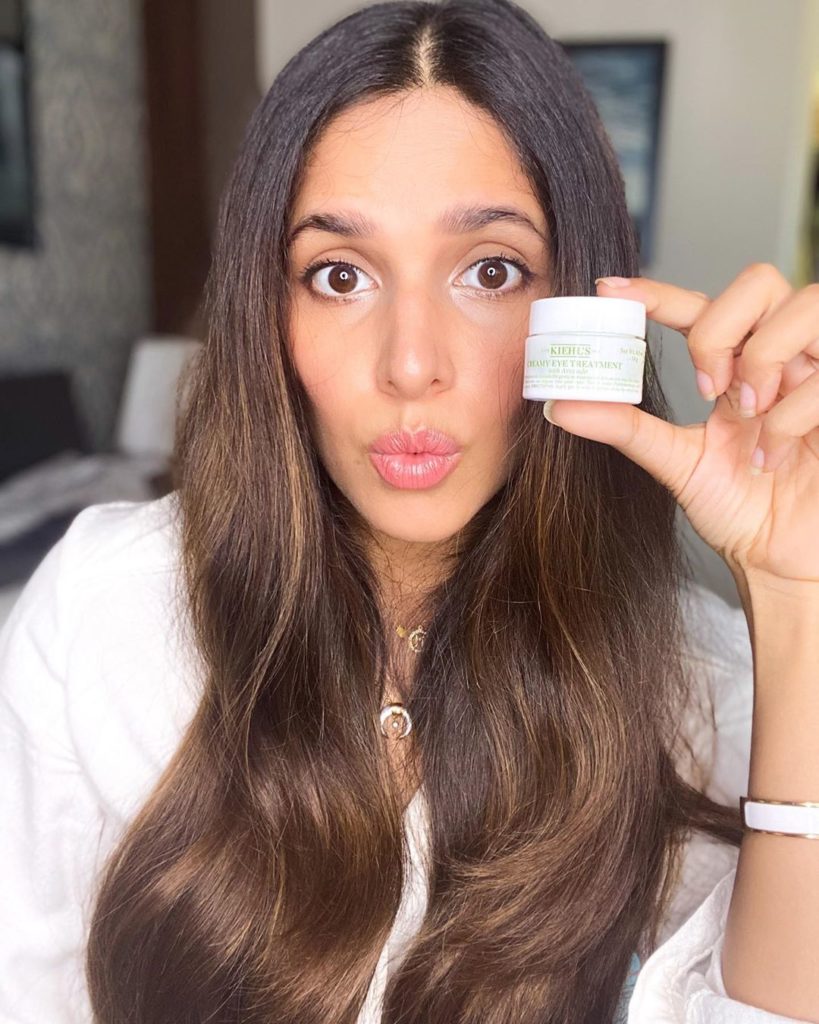 What is your PM skincare routine like?
My pregnancy nightly routine is different now since my skin is a bit on the oilier side now. I currently use the L'Occitane Peony Perfecting Toner, which smells like a hug. My L'Occitane Reset Serum is another good one, and I use the Innisfree The Green Tea Seed Cream – it's currently what I'm using. I use the L'Occitane Divine Eyes for my under eyes or the Kiehl's Creamy Eye Treatment With Avocado.
What are the pampering sheet masks and indulgences you follow?
I love sheet masks and recently I have been loving the masks from Shangree, the ingredients are so rich and luxurious. I also bought a lot of sheet masks from Seoul too. I am not fixated on specific skincare label for sheet masks. Occasionally, I use a gel mask from Skin Inc, a Singaporean-label.
A very "extra" product you have in your kitty that everyone must try?
The Drunk Elephant T.L.C. Framboos Glycolic Night Serum is one product I have loved. My skin felt amazing the next morning – right now, am not using it because of my pregnancy. Charlotte Tillbury Hollywood Filter is another product that makes my skin so beautiful and glowy.
Haircare routine you follow?
I don't have a specific hair care routine, I do follow a few steps though. I do ensure condition my hair, every time I rinse it. My last rinse is always with cold water. I religiously use a hair serum after and before a blow-dry. The two serums I have been loving are the Kerastase L'Huile Ultime and Bumble & Bumble Invisible Oil – fab products. I oil my hair sometimes if I need a pick-me-up with almond or coconut oil.
What is your most extravagant purchase in beauty?
The two beauty splurges I've ever done were the La Prairie Skin Caviar Essence which I realised that I don't need it now. It's a wonderful product. The Skin Inc Optimiser Voyage Pri-Light, its a great skincare tool – it's a light-tased facial therapy, it massages and helps intensify the glow.
Travel products you love and carry?
I carry a pouch with specific products, and I use it throughout my flight. I carry a lip balm, a face spray called Beauty Elixir by Caudelie and a tiny jar of moisturiser. I carry mints and a sunblock roll-on from FaceShop and tiny perfume.