Chennai-based Cosmetic Dermatologist, Renita Rajan gives us her skincare and self-care routine
Renita Rajan of Render Clinic is a very well-known name in Chennai and now thanks to Insta Reels and IGTV, she's on our screens quite a bit giving us advice on quarantine hair loss and bar soaps. Her detailed, well-researched topics are so interesting and are perfect for those looking at the right kind of advice on haircare, skincare and more. What can we say, her topics are varied and her recommendations always bang-on point, she basically cuts through the internet and instagram clutter to give you all the information you need on maintaining good skin health.
She also retails some great products at Chosen, her clinic's store that has some really interesting routines and supplements (We're dying to try her Light Routine that everyone's talking about!) We asked the lady how she maintains her skin and hair during quarantine and the products she uses and she gave us her list. Take a look and bookmark every single product because we heard that they work oh-so-effectively.
What's your idea of beauty? Is there a definition you live by?
Anything that looks organic on you – anything that is in sync with who you are as a person. Most importantly, whatever skincare you use, should be something that helps your skin in the long run to achieve your skin health. Beauty is not about just appearance, your skin needs long term benefits and skin health is important to maintain. 
What is your daily skincare regime in the AM? 
I use only good moisturising sunscreen in the morning. I don't use Actives in the morning, Actives tend to break down at diff rates thru the day. I don't use Vit C in the morning at all – if there is no adequate sun protection, it won't work, it can work against you. 
So I stick to just a good moisturising sunscreen, I currently use the Avene Day Protector UV EX SPF 30 but if I need more protection, I go with a sunscreen like Heliocare with SPF 50 because I have uneven pigmentation and melasma. Sometimes, I switch to Cetaphil 30 SPF on some days if I am looking for something comfortable. I never am without using sunscreen in the day – that's a given. I don't use a moisturiser as I find that too heavy for our Indian weather, so just one moisturising sunscreen works. 
I occasionally use kajal, a good lip balm, a blush and lipstick on most days at work. I'm using the Striking Eye Definer Black from The Body Shop these days. My eyebrow filler / pencil is from Shu Umuera and I go with a good lip balm. I use a good powder to set the face and I use a light concealer by Shiseido to cover dark under eyes and melasma patches. 
What kind of skin do you have and what extra care does it need?
I have a combination skin – I live in a coastal city so we all have that oily T-Zone and the rest of the face is dry. A well-performing non-comedogenic sunscreen is one way to make sure the face is taken care of. I don't have acne and I don't have sensitive skin so it's very rare that a product breaks me out.  
Supplements you are taking for good skin and hair?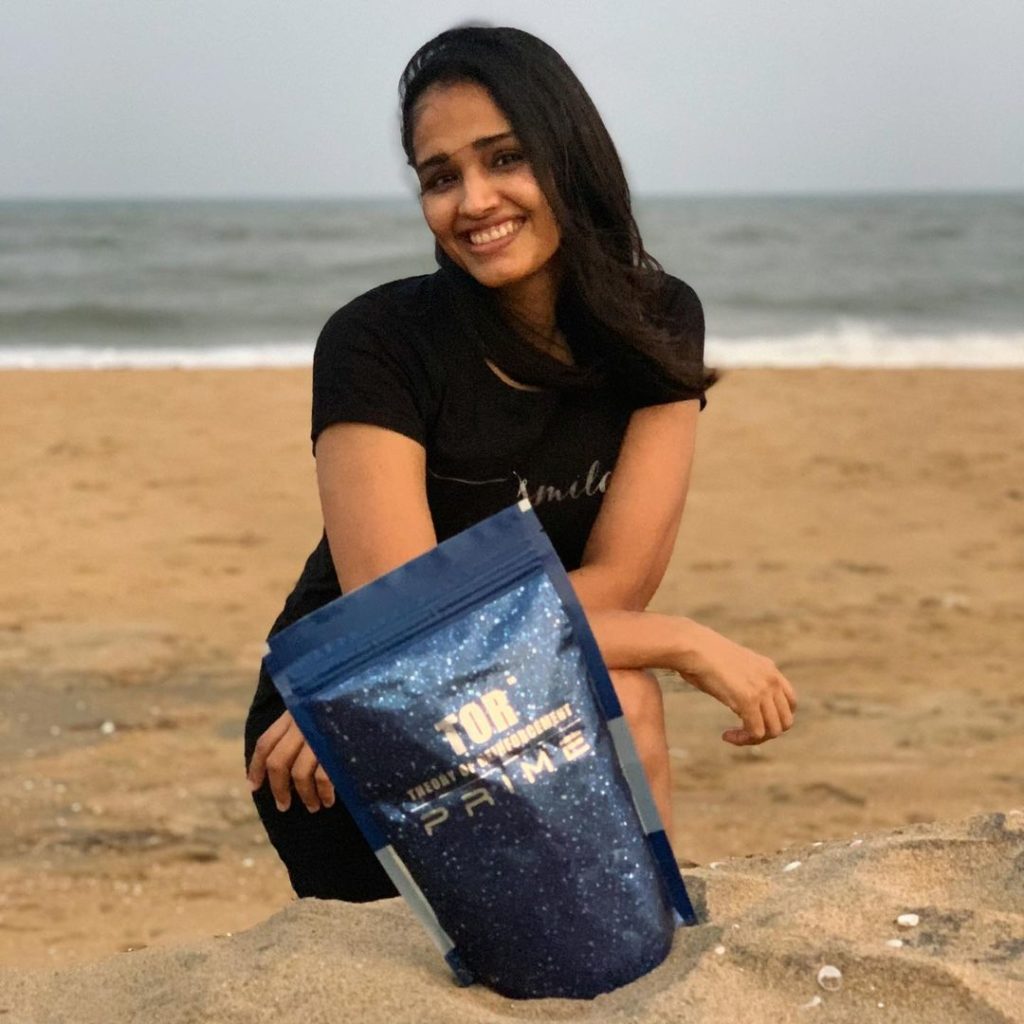 Unless I get to test and try them, I don't recommend supplements to anyone. I need to be comfortable with them first. Hair supplements I currently use TOR Bright OptiMSM Methylsulfonylmethane which retails at Chosen. It helps improve hair thickness and shine and also does help with nail health and growth. It helps with skin texture too. For the antioxidants, I am on White Pine Pycnogenol from Chosen – it has a host of skincare benefits – it improves skin hydration, helps with skin elasticity and it has an anti-wrinkle effect. I also use the TOR Prime Premium Marine Collagen containing Verisol – all of them work well with my skin. I like multitasking supplements, I also sometimes take Biotin for hair, only occasionally though but since my diet is now better, I have stopped them. 
Do you try any spot treatments or specialised treatments for your skin?
As a dermat, I do end up dabbling and trying out procedures first. What I specifically get done for myself are the non-invasive, non-surgical, radio frequency skin lifting which I get done once or twice a year. I also get botox done for my crows feet and for my forehead and for my jawline contouring. I am still on the quest for long-term melasma, it's something I'm working on. I do a few surface hydration treatments for my lips, on and off. 
What is your makeup box filled with – talk us through some of the stars?
For the base, I use the Perfecting Stick Concealer from Shiseido. I use Striking Eye Definer Black from The Body Shop and  eyebrow pencils from Shu Umuera. Smashbox Perfecting Primer is something I use occasionally. YSL Rouge Volupte Shine  is the only lipstick I love. With one whole year in masks, I stopped wearing lipsticks. Now, I use only lip balms, the SebaMed Lip balm has been a staple, Avene lip balms are treatment lip balms, they get the job done. Lip balms from Bobbi Brown and M.A.C ones are good too, but I prefer medicated ones. I haven't learnt the perfect art of makeup, but I stick to basics.  
What is your PM skincare routine like?
After work, I do thorough cleanse and for that I use the Cetaphil Cleanser and their Cleansing & Moisturising Syndet Bar, it's a very good bar for the face. Before that, I cleanse my face with a makeup remover, I use the Elizabeth Arden All Gone Eye and Lip Makeup Remover, it works well for me. Other removers I recco: Clarins and Clinique. I prefer Bi-phasic removers and not micellar waters. Micellar waters tend to cause breakouts so I don't usually use them. 
Avene Cleansing Foam is another gem, works beautifully on the skin and mostly, Cetaphil Daily Exfoliating Cleanser, Vichy and Bioderma also have some good options.  I avoid highly fragranced face washes so the skin is not irritated. After that, I stick to a good Vitamin A night cream, Avene Physiolift Smoothing and Regenerating Night Balm is a great option for those looking at a basic one. Once you are a pro with Vitamin A Night Creams, you can move to Sesderma Reti Age Facial Cream, a little harsh but works very well over a period of time. Another well-known one is Retorna, this gives you a bit of lifting. 
Once a week, I exfoliate with Light Routine Gentle, a salicylic-based exfoliator and this home routine works well for me. The dead cells are taken out and skin is allowed to rejuvenate. 
What about your wellness routine – is there a process you follow?
I generally follow a good sleep routine, I sleep early. I sleep at 9 pm on a good day and wake up early at 5 am to start my admin work. The routine has helped me a lot – because I have stage four endometriosis and migraines so this routine really helps. Work in my clinic requires walking so I use the stairs regularly so that's something I continue to do. I drink a lot of water – 3 to 4 litres is just basic everyday. Early in the morning, I do a small activity of keeping my head clear – just thinking and ruminating, it's not exactly meditation but it helps me disconnect from the day before. A 30 minute early morning 'blank time' is mine.
A very "extra" product you have in your kitty that everyone must try?
Most people feel sunscreens are extra or boring, it's the most important product one can use. But if you are talking about a product with the 'wow' factor, then it's the Light Routine Gentle from Chosen, a chemical exfoliator.
Hair Care routine you follow?
I wash my hair thrice a week because I have busy working days. I use a low PH-balanced shampoo, it makes a difference to your hair. I use the Kerastase Satin Bain 2. I use a leave-in serum everyday, I like the Sebastian serums, I love their liquid gloss serum.  I'm using the Sebastian Dark Oil. I use a Melatonin Scalp Serum to help with the hair cycle. If there is a stress-induced hair loss, I use it then. 
Travel products you love and carry?
For travel, I use the Avene Rich Compensating Moisturiser and for Aveeno Skin Relief for the body.  If I am traveling to a cold place, it's Heliocare sunscreen. 
What's your self-care mantra?
Never stay dehydrated or hungry for too long. I don't worry about what people think. 
Best skincare advice you ever got?
Layering is probably the worst thing to do – people keep adding products without wondering how they work with each other or how they penetrate through the skin or how they work together. One thing I learnt is layering too much is harmful. 
Look at a few products that work for you and stick to them. Skincare Actives must be used in isolation – and they penetrate and sink into the skin so they should be of the highest quality. Don't ever use too many products together.