If you spend more than an hour of Instagram or follow beauty influencers, you probably saw an army of posts on beauty fridges. Small in size and high on admiration, this 5/7 inch mini fridge has become the latest beauty trend on Instagram.
Looking dapper in pale pinks, cool blues and pristine whites: is there more it to it than a social media craze? Is it absolutely necessary to our living? Is your beauty kit incomplete without this tiny tech addition? We took a long look at this newest trend and decided to get to the bottom of it and that terribly popular hashtag #minifridgeshelfie. After all, having a mini fridge to store your precious serums and creams for effective use is the ultimate luxury.
View this post on Instagram
Our favourite blogger Shagun Khanna uses a skincare fridge and we're loving the collection of products. 
Skin fridges are necessary in case the products will be in temperatures above 25 degrees Celsius, says Dr. Kiran Kaur Sethi of Isya Aesthetics, New Delhi. "Products are rarely tested for high-temperature conditions like India, and to make them stable in these temperatures is rather hard," she continues. Pro Tip: If you're currently beauty binging with the help of international couriers, it may just be wiser to invest in a mini beauty fridge. The question of needing one? Absolutely not though unless they are organic, natural products that need that extra care or ones that come with formulas with a shorter shelf life. The only other advantage we loved here is the fact that cold creams and serums offer a calming, relaxed feeling and that adds to the skincare experience. Ingredients too, add to the mix – for example, an aloe mask or a mint mask might work better when kept in a fridge. Reducing puffiness is easy with a jade roller stashed inside one.
However, why a separate fridge? Why not just a compartment, I asked Dr. Geetika Mittal Gupta, dermatologist and founder of ISAAC Luxe. "Keeping your products separately in the beauty fridge not only makes their efficacy increase but also it makes usage compliance better and avoids the odours mixing up." That brought some memories up: I can no longer apply my prized The Face Shop lipstick because it's got a funny smell. The other option is to keep them in your bathroom cabinet, but the chances of exposure to bacteria are higher.
So is it all products that need refrigeration? If you spend big bucks on retinol, Vitamin C and other active ingredients, start by storing those in your skin fridge. Next comes cold skincare which includes face mists, clay masks, sheet masks, cold skincare, gua sha stones and jade rollers. "I personally love putting my sheet masks and jade rollers in the beauty fridge and using it on a clean face," says Dr. Gupta. Using a cool product also soothes & calms irritated skin while simultaneously making the skin feel fresh. "As for me, I would put liquid makeup in these temperature-controlled places," says Dr. Sethi. High heat can sometimes oxidise ingredients in your products, making them either less effective or oxidatively damaging.
View this post on Instagram
If you're big on chemical-free beauty, beauty fridges can help extend the life of natural products seeing that they are preservative-free. You can also put a metal spoon in the beauty fridge and use it to compress the under eye bags.
Bottom line: if you keep your products in temperature-controlled environments, you may not need one. However, if you are currently stashing all of your prized possessions in a bathroom cabbie, it may just be a good idea!
Lifestyle Asia Recommends:
Organic Harvest has just launched a skincare fridge and it's perfect for those looking to increase the shelf life of their products .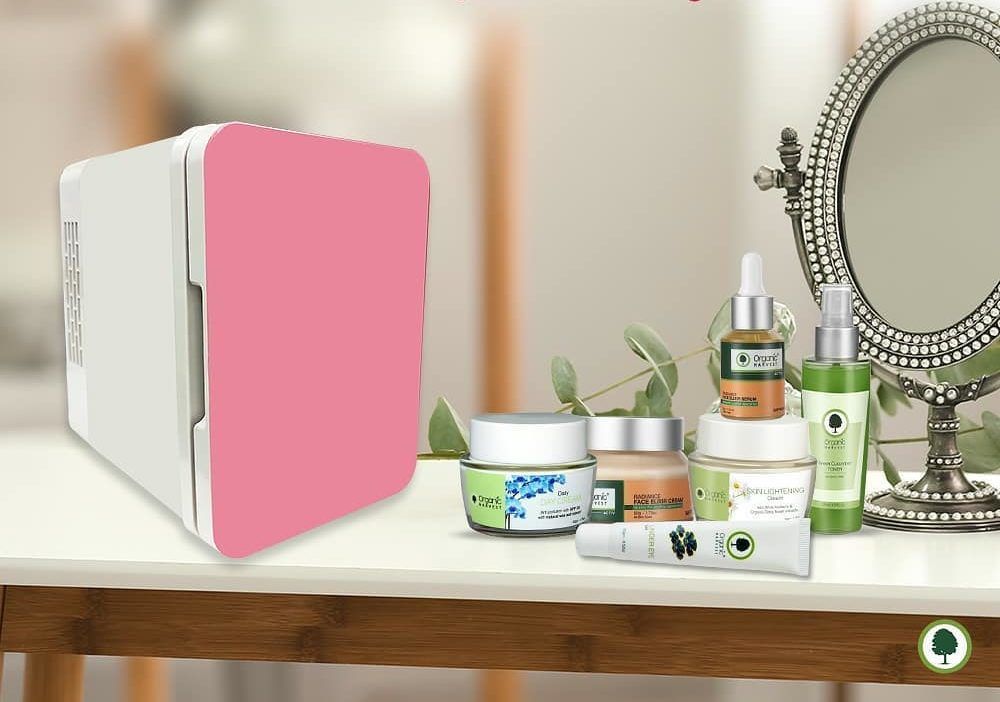 Price: Rs 6,000
There are other options too.
Makeup Fridge, Rs 8,000
Cooluli Infinity Series Minit Fridge 15 L, Rs 6,871
The Cosmetics Fridge In Marble, Rs 8,954
BONUS: Want more of cold skincare? Make small ice cubes with cucumber juice, Aloe Vera and Rosewater and use them on weeknights. You can also just freeze your used green tea bags and use them to de-puff the under eye area.