New habits that you adopt for your skincare should not only be conducive to your skin upkeep, but also ensure that your expensive serums and hyper-active formulas work to give you better results. So how does one develop a 360-degree skincare routine? It's all about layer your skincare right.
Yes, this little trick called layering can produce dramatic results and optimise your products. What to layer, what to spritz, and the order in which to do it ensures efficacy, resulting in beautiful skin.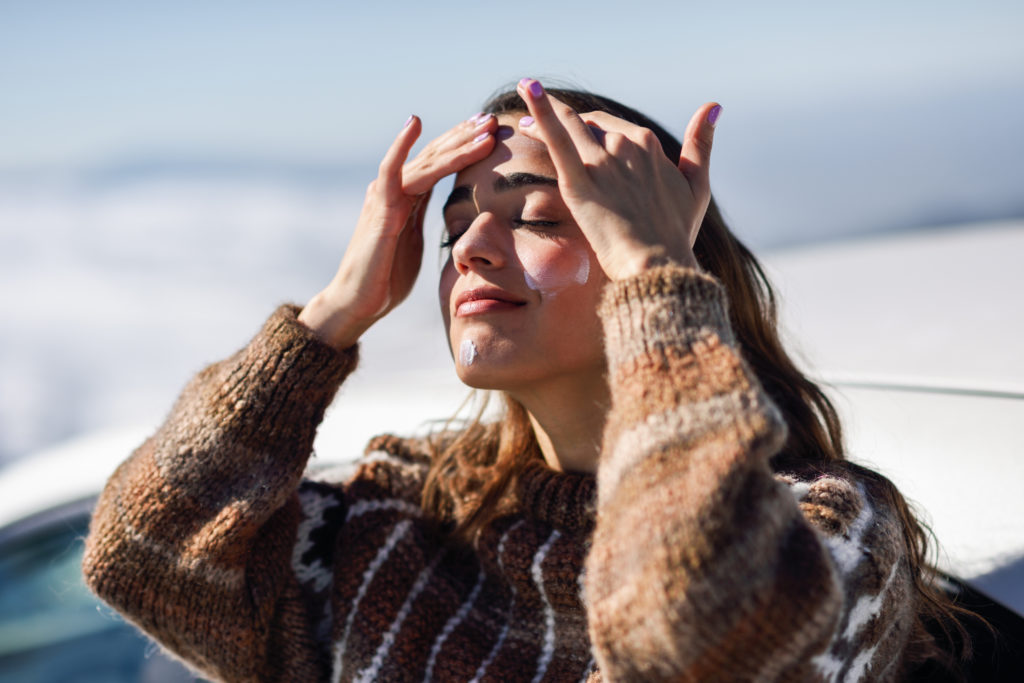 How to layer 
The order you place your skincare products is what makes them effective. That means apply products from the thinnest to the thickest. There is a good way every product layers beautifully, adding to the potency of the next product. In that sense, they work cohesively. This also means that the best products get the best time on your skin.
There's a third aspect as well — Thin products allow the next product to seep in, an so using an oil or a thicker product beforehand can form a barrier that would not let the next one sink into your skin.  
Morning routine
Cleanse and double-cleanse
Use a good oil balm/cleansing oil to remove the extra grime and dirt that gets clogged in the pores. Then, move ahead with a gentle face wash to make sure your skin is squeaky clean and fresh. You can skip a double-cleanse on days you are home, but when you come back late from work or had a late party, there is still a bit of makeup or dirt left in the pores. That's when double-cleansing helps. 
Balm Cleanser: Plum E-Luminence Simply Supple Cleansing Balm, Rs 545
Face wash: Botanist Botanical Face Wash, Rs 1,600
Toner 
Don't underestimate a toner — it's the best product to increase the efficacy of your serums. One spritz of a toner on a cotton pad, and sweep it across your face to remove lingering dirt. A toner also gives that thin veil of hydration so your serums with active ingredients can penetrate better. Oilier skin needs toner more — the sebum is removed and the face is hydrated. The good bit is that a toner can be used before and after your regime — whenever you feel like your skin is tired, just spritz it on and you are set. 
Toner: L'Occitane Peony Perfecting Toner, Rs 1,590
Facial Mist: Boscia Rosewater Mist With Witch Hazel, Rs 2,350
Essence
Essences are more potent than toners and are essentially a bridge of hydration between a toner and a highly-active serum. Depending on your skin concern, choose between a hydrating essence that usually contains hyaluronic acid or the ones that contain glycolic acid. Essences also target specific concerns like fine lines, wrinkles, and dull and uneven skin tone. If you suffer from sensitive skin, then essences can help with more hydration.  
Essence: Innisfree Jeju Orchid Enriched Essence, Rs 2,100
Serums
Each serum has its own benefits, whether it's the Dr Sheth's Anti-Pollution Day Serum or a Vitamin C serum from Klairs. Serums contain highly effective ingredients, and their texture is a thicker than a toner and thinner than a moisturiser. From skin-protecting ingredients to hydrating ones to active ones like Vitamin C or an anti-aging serum, these speciality products address a specific problem you have.
Serums are ideally the core of your skincare regime — they are the ones that actually give you the results – while the pre and post regime helps keep them regulated. Antioxidants are the most important ingredients to watch out for in serums. 
Moisturiser  
After serum, one needs to apply moisturiser. A rather thick cream that not only protects the skin barrier but also gives you hydration and plumpness. Depending on your skin type, opt for a Clinique Moisture Surge (Rs 2,700) or a Embryolisse Lait-Creme Concentré (Rs 1,250) to keep your skin balanced. 
Eye Cream 
The final step of your skincare routine should be eye cream. Now, is it needed? If you are 30 and up, it helps. The skin around your eyes is much thinner than the rest of your face, so the ageing signs are more visible around your eyes. The eye area also needs extensive hydration, for which you'd require an eye cream that delivers.  
Eye cream: Charlotte Tilbury Magic Eye Rescue, Rs 3,200 (approx) 
Sunscreen 
The last step in a good skincare routine is sunscreen. It's the first product that one can use to combat environmental stressors, sun damage, and of course, ageing. Sunscreens also address hyperpigmentation, fine lines, and wrinkles.
The common question everyone asks is whether sunscreen must be worn before or after makeup. We say both times, but most of us are good with applying it right after your moisturiser, before you apply your primer. Sunscreen is last in the regime because it contains SPF that helps block sun rays from absorbing into the skin. Look for the one that's lightweight and non-greasy, and contains an SPF of 30 or higher. 
Sunscreen: Avene Very High Protection Cream Spf 50, Rs 1,750
Night-time skincare routine
Cleanse
First, it's the double cleanse — it's more important in the night because you are already wearing makeup or your skin is tired. But instead of a water-based cleanser, use a thicker, milky, lotion-based that not only moisturises but also hydrates and softens. A good face massage while washing can elevate your skin. It can also help with lifting your skin. 
Exfoliate
Exfoliators slough off dead skin and pore-clogging impurities, so your night-time products can sink in and achieve better results. 
Chemical exfoliators are more in demand than scrubs these days. Invest in a good exfoliator — we love the Pixi Glow Tonic (Rs 2,950) that gives you a beautiful even texture or a daily usage exfoliator like Dr Sheth's Basic Brightening Extra Gentle Daily Peel (Rs. 850). One swipe with a cotton pad and you have an instantly bright complexion for the rest of the day. Be wary of using exfoliators every day unless specified. 
Exfoliator: Alpha-H Liquid Gold With Glycolic Acid Toner, Rs 4,350.
Sheet mask or any mask (depends on time) 
This is optional — a sheet mask does add the essential nutrients to your skin and makes sure your skin is plumped. You can use a mask that cleans impurities like a clay mask or a hydrating one that gives you more moisture. 
Sheet mask: The Body Shop Seaweed Balance Sheet Mask, Rs 375
Toner and Essence (optional)
Both provide hydration and antioxidants that your skin needs. 
Serums 
Use a night serum that works while you sleep. That means anything with retinol, niacinamide, or even bakuchiol. We love the popular Estee Lauder Advanced Night Repair Synchronized Recovery Complex II, Rs 9,900.
Follow up with a moisturiser — the same one but if you think you can go heavier, please do. If you are using a lightweight, gel-based one in the day, opt for a lotion-based, creamier one for the night. Usually, an anti-ageing cream is best used at night — they come with alpha hydroxy acids and beta hydroxy acids that exfoliate dead cells and stimulate collagen production. They help firm and hydrate and work their magic in the night when you are sleeping.  
Anti-ageing serum: Bobbi Brown Extra Repair Serum, Rs 8,750
Add an eye cream right after your moisturiser 
Last step: Facial oil or a sleeping mask 
Both these products are great for women who want an extra something in their skincare routine. Facial oil is the last step because the oil applied after will not let any other product penetrate the skin. That means you wake up with moisturised, plump, soft skin. A sleeping mask is another variant of a mask, but this one can be left on your skin to work its magic the whole night.
Facial oil: Indulgeo Rose Gold Daily Oil, Rs 1,460
Sleeping mask: Shiseido Waso Beauty Sleeping Mask, Rs 3,200
Featured image: Getty Images