No salon-time? We tried out this tiny hair removal gadget that went viral on Instagram
A review of the viral gadgets Flawless Finishing Touch Facial Hair Remover and Finishing Touch Flawless Brows for those looking for an easy, convenient solution to hair removal. 
Most of us are able to go out to salons now, we're guessing. With so many good ones giving us sanitised spaces and masked hairdressers, it's almost safe. But that's only for the bigger reasons – a haircut maybe, a much-needed hair colouring session or some balayage. What about those little reasons we go to salons for? The eyebrow threading or the upper lip and chin hair that needs constant care – what about those? Some of us are not ready for that- we'd rather stay bushy browed or use tweezers to handle stray hair. The Instagram and the internet has been busy just like us, looking for solutions for hair removal and every second ad points out to a new system, a treatment or a gadget.
Hair removal is such a personal topic and a hard one to crack because everyone has their own way of dealing with it and doing it. As for me, it's about stray-hair removal instead of a defined Hollywood-inspired brow that does nothing wrong except perch on your glowing face and ask to be the highlight of your face. I have scanty, barely-there brows – so I wasn't very keen on going to the salon for the official eyebrow-shaping business. Zoom calls hardly catch up with your lipstick, why would there be intense scrutiny on your brows? The pixelated screens, the dodgy internet and the interrupting co-workers are enough to make sure no one notices them. But still, you want a semblance of a normal face and brows and you use a tweezer – the deal with a tweezer is that it needs a deft hand, a brow architect to define shape and a tad bit painful for amateurs (all that pulling and tugging adds up!). 
Before long, I saw this super cute pen-like gadget parading around my Instagram – I remember Arshia Moorjani applauding it on her many IGTVs and a whole lot of ads popping up on my Facebook and Insta ( thank you targeted ads!). Well, it's a pen that is battery-powered and removes hair slowly from questionable areas ever so slightly. The lady on the ads seemed to come from a teleshopping network so I ignored it. Late June, there were fake ones appearing on the internet and I wasn't sure how they worked and when it comes to technology, it's best to go for the ones that come guaranteed. In November, we had the first sighting of the Flawless Finishing Touch Facial Hair Remover and Finishing Touch Flawless Brows and the news that they have officially launched. And we tried it out to get to the root of the issue – can a penlike simple gadget really do the job? Underlying theories include whether anything viral on the 'gram can really be worth the moolah and the time.
Brought down to India by the FMCG company, Pittie Consumer with effective German engineered technology, it's already popular among youtubers who herald it's very time-saving and affordable benefits. Yes, we put it to the test for a month and here's what we learnt. 
The Finishing Touch Flawless Facial Hair Remover and Finishing Touch Flawless Brows are known to be smartly-designed hand-held devices that safely remove hair from the face and brows. The design idea is simple, it needs to be easy to carry – full points on that and easy to work with. It looks like a little lipstick and we're happy to know that design wasn't compromised in creating this beauty. With an 18-karat gold plated head and built-in LED light, it is hypo-allergenic, and also quite gentle enough to use every day. The number one reason why I gravitated towards it, is because after a long working day, I don't need to worry about hair removal and it's tedious ways. If I can incorporate it into my daily routine, even better.
And no, my tweezing is terrible – I hardly can focus and the right-hand and left-hand situation is worrying. I'm not as good with my left and the work is not as neat. But with the Finishing Touch Flawless Brows, I had no issues wielding it. It was simple and easy – and does the job quite easily.  Not just eyebrows, it was quite convenient with stray chin hair, over your lip hair and a unibrow situation – I was impressed. You determine the shape and run it along and the job is done. It needs to be used in a circular motion and it does take a bit of time to get used to it. I loved the fact that I was able to control the length and the shape of my eyebrow. Though I wish it was sharper with its execution – in the sense, it does move on slowly and cautiously to remove hair and with thicker hair, it can be time-consuming because you have it over more than once. For fine, basic hair – it's a lifesaver and definitely great for emergencies – I do enjoy the quickness of it all. Least of all, no pain at all – just a tingle at places where your skin is thinner, especially around the lips.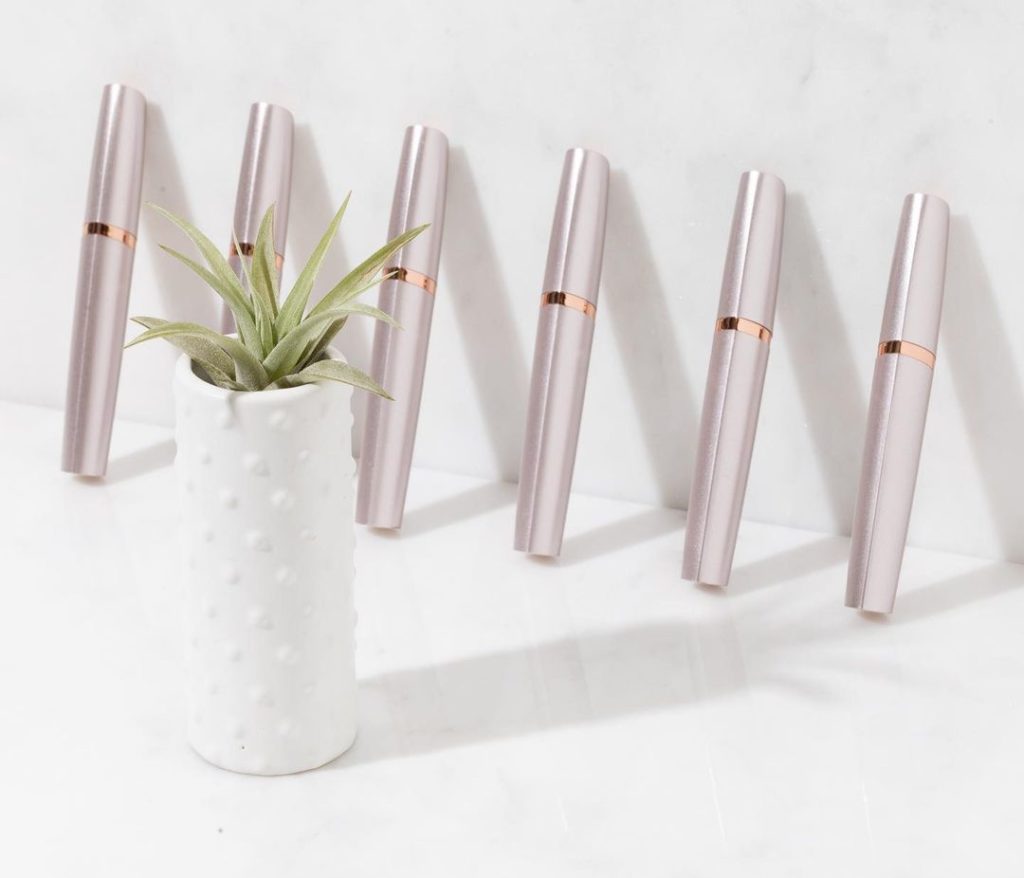 If you're still wary of heading to salons, this one is a good one to keep your grooming in check. And what's interesting is that, you can use it while you are traveling and for emergencies – and at that price point, it's definitely better than most gadgets and razors in the market.
Price: Rs 5,000 ( For the hair removal brows + hair removal set) and each one is priced at an affordable Rs 2,500. You can buy the gadget here.