Whether it's winter or summer, our feet go through the most amount of wear and tear. These homemade foot scrubs are the perfect way to take care of our feet.
Have you ever considered the amount of work our feet do for us? From carrying our body weight all day round to adjusting to different kinds of footwear, it is our feet that bear the brunt of everything. But they often end up being one of the most neglected parts of our bodies. Yes, we might throw in regular pedicures in our busy schedule, but is that enough? Just like the rest of our body, our feet need that skincare too, and you don't have to spend a fortune for that. These simple homemade feet exfoliators with ingredients from your kitchen rack will do wonders for your skin. Let's look at some of the best DIY foot scrub recipes to take care of your feet.
Homemade scrubs you need to treat your feet to
Lemon foot scrub
For this homemade foot scrub, you will need granulated sugar, almond oil, and a few drops of lemon juice. The citric acid in lemon has anti-inflammatory and antiseptic properties, and it also works as a great bleaching agent. It will not only clean your feet and fight off bad odour, but it will also help a great deal in removing tan from your feet. For this scrub, you will have to combine sugar and almond oil and keep adding the lemon juice slowly. Exfoliate your feet for a good five minutes before rinsing it off.
Vanilla and coffee scrub
Ground coffee, not instant coffee, coconut oil, granulated sugar or brown sugar and some vanilla extract- these are all you need for this homemade foot scrub. This not only smells divine, it also does a great job at pampering your feet. Make sure that the oil is in liquid form and mix it with the ground coffee and vanilla extract. Add sugar to it and use this scrub to exfoliate your feet well.
Moisturising coconut scrub
All you need for this scrub is coconut oil and some sugar. Coconut oil is a great moisturising agent that does wonders to dry and chapped feet and even cracked heels. However, if you have too much cracked heels, we would recommend you to do this daily, and then keep the coconut oil on for some time after you have scrubbed your feet. This homemade foot scrub is going to be your holy grail for all your dry feet dasy throughout winter.
Brown sugar and olive oil scrub
As the name suggests, brown sugar and olive oil are the main components of this homemade foot scrub. Add a few drops of essential oil to it and some baking soda. Scrub your feet with this paste, every nook and corner of it, to get off the stubborn dirt hidden in your feet. Keep this on for at least 20 minutes before washing it off. The sugar granules in the scrub exfoliate your feet, while the essential oil soothes your tired feet.
Oatmeal foot scrub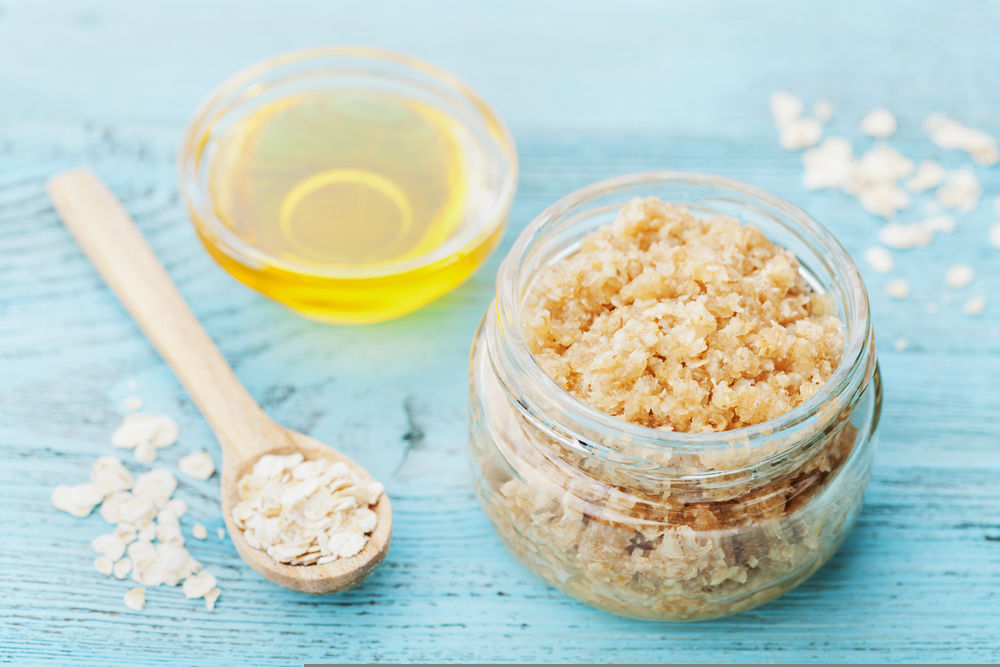 Mix equal portions of some oatmeal and bath salt, some baking soda and water, and mix this until it becomes a thick paste. Apply this to your feet and scrub for a good 10 minutes before washing it off. The coarse texture of oatmeal makes it a great exfoliator. It also softens your feet and takes care of all minor rashes too.
Lavender and salt foot scrub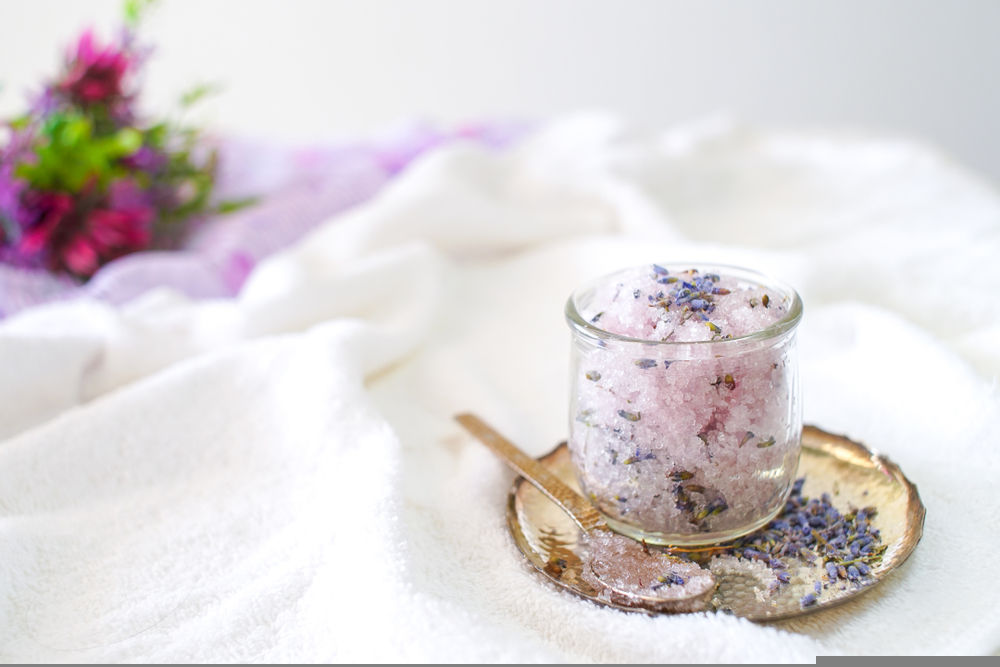 Apart from smelling great, lavender oil also has other healing benefits on the skin. It is proven to promote collagen boost and also heal wounds. So, a lavender scrub for your feet is the perfect way to unwind and pamper your feet after a long day. For this homemade scrub, you will need lavender essential oil, and some lavender buds, even though it is optional.
Shop Lavender Essential Oil Here
Hero and Featured Image: Courtesy Shutterstock