It's a well-known fact that on Republic Day, we celebrate #localfare. And we picked out 25 amazing Indian labels that are making us proud with their unique formulations and their stunning products. These homegrown beauty labels have been eco-conscious, vegan and Indian-skin- friendly too.
Forest Essentials
Over the years, Forest Essentials has made a special place for themselves in the Ayurvedic beauty space and their products are known for their potent formulations that meet global standards.
LSA Loves: Soundarya Radiance Cream With 24K Gold & SPF25
Kama Ayurveda
Made with the purest ingredients and the most unique herbs, Kama Ayurveda has managed to make sure Ayurvedic beauty is luxe, high-quality and wellness-oriented.
LSA Loves: Kumkumadi Ayurvedic Night Serum
Pahadi Local
Goodness from the Himalayas, this label has managed to bridge the gap between simplicity and luxury and their nourishing, comforting products are a great addition to any beauty bag.
LSA Loves: Gutti Ka Tel
Amrutam
DIY Ayurveda meets modern needs – that's how one sees the goodness that is Amrutam. Each product is geared towards wellness and the philosophy of beauty from the inside resonates through this homegrown label.
LSA Loves: Amrutam Face Clean-Up
Soulflower
Soulfower has been in the business of organic spa products and essential oils for years and their love for fragrances keeps our beauty shelves rejuvenated and refreshed. From hand-picked herbal and medicinal aromas to ancient remedies, there's a lot to explore.
LSA Loves: All of their essential oils, especially Lavender 
Perenne
Perenne is all about honesty in beauty – so natural ingredients, pure beauty and non-nonsense products. Their nature-treated products are against artificial colours, animal derivatives and harmful chemicals.
LSA Loves: Instant Hydration Nectar Dry Oil Serum 
Just Herbs
India's first crowd-sourced beauty label, Just Herbs has made a name for themselves for using unique ingredients and beautiful formulations that take care of each skin type. The label based on Ayurvedic principles keeps their formulations potent and fuss-free.
LSA Loves: Just Herbs Silksplash Neem-Orange Rehydrant Ayurvedic Face Wash
Daughter Earth
A Hyderabad-based beauty label, it is full of 100% non-toxic, natural and high performance skincare from highest quality ingredients. It's also paraben and cruelty-free – and is all about Ayurvedic formulations that meet advanced science to create skincare magic.
LSA Loves: Eternal Youth Rejuvenating Serum
Neemli Naturals
Ancient scripts meets modern botanicals – is how Neemli Naturals works. The label works with skin-loving ingredients that are 100% natural, cruelty-free and vegan. It's a complete plant-based skincare line.
LSA Loves: Glycolic Acid & Hydrolyzed Collagen Pit Repair Concentrate
RAS Luxury Oils
A farm-to-face venture, RAS is about harnessing the power of nature to give you luxe, well-formulated skincare that will give you a glow like no other. Natural, organic and championing environmental sustainability in every way, RAS keeps Ayurveda and wellness at the centre of their skincare.
LSA Loves: Radiance Beauty-Boosting Day Face Elixir 
Earth Rhythm
Earth conscious and environmentally sustainable label, this one has some of the most unique products one can get their hands on. And oh, they're 99% plastic free and come with a host of serums with amazing ingredients: propolis to niacinamide to copper peptides.
LSA Loves: Total Repair Skin Serum Propolis Extract 
The Tribe Concepts
An organic skin care brand that makes sure the goodness of nature comes together with Ayurvedic formulations to give you results that matter. Organic extracts of plants and roots are used in the products and most of them come in powder or cold pressed oil form.
LSA Loves: Ubtan Body Cleanser
Shesha Beauty
A Kerala-based label that comes with some old, traditional recipes for good skin combined with Ayurvedic formulations, Shesha Beauty is making sure you approach skincare through wellness. There are thailams to hair treatment oils along with DIY ingredients that are made in small batches using handpicked and carefully sourced ingredients.
LSA Loves: Yellow Kasturi Manjal Face Pack
Vilvah Store
A sustainable skincare brand that comes with safe and effective formulations that are great quality and high performance. No harsh chemicals, additives, synthetic oils or perfumes are used in these products and they are affordable and fuss-free.
LSA Loves: Honeyfix Facewash
Plum Goodness
100% vegan and non-toxic, as well as clean, Plum Goodness a vegan brand that makes affordable skincare with good formulations that are effective and safe. They are also free of phthalates and parabens and their skincare is known to work with unique ingredients as well.
LSA Loves: Green Tea Clear Face Mask
Auravedic
The label works with the age-old science of Ayurveda by creating effective formulas using the best local natural ingredients. One of the few labels that created beauty oils at a time when they were not even in the market, the label harnesses the cleansing and cosmetic properties of natural ingredients to give you beauty that works. 
LSA Loves: Kumkumadi Face Mask
Mantra Herbal
Mantra Herbal is an organic, all-natural skin care brand that works with the principles of Ayurveda decoded fir modern living. Their products work to create harmony between body, mind and soul through well-researched organic formulations that are free of chemicals in addition to being US FDA Approved and GMP certified. The Anantam Ageless Collection uses gold and stem cells which rejuvenate your skin and take care of it in the long run.
LSA Loves: Anantam Green Apple Stem Cell Face Revitalizer
Nourish Mantra
Nourish Mantra is an Indian label its an eye on the global beauty space and they use pure and exotic ingredients alongside Ayurvedic recipes to give us skincare that brings together wellness and day-to-day beauty rituals. The products are 100% vegan, cruelty-free and made with ethically sourced clean ingredients.
LSA Loves: Urban Rani Facial Serum
Aureana
Aureana is a relatively new label that brings together world-class formulations and they are paraben-free and are derived without preservatives. They do contain subtle fragrances and well-researched ingredients. Aureana is also 100% vegetarian and hypoallergenic.
LSA Loves: Aureana Luminos Brightening Day Cream
Mystique Earth
The label works with recipes and rituals that are ancient and effective. These products are  inspired by the traditions of beauty, healing and rich heritage of Central India, specially tribal women. The ingredients are unique because they are herbs and botanicals sourced from dense forests, mineral-rich clays from the riverbeds and soil that comes with intense healing capabilities.
LSA Loves: Silk Serum Lotion
Soul Tree
Endowed with the goodness of Ayurveda, SoulTree IS curated with honestly-sourced natural ingredients. Each product is ethically-made, and infused with ingredients that are well-known Ayurvedic herbs that provide great skincare results. Their skincare range is formulated with no added chemicals, is 100% vegetarian and cruelty-free and even empowers local communities.
LSA Loves: Soul Tree Nourishing Cream with Safron, Almond Oil and Vitamin E
Conscious Chemist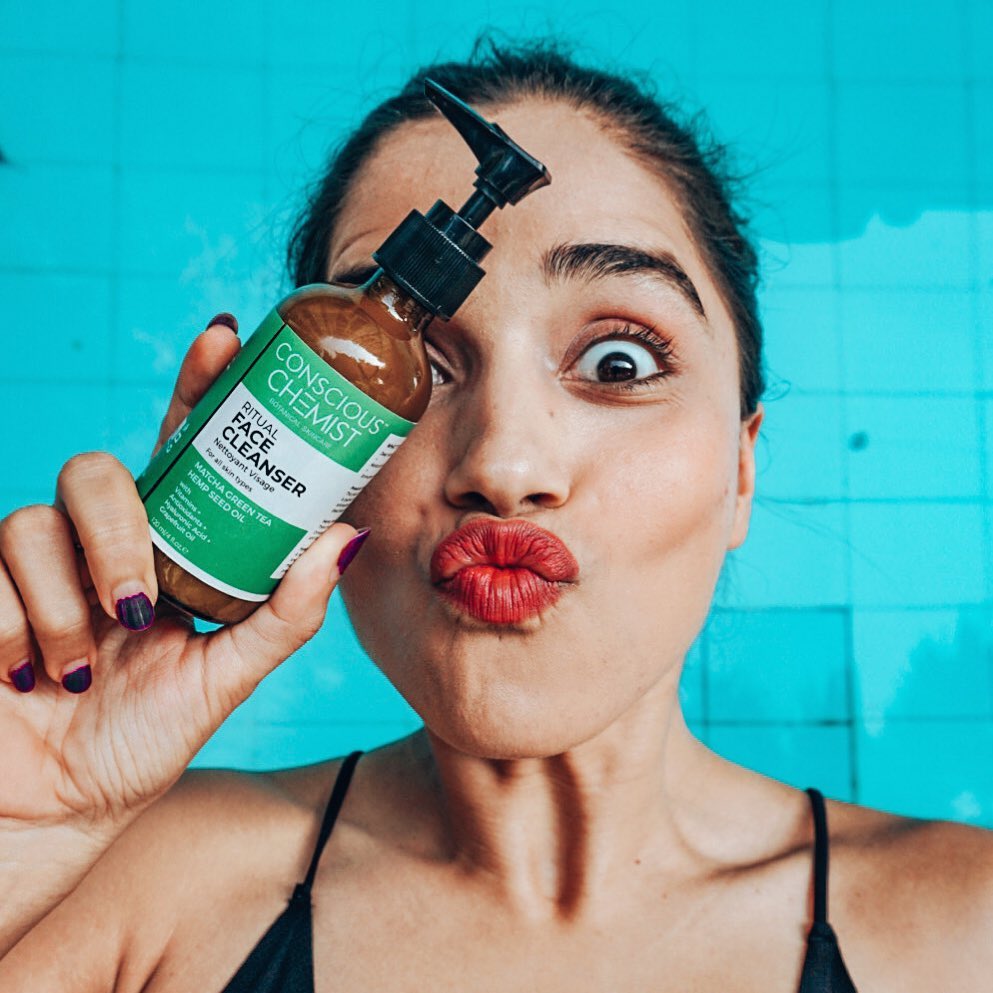 Sustainable, clean and vegan skincare that is not only effective but the results are long-lasting. The unique products that the label works with come from scientifically balanced combinations of ingredients that are  toxin-free, safe and affordable.
LSA Loves: Ritual Face Cleanser
Juicy Chemistry
India's most popular eco-friendly beauty label, Juicy Chemistry makes products that come from the finest natural ingredients with no preservatives, additives and synthetic oils. They also come with honest skincare certified by Ecocert (France) in accordance with COSMOS V3 Standard.
LSA Loves: Bulgarian Rose Water Toning Mist
Dr. Sheths
The brainchild of celebrity dermatologist Dr. Rekha Sheth, this label is made specifically for women of colour and  Indian skin in particular. It's a dermatologist formulated luxury skincare brand that focusses on vegan, toxic-free skincare that is effective and meets the demands of millennials today.
LSA Loves: Dr. Sheth's Rosehip & Retinoid Power Emulsion
Global Beauty Secrets
Nourishing skincare built on the foundation that is skincare rituals that are passed on from around the world with unique ingredients from each country. Authentically sourced ingredients that are as rare as they are effective.
LSA Loves: Japanese Camelia Illuminating Cream