An honest and candid review of Conscious Chemist's facial cleanser and cream for those looking to start their #cleanbeauty journey this year.
Something about Conscious Chemist's face cream and cleanser gives me a familiar, comforting feeling. I attributed it to the striking green packaging or the apothecary-type glass bottles for a while. Then I speculated that it was the plant-based ingredients that remind you of grandma's remedies, something of that sort. And ever since the lockdown began, I started thinking it's the smell – it has a plant-based smell of sorts but also uplifting in the morning. Like I'm having tea, with loads of greens thrown in. Now, I am convinced after using it for a good month, that it's probably the Indian version of my favourite cleanser and cream duo from Cerave.  
I know it's a big stretch and I am not entirely convinced because it's not the same ingredients. But if a homegrown label can produce such high-quality products with sustainability as their focus and they constantly remind you of your ultimate comfort creams – then, it's a win on all counts. With 30 days of trial and error under my belt, here's why I think Conscious Chemist can be your next beauty buy if you want to go with #cleanbeauty.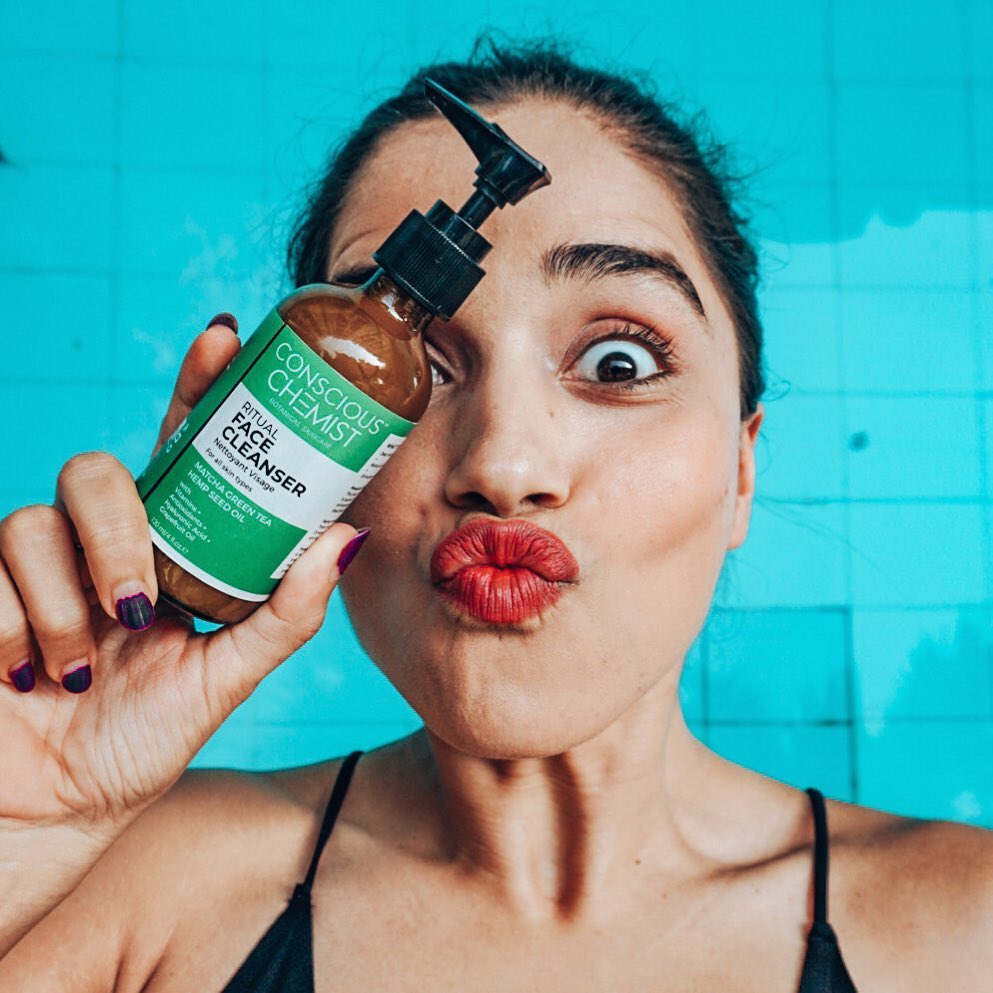 Conscious Chemist is fast becoming a popular addition to every clean beauty addict's skincare kit. The reason is simple – the business has managed to merge skincare science with nature, and that's always a welcome idea in a changing world. With slogans and hashtags like #vocalforlocal and #cleanbeauty #sustainability #glocal gaining popularity on social media, it's high time we get on the clean beauty bandwagon, and Conscious Chemist caught our attention a year ago with its idealistic and intelligent biocompatible skincare products.
While purity is one thing, potency is another – they together define the pillars on which the label stands on. Perhaps the most significant idea in beauty, according to me, is the inclusion of minimalism and simplicity  – that's asking for a lot. But, the Conscious Chemist team surprised me with just two products on their menu last year. Just two, I thought to myself. Where do they want to go with this?
But it's admirable in hindsight how beauty labels are no longer pandering to creating endless collections of the same product. Or adding in negligible products onto the roster just to show power. Just two, and that's a good start I told myself. When brands go against the rules, it's ambitious in a completely different way. The formula is known to be safe, clean, and sustainable – a botanical skincare regime that fits the clean beauty consumer like a glove. The fact that it's a unisex label makes us happy as the world needs more brands that are not gender-specific. Skin is skin, that's a reassuring fact.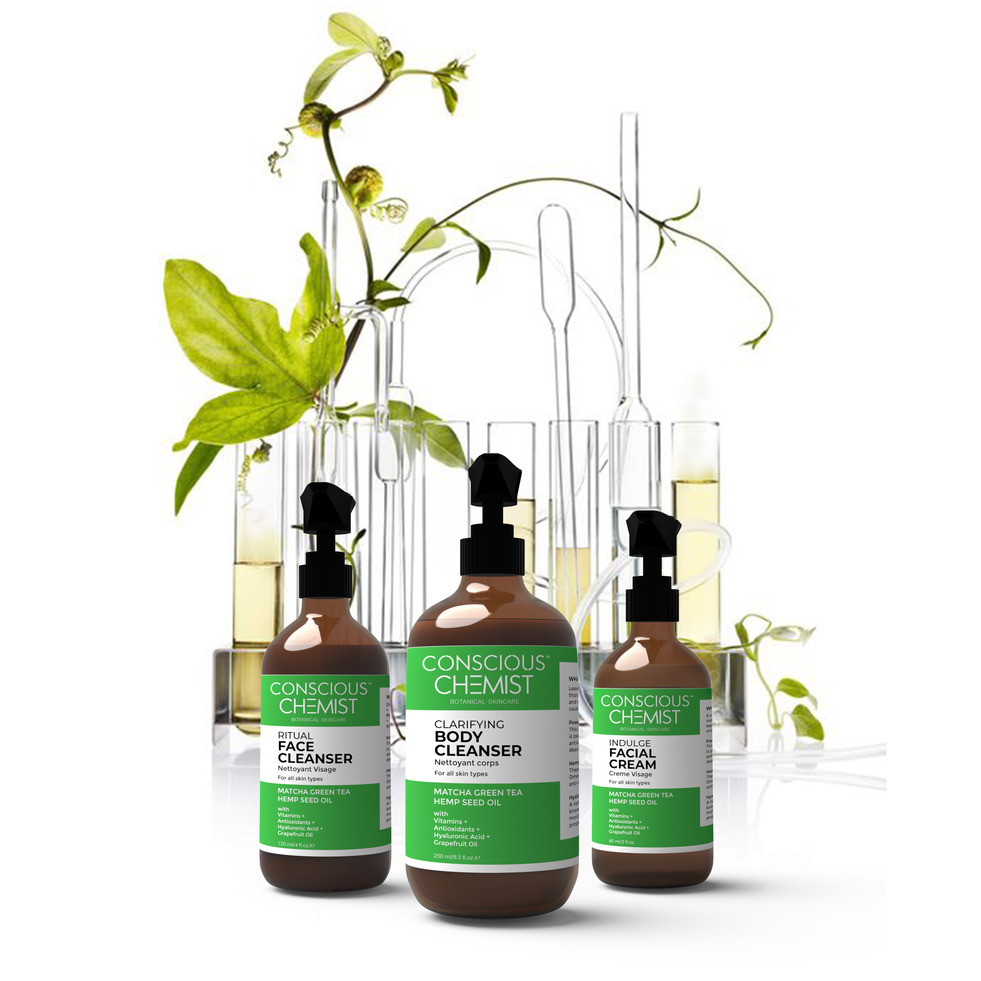 The USP for the skin is simple – protecting it against environmental aggressors, and from there, the products by extension are created with simple ingredients to nourish the skin and protect the skin barrier. The label is 100 per cent vegan, cruelty-free, and ingredients are 100 per cent safe and ethically-sourced. Also, let's not forget that they are 100 per cent microbeads/microplastics free and come with zero sulphates, silicones, parabens, and artificial fragrances. The goal once again is to nourish, repair and renew.
Let's start with the big one, the Matcha+Hemp Ritual Face Cleanser that comes with the combined benefits of Matcha green tea and hemp – an all-green concoction. It was a weird smell, bordering on green tea or citrus in the beginning but as it settled in, there's a comforting, almost uplifting feeling while using it. And yes, Matcha Tea is a great ingredient to work with. It's filled to the gills with antioxidants and deactivates free radicals and is known to decrease puffiness and helps skin with sun damage. It's known to reduce acne, inflammation, and keeps your skin makes well-hydrated. Add to that, the presence of hemp seed oil is known to prevent dryness and reduce acne. From day one, I saw results.
It was a gentle cleanser, but the nourishment is visible, and my skin felt smooth and taken care of in minutes. The gel-like cleanser doesn't lather or foam up though, it's more like a liquid-y mask, but it does the job. I do have acne scars and an occasional pimple – while the cleanser was gentle and did not irritate my skin, it also did not do much for my acne scars. That aside, it gave me a glow right after, and I liked that.
Only one drawback though, heavier makeup or oil-cleanse might not work with this cleanser – it's a bit too gentle. One can use it as a second cleanser for all practical purposes. But for those wearing minimal makeup, this one's as good as they come. It's great for women with oily skin – it manages to make your skin soft without giving that rubbery effect – thanks to hyaluronic acid that retains moisture. It doesn't strip your skin off their natural oils either, and that's a big plus. And at Rs 875, it's a steal because you need very little daily and that little goes a long way.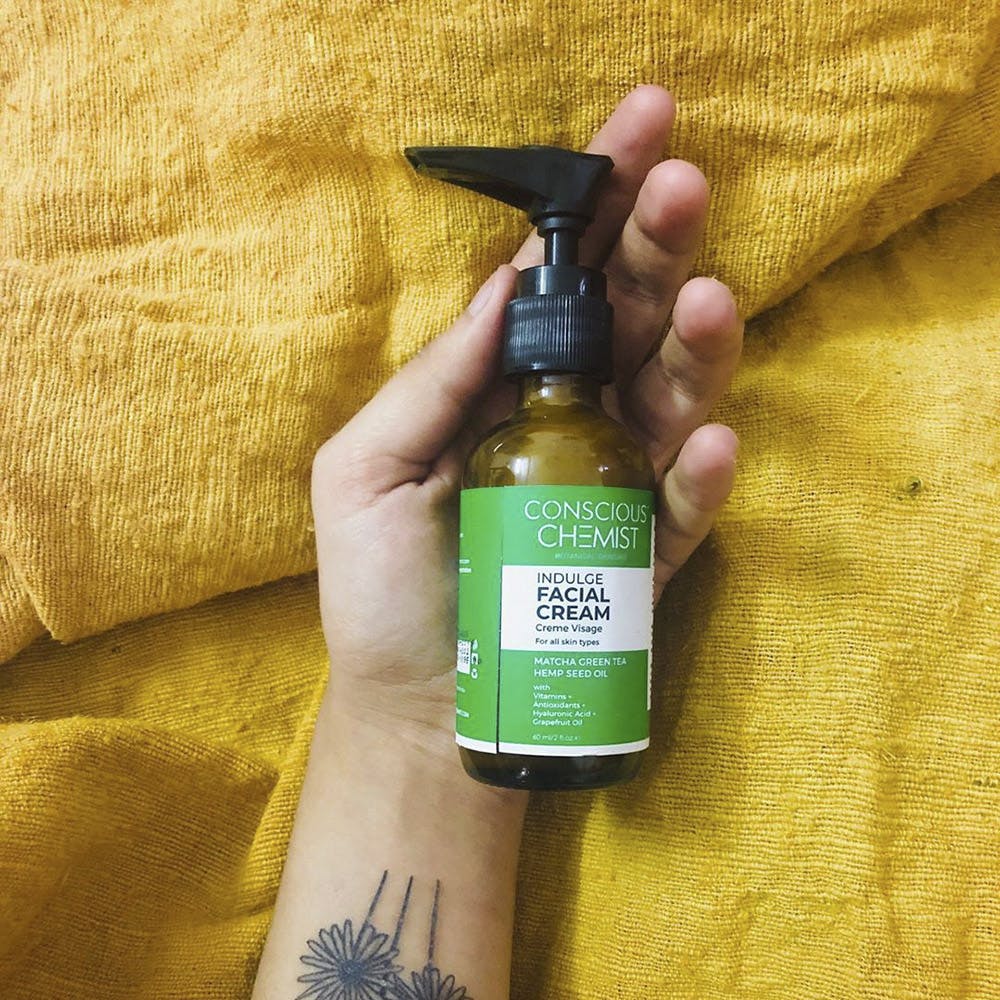 On the other hand, the Matcha+Hemp Indulge Facial Cream is a slightly smaller amber bottle that has the same ingredients as the cleanser. And the cream works like a foil to the cleanser and it reminded me of standard creams like Nivea or Olay. Something about the texture and feel is as comforting as they come but just with more moisture embedded in them. It gets absorbed quickly and can be creamier than your usual moisturiser – so particularly good for dry skin. There is a possibility of the cream becoming a tad greasy on oily skin though. Particularly good for dull, dehydrated skin that needs a glass of water.
I do recommend Conscious Chemist products for those looking at making long-term changes to their beauty routines, for those who want quality over fancy ingredients, and for those who like to keep their skincare game centred around nourishment and sustainability. And at Rs 875 for the cleanser and Rs 1,095 for the facial cream, they'll do well to kickstart your clean beauty routine. The only gripe, it can be too basic – if you are looking for dramatic solutions, you need to look at layering your serums in between. 
Next on my list, their much-lauded body cleanser that they launched. It took me a while to understand that it's a slow process to understand the ingredients and create your own space – and that's what I love about the label.
Buy the products from Conscious Chemist here.