Fashion and beauty photography in India is a largely male-dominated space, but that hasn't stopped Anushka Nadia Menon from blazing a trail in the sphere. Starting out at age 20, the Goa-based photographer has built a strong portfolio of evocative imagery that's not only been featured in the country's leading fashion magazines but also boasts association with brands like Dove, Pond's, Reebok, Rolex, and Corto Moltedo.
But to call Menon an all-round polymath would be more apt. An aerialist, acrobat, yogini, and DJ, Menon has a varied set of interests she is heavily invested in. During the lockdown, she has spent time teaching online yoga classes, and even released her second single TAKE, now available on all major music streaming platforms. TAKE focuses on the constant battle of being judged by others, be it strangers, media or internet trolls, and Menon's response to it — love, kindness, and confidence. It comes after last year's Falling, in which Menon sang about love and loss; a reflection of one's failures in relationships and coming out the other side stronger, wiser, and with more love to give. When DJing, her sets span electro, left-field house, and techno, and she has been part of major music festivals like VH1 Supersonic, Ctrl Alt Dance, Future Rising, Bass Camp Festival 2019, NH7 Weekender, and Terminal 1 2020; she has even performed informal sets on the Cheeky Iguana at the Burning Man Festival in the US.
Lifestyle Asia India caught up with Anushka Nadia Menon to understand how the pandemic and the subsequent lockdown has changed her idea of 'the good life'.
What would you call 'the good life' as of today?
Might sound cliche, but a roof over my head and food in my belly! My health and the health of my family and loved ones.
How has this idea changed for you over the past three-four months?
This is always been the first thing I acknowledge about my life and what I am very grateful for always, so the shift in mindset has not been so much in that aspect. But I definitely have developed a deeper level of gratitude for the time being spent enjoying the simple pleasures of life.
Anything that you have pursued in the past three months, to create 'the good life' for yourself?
I have been diving deep into all kinds of practice — self-reflection, meditation, music, yoga, basically an overall upgrade of my mental and physical health. I took a short Yoga Teacher's Training course and have been teaching online classes. I worked on and released new music. I have had profound breakthroughs and taken time to form stronger healthier bonds with my loved ones.
What does a typical 'good life' day look like?
Some rain, some sunshine, cuddles with the dogs, a good coffee, time spent with any practice, and eating good food. If I get creative and start working on music or photography, then that's a bonus. I also like to go swimming in the quarries when the water is full.
Your 'Good Life' recommendations for the following:
A wellness tip/routine you follow: Eating healthy and drinking lots of water.
Fitness routine that has worked for you: A mix of Yoga, Pilates, and body strength workouts.
Restaurants you love to order in from: Gun Powder and Prana Cafe.
Beauty routine that works for you: Cleansing Face Balm that I massage into my face, followed by a face wash and Estee Lauder Advanced Night Repair.
Places you are looking to travel once you can: South America, Los Angeles, and Thailand.
Gadgets and apps that make your life easier: My iPhone, and Period Diary app.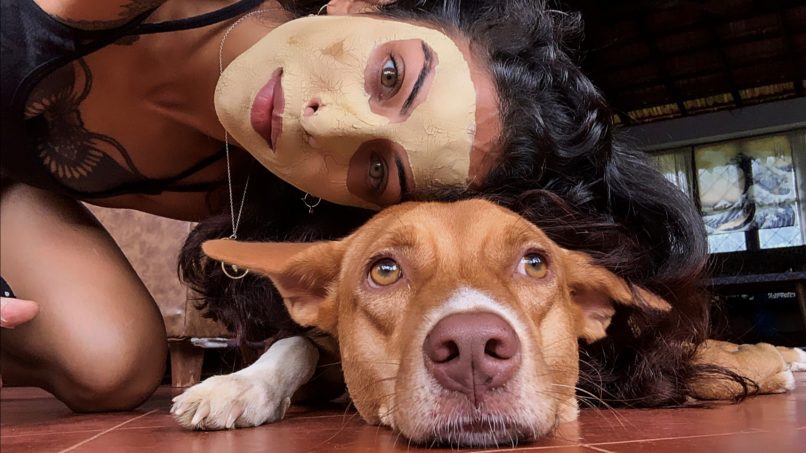 What have you started doing about sustainability or the environment?
Composting in our garden and separating our trash before it gets sent out.
Self-care, self-love – what does this mean to you?
Being present with yourself at all times, understanding the impermanence of every situation, and allowing oneself to reflect, learn, grow, and benefit from all experiences. And sometimes I throw in a face mask and a mani / pedi.
Has the lockdown/pandemic made reassess your priorities?
I've shifted the focus back to myself and onto those that reciprocate the same effort I make.
Is there anyone you would like to emulate, someone you look upto when it comes to living the good life?
I think I am happy with my life and journey so far. Everyone is rich in their own experiences — it just depends on how you look at it.
What's your main goal this year in creating 'the good life'?
1. To be able to help others by giving my best self at all times — this is a gift we as humans can offer each other.
2. Creating a safe space for my own growth as a human being.
3. Creating community-based activities in such times to facilitate the growth of others.
All images: Courtesy Anushka Nadia Menon