Sneak peek into the boho chic home of Chumbak co-founder Vivek Prabhakar and Shubhra Chadda in Bengaluru. Unlike the popular notion, even maximalism requires meticulousness. Case in point, the beautifully planned and executed home of Chumbak's co-founder and husband-wife duo, Vivek Prabhakar and Shubhra Chadda. Located in the lush Indra Nagar area in Bengaluru, the home is a careful and colourful edit of Chumbak home decor range and custom furniture.
Spread over 2,000 sq feet, the two-storey home has three bedrooms, a private terrace with a glasshouse for the family to hang out in. Inside the home is resplendent with a boho chic vibe with plenty of house plants, eclectic memorabilia and handpicked pieces from Chumbak to help complete the look. If you're looking to include home decor accessories and accents to your home that reflect India and its cultural variety without going overboard. Then, their home is a study in achieving that balance plus it's filled with easily shoppable pieces from the Chumbak website. We talk to Shubhra Chadda on what went into curating this eclectic space.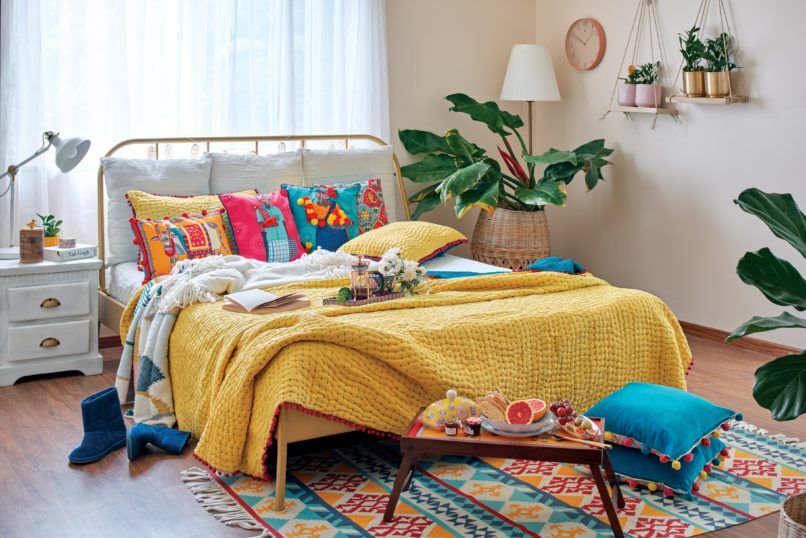 1. Tell us about your new home – space, location, and specifications?
We moved into this home about 2 years back. We were looking out for a place that has the Bangalore charm with trees all around yet modern and we found one in Indra Nagar. We took it upon ourselves to transform the 2,000 sq ft humble abode into a vivid eclectic and boho-chic home. We've built a glasshouse/solarium on the terrace to entertain friends and family, and to unwind. The process of a home remodeling is usually time-consuming, but once we stumbled upon the space, we knew this was it! We wanted the place to have contemporary furnishing, a mix of bold hues and pastel colours with modern lines. We wanted the space to have different elements; a bold colour choice yet grounded with neutrals and an open space surrounded with lots of greenery.

2. What was your biggest inspiration when designing your own home?
I believe in less is more, home is where you have things you love. Every piece is handpicked and is a celebration of bright colours and boho-chic vibe. The rooms are eclectic and have our favorite pieces that both Vivek and I love such as owl book-ends, planters, mirrors, wall art and dining area, our gallery wall etc.
I've always been inclined towards bright colours, open spaces. I believe our home represents a diverse and distinct array of moods and tones; each room has its little world of colours, textures, forms. That seamlessly sits together to speak a language of its own. Most of the rooms are calm and minimal, while others are flamboyant, vibrant and contemporary. Each space triggers the feeling of comfort.

3. Is the house completely furnished with your brand or have you curated pieces from other brands as well?
Each space has been distinctively designed to meet each one's individual choice and yet there are common features of flooring and woodwork that tie our home together in a cohesive unit. Most of the soft furnishing pieces and colourful accents are from Chumbak and a few of the larger pieces like beds, dining table, and dresser are custom made from Jodhpur.
4. What elements from your previous home have you carried into this one?
This is our third house together. I am glad that we are able to maintain the same theme across all the homes. From rich cream shades to cool, classic marble to pure raw wood with pops of colour all over to add vibrancy to the overall aesthetic. 5. What is the favourite part of the home?
We love how both the kitchen and book gallery wall room acts like a large singular entity. But we loved designing our kitchen the most – it was a smaller space compared to where we stayed earlier. We worked on it from scratch and worked around a palette of white and robin blue and a blue cabinet shutter. We've used subway tiles and open-bricked walls giving it Brooklyn loft feel. Even though I don't cook, it's my favorite place to hangout and de-stress. After repairing the area, planning and organising of kitchen gadgets around the space was a lot of fun and opted for a lot of vibrant crockery, planters and colourful grocery jute bags. 6. What is your biggest learning about design and architecture from putting this home together?
Since it is a living space, practicality and functionality is as important as the decor and aesthetics. Find a good partner in your architect who can guide you through this.
7. What advice would you give to someone doing up your own home?
Vivek and I have used a lot of décor pieces we collected over the years while travelling such as art pieces, curios, photographs, mirrors etc. So we both believe a home should be a true representation of the people staying there. It should represent their journey and story. Besides that a few things I always recommend:
· Let your home be a canvas where you can play around with colours. Colours make up the mood of the place
· Rugs, baskets and plants add a sense of homeliness and comfort. They are relatively cost-effective options to do up your house
· Use a lot of wood
· Lighting plays a large role in the feel of your home. So do choose the right kind of lights to do up your space
· Given how much time many people spend at home, a throw blanket might even be a good option as part of your home decor.