While flipping through glossy images of bathrooms, I love those that reflect personality and pique interest, spaces that indulge and relax, designs that draw you into their oasis of calm. Remember the brouhaha surrounding Kim and Kanye's bathroom and basin recently? A huge part of recreating such a space is a gorgeous washbasin that is the centrepiece of the space. We have been blown away by these pieces that look more like artworks than bathroom sinks, adding oodles of luxurious drama. Whether you prefer wall hung, over the counter, drop-in or free-standing varieties, our favourites include everything from maximalist marvels and metallic stunners to chic minimalism, fanciful forms and bold colours. Here are ones we are vying for.
One of our absolute favourite collections is the Artist Editions by Kohler that showcases a range of exquisite designs that are complete showstoppers. We have taken quite a fancy to the Marrakesh design that comes in the Bol ceramic faucet, Camber undercounter sink, and vitreous countertop, all seen in this image. Choose all three for that maximal dream bathroom look or pick any to add a hint of exotic delight. This design was inspired by the Moorish architecture, artwork in mosques and mosaic creations of charming courtyards found in the city it was named after.
I have had the pleasure of visiting the Rani-ki-Vav stepwell, a UNESCO World Heritage Site in Patan, Gujarat, and it is utterly mesmerising. It comes as no surprise that is architectural marvel has inspired many designs. One such project is the Aedis concrete sink, designed by Iti Tyagi for Craft Beton. We have talked about how concrete has been used in wonderful ways around the home, and this one is another example. This over the counter sink will be a majestic highlight of your washroom.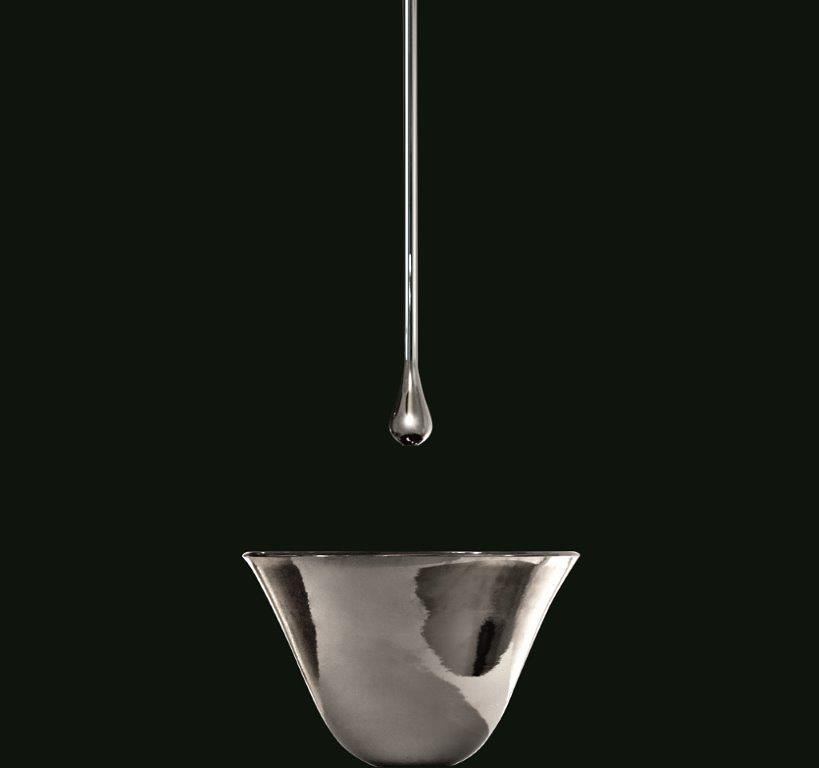 Inspired by the 'fluid and natural shapes of water', Goccia range of sinks by Gessi comes in a host of finishes from the glossy platinum seen here, to more contemporary black or white. We picked this over the counter beauty because it is a striking design that commands attention while the flowing curves add a touch of softness. Gessi bathware is available in India from FCML. 
For that elegant and minimal style, we have chosen the Suede collection by Italian brand Cerasa which is inspired by the designs of the Art Deco period. Refined and understated, this collection, which includes sink, vanity, faucets and accessories, uplifts the bathroom décor with the warmth of solid walnut wood paired with bronze finish lacquered metal detailing and soft, rounded edges. Cerasa products are available in India from Bathline Sensations. 
A gorgeous concentric-layered creation, Intreccio is a free-standing wash basin made entirely of marble. The design 'plays on the relationship between lightness and solidity of the material used, on the balance between a sophisticated piece and an apparently natural form'. What we absolutely love about this beauty is how a single block of marble is expertly crafted into a design that is both fluid and strong, striking yet somehow still subtle. Available in India from Keha Casa.
'Perfecting the balance between function and emotion', the wall hung Wing sink is designed by Ludovico Lombardi for Italian brand Falper. This sculptural wonder is meant to give the appearance of a solid material melting off the walls, it's sinuous shape a result of the pull of gravity. We love how it looks more like an art installation yet is high on functionality. Available in India from Bathline Sensations.