As the Mumbai Urban Art Festival is adding its fair share to the world of art, we have Giulia Ambrogi, a contemporary art curator throwing some light on the idea of putting Mumbai on the global map of leading urban art.
Encouraging the public and art enthusiasts to engage and experience the art, the ongoing Mumbai Urban Art Festival is here with over 60 local and international artists to provide you with an immersive experience. Since 2014, St+art India and Asian Paints have collaborated to make art accessible to diverse audiences while contributing to urban regeneration and the cultural landscape at large. This has included areas such as Mahim East, Sassoon Dock, and Bandra, as well as iconic sites such as Churchgate Station and Jindal Mansion. Mumbai Urban Art Festival, therefore, continues to engage with Mumbai through a long-standing effort of contributing to the contemporary public art heritage. Having said that, digging deep into the concept behind this festival and the evolution of art in Mumbai, here we have Giulia Ambrogi, a contemporary art curator with a focus on Italian and Indian landscape giving us inside access to Mumbai's diverse art culture.
How was it collaborating with international artists for highlighting Mumbai's diverse aesthetic stories and hyperlocal issues through their artwork?
Well, first of all, as a foundation, we have been working with international artists since our inception in 2014. And I think that it's, it's not way too different than working with local artists and the reasons are many. I think that like, first of all, a lot of international artists that we have been inviting to our festivals, including the ones that we invited to this edition of the festival, have a greater experience literally all around the world. So they are very much used to absorbing the context, the dynamics, the atmospheres, even when drastically different from their own countries, even when it's the first time for them to put their foot in their brushes in India. So they're very porous like those artists who are used to travelling there. So usually what we do is that we try to inform and speak with the artist months in advance usually, we start the conversations six months in advance if, we try to brief them and give them as much information as we can through PDF, photos, research, and articles. Then once they come here, they have time and ways to really dive deep into the context and into the culture and the atmosphere. So this process is very enriching, I think, for both of us.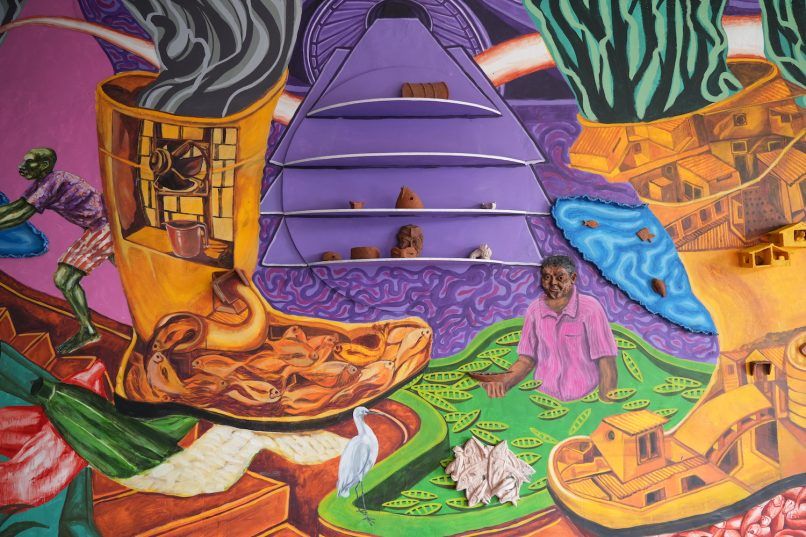 Tell us about the idea of giving Mumbai's famed landmarks an artistic makeover.
I mean the idea to, first of all, create some landmarks relies on the understanding and the belief that a lot of our cities are becoming more and more homogenized. They become similar to one another with all these architectural elements like a flyover, large streets or skyscrapers, public housing, and buildings that are like, several stories and all dull somehow. and cement, and so the landscape of the city becomes more and more sterile and less and less unique. So under these understandings what we are trying to do is to create some strong holdings through our murals which are again speaking about stories and histories that a lot of times are either endangered or getting lost or are unheard. Of course, I mean we try to choose therefore spaces that are very visible, spaces of transition, spaces of change, and spaces where there are, again, you know, stories to be told. And that we believe are crucial and critical for everybody to understand, be aware of, and participate in.
How do you plan on putting Mumbai on the global map of leading urban art?
Well, I mean this plan is like an ongoing journey since 2014. And I think that especially our work in Delhi and Mumbai has already given good results. We have great artists both local and international participating in the project with more and more partners. So we got to know that like many were doing Sassoon Dock tours after the first Sassoon Docker project, because of course there was also the mural, so not just the incredible side, again, very historically and economically relevant, but also a vibrant side of Sassoon Dock itself with all the activities that are in and around its market nature. So I think that you need to keep on engaging with the city, I feel in order to put it not just on the global map, but also through the citizen's eyes, which first and foremost are the most important I would say. And when it works for the citizen, it definitely will work for tourism.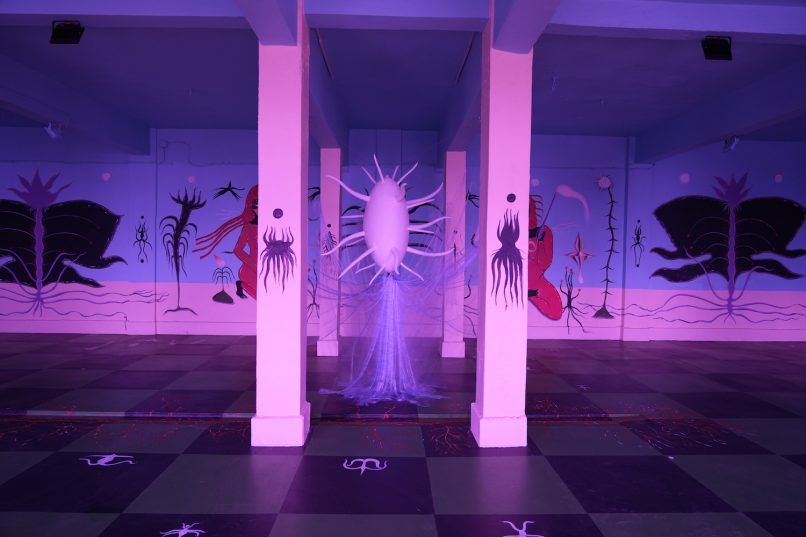 Since 2014, the foundation has organised multiple festivals and public art projects.. so how has urban art or the potential of urban art evolved over the years?
I mean I think that it has evolved in multiple ways and signs. Since when we started, when the government, for instance, was more reluctant let's say in opening up and supporting this kind of project because it was the very beginning. But later on, I think, once we proved to them in many ways that we were always staying very much away from any controversial element being religious or political or of any kind of controversial nature and instead we were contributing to the value of the city. So then the government started opening up and recognizing urban art as a great way to contribute, to the value of the city, to its history, to its vibrancy, to its landscape, and in many cases also to urban regeneration. So in that sense, we have been invited to many different cities and now doors are opening up much more for concepts like urban art. Furthermore, I guess that urban art has also evolved a lot in the languages. So, it's sort of like an ever-evolving art form, almost like all of the art forms, but perhaps even more because the cities are evolving. The context and the framework are ever-evolving and ever-changing.
Mumbai has its own diverse aesthetics. Every nook and corner is filled with stories and local issues as well. How do you choose the artists you want to fraternise with to showcase these through their illustrations?
Let's say there is a mix and match, I mean the projects are a combination of essentially space and theme, which goes end in end. So essentially whenever we, zero down on the project at large, therefore we understand, okay, we wanna do a project in Sassoon Dock. And because of the nature of the dock, we want to talk about the essence of the city of Mumbai, which is literally between the sea and the city. A city where many different demographics and people have always come together. Then we zero down on the content, and then at that point, we immediately think of artists that have a practice that is already investigating that is thematic and can relate therefore already with good tools and good understanding to the theme that we want to investigate further. So that's a little bit of how we proceed. So once we set up the context that we are going to reflect on and investigate, we also then try to select artists that have been working on those themes or have research that somehow can relate to those themes. A lot of times we also work with artists which are very young and, we nurture them and give them the platform and support to go on to the next level. And I think that this is very important.
Hero and Featured Image: Courtesy Mumbai Urban Art Festival