When Janaki Kirloskar started Kika Tableware four years ago, it was a venture fuelled by her passion for design and love for elegant tableware. Today, the brand has created a niche, standing apart with its striking patterns, craftsmanship, and colours that create a beautiful dining experience. Thanks to 2020, dining in has taken on a whole new meaning. With nearly all of last year spent home-bound and partaking in the various food challenges that did the rounds on social media (hi Dalgona coffee, sourdough bread, garden foccacia), you wouldn't be blamed for wanting something more from eating at home. And that's where Kika Tableware wins.
Elegant and delicate, Kika Tableware products are at once recognisable by their distinctive colours, designs, and motifs. Made from premium bone china and decorated with 24-karat gold or platinum, you'll find everything from Art Deco's angular forms and minimalist Aztec patterns to traditional Indian and Arabic motifs and flora and fauna come alive in its products. Mugs, platters, bowls, plates, cups & saucers, and even five different kinds of cutlery finishes (matte to mirror polish) ensure every aspect of tableware is covered at Kika.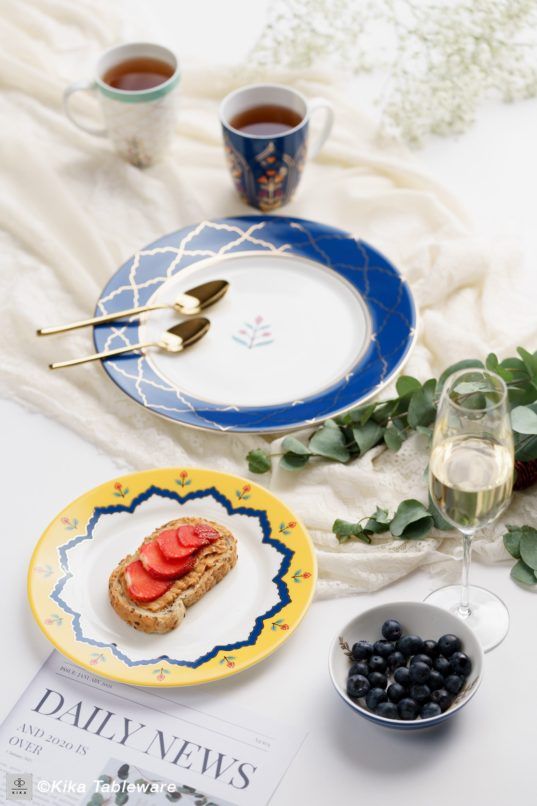 The brainchild of entrepreneur Janaki Kirloskar, Kika Tableware is a one-stop solution for creating a beautiful dinner-table setting. Kirloskar, who hails from one of India's foremost business families, moved away from optimsing manufacturing spaces and supply chain management to strike out on her own after her husband's career shifted them to South-East Asia. Thinking of business ideas, she helped design crockery for her mother's Diwali gifting and enjoyed the process. Thus was born Kika, a portmanteau of Devaki and Mihika, her daughters' names. Today Kika Tableware offers affordable, luxurious, modern tableware for discerning customers.
While its operations are based out of Bengaluru, Kika Tableware is made all over India. Lifestyle Asia India caught up with Janaki Kirloskar to learn more about the brand.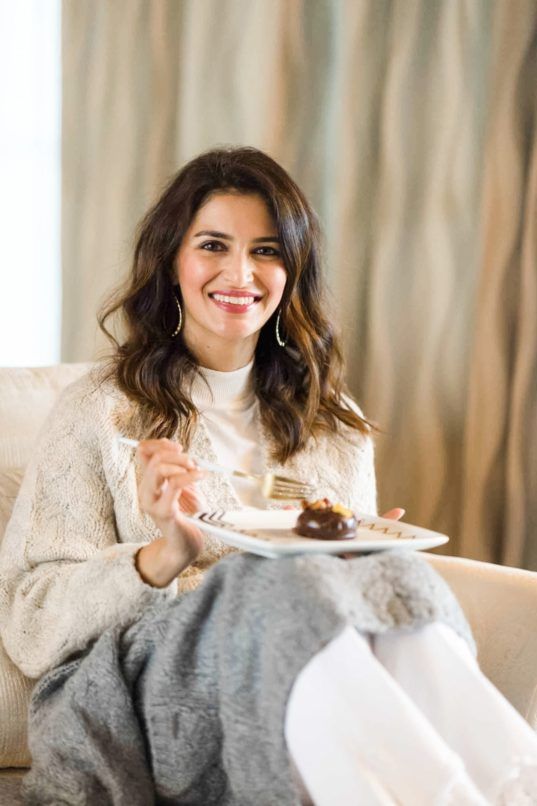 There are so many homegrown brands today in India – what according to you sets Kika apart?
You will know it is a Kika product when you see it! Kika Tableware's designs are distinctive and make a statement. The patterns, colourful imagery, and the contemporary style of our products are unique and make us stand out in the tableware industry.
Dining has changed a lot in recent years — people are now looking for more casual yet stylish, versatile pieces to add to their existing crockery collections. Kika offers endless options for mixing and matching between our different design collections.
What are some of the more niche art forms / craftsmanship employed in the design process?
I love the idea of starting to design a new collection! Based on my vision, I commission graphic designers who create this unique artwork for the brand. All Kika Tableware designs are one-of-a-kind and I love bringing my sense of style and design aesthetic into this process. The artwork is drawn and painted by hand and then undergoes a digital rendering process to adapt it for tableware.
What sets this brand apart is my understanding and imagination of how different art forms can be translated and adapted for tableware. Design inspiration is all around us — for me, it could be a painting, a location, colours, or a trending style in fashion. I love the challenge of taking inspiration from the world around me and making it come to life on dinnerware.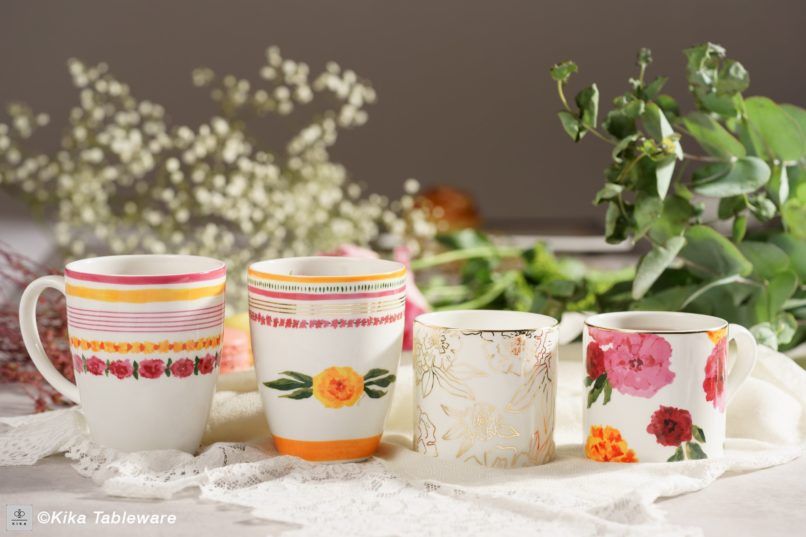 From 2016 to now – how has the brand evolved?
Over the years, we have noticed a shift in dining trends. Today, there is an increasingly more casual yet stylish approach to dining. Customers are buying individual tableware pieces to celebrate events and occasions, and they want to create different looks for their dinner table; the dinner table setting has become a conversation starter and a focal point for celebrations.
As a brand, Kika Tableware has evolved to creating smaller capsule collections such as the Art Deco one or introducing more gift-worthy shapes in its Marigold Collection. Our mug and platter sets are the most popular items rather than full dinner sets. We've also migrated our business model into the online space by creating a strong social media presence and offering an effortless online shopping experience for our customers.
Which brands and what kind of designs inspire you?
I love brands that are classy, modern, and have a signature design style. In the homeware segment, I've always loved the classic designs of Wedgewood, Noritake, Rosenthal, and Villeroy & Boch. Hermès has raised the table decor quotient by bringing its signature prints from its scarves to their dinnerware. Closer home, Good Earth has always been iconic, with their homeware offerings.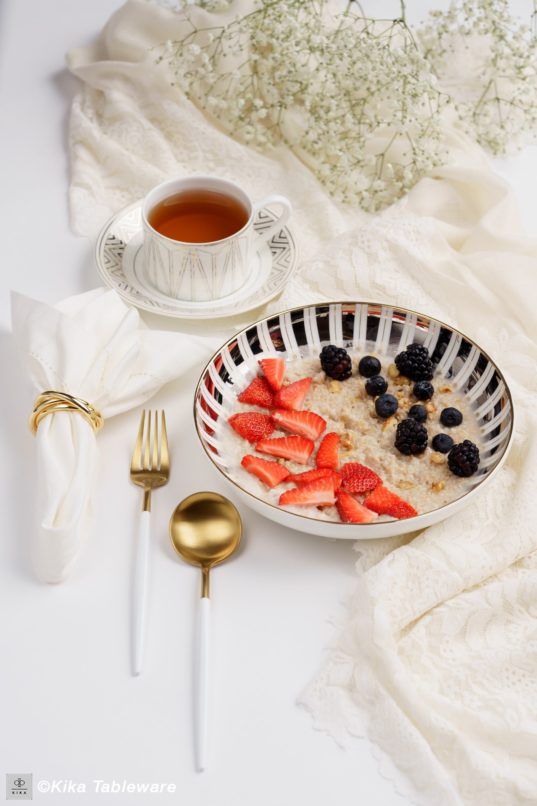 You are based in Kuala Lumpur, and the brand is set up in India – how do you manage in this setup?
Pre-COVID-19, a huge part of my time over the last three years was spent on airplanes, at airports — I was either waiting to board a flight or disembarking from one. The world was vast but connected, and it made it easy to be living in a different country from the one I worked in, and my team in India worked their magic to make my time there seem so meaningful.
In this COVID-19 era, I have not been able to travel out of Malaysia since January 2020. That said, I am immensely grateful that Kika has survived this year and our online presence continues to get stronger. Just like every other business, we've adapted to having daily meetings on Zoom, optimizing our workflows to be digital and mobile, using technology to connect with our customers and provide a "real-world" virtual shopping experience for them.
What's in store for Kika Tableware in 2021?
I want to continue to strengthen our presence in the tableware industry and we are looking to offer our products to a more global market. Dining in has become the new 'dining out', and we want to enrich the at-home dining experience for our customers.
All images: Courtesy Kika Tableware