Finding a movie to watch with your significant other can be taxing if you spend hours scrolling through what's available. With Valentine's Day around the corner, we've compiled a list of romantic date night movies. All you need to do is grab some popcorn, get your date, and start watching.
Hollywood
1. Date Night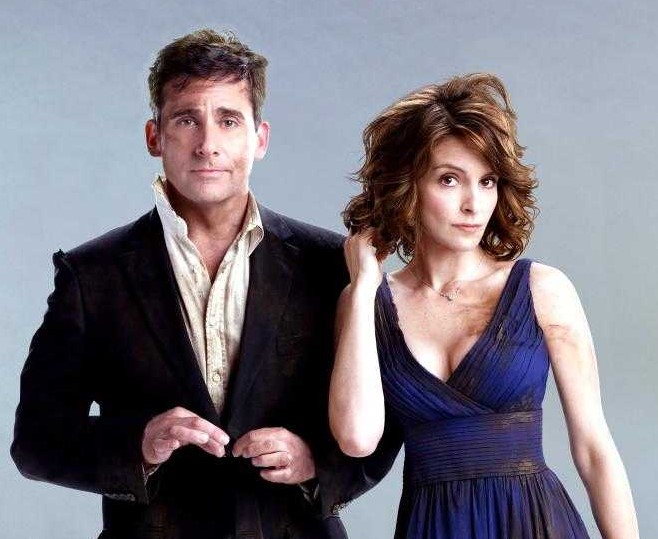 A middle-aged suburban couple out on a long-overdue date to take a break from their dull regular life, get caught up in a case of mistaken identities, and are suddenly in the middle of more thrills and excitement than they asked for. Starring Steve Carell and Tina Fey, this is a fun watch.

2. Love and Other Drugs
An intoxicating love story of a pharmaceutical salesman and a Parkinson's patient, the film is a smart mix of romance, comedy, real-life conundrums, and strong emotions. This Anne Hathaway and Jake Gyllenhaal starrer is worth all the tears and laughs.

3. Dirty Dancing 
The forbidden romance follows a young girl, Frances, who is smitten by her rebellious dance instructor, Johnny Castle, at a holiday resort. On-screen chemistry that is talked about to this day, this Patrick Swayze and Jennifer Grey starrer is mesmerising from the word go. 
4. Silver Linings Playbook
A classic feelgood movie, the film is about an upbeat man recently released from a mental hospital and a 22-year-old who calls herself crazy. True to its name, the dark, clouded, and perfectly flawed characters of Bradley Cooper, Jennifer Lawrence, and Robert De Niro looking for their respective silver linings, come together to make for an apt date night watch. 

5. When Harry Met Sally
This timeless romantic classic follows a 12-year journey of Harry (Billy Crystal) and Sally (Meg Ryan) and touches all the right strings. "Men and women can never be friends because there's always the sex thing" is just one among many famously recreated scenes you'll find in this rom-com.
6. The Notebook
A classic tale of a country boy and a city girl falling for each other and their journey of discovering themselves along with each other, the film is uplifted with stellar performances by Ryan Gosling and Rachel McAdams. The storytelling plays with the past and present, beautifully portraying different stages of a relationship. Keep tissues at hand.

7. Friends With Benefits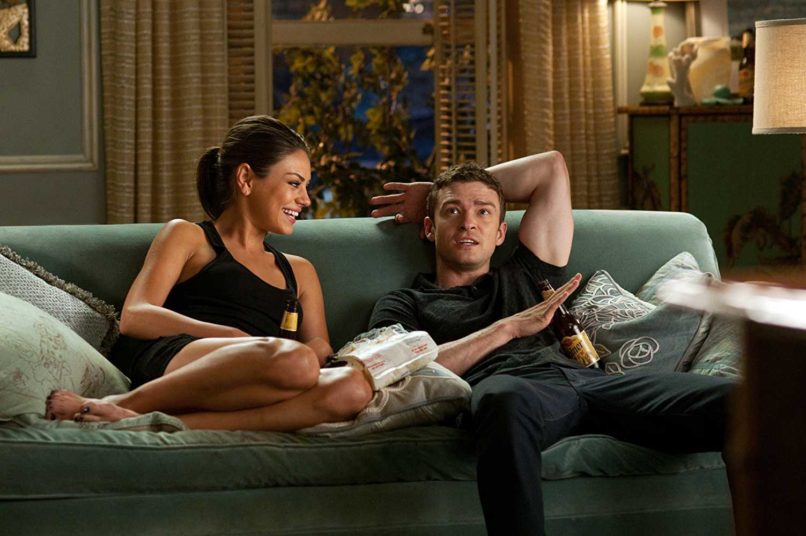 As the name suggests, the rom-com follows the age-old 'no commitment, just sex' narrative between two friends who don't know they're in love. With crackling chemistry between Justin Timberlake and Mila Kunis, the film has the perfect formula to pump up your date night through.

8. Eternal Sunshine of the Spotless Mind
Not your regular romantic comedy, this film is uniquely funny and unapologetically honest. With mind-blowing performances by Jim Carrey and Kate Winslet, the story imagines a scientific procedure that erases memories and how the characters find themselves saving their relationship even when a part of them doesn't want to. It's engaging and fun, a perfect pick for Valentine's, more so if you like fantasy.

9. Sleepless in Seattle
A classic love story between two people who spend the entire movie apart, it explores the spark between them via a telephonic message and propels the story forward. Showcasing the city life in its best light, the film also portrays abandonment issues, need for adventures, and new beginnings.

10. Pretty Woman
This rags-to-riches fairytale about a gorgeous sex worker who falls for a wealthy businessman defined 90s romantic movies. Julia Roberts' realistic performance and Richard Gere's charm combined with memorable scenes, hard-hitting dialogues, and emotional quotient make this film a beautiful choice for a date night movie. 

11. Someone Like You
Known for its famous 'old cow, new cow' theory, this adaptation of Laura Zigman's popular novel 'Animal Husbandry' explores the idea of men through the eyes of Jane (Ashley Judd), a production assistant, after a bad breakup. With a young and adorable Hugh Jackman and Greg Kinnear in substantial roles, it is a fun watch with your better half.

12. Just Go With It
A plastic surgeon (Adam Sandler) romancing a much younger schoolteacher (Brooklyn Decker), asks his loyal assistant/receptionist (Jennifer Aniston) to pretend to be his soon-to-be ex-wife in order to cover up a bunch of careless lies. What's not to love about Adam Sandler and Jeniffer Aniston in Hawaii?
13. Before Sunrise
The story revolves around a young man and woman who meet on a train ride and how a single night with each other becomes important. With impeccable character writing, performances, and locations, the film seems real and dreamy at the same time. A very deep and intoxicating romance movie starring Ethan Hawke and Julie Delpy.

14. Crazy, Stupid Love
A package deal, this movie follows different age groups in their journey towards finding and keeping love alive. Funny yet deep, the film follows the family of Cal (Steve Carell) who is undergoing a divorce and his newfound personality guru played by Ryan Gosling. Watch it for the bromance.

15. My Best Friend's Wedding
When the backup marriage pact friend gets engaged, Julianne Potter (Julia Roberts) plans all sorts of villainous acts to break up the wedding. A story about friendship, childhood, love and commitment, this complicated plot comes alive with amazing performances and a fantastic soundtrack.

16. The Object of My Affection
The story of a young woman (Jennifer Aniston) who falls in love with her gay male roommate (Paul Rudd), the film is a beautiful take on possible real-life scenarios. It is also a take on the upper-middle-class New Yorkers and their liberal ways, post-divorce relationships, and even motherhood.
Bollywood
17. Manmarziyan
A layered and realistic story about selfish love, this modern twist on a typical love triangle shines because of its strong characters and impeccable performances. Anurag Kashyap's take on commitment issues, immaturity, and in-depth exploration of the capability of people in love will definitely keep you wanting for more.

18. Dev.D
A trippy love story full of sex, drugs, and alcohol. This creative Anurag Kashyap rendition of the early 20th-century classic Bengali novel 'Devdas' is a visual treat. With a stand-out performance by Abhay Deol, the film was also Kalki Koechlin debut role. Keep an eye out for Nawazudin Siddiqui.

19. 2 States
With feelgood music and relatable performance by Alia Bhatt, Arjun Kapoor, and Amrita Singh, the film is an entertaining love story between a Punjabi boy and a Tamil girl. 
20. Barfi!
Another Anurag Kashyap classic, the film follows a love triangle between hearing- and speech-impaired Barfi (Ranbir Kapoor), an engaged Bengali girl Shruti (Ileana D'cruz), and an autistic girl (Priyanka Chopra). Set in Darjeeling and Kolkata, the film is a visual spectacle with memorable scenes, funny moments, and soulful music.

21. Love Aaj Kal
A mirror for the commitment-phobic generation, the film is a fun and realistic take on the modern-day relationships. This Saif Ali Khan and Deepika Padukone starrer is one of Imtiaz Ali's best and will definitely keep you engaged.

22. Kal Ho Na Ho
Shah Rukh Khan, Saif Ali Khan, and Preity Zinta in one film. As the name suggests, the film truly celebrates life as if there is no tomorrow. The movie will make you laugh as much as it will make you sob. The story follows Naina (Preity Zinta) and her chaotic family and their journey to understanding each other and finding love with the help of Aman (Shahrukh Khan), who comes out of nowhere and changes their lives forever.

23. Rehna Hai Tere Dil Mein
A boy falls in love with a girl, assumes another identity to woo her until it all comes out in the open. With debutant actors R. Madhavan and Dia Mirza, and their adorable chemistry, the film lives on in the hearts of loyal fans. With an all-time great music album, it is fit for a romantic date.

24. Saathiya
Holding a mirror up to real-life problems, 'Saathiya' is known for its chemistry between Rani Mukerjee and Vivek Oberoi, and award-winning music by AR Rahman. Mani Ratnam's movie will give you feels as you traverse the protagonist's courtship, marriage and ultimately life unravelling.

25. Salaam Namaste
Nikhil (Saif Ali Khan) and Ambar (Preity Zinta) fall in love and decide to live together, but things get uncomfortable when Ambar gets pregnant. This romantic comedy has all the necessary ingredients that make it worth your time. 

26. Socha Na Tha
Imtiaz Ali's debut, this classic "we travel, we fall in love" is a mood-setter. With shining performances by Abhay Deol and Ayesha Takia, the film follows a couple who say no to their arranged marriage setup but end up falling in love later. It is a fresh, funny, and emotional ride about love, family, and friends. 
27. Band Baaja Baaraat
This love story between partners of a wedding planning company is super fun to watch. Portraying Delhi in its true sense, the film revolves around Bittoo (Ranveer Singh) and Shruti (Anushka Sharma), who, by the way, are extremely convincing as Delhiites. Witty writing and stellar performances make this movie believable and memorable. 

28. Tanu Weds Manu
A love story between an introvert boy and a vivacious girl, 'Tanu Weds Manu' is a thorough entertainer. R Madhavan and Kangana Ranaut are convincing in their roles, and the witty dialogues, annoying family members, and catchy music make this a rom-com worth your time.

29. Jab We Met
Imtiaz Ali's best, this Shahid Kapoor and Kareena Kapoor starrer got the whole country rooting for the on-screen couple. With breathtaking locations and a well-written storyline, the film redefines the boy-meets-girl story. Falling in love and coming of age is gift-wrapped in this visual trip of a movie.

30. Honeymoon Travels Pvt. Ltd.
On their honeymoon, six newly-married couples discover hidden facets and uncover secrets about their spouses on their four-day trip to Goa. This Reema Kagti film is hip and exciting from the start. A slightly off-beat take on a romantic comedy.
All images: Courtesy IMDb