Actor Abhimanyu Dassani on winning the Filmfare Best Debut Male Award, films, life experiences, and more.
A legacy to uphold and an unconventional debut film choice, Abhimanyu Dassani didn't choose the easy path to get into the audience and the critics' hearts. Yet, he won both. Recently bringing home the black lady for 'Mard Ko Dard Nahi Hota', he already has two releases lined up for this year: 'Nikamma' on June 5 and 'Aankh Micholi' around Diwali this year.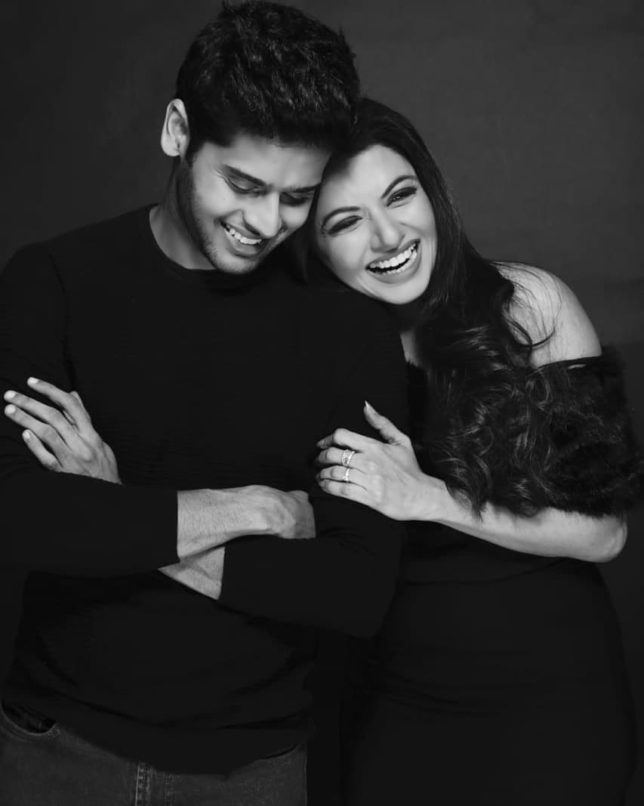 Son of actor Bhagyashree, whose iconic debut 'Maine Pyar Kiya' is still talked about 30 years on, Dassani had big shoes to fill. Yet, instead of the usual romantic debut film that most actors would pick for their launch, he decided to go for Vasan Bala's MKDNH. The movie follows Surya (Dassani), born with congenital insensitivity to pain, who grows up idolising his martial arts hero, and how his life shapes when the two meet. The meta-comedy has previously won the People's Choice Award at the Toronto International Film Festival, and a standing ovation at Mumbai Film Festival.
One film old, Dassani is already being touted as a next-gen promising actor. Here he speaks of what makes him the artist that he is.
Winning an award for your first-ever film is always special. How does it feel?
It's fabulous, I'm ecstatic about it. And more so that it's a recognition of all the artists and the crew members who worked on the film; and that makes me feel very good—I could bring home something for them.
You chose an atypical movie for the launch of an actor. What went behind this decision?
See, when you prefer the path not so used is when you see art. And I really connected with Vasan Sir; I did 14 auditions for him, and his trust in me as an actor made me believe in myself more. And when he told me the story, I thought it was fabulous and I just wanted to be a part of his vision.
How did you decide on becoming an actor?
I started working at the age of 16, I would like to call myself a serial entrepreneur. I used to set up businesses and make those profits. I did event management, scrap metal re-sale, I was one of the first ones to open a football turf, opened a martial arts centre, imported electronic wheelchairs from China and sweetcorn from the US. So, I've been independent of my family from that age.
I realised that I don't like to sit at a 9 to 5 job, what turns me on is creating something out of nothing. And in Bollywood, everything changes after every film, so I was like let me check out what that's like.
I was the Assistant Director on 'Dum Maaro Dum' in 2010 and fell in love with the energy on the set. And fortunately guidance from Abhishek Bachchan who was on set of 'Nautanki Saala'; I did all Ayushmann Khurrana lines with him, so they kind of told me that this is what I should venture into.
Then, while studying finance in Bombay, I went to New York every summer to learn acting and filmmaking; and realised that people believe that I have some kind of talent and that's when I decided to give it a shot.
What influences your craft?
As an actor, an artist, you find inspiration in absolutely anything. Sometimes music inspires you, sometimes a really good play, a movie, an actor doing something on social media. Real-life experiences—that's what you take from the most, the kind of people you meet—they're definitely huge bags of information and knowledge for us.
How do you prepare for a role?
I believe everyone has their own method of acting. I like to become the character for the months that I'm shooting, so I was less of Abhimanyu and more of Surya for the one and a half years that we shot MKDNH.
It definitely takes a toll on your personal life as well because you're not being yourself. Other people are noticing the change, somebody telling you you're not the same and you want to be the same.
You collect personalities within yourself as actors as you go ahead. At least for me, that's what's happening.
How do you pick your projects?
I can divide this into two main reasons. One is that I like to surround myself with good people. More than being extremely amazing at their craft, it's important that they're good human beings that I like to spend my time with while working.
The other thing would be, as humans, we put people in boxes, it makes us feel safe about ourselves. Especially with actors, they start calling them a certain kind of actor, you're typecast whether you do romantic films or you're an action hero. And I want to break these boxes for myself. I'd like to change the image of what Abhimanyu is, to me and to other people as well.
How would you describe your experience in the industry?
Learning new things every day, how to deal with time, how to deal with people, it's [the industry] a great teacher. It's fantastic, it shows you a lot of life that you haven't really seen, it shows you a lot of truth in the world around us.
The best part is, as I recently got to experience that small gestures that I can take out time for mean a lot in someone else's life. How happy I can make them, give them a memory and feel remarkable doing that.
The downfall of being in this industry is the superficial judgement that is put on you. Without people actually knowing you, they judge your journey your clothes…
And what should we look forward to in your next film, 'Nikamma'?
It's a commercial, out and out action comedy film, and has some amazing songs. I'm really excited about it. You get to see me dance in it also!
All images: Courtesy Abhimanyu Dassani Instagram