As 'Betaal', the latest Indian web series on Netflix releases tomorrow, we speak to Aahana Kumra on what the zombie-horror genre means for the Indian film industry and audience alike.
"I did not choose the series, the series chose me!" says Aahana Kumra, on playing DC Ahluwalia, an armed officer with a mysterious scar on her face in 'Betaal'. The latest production by Shah Rukh Khan's Red Chillies Entertainment, this horror-thriller has been executive produced by Blumhouse Productions ('Insidious', 'Paranormal Activity', 'The Purge', 'Get Out'), and will be the first in the country to touch upon the zombie-horror theme in an evolved manner.
Directors Patrick Graham and Nikhil Mahajan, and writer Suhani Kanwar bring together three worlds—history of the East India Company, mythology with the curse of Betaal, and technology — and the story follows government forces displacing tribal villagers for new construction, and unknowingly unleashing an old curse and an army of zombies. In the series, Kumra plays a friend to fellow squad member and protagonist Vikram Sirohi, and is a voice of reason through the many murky situations that unfold.
Taking up a lesser explored genre in Indian filmmaking (the last Hindi zombie movie was the 2013 'Go Goa Gone')  isn't new for Kumra; her first film was the 2017 'Lipstick Under My Burkha', a movie that explored the lives and freedom of four women. "That film is very close to my heart because it defined me — as who I am and as an actor. [It came to me] at a time when I was really struggling to find a voice, a footing in the industry, and finding myself as an actor." 'Betaal' seems to have followed a similar trajectory for the Dadasaheb Phalke awardee, who got the role just as she was reaching a saturation point with getting repeated offers for playing characters of a certain kind. "I'm truly lucky to have been associated with path-breaking projects," says Kumra.
From horror to action, 'Betaal' has everything that Kumra ever wanted to do. A much talked-about part of the series is the prosthetics, for which a team of specialists was flown in from the UK; they created 'Kumra's scar', which took two hours to prepare every day. "It's a huge learning process, and I'm lucky that at a very early stage in my career I got to work with prosthetics…it's not the norm in India because filmmakers don't imagine characters like that." Physically taxing action sequences in a combat costume and the pre-monsoon Mumbai heat didn't make carrying a silicone patch on her face any easier. Kumra credits her prosthetics team and artist Rebecca Butterworth for making the glue, paint, and plastic easy for her.
Kumra admits there's been a change in thinking, in actors breaking away from the idea of just looking beautiful and experimenting more with dark and edgy shades. She credits streaming services for this. "Over-the-top platforms are very democratic because lots of things get made without having to worry about the box office. It's a very fearless and creative platform — makers are also gutsier in creating characters."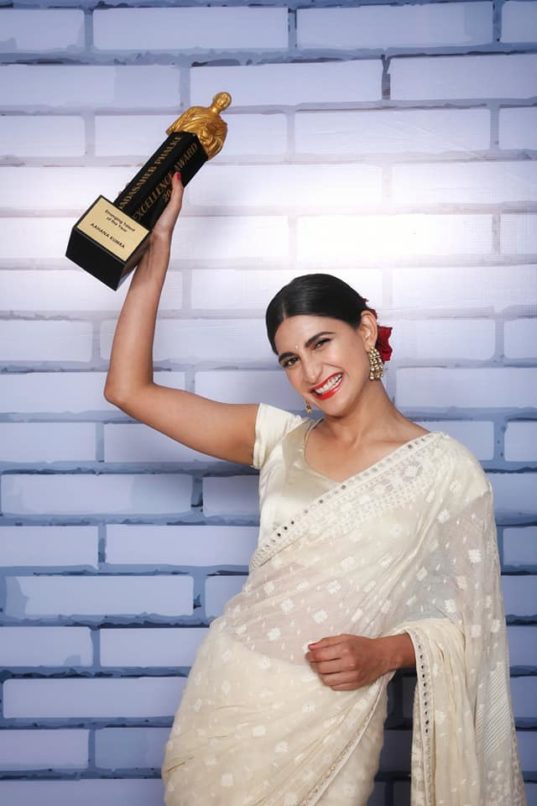 Playing DC Ahluwalia was a blessing for her. "I like to be not recognised—that's the most exciting part of being an actor, to be able to look different," she shares (Kumra has also played politician Priyanka Gandhi in 'The Accidental Prime Minister'). "You have to be proud of the roles you're choosing. This also opens up the arena to somebody who wants to become an actor. We've been conditioned to believe that yaar acha hi dikhna hai. Kyun acha dikhna hai? Aapko kirdaar ki tarah dikhna hai."
Kumra believes that the series is a fantastic representation of what India is capable of in a global arena that has shows like 'Stranger Things' and 'Game of Thrones'. "We have path-breaking stories, and many have won hearts across the globe. Those stories are usually rags to riches or underdog situations, where you connect with the character. India's not really had a path-breaking horror-thriller, and somewhere all of us want India to be represented on a global platform."
'Betaal' streams on Netflix on May 24.