The movie 'Choked' is Anurag Kashyap's latest, a Netflix Original that has outstanding performances and a unique script.
Real events, fiction, social dramas, political upheavals — it's all in there in 'Choked'. And it is narrated through the small apartment of Sarita (Saiyami Kher) and Sushant (Roshan Mathew), a couple whose marriage is on the brink of collapse.
Director Anurag Kashyap's latest is a thriller that weaves together different themes without seeming too overbearing. Sarita, Sushant, and their young son belong to the lower middle class and struggle with finances. With Sarita being a cashier at a bank and the sole bread winner for the family, her husband's unemployment and money woes cause many a rifts between them, threatening a break-up at any moment. The performances by Kher and Mathew are striking — seeped wholly in the character, they communicate impeccably through not just dialogues, but body language in the subtler moments too.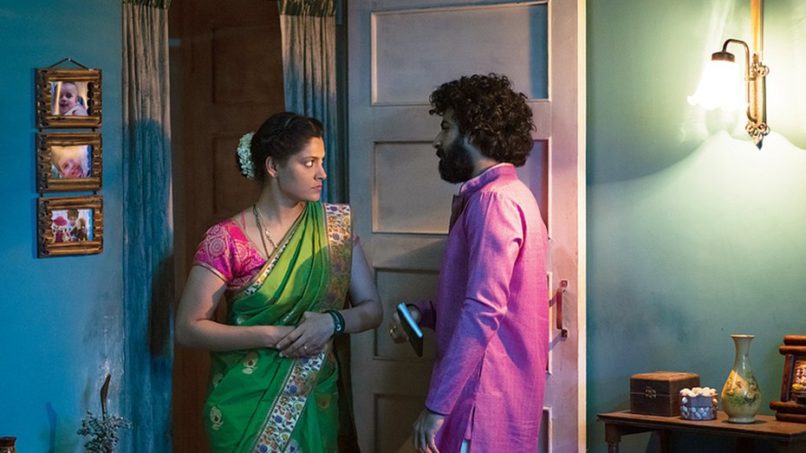 Things start to look different when one night Sarita finds currency notes neatly packed in plastic bags appearing in her kitchen sink. Perplexed yet happy about this occurrence, she begins to collect these–only to be hit by the news of demonitisation by the Prime Minister (the film is set in 2016). Her newfound fortune is snatched away as suddenly as it had appeared. The nuances are seen in the subplots, where the stresses of everyday life are sewn together seamlessly. Be it the former business partner who wouldn't give Sushant his share of money or the neighbour who counts on Sarita to be a sponge for her woes about her daughter's upcoming wedding. Even a small loan shark hounding Sarita for money Sushant had borrowed, and her neighbours thinking she's having an affair, has been dealt with sensitivity.
'Choked' also features Amruta Subhash and Rajshri Deshpande in supporting roles, both actors have previously worked with Kashyap for 'Sacred Games'. The movie is also the first production under Kashyap's new banner, Good Bad Films. Previously he ran Phantom Films, which now stands dissolved. The director managed to rope in background music by the famous musician Karsh Kale, adding depth to scenes where eyes and expressions convey a lot more than words.
The film seems promising for both Kashyap and Netflix, considering their latest Bollywood outings–'Ghoomketu' and 'Mrs. Serial Killer', respectively–missed the spot by quite a margin.
From marriage to the social dynamics between the couple to financial restraints, the title of the movie is a wordplay for all that takes place in the film. How political and social scenarios add to, or rather take away from the emotional landscape of human interactions is what 'Choked' explores.
All images: Courtesy 'Choked' and Netflix