Last year, if someone would have asked me about Adarsh Gourav, I'd have had to think hard about where I'd heard his name. But the truth is, he's been in prolific movies — he played the young Shah Rukh Khan in My Name Is Khan (2010) and acted opposite Sridevi in Mom (2017) and Manoj Bajpayee in Rukh the same year. Cut to 2021, and Adarsh Gourav is making waves. That's the power of a captivating storyline with the right cast — you get a hero in the making. 
Starring in Netflix's recent release, The White Tiger, as driver Balram Halwai, Adarsh Gourav's performance outshone those of veterans Priyanka Chopra and Rajkummar Rao. It even bagged him a nomination in the Best Actor category at the 2021 Independent Spirit Awards. Humbled and astonished, the 26-year-old actor seems to be on a path to great things.
Hailing from Jamshedpur, acting wasn't something that was on Gourav's radar — he was into music before he started out as an actor in Mumbai, the lead vocalist of a progressive-rock band called Oak Island (also featured in MTV Indies-Never Hide Sounds). While he had acted in school and college plays, it was a chance encounter at the Kala Ghoda Festival in Mumbai, where we was performing, which opened his mind to the idea of acting professionally.
We spoke with Adarsh Gourav about his journey as an actor, how he prepared for his character in The White Tiger, and the best advice he has received from a director on set.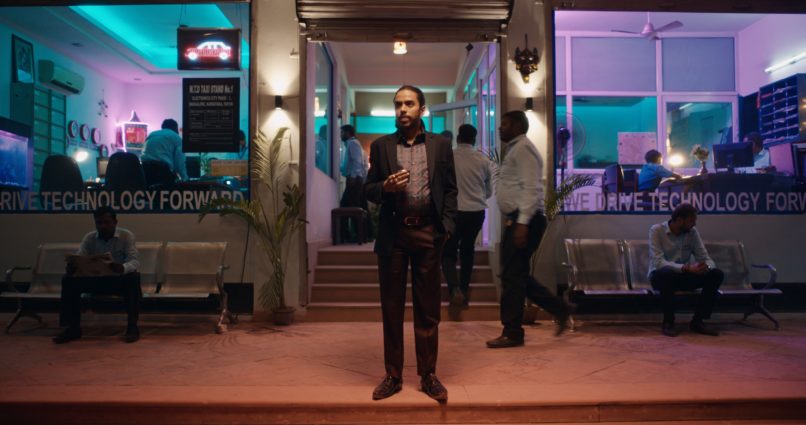 How does it feel to be one of 2021's biggest breakout stars? 
I genuinely feel very fortunate to have been part of this film, which I feel happens once in every 10 or 15 years for an actor, or even get an audition for such a huge project. I also feel humbled by the response that it has garnered so far. 
How did your acting journey begin? 
It began when I was a child, but professionally when I was 14. I used to love telling stories as a child, and I would frequently lie to my parents, friends, and tuition teachers about anything and everything. This made me realise the power that stories hold, especially when you see their wide-eyed faces. When I shifted to Mumbai with my family, I was singing at the Kala Ghoda Festival, and that's where a talent agent (Nazanin Karim) spotted me and asked me about my interest in acting. Following which, I started auditioning for roles. 
You have already worked with some of the biggest names in Bollywood (Shah Rukh Khan, Manoj Bajpayee, Radhika Apte), how was it working with Priyanka Chopra and Rajkummar Rao? Two traits you admire in each
All of us have been witnessing what spectacular actors they are, and some path-breaking performances they have been part of. But, I'm one of the fortunate people who got the chance to get to know them in person. They are both such humble people, driven and passionate about their craft. It is easy for people to get bored of what they are doing, which they have been doing for years, or become complacent but they both have so much determination and love for their work, and it shows. I feel very lucky to have witnessed that first-hand. 
On the two traits: Priyanka's confidence and her ability to make people feel special. And Raj's courage to experiment with his work and go the distance with it. 
How did you prepare for Balram Halwai's character in The White Tiger? 
The character was tricky as it was based out of a book; it's an interesting piece of literature, and it's all there. But Ramin [Bahrani, director] encouraged me to find my own truth in the character. So, I went to Chalkari Basti (village) in Jharkhand and stayed there for a couple of weeks. I befriended a guy named Akshay Nayak (who is still a friend), and requested him to take me to his village. After changing five modes of transportation between Mumbai and Jharkhand, we were there, and we talked about my formative years in Jamshedpur and our common roots and families. I even asked him not to tell anyone that I'm an actor as I wanted people to trust me and tell me their stories. 
Post this I travelled to Delhi, where I worked at a small shop in Saket, doing dishes and running errands for my Seth (master). These things really helped me get inside the skin of Balram and understand his world. 
How has your theatre background influenced your acting, and more importantly, selecting roles you want to do? 
I don't have an exclusive theatre background. My first acting experience was in a play in school called Man of La Mancha, where I played the choir to the king as Sancho Panza. Apart from that, I spent a few months with the Mithibai College drama team where we worked on a play called Guffa ka Aadmi. Though I wasn't even serious about the craft then. My only real theatre experience was when I went to Drama School, Mumbai (2016 – 2017). It opened me as an actor and as a person and helped me express myself better, allowing me to use my body than just my face. There I met people with whom I discussed the craft and learnt new techniques and methods. 
What has your learning been so far in Bollywood?
Failure has been a big part of my life, much more than success. You need to be patient and never be complacent or stagnant as an actor because that's the death of an actor. As an artist, I feel you constantly need to increase your repertoire and evolve. That's the most exciting part of the profession. As an actor, you are not just learning about a character but also new skills. 
Do you have an affinity for antagonist roles? 
I just relate more to great characters. Characters that have flaws in them as people do. I don't relate to perfect characters. I'd even love to play a romantic hero with a lot of flaws in him. 
The best advice a director has given you on a film set?
Ramin Bahrani told me not to fix things and keep exploring, and never decide how to do a particular scene. I think the most important lesson for me after this film is understanding the person you'd want to become, and then allowing yourself to fly in any direction the scene lets you.
What's the mark of a good story for you?
A story that has a good beginning, middle, and end. And stories I can empathise with.
What is your next big project?
I wish I could you. (laughs) I have been reading a bunch of interesting scripts. I did shoot a short film with comedian Varun Grover last week, which marks his directorial debut. I'm excited about it because he is a genius and a visionary. I don't know when he plans on releasing the film, but I'm glad to have been a part of his project.