India's Harnaaz Sandhu brought home the coveted crown of Miss Universe after 21 years, earlier today. As celebrations pour in for the beauty queen, we go down memory lane to look at all the incredible Indian women who shone at international beauty pageants over the past few decades.
Since the mid-1990s, beauty pageants have been serious business in India, and the country is right up there on the list of nations with the most beauty pageant crowns, with the likes of Venezuela, Puerto Rico, the USA, and the Philippines. This tradition of pageant titles was carried forward on 13 December by Harnaaz Sandhu, who edged out contestants from Paraguay and South Africa to be crowned Miss Universe 2021 in Eliat, Israel. With Sandhu, the coveted title returned home 21 years after Lara Dutta was crowned Miss Universe in 2000.
The Bell Bottom actress took to Twitter today to congratulate Harnaaz on her win. In her heartfelt post, she expressed joy and pride and welcomed the Chandigarh-born beauty queen to "the club." In honour of Lara Dutta's celebratory post, we take a look at all the other incredible women who are a part of this club and the little things that made them bag their titles.
Beauty queens who bagged the Miss Universe and Miss World titles for India
Harnaaz Sandhu, Miss Universe 2021
21-year-old Chandigarh-born model and actressHarnaaz is currently pursuing her master's degree in public administration. Besides making headlines for bagging the title two decades after Lara Dutta in 2000, Harnaaz has received praise for her take on climate change. When asked, in her final interview round, 'what she would say to those who believe climate change is a hoax, the model was quoted saying, "My heart breaks to see how nature is going through innumerable problems, and it's all due to our irresponsible behaviour. I feel that this is the time to take action and talk less because every action of ours can either kill or save nature. To prevent and protect is better than to repent and repair, and this is what I would like to convince you today."
She also went viral for having a sense of humour and letting out several impressive "meows" upon being challenged to do her best animal impersonation by host Steve Harvey.
Image: Courtesy @missuniverse/Instagram
Lara Dutta, Miss Universe 2000
At the age of 22, Lara Dutta made headlines for being the second Indian to be crowned Miss Universe and for securing a 9.99 from all the judges for her answer in the final interview round. With protests being staged outside the stadium against pageants, Lara was asked to address protesters who believed pageants were an affront to women. In defence of pageants, Lara replied, "I think pageants like the Miss Universe pageant gives us young women a platform to foray in the fields that we want to and forge ahead, be it entrepreneurship, be it the armed force, be it politics. It gives us a platform to voice our choices and opinions and makes us strong, independent that we are today." This response accorded her the highest individual score in any category in the history of the Miss Universe pageant. Her other noteworthy accomplishment at the time was securing the highest scores in the swimsuit round.
Image: Credits @larabhupathi/Instagram
Sushmita Sen, Miss Universe 1994
The first Indian woman to win the title of Miss Universe, Sushmita Sen was 18 when she brought the title home. Although her infectious smile was the talk of the country, it was her intelligent response in her final interview round that won hearts across the globe. Upon being asked what, according to her, was the essence of being a woman, the beauty queen replied, "Just being a woman is a gift of God that all of us must appreciate. The origin of a child is a mother, who is a woman. She shows a man what caring, sharing and loving is all about. That's the essence of being a woman." Sen later revealed that her winning gown was bought from a flea market and sewn by a local tailor.
Image: Courtesy @rising.bollywood/Instagram
Priyanka Chopra, Miss World 2000
Now a global icon, actor, singer, producer, and philanthropist, Priyanka Chopra was just 18 when she was crowned Miss World in 2000. Her response at her final interview round wasn't entirely accurate but managed to win hearts regardless. Upon being asked who she thought was the most successful woman living today and why, she replied, "There are a lot of people I admire, but one of the most admirable people is Mother Teresa, who has been so compassionate, considerate and kind." Reflecting on her winning moment years later, Priyanka revealed in an interview that her iconic hairdo, with a long hanging tendril, for the pageant was a result of a curling iron accident that left a burn mark on her forehead.
Image: Courtesy @glamfendi/Instagram
Reita Faria, Miss World 1966
The first Asian to win the title of Miss World, Reita Faria is a legend in the world of Indian pageantry. Then 23, the beauty queen won the crown after winning two sub-titles in the swimsuit and evening wear categories. What made the medical student grab headlines was the fact that she beat several odds on her journey to the crown. She had no training, no help with wardrobe, and didn't own a passport when she was chosen to represent India. She was asked why she wanted to be a doctor in her final interview round, to which she said that the country needed more obstetricians and gynaecologists. When the judges commented that India had a lot of babies, Faria responded that it was something to be discouraged. This earned her a lot of praise as well.
Image: Courtesy @criticalbeautyofficial/Instagram
Aishwarya Rai, Miss World 1994
At the age of 21, Aishwarya Rai became the second Indian to be crowned Miss World. The actress was praised for accurately representing her Indian roots at the competition and highlighting the fact that despite being home to different religions and cultures, the country boasted of unity in diversity. Her response in her final interview round also made headlines. Upon being asked what qualities a Miss World needs to embody, she replied, "The Miss Worlds that we have had up to date have been proof enough that they have had compassion. Compassion for the underprivileged and not only for the people who have status and stature. We have had people who can look beyond the barriers that man has set up – of nationalities and colour. We have to look beyond those, and that would make a true Miss World. A true person, a real person." She, along with Sushmita Sen, put India on the map as one of the few countries that had secured both the Miss Universe and the Miss World titles in the same year, until Lara Dutta and Priyanka Chopra won their titles in 2000.
Image: Courtesy @tbq_pageantqueens/Instagram
Diana Hayden, Miss World, 1997
The only Miss World titleholder to win three sub-titles during the pageant, Diana Hayden was crowned at the age of 24. The actress, television host, and model was the third Indian to win the coveted title and was crowned Miss Photogenic, Miss Spectacular Swimwear, and Miss World Asia and Oceania 1997 as well.
Image: Courtesy @pageantandglamour/Instagram
Yukta Mookhey, Miss World 1999
22-year old Yukta Mookey became the fourth Indian to bring home the Miss World crown in 1999. She also bagged the Asia & Oceania's Queen of Beauty Award during the competition. Her response in the final interview round was what captured the world's attention. Upon being asked what advice she'd give to her parents, the former model said, "I would tell my parents that in the values that you've taught me, I'll still stand by you no matter what and hope that we can set an example for the rest of the world to see what family values and ethics are all about."
Image: Courtesy @thepageantglitz/Instagram
Manushi Chillar, Miss World 2017
Haryana-based Manushi Chillar brought the coveted Miss World title home in 2017, 17 years after Priyanka Chopra was crowned in 2000. The medical student won the hearts of the judges and the world with her response in the final interview round of the competition. Upon being asked which profession she believed deserved the highest pay, she replied, "A mother's profession should receive the highest salary and respect in the world."
Image: Courtesy @thequint/Instagram 
Nicole Faria, Miss Earth 2010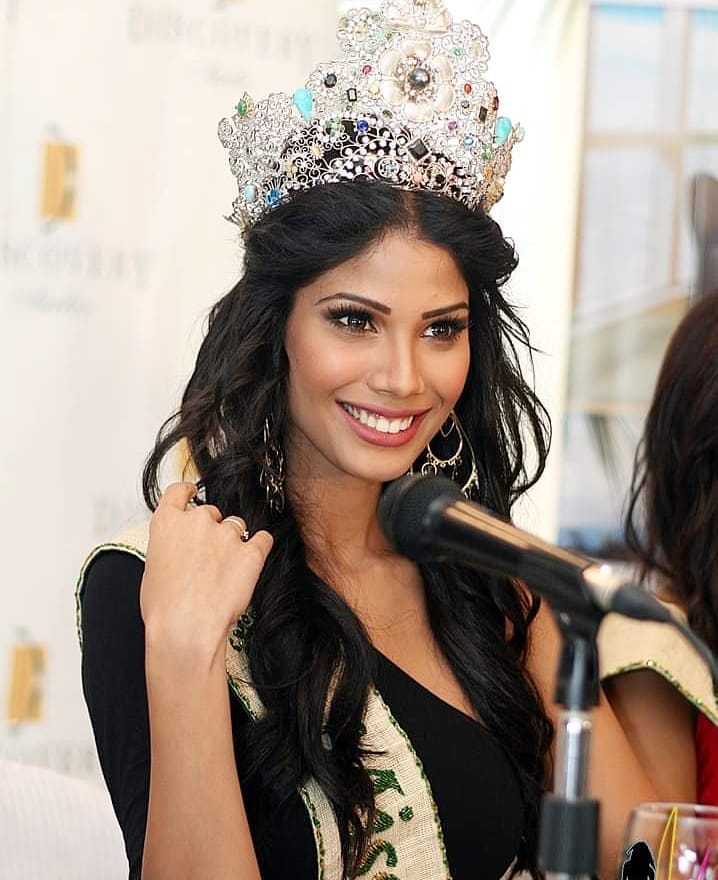 Making headlines as the first-ever Indian to win the Miss Earth title, Nicole Faria was 20 when she was crowned. The supermodel and environmentalist had also won the Miss Talent title at the pageant, performing a belly dance to raise money for the HCM City Red Cross.
(Image: Courtesy @malaysianbeautypageantfc/Instagram)