India-born and Nigeria-bound, Hamisha Daryani Ahuja is the name you need to know this week. Her directorial debut on Netflix, Namaste Wahala (Hello Trouble), has been on the platform's Top 10 (including Netflix Naija) since its release this Valentine's Day, and for all the right reasons. The Indo-Nollywood rom-com is serving people Bollywood clichés with a cross-cultural twist, and we love it. 
Ahuja proudly wears the name of an Indian even though she grew up in Lagos, Nigeria. She went to boarding school in London and went to Canada for her Bachelor's Degree in Commerce before leaving for Switzerland to complete her Post-Graduation in Hospitality. Her rather worldly exposure catered to her business mindset, which eventually compelled her to open and run a restaurant for almost seven years in Lagos. And while doing so, Ahuja also started a motivational speaking and self-development course called the 'Pursuit of Happiness'. Via this course, she teaches people to follow their passion and work on their dreams. Little did she know that while giving others advice on following their dreams, she'd realise her calling in life, too. Ahuja quit the restaurant business to venture into the business of cinema. "My first day on set marks my first day in the movie industry," she says. For Ahuja, transitioning from business to art has been nothing but educational. 
We caught up with Hamisha Daryani Ahuja, 36, on what prompted her to make an Indo-Nollywood movie, the response she has received so far, and her next big project. 
What prompted you to make this cross-cultural movie?
One interesting thing about Nigeria is that a lot of people here have grown up with Bollywood. People here absolutely love it. From the nostalgic, old-school days, people know of Amitabh Bachchan and Shammi Kapoor; one of the most famous films here is Amar Akbar Anthony (1977). Shah Rukh Khan is also a household name. So, that is what motivated me to make this film. Even Indian television shows are dubbed in English for people to enjoy. Nollywood is also such a vibrant industry, and we want to see what we get if we merge the flavours of both. Namaste Wahala is organic; instead of dubbing voices, we chose real actors. 

How did the script of the film fell into place?
I hired consultants from Nigeria who are in the film industry, and they helped me with hiring the right people, sort out auditions, and arranged the writer's workshop. For my story, we didn't want to lose any Indian and Nigerian traditions. So, we'd sit together for hours and went back and forth on the script a couple of times until we got what we wanted. The script had to be equal, representing both India and Nigeria equally and beautifully because we are so similar.
Did you see the potential in merging two of the world's biggest film industries? 
100 percent! As I mentioned earlier, people here love Bollywood. And just as the trailer of Namaste Wahala dropped, you could see how much they wanted to explore this type of content and genre. Genuinely, I thought my target audience would be Nigeria [Africa, in general], but I had no idea that this is going to become a world phenomenon. We didn't intend to be on the Top 10 within a week of the film's release; I'm grateful for that. And there's so much more potential to such films. 
Namaste Wahala is a typical Bollywood movie (even the name of the male lead is Raj). What was the thought process behind this? 
That again was our attempt to manifest the Yash Raj Chopra and Karan Johar type of Bollywood nostalgia. I didn't want to do today's Bollywood because I wanted an escapist sort of movie. I agree that it's mushy and cheesy and old-school romance, but I wanted all of that! In Nigeria, people associate Bollywood with that rather than how it's become today. That being said, I love the content today as well; it's very real. 
What are the similarities between Bollywood and Nollywood when it comes to rom-coms? 
One noticeable similarity among both industries is that they love drama — background music, running around trees, melodramatic storyline — typical cliché.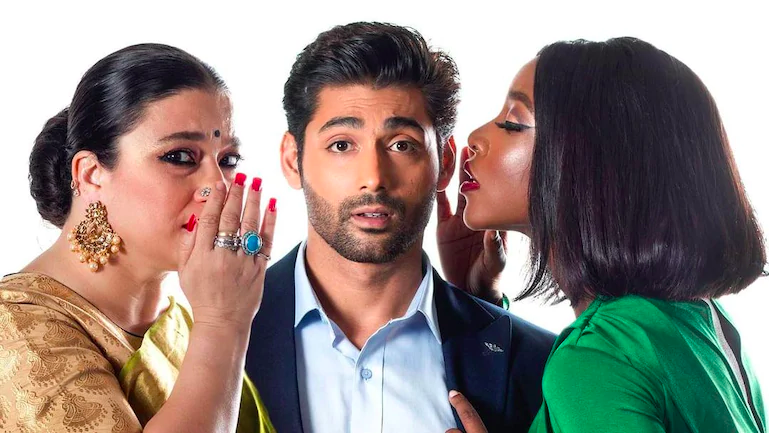 Do you see this cross-cultural amalgamation as a turning point in Bollywood? 
I hope so! I will definitely continue it, and I think it also opens people's minds to what's out there. And it's also about acceptance, you know. People do inter-marry, and there's nothing wrong with that.
So far, what has been the response from the people?
I'm so overwhelmed! We'd been talking to Netflix for a while, and I was so excited when we received Valentine's Day release because that is such a big day for love. Every time I receive a message saying, "it's Top 10 in the UK and that this is the first Nigerian movie to trend in the Top 10 in the US", I feel so grateful that the world has received our industry so well.
What is your next big project?
I've my mind on reality television right now. Potential partnerships are in the works, and I definitely want to explore TV shows. And I also just launched my production company, Forever 7 Entertainment.
All images: Courtesy Akinlabi Akinbulumo, Netflix, and Hamisha Daryani Ahuja / Instagram