Author Geetanjali Shree's Tomb of Sand recently made history by being the first Hindi-language novel to be shortlisted for the prestigious International Booker Prize. The work, translated to English by US-based artist Daisy Rockwell, will compete with five other titles from around the world.
The International Booker Prize (IBP) complements the popular Booker Prize for Fiction and is awarded every year for a book that's translated into English and published in the UK or Ireland. The coveted award recently announced its longlist of six titles. These include novels in Korean, Norwegian, Japanese, Spanish, and Polish as well as a Hindi-language novel Tomb of Sand by Geetanjali Shree. Originally titled Ret Samadhi, the work was translated into English by artist, writer, and translator Daisy Rockwell. The winner is slated to be announced at a ceremony in London on May 26 and will receive Rs 49,42,880.
Tomb of Sand described as "loud and irresistible" by  International Booker Prize judges
View this post on Instagram
Published by Penguin, the novel is set in North India and tells the tale of an 80-year-old woman who tackles depression after the demise of her husband. Her struggle takes her to Pakistan, where she confronts unresolved childhood trauma that resulted from the Partition. As she's met with a newfound zeal on life, much to her daughter's bewilderment, the novel addresses concepts like motherhood, feminism, and trauma with ease. Despite its tragic setting, the work is hailed by many for not dwelling too long on grief and keeping the tone lighthearted to arrive at an answer to the question, 'What does it mean to be a woman?'.
View this post on Instagram
Geetanjali Shree's work is often described as deeply introspective. Judges at IBP were quoted by The Indian Express as saying, "The constantly shifting perspectives and timeframes of Geetanjali Shree's inventive, energetic 'Tomb of Sand' lead us into every cranny of an 80-year-old woman's life and surprising past." They further added, "Daisy Rockwell's spirited translation rises admirably to the complexity of the text, which is full of wordplay and verve. A loud and irresistible novel."
Author Geetanjali Shree has a childhood connection to the Hindi language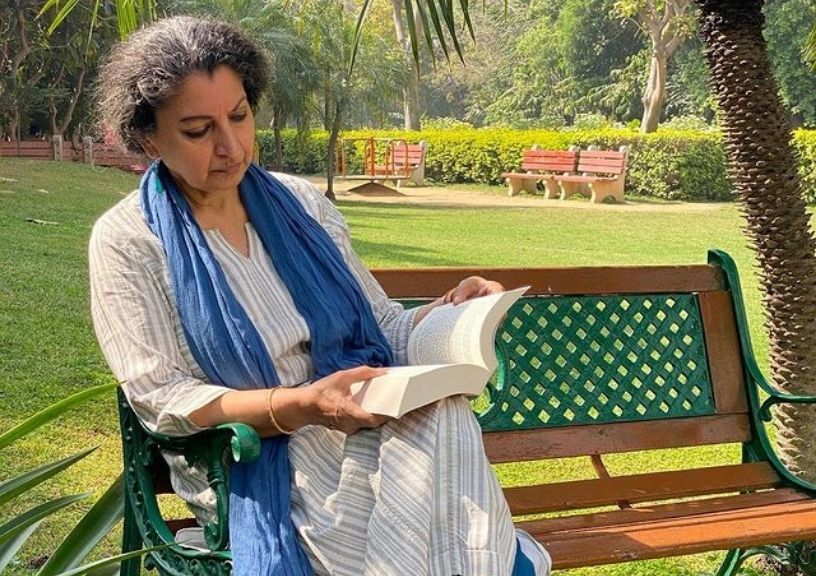 Born in Manipur and based out of New Delhi, Geetanjali Shree is the author of several novels and short stories. Daughter of a civil servant, she spent a large part of her childhood in the eastern Indian state of Uttar Pradesh. The author credits her time in the region along with the lack of children's books in English for her initial connection to the Hindi language, stating that she'd read Ramayana, Mahabharata, Arabian Nights, Panchatantra, Kathasaritsagara and Chandrakanta Santati growing up, as per a report by The National, Abu Dhabi.
She's a Lady Shri Ram College alumni and holds a masters in Modern Indian History from Jawaharlal Nehru University, where she wrote her thesis on the iconic Hindi author Premchand. Her first story Bel Patra appeared in a literary magazine in 1987 and her anthology of short stories Anugoonj got her recognised as an author in 1991. However, her shot to fame was the English translation of her novel Mai, which chronicled the lives of three generations of women. Her work has been translated into French, German, Korean, and Serbian as well.
View this post on Instagram
Touted as one of the most promising writers in India, she's received the coveted Indu Sharma award and has been a fellow of the Ministry of Culture, India, and Japan Foundation. She dabbles in theatre and works with Vivadi, a group of writers, artists, dancers, and painters. Reflecting on her career and the coveted nomination at IBP she was quoted as saying, "Writing is its own reward. But getting recognition as special as from Booker is a wonderful bonus," as per a report by The Indian Express. "The fact that there is much that is dismal all around in the world today, adds to the value of positive vibes in fields like literature," she added.
We are delighted to announce the #2022InternationalBooker Shortlist! Congratulations to all six sets of authors and translators. Click here to read more about the six shortlisted books and the people who created them: https://t.co/VBBrTmfNIH #shortlist pic.twitter.com/tPTRVy62Jy

— The Booker Prizes (@TheBookerPrizes) April 7, 2022

This year's judging panel is made up of literary translator Wynee, author and academic Merve Emre, writer and lawyer Petina Gappah, writer, comedian, and TV presenter Viv Groskop, and translator and author Jeremy Tiang. Over 135 books, a record submission number, were considered by the judges. The Print quoted them as saying, "As a jury we have had the pleasure of reading many extraordinary books, and choosing a shortlist from among them has been difficult and sometimes heart-breaking." They added, "These six titles from six languages explore the borders and boundaries of human experience, whether haunting and surreal, poignant and tender, or exuberant and capricious."
All images: Courtesy @andsoiread/Instagram