Unarguably the country's most fun music festival, Magnetic Fields is back. In its seventh year now, the festival is held every year in December in Alsisar Mahal, the 17th century palace in Shekhawati, Rajasthan. While the line-up is yet to be announced, the sale of tickets for Magnetic Fields 2019 is already open and selling out fast.
Along with great music acts with a focus on artists from India, Magnetic Fields is known for its tents pitched on desert sand, that aims to meld an experience of Rajasthan with a hipster vibe. Over the course of three days, revelers also get a glimpse into the vibrant local culture, interspersed with parties, food and drinks, treasure hunts, and kite flying. Last year saw performances by Daphni, Shanti Celeste, Lifafa, Pangaea, and Carista, and we can't wait for this year's line-up to be as eclectic and 'forward thinking' as the organisers call it. The festival has gained popularity with each passing year for becoming a hub of the creative community, and remains one of the country's best boutique fests. You can also find the scion of royal family of the town, Abhimanyu Alsisar, dancing at one of the secret parties at the palace. Along with the music, expect engaging visuals, lots of fashion moments, food markets, several dedicated bars, handcrafted games, and possible bumping into long-forgotten acquaintances. Other than festival passes that do not include accommodation, the options for pitching your own tent, classic tents, and Bedouin tents are available. These are for single, two-, three-, four-, or six-person sharing basis, with a choice of separate compartments within tents if needed. The prices range from Rs 13,000 to Rs 89,900.
One can fly to Delhi or Jaipur and then drive to Alsisar, an otherwise 4-5 hour drive from both cities. Book your tickets here.
Featured image by Grey Half Way Blog
Jump To / Table of Contents
1 /1
Magnetic Fields Festival 2019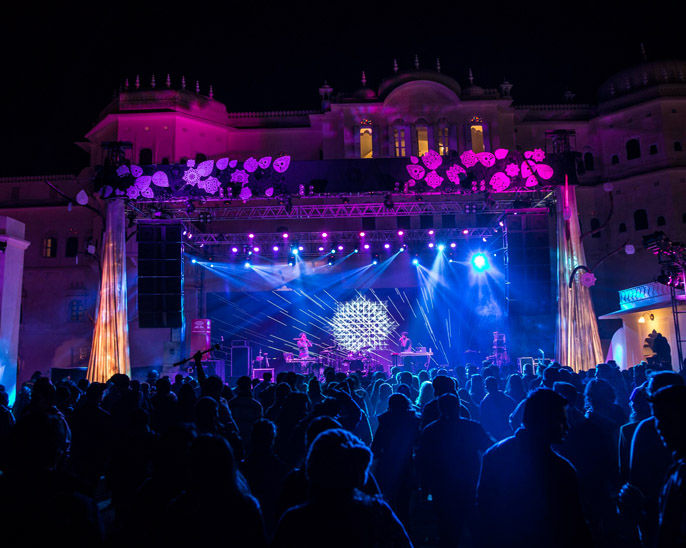 India's premier boutique music festival.
Address
Alsisar Mahal, Alsisar, Rajasthan
Start Date
December 13, 2019
End Date
December 15, 2019
Price
Rs 13,000 to Rs 89,900