From quirky fashion bloggers to activists with conviction and mental health specialists, these Indian LGBTQIA++ Insta-handles are definitely worth following.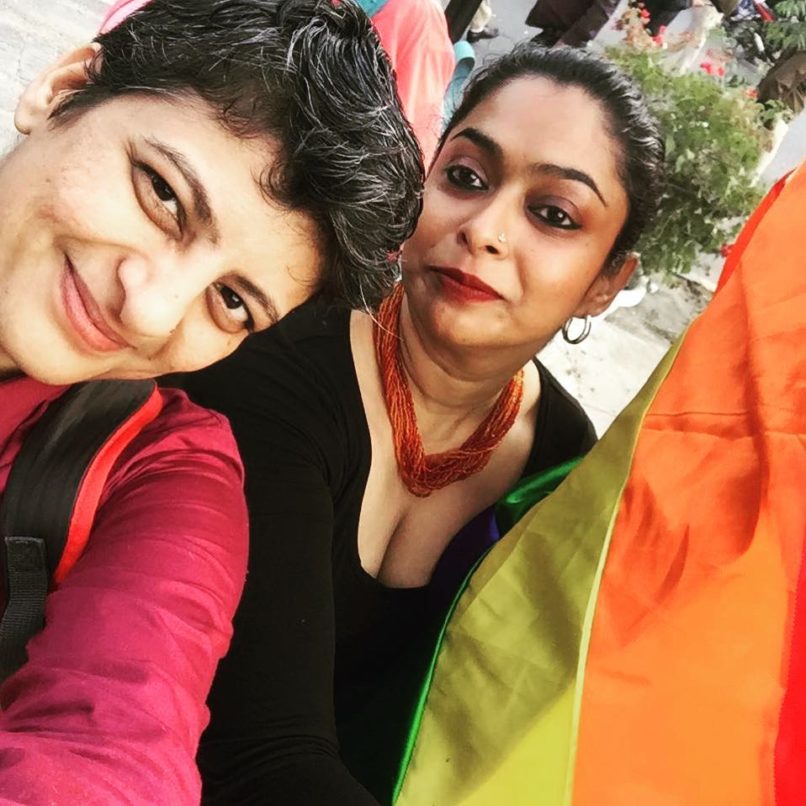 This 40-year-old describes herself as "an old-fashioned dyke in love with a gorgeous femme, Pooja". Through her Instagram page, Chakravarty generates a representation of queer love. Her bio reads 'queer is my normal', and by this, she means that she is tired of the mental health system labelling her sexuality as abnormal.
She uses Instagram to promote her activism and her queer affirmative counselling practice #QACP. When she found herself being part of a system that has historically pathologised the LGBTQIA++ community, her activism took the shape of teaching queer affirmative counselling. She is today a psychotherapist by vocation and chief advisor at Mariwala Health Initiative @mariwalahealth.
Gummaraju is a final year medical student, blogger, artist, and vocal trans rights supporter. A trans woman herself, she is one of the first Indian trans people to have documented her entire socio-medico-legal transition online. She illustrates, writes, vlogs, and speaks about the myriad hues of 'transness' — from the enormous complexities of surviving medical school as a trans person to the politics of dating, sex, sexuality, and love.
She best describes herself as an artist, flaunting the nonchalant drape of a cotton saree and her hardcore surgical scrubs with equal aplomb. She aspires to function out of an operating room someday, doing what once liberated her from two decades of pain — gender-affirming surgery.
A Mumbai-based film editor as well as a lifestyle and fashion YouTuber, Yaduvanshi says that "nothing changes the perception towards the LGBTQIA+ community than people realising we are ordinary and normal as everyone else." And this is exactly the voice of his Instagram handle, on which he showcases his love for Bollywood, home decor, food, shopping, and travel.
He is proud of being part of the community, and flaunts kohl-lined eyes and an occasional eyeshadow; not one to shy away from crop tops, and you will also see him as the cisgender boy next door. Through his Insta-page and YouTube channel, he is normalising the rules for men and women, one post at a time. 
This Bangalore-based performer has two Instagram accounts — @the_lady_bai and @sid_magnanae, which he describes as his 'alter ego' and 'boy side' respectively. Both these accounts are absolutely delightful to follow and reflect Kodlekere's vivacious personality, infused with his half Marathi identity. Both Lady Bai and Sid's Instagram accounts are examples of intelligently curated, strongly worded, out and proud content, seen through stylish outfits, hilarious snippets, a fun bunch of friends, and lots of energy. The narrative of this content is positively liberating and sets an example for breaking gender stereotypes.
Divgikar's Instagram account is goals — the former Mr Gay India wows the digital world with his diverse content. He describes himself as India's mainstream drag icon and has also been featured in the Forbes 30 Under 30 for 2020.
Besides his strong activism and speaking up for all the right causes, what draws the most engagement on his page is his impressive vocal range, where he flawlessly belts out covers in English and Hindi. His delightfully named drag queen avatar, Rani KoHENur, is a popular figure and is constantly pushing out the message to avoid gender stereotyping and to rally for a more egalitarian and inclusive society.
One of India's popular lifestyle bloggers, Sandhoo's account is where he dishes out information on men's fashion, grooming, infused with his quirky, personal style. Here he also often talks about gay issues in India — case in point, his recent campaign 'Over the Rainbow', which encouraged people to be more sensitive in terms of the words they use to describe gay people. Other pressing issues and topics include inclusiveness and coming out stories that are effortlessly integrated into his edgy fashion and lifestyle content.
Mr Gay India, 2019, this motivational speaker and activist has a vibrant Insta-feed, where he addresses issues like insensitivity towards disabled members of society, HIV awareness, and support for the transgender community. Suresh also describes himself as a workplace advocate, upholding the ideals of inclusivity and diversity in Indian workplaces, as well as sensitisation campaigns. His feed is a beautifully curated mix of fitness, lifestyle, motivational content as well as right messaging through advocacy and activism.
Head to Nagi's Insta-page if you're in the mood for some style and couple goals. Possibly one of the quirkiest out-and-proud Insta handles out there, this magazine journalist/stylist is now a creative consultant, fashion designer, art director, and photographer. Not only does Nagi showcase his artistic worldview through his gird — his daily outfit inspiration is definitely worth a mention –  but also his love story with long-time partner Arif. Interestingly enough, the couple launched a coffee-table book dedicated to Sridevi, called 'With Love To Sridevi'.
This transgender model from Nepal is currently one of the most successful models in India. The first transgender model to be present in mainstream Indian fashion, Lama has often used her success story to further the cause of inclusivity in an industry that is now moving towards breaking gender stereotypes.
Born in Nepal, Anjali could not relate to her birth gender and hence began to identify herself as female, from the age of 18. After years of struggle, she finally got a break in the Indian fashion industry. Today, not only does Lama feature in the ramp shows of India's most high-profile designers, but her story has received worldwide recognition. Through her digital platform, she regularly tells her story, speaks of her struggles, showcases her impressive body of fashion-forward work and, of course, champions the cause of the trans community in India, pushing for mainstream integration.
All images: Courtesy Instagram handles of respective people