In an attempt to find his most authentic self, Dutch-British artistic photographer Jimmy Nelson helped us bond with our ancestral needs via powerful and preternatural portraits of people representing various indigenous communities from around the world. We spoke with Nelson about his photographic procedure, personal learnings, and more in a candid interview.
One scroll down his Instagram account, which has over 200 thousand followers, and you see Jimmy Nelson's vision emerging out of nowhere like water through a culvert. Culturally, aesthetically, geologically, ecologically, architecturally. From the Zapotecs of Mexico to the Nenets of Russia to the Tsaatan of Mongolia, his life's work is a cultural cargo of cerebral and visceral stories from the deep ends of the world where humanity stands raw and unfiltered. He has published three books — Before They Pass Away, Homage to Humanity, and The Last Sentinels  — photographing over 65 indigenous cultures worldwide. 
Currently living in Amsterdam, Nelson, 53, grew up travelling across Africa, Asia and South America, courtesy of his geologist father. He spent ten years at an English Catholic Boarding school that also shaped his formative years, after which he left for Tibet at the age of 17. During his stay in Tibet, he moulded his passion for photography, especially using analogue cameras. 
Nelson's story as an artist and a person is interconnected, which is what makes his work so personal and challenging. Here, we talk to him about his inspirations and aspirations. 
What inspired you to become a professional artist? 
Big question! I don't see this as a profession; it's an unending journey. Through this, I understand myself better and the kind of legacy I can leave behind. I grew up travelling in a rich environment that was free and trusting. Then I was sent to an English Catholic boarding school. There was a lot of damage caused there, let's say, child abuse. I disconnected from my body and my spirit and spent my adult life trying to reconnect it.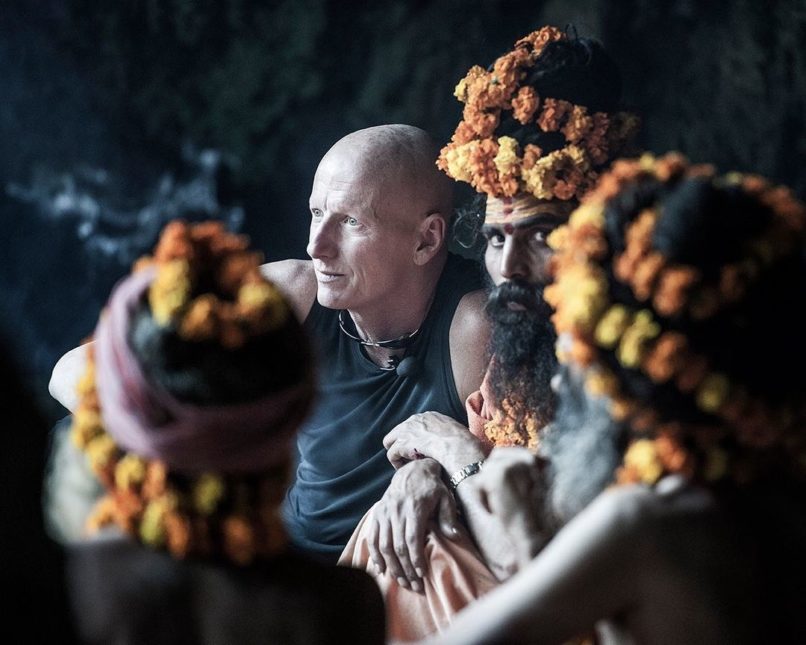 When I was 16, I was not in a good place. One day my hair fell out in one night. [He suffered from Alopecia totalis.] I looked in the mirror and said, "I don't like what I see". And the ugliness I felt on the inside came on the outside. So, I thought I have to solve this. When I was 17, I ran away to Tibet for three years. Why Tibet? TinTin was my analogue avatar when I was a child, and he went to Tibet where children had no hair. I thought this might be the best place for me to go where people will not judge me. During that time, I only took pictures of people who were kind to me. And that's how it began. The camera became a medium to reconnect. I used the camera to project the most dignified light on people in the hope that one day it would reflect back. 
Weirdly, what I've been doing all my life is trying to come out of a lockdown. It's become a way to reconnect with dignity and respect, and it's an organic process. I use the camera obsessively and will be doing this till I become a grain of sand on the beach. I'm not a journalist, an anthropologist or an ethnologist; I'm an artist. I romanticise the things I see. I'm running away from the darkness of my past into the light of my future. 
I read that it took you weeks-months to gain the trust of certain communities. Tell us about your process behind the lens. 
It happened organically. Cue to my childhood when everything is taken away from you, including self-respect, and self-worth, you become comfortable in being a nobody. I don't need a title or a status. And this helped me invert the power structure with these people. Anybody from the developed world can intimidate these people, so you must strip those layers of your character. Show them who you are; it's not an overnight process, but you grow into it. 
Did you go through a lot of trials and errors before realising your niche?
I'm still going through these. The beauty of life is the more mistakes you make, the more scars you get. And these scars become a uniform that you wear proudly. They remind you of why and how you have learnt something. You go fast while concentrating on keeping everything aligned. I like the thrill, the rollercoaster rides, and the fact every day could be different. 
How did you break the cultural and linguistic barriers? 
By going deep into your emotions! Let me give you an example. A year or two ago, I was asked by 2,000 children in America why I use analogue cameras? Is it because I don't understand digital technology? 
It's not about a camera; it's about a feeling. They didn't understand. So I asked, "what emotion do they want to feel?" One boy raised his hand and said, "there's a girl I want to kiss." I gave them two scenarios. One, tomorrow, you can go and kiss anybody from a crowd of 3,000 people. Two, maybe if you're lucky, for half a second, on the last day after two months, you get to kiss the girl you want. All the kid chose option one, but I insisted on two. 
If you put these analogies in the digital aspect of things. Option one is endless photography with your camera. However, I'm not interested in the picture or the result. I'm interested in the journey. The more complicated I make it technologically, the bigger and older the camera, the more tapes I have to open emotionally. If the process is easy, it won't bring out real emotions. 
What makes a good picture? 
Does it matter? I don't think I ever make the picture I'm looking to make. But I'm getting closer to the feeling of making it. Cut affirmation and make the picture for yourself. Be your ultimate critic. Hopefully, I have transcended this, and I'm beginning to become my own critic. There will never be a level of aesthetic alliance that I'm looking for, so it will always be subjective.  
The indigenous communities still live in a world that's capitalist, racist, and classist. What is the most interesting thing you have learnt from them about the "outside world"? 
First of all, what is the outside world? I would argue the majority of these cultures are richer than us. They are truly aligned with the sense of what it is to be a human being. One of the most profound things I realised about the developed world is how disconnected we are from the present. Very few of us are living in the moment. In indigenous cultures, the one thing that resonates the most with me is how present they are. 
What do you like the most about being an artist? What details in your work especially make you proud? 
From an internal feat, I dared to listen to my voice. I began to align my soul with my body after everything I've experienced in my childhood. And from an external perspective, we had an exhibition in November at L'Atelier des Lumières in Paris. For 40 minutes, you could experience a digital journey of my pictures. I stood there with 25,000 people, and no one knew who I was. But there wasn't one person who didn't have tears in their eyes. It was a crowning moment. It made me realise it's not just my journey, but I'd like others to reconnect through this, too.
Your foundation, Jimmy Nelson Foundation, launched an educational program for young kids, Cult-Ed. Tell us all about it. 
Within the Foundation, we want to give back to the indigenous communities and share their knowledge and wisdom with the western world. With Cult-ED, children become acquainted with different ways of living by coming in contact with various cultures. This teaches the children how everything in the world is connected and how we are part of nature. Students will develop themselves into citizens of the world who look beyond national borders or intercultural differences. In this way, we contribute to a diverse and multicultural world where people respect each other. Cult-ED gives an extra dimension to cultural diversity and shows us how we can learn and grow from it.
Unlike usual travel photographers, you plan your trips to destinations and know what you want to shoot. How much role has luck played in your process? 
When it goes wrong is when I get excited. 80 per cent of my journey is organised, and 20 per cent is serendipity. As the years go on, I leave more on serendipity, and it's when serendipity happens that you come across the magic. Traditionally speaking, we like to lock everything down and keep things structured, but the more you do that, the less chance you have of coming across something original. It's less to be seen and more to be felt. 
If you weren't an artistic photographer, what would you be? 
Yesterday we gave free lessons in a school for severely handicapped young adults. I would probably do that. Try and be a teacher to the physically handicapped.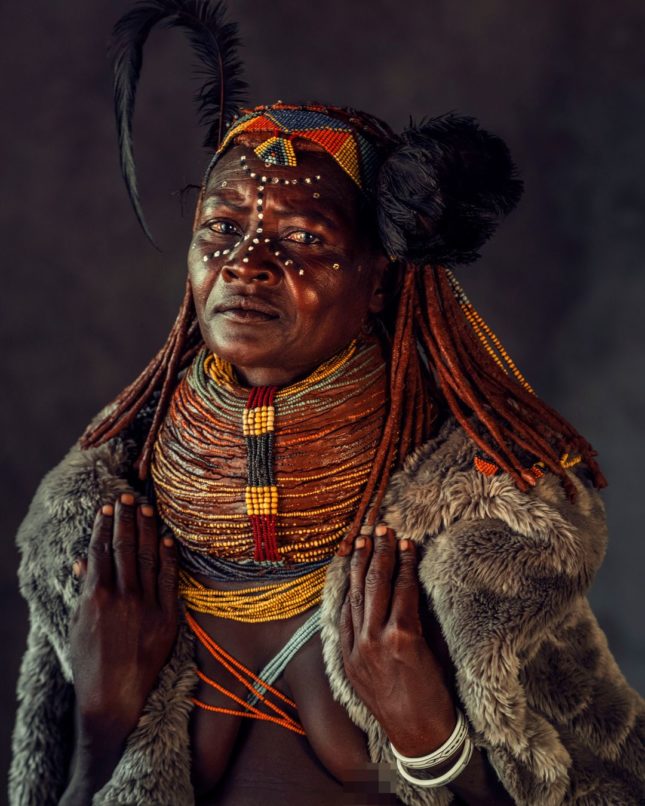 Tell us about your next big project?
I intend to revisit all the communities to give them my book and tell them about my foundation. And due to travel restrictions at the moment, I'm working on traditional Dutch cultures in the Netherlands, along with another big project for the Van Gogh Museum.
All images: Courtesy Jimmy Nelson team