Their avant-garde house is the second most valuable property in the world, they are the proprietors of an IPL cricket team, and have the choicest of wheels parked in their garage – they are the Ambanis – to be specific, it is none other than Mukesh Ambani who wears these feathers in his cap. The Reliance Industries owner is the richest Asian according to the Bloomberg Billionaires Index 2023 and is known to possess some of the most expensive things one could ever imagine. Mukesh Ambani's luxurious properties around the globe are amongst the several insanely opulent things he owns.
The owner of Reliance Industries has an expensive taste without a doubt. From splurging on extravagant villas to having purchased a lavish hotel, the properties owned by Mukesh Ambani are simply jaw-dropping. Here's taking a close look at some of the most luxurious properties owned by Mukesh Ambani.
Luxurious properties owned by Mukesh Ambani
Antilia A star attraction, this 27-storey building which is almost earthquake resistant is home to India's richest billionaire. From having high-speed elevators to a helipad on the top floor, Antilia house is one of the world's most expensive residential spaces. Amongst the many fascinations that Antilia holds, Mukesh Ambani's house also has a snow room that blasts outs snowflakes even if the temperatures are soaring outside. The price of Mukesh Ambani's palatial house is estimated to be around US$ 2 billion.
Palm Jumeirah villa
While Antilia is the most prized possession of Mukesh Ambani, there's another abode of the Reliance Industries owner. Estimated to be bought at US$ 80 million in 2021, this one is a beach-side villa in Dubai that Mukesh Ambani bought for his youngest son, Anant Ambani. In fact, Bloomberg had called it one of the biggest residential deals to be ever made. Spread over two floors, it has a bar, two swimming pools, at least 10 spa facilities, and a personal beach.
Surprisingly, this isn't the only house in Dubai that Mukesh Ambani owns. He had also purchased a US$ 243 million luxurious house in the region.
Stoke Park in the UK If you thought, Mukesh Ambani's properties only included residential spaces, then you would be stunned to know that he is also the owner of a 900-year-old hotel in London. Stoke Park in the UK was bought in 2020 by the Reliance Industries owner. Estimated to be around US$ 79 million, the luxurious hotel has three restaurants, a tennis court, indoor swimming pools, and a golf course as well.
Mandarin Oriental Hotel in New York
Another uber-luxurious property owned by Mukesh Ambani is the Mandarin Oriental Hotel in New York. Located on one of the most upscale streets, Columbus Circle, Mandarin Oriental Hotel consists of nearly 248 rooms. It is also frequented by several Hollywood celebrities. Ambani finalised the deal for US$ 98.15 million last year.
Mukesh Ambani's expansion of properties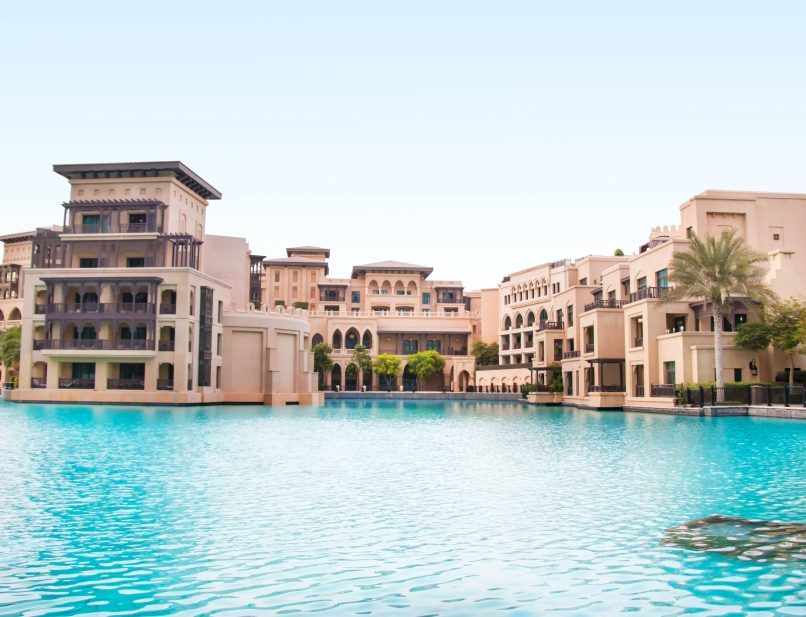 Over the past few years, Mukesh Ambani has diversified his real estate portfolio. From owning lush properties overseas to having purchased a family office in Asia's Garden City, there's no stopping Mukesh Ambani when it comes to owning luxurious properties.
Hero Image: Courtesy Shutterstock; Featured Image: Courtesy Mandarin Oriental New York