In times of crisis, more than ever, we turn to books for solace. Whether it's in search of hope, reassurance, comfort or purely to flee the monotony of another day spent captive between the four walls of our homes, books allow us to travel to another world without leaving the comfort of our couch. Always on the lookout for reading recommendations, we asked five of our favourite authors what they have been reading in these unprecedented times.
Nandana Dev Sen
Nandana Dev Sen is an award-winning actor, writer, and child-rights activist who has authored six children's books that have been translated into 15 languages. In addition to that, she has conducted workshops with over 30,000 young people across the globe and is the Ambassador for Child Protection for Save the Children, India. When she isn't busy authoring popular books she likes to read and we caught up with the titles that have seen her through the year. Here's what she says about them:
"I'm completing the manuscript of Acrobat, the forthcoming collection of my translations of my mother's poetry, to be published in New York by Archipelago Books. So, I've been deeply immersed all year in Ma's stunning poetry, written over 60 years. Not only because of the publisher's deadline, but because her poems make me feel like she is speaking to me still, like she is right next to me. I miss her."
"These vivid short stories are written with great imagination, precision, and often, humour – a sensibility that is wry, even relentless, but never cynical."
"A gorgeous children's book about finding your own voice, to celebrate your unique identity. It's about inclusion, empathy and self-esteem, more critical now than ever in a world increasingly divided by fear. It's a favourite of my daughter Meghla's, and we love to read it together."
"This delightful novel, full of warmth, wit and wisdom, is written with the kind of beauty that revels in its simplicity. It's about a writer trying to complete her book while coming to terms with her mother's death — not entirely surprising that it resonates with me now, is it? (with a smile). At the same time, it's a deliciously uplifting read. The ease of its language never dilutes the complexity of its emotion."
"This brilliant anthology of thematically organized poetry is a worthy follow-up to Staying Alive. Both are such breath-taking collections of poetry from across the world."
Karuna Ezara Parikh
Karuna Ezara Parikh, poet, writer, former television anchor and model, is someone who fiercely champions the causes that are close to her heart. She is widely known for her activism. Her first novel The Heart Seeks Pleasure First just debuted in September. Before she was a writer however, she was an avid reader and so we asked her which books have helped her navigate the year.
"This is the lockdown read you need. A marvellous, joyous romp through 1940s New York with a bunch of showgirls, a seamstress, and one fabulous theatre owner. I really love Gilbert's brand of feminism in the book – it is flawed and fun, and a hat tip to a lifetime of learning and relearning independence."
"I thought I had better read it now while stuck at home, because when else will we have the time? Plus, the show is out in India end of October, which I'm quite excited about! I found it particularly soothing to read about a newly independent India in the 1950s. Oddly this nostalgia gave me hope for the future of this country. "
"What the title says. Oh, and why it's caused a pandemic. I turned vegetarian last year and read this book soon after. I was alarmed at the time to read Foer speak of the possibility of a global pandemic and how the WHO has consistently warned about it, vis-a-vis our eating habits. Well guess what?"
"The Booker winner is an even more important read against the backdrop of the BLM movement and manages so many distinct and brilliant characters with such ease. It gave me real joy – this is the world at its best."
"A good one to read if you want to know more about Turkish women or Turkey through the female perspective. Especially if you posted during the B&W challenge."
Lisa Ray
Lisa Ray has had an acclaimed, expansive, and serendipitous career in the entertainment arts. Spanning multiple countries and genres like film (Oscar-nominated Water,) television (Top Chef Canada,) and modeling (video for Nusrat Fateh Ali Khan's Afreen Afreen) to name just a few. When diagnosed with a rare blood cancer in 2009, she decided to publicly share her experiences in a blog called The Yellow Diaries leading to her first book, her memoir, Close to the Bone, being published to acclaim in May 2019 in India. A lifelong activist, she has become an advocate for Cancer Awareness and Wellness. No stranger to surviving tough times, we asked her what she has been reading during this tough year. Her response:
"The soaring, poetic prose and gripping narrative of a romance between an Indian ballet student and a Pakistani lawyer set in the early 2000s is even more relevant today. This book was transporting, but not in a fantasy sort of way. It brought complex forces and politics to the fore and redeemed every difficulty through the power of language and love. A must read for these times."
"This is one of those novels that grips from the first paragraph. It's Lovely's birthday, she has turned 40 and she has never been allowed outside her house alone before. It's a gripping, tight, macabre narrative and this version translated from the Bengali captures a lot of the nuances from the original prose. I'm making an effort to read more translations from Indian regional languages as I know there's a wealth of writing that I've been missing."
"I had read it a few years ago but with time seemingly taking on a different aspect, I enjoyed immersing myself in the exquisite observations and prose. A classic to be reread again and again."
"Great teachings. I had read it years ago and the current crisis tugged at my Tibetan Buddhist heart. This is a wonderful book to delve into, for practical exercises to make friends with change."
"My friend and my father read and passed it on. I don't normally read this sort of non-fiction but it's an important and illuminating read that places a lot of contemporary events in a new light. If we don't understand our history, we are doomed to repeat its mistakes."
Janice Pariat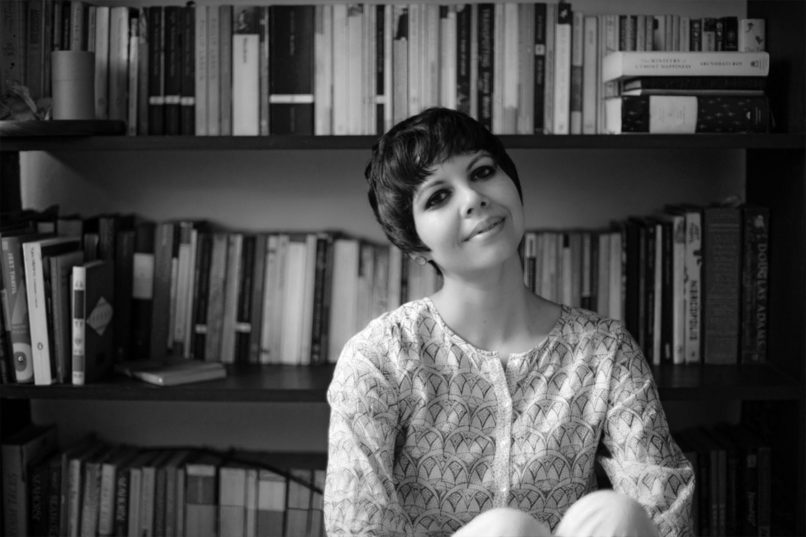 Janice Pariat is an Indian poet and writer. Her debut collection of short stories Boats on Land won the 2013 Sahitya Akademi Young Writer Award for The English Language. She is the first writer from Meghalaya to receive an award from the Sahitya Akademi for a work in English. In addition to being an author she teaches Creative Writing and History of Art at Ashoka University. Though she has been busy working on her upcoming book and hasn't been reading as much as usual she had a few recommendations for us:
This colourful novel about loss and the quest for oblivion follows its newly widowed protagonist through the dubious underbelly of Mumbai in search of a dangerous new drug called meow meow.
Set in an unnamed somnolent small town in the south and teeming with vibrant characters the book explores how a seemingly peaceful place can lose the delicate balance of harmony that's existed for hundreds of years only to be plunged into hate and intolerance.
This collection of short stories translated from Hindi by Arvind Krishna Malhotra and Sara Rai deals with the lives of "smaller-than-life" people whose uncertain existences are plagued with money insecurity and just getting by day to day while finding joy in the mundane.
This spare book of poetry by Sharmishta Mohanty is as earthy and rooted as it is riveting.
A personal and reflective portrait of Kabul formed on long visits over a span of eight years by the Indian journalist Taran Khan who, despite being advised against it, walks around and observes the minutiae of life in the city.
Aanchal Malhotra
Aanchal Malhotra is an artist, author and oral historian widely known for her work on the oral history and material culture of the partition of India in 1947. She is the co-founder of The Museum of Material Memory, a digital archive of material culture of the Indian Subcontinent traced through family heirlooms. Her debut book Remnants of a Separation: A History of the Partition through Material Memory received critical acclaim and was shortlisted for several national and international awards. Here is her take on what she has been reading this year.
"This is a book I have already read twice and I started reading it again during the lockdown. It's a commitment because it's a massive three books in one but what brings me back to it time and time again is the fact that it is so immersive and disconnected from the reality that I live in. The fact that it is fantastical feels a little bit like an escape from my world and I love that Murakami is able to do that.
"This is a very heavy and intense book but it's kind of a bible for oral historians in the way that she presents her research and the depth of emotions that she expresses. The respect she gives each interviewee and the objectivity of her writing show you how oral history is so essential to historiography."
"This is the journal of Fikr Taunsvi, noted Urdu columnist, a Hindu who chose to remain in Lahore after Partition. It's an important book because it is neither history being written many years after Partition, nor history being turned into fiction, it's history as it is happening. So, it's a strange sensation of being suspended in history and a really important document of a specific moment in time that many people remember in retrospect."
"This book may not seem like it's a book on Partition but in fact it carries so much of the burden of that event within common people. It looks at how memory is shaped by an event in history and how such events can shape a youngster's perception of the other even if it occurred a long time ago. Through this book she tries to sew the subcontinent back together and it's a testament to a possible world."
"I read this book a long time ago and reread it again in the beginning of lockdown. What I loved so much about it is that Raza Rumi is from Lahore and he found that he has a great affinity for the city of Delhi. On several trips to Delhi he feels a sense of natural belonging. He goes into the history, into the Sufi culture, into the lanes, into people's homes and kitchens to understand the relationship between young Indians and Pakistanis and their conglomeration of history. In that sense it attempts to be a very secular book."