Aries (March 21 – April 19)
You have a continuing theme of needing to start /continue your inward journey. This week Aries, don't allow yourself to get lured into yet another situation or argument you know to avoid. For that matter, watch out for any self destructive habits/conditioning or attitudes/ideologies, that you use to fall back on. There could be conflict in the air, mercury has gone retrograde after all and you are being asked to keep your awareness. When mercury does it's dance, be sure to experience some communication errors or plans being derailed. Basically it's a good time to pull the breaks on our outward life and move inside. It is a great energy to curb your desires for power and focus on balance through meditation, solitude, and stillness. If you have been too excessive in one aspect of your life, practice self restraint and moderation to bring yourself back into harmony. In order for it to shine for all to see, you must take time out for the process. While in meditation, focus on your third eye chakra, that is the doorway to a deeper dimension. The ancients believed it to be responsible for our intuition, clear thinking and deeper understanding.
Love and relationships:
Past issues belong in the past. When the past revisits it's time to release. Find wisdom and strength inside yourself.
Work and finance:
Not the best time to make deals or sign contracts. When stuck follow your intuition.
Taurus (April 20 – May 20)
You've got the 10 of wands this week, when this card appears it means that you have been carrying certain burdens for too long now and it's time to let go. Your soul has been weighed down and you may feel trapped, caught up in the same cycles and even depressed. If this is you, then it's time to start a journey of awareness inwards. If you've already been on this journey for a while, locate a therapist or a facilitator with whom you connect and get a session. Talk therapy, movement therapy, tarot readings, journaling, any therapeutic space where you can speak freely and clear your mind. Mercury is retrograde this week and even for those of you who are not feeling the weight of the world, stay mindful. Because when this happens, usually something emerges i.e. something unresolved. Old patterns, people, situations may emerge. When faced with unresolved situations, remember these emerge for you to deal with and put them to rest. If you are resonating with this reading then, you're already feeling restless. If you find yourself in a situation this week, know the best way out is through. You've got this Taurus! Draw your boundaries.
Now let go.
Love and relationships:
This week revisit your connection to the ones you love. Clear the air if required or make healthy changes.
Work and finance:
Focus on problem solving, not the problem. Draw your boundaries, conserve your energy.
Gemini (May 21 – June 20)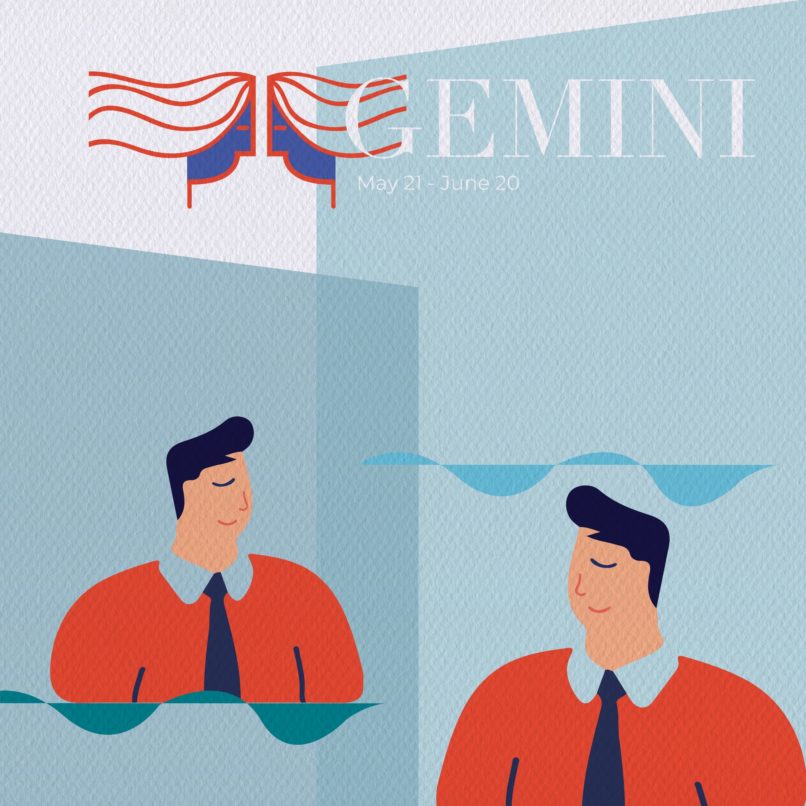 You have the energy of the sun, dear Gemini. It is not so much shining on you, as it is radiating out from within you. You stand tall, ablaze with the light of your inner strength. This is in all aspects of your life. However, this week you may not be as eager to take action. Feeling blocked by fear, you may feel impatient and competitive. Frustrated that you have to go through it/do it all alone, without any help. If your insecurities are getting the better of you, it's time to re-plan. With mercury in retrograde this week, it's a perfect opportunity to pause from all that forward momentum and move into hermit mode (in the tarot, the hermit is a card of looking for answers inside yourself and once you gain the wisdom, it's about shining the light outside). Solo time, reflection, visualisation, and meditation will help with the inward process. Practice energy-balancing, speak to someone or get a session, this will help separate your mind from your emotions allowing you to see clearly. Ask the right questions and reconnect to the why. You have until mercury goes direct, it's plenty of time to figure out the why, before you take off again.
Love and relationships:
Time to let go of people/relationships that are not on equal terms. Reconnect to the ones you love.
Work and finance:
You have the strength and energy to make things happen. Rely on your own inner wisdom. Revisit a plan.
Cancer (June 21-July 22)
With the full moon passing and mercury going retrograde, you have quite the week. Last week's full moon had your intuition awake and antennae out, giving you a deeper understanding of the transformation at play. If you have been taking out time for yourself, listening to and trusting your own guidance, then you have a hawk's eye view of the situation and know exactly what to do. If not then, this week you could feel pressured and overwhelmed, which could make you aggressive, defensive and suspicious. Transformation is well underway. Put your fears aside. For that, you must know what are your fears. For that, you must go inwards. The process of transformation and mercury retrograde is giving you another chance to redesign and rebuild.
Outdated, uninspired and even painful patterns are surfacing, let them go to make some space. Use your intuition and creativity, create time and space for yourself, to help you find balance and clarity.
Love and relationships:
Spend time with family and friends, sharing love and making fun memories. This will up your vibration. Potential second chances.
Work and finance:
You have new opportunities. Try a change of perspective this week. Stay calm in order to move forward.
Leo (July 23 – August 22)
You have the high priestess card and the dice show 9. The number 9 is suggesting you are almost where you want to be, don't give up before the climax. Do not underestimate yourself, you have untapped potential. In order to harness this potential and your expanded vision, you must go beyond the mask. What is the mask ? You ask, and how do I go beyond it? The high priestess sits in stillness from where she has access to the realms of dreams, intuition and other mysteries, that most others pass by without noticing. This is a reminder to listen more closely to your inner wisdom. Through silence and stillness you can look past the obvious, to find secrets or what's hidden in a situation. Acknowledge your shadows, patience, and stability. Practice chakra balancing, candle gazing, visualisation in meditation. Affirm out loud that you are not afraid to see the truth. Lightning will strike, there will be clarity of vision. Now with a clear mind and precise thoughts, you can make decisions you've been putting off.
Love and relationships:
There is a focus on parents and children, be patient with those you love. Practice forgiveness.
Work and finance:
Keep an eye on the details, revisit, replan. Mercury is retrograde so have patience.
Virgo (August 23 – September 22)
This week the spot light is on freedom. Mercury goes retrograde giving you an opportunity to work through your shadow self, throw in the still pulsating after-effects of the full moon and you may find yourself feeling trapped and powerless, unable to make choices. Possibly even scattered and distracted, dealing with everything but getting nothing done. It is important to be honest when trying to understand what keeps you suspended here. There is an indication in your reading to addictions, dependency, negativity, and materialism (all aspects of the shadow self). Do you use humour or sarcasm to cover up rather than deal with the issue. Virgo, you are not a victim of circumstance and the creator of your destiny. If all your energy is flowing outward then the inside suffers. Time to focus and bring the balance of energy back inside to feed your soul. Awaken the innate intelligence and knowing you possess. Your natural healing abilities are blossoming. You hunger for something new, to learn something practical or spiritual. Don't hesitate to take a class or go for a workshop. This week you have a chance to find freedom in perception, explore the possibilities. Get a session.
Love and relationships:
Make an honest assessment of your relationships to identify dependency and how it's holding you back.
Work and finance:
Don't let your fears get the better of you. Its time to deal with stuff to make space for new opportunities.
Libra (September 23 – October 22)
This week you have lots of wand cards in your reading. Wands deal with your dreams and goals. Your inspiration and power. It is a high powered week with new growth, expanding outlooks, and endless creativity. This is also a fertile time for those who are looking to have babies and also for those who are starting projects. Keep in mind mercury is retrograde so go over all details again and have patience. Plans might change without notice so be flexible. This is great practice for your life even out of the retrograde cycle. You have already emerged a butterfly and the change is happening as you read this. You have risen above obstacles, now you must decide what you want to create with this new inspiration. The only conflict you are facing now is internal. If you are feeling scattered, distracted, lost or confused then you must practice grounding. This will allow you to manifest all that creative energy. You are talented and creative, don't let your shyness stop you from sharing your beauty with the world. Create a bridge between your heart and throat. Speak your mind with love and confidence, but most of all with love.
Love and relationships:
Communication is not smooth this week but if you have something to say, find a kind way to say it and the message shall be received.
Work and finance:
You are talented and amazing, so don't second guess yourself.
Scorpio (October 23 – November 21)
This week you have the number 10 and the sun card. The number 10 indicates coming full circle. Closing old chapters and opening new ones. The moon cleared away whatever you were willing to let go of. There is more but that's the theme of the next cycle. For now, you must absorb the energy of the sun both physically (if possible) and energetically. Feel the nourishing and healing rays of the sun, taking away pain and confusion from your body and your emotions, bringing you back to health and vitality. Be in gratitude for all the sun has to offer. This week you will have clarity. It's a great week to make decisions you've been putting off. You may also have a seekers soul and hunger for knowledge. Don't hesitate to try something new, take a class, go to a workshop. Start a practice or even deepen your existing practice. In order to allow the full potential of the new, you must watch your fear. Fear resides in ego, a great defence mechanism tool, but it needs to be balanced or you become overwhelmed and stuck. You have the energy of the sun and an opportunity brought by this mercury retrograde to revisit and replan. Be patient and go over everything again before setting off with more clarity and extra zing. Remember you have nothing to fear except fear itself.
Love and relationships:
Balance your personal power(ego) to bring love and healing to yourself and those you love.
Work and finance:
Try something new or learn a new way of doing things. Enjoy enhanced clarity.
Sagittarius (November 22 – December 21)
Abundance and victory is foreseen this week, but be warned Sagittarius, you must first journey through conflict. Moving from conflict into balance and victory, is a pretty good deal for the mercury retrograde season. You are being offered a gift of transformation and expansion. When mercury changes direction and slows down we experience a pull back of sorts (energetically speaking), especially in the communication department. Travel plans, documents, emails , texts, social media, and conversations all go a bit off, so stay alert and double check everything. It's important to step out of your comfort zone with the gift of expansion. Try a new experience, try doing things in a different way. You enjoy organising but if you are not careful you may go too far, and develop a limited, fearful, controlling outlook to life. Move beyond what you consider dharma to be, the concept of dharma is much larger and way more expansive than your associations to the word. If you are experiencing bouts of depression, insomnia or overthinking, it will help to talk to a professional or get a session with a therapeutic practitioner. If not then, trust that the wellspring of treasure is infinite and step into the unknown.
Love and relationships:
Consciously working through the old patterns of betrayal, heartbreak, and turmoil (that mercury retro might bring up from the past) will bring fresh energy into your current relationships.
Work and finance:
Don't get caught up in ideas of right and wrong, instead focus on raising your vibration.
Capricorn (December 22 – January 19)
You have a recurrent theme of needing to speak your truth freely this week. A reminder that there is beauty inside you that others must see. This week you are asked to bring your focus to your heart center, the Anahata chakra. By bringing our attention to the heart we open a portal to the deep inner wisdom of the soul (the higher self). Once you have this free flow of energy between the heart and throat you can speak your mind openly because your words will then be infused with the power of love. Much needed for this week cause mercury is retrograde and communication is challenging. You are creative, your thoughts and actions weave an intricate web of dharma that supports you and those around you. Weave away dear Capricorn, but remember to be process oriented not result oriented. Separate your mind from the creative process, understand that everyone is on there own journey, you do what you need to do, set your intentions and allow for things to unfold naturally. Take a break, flow back into your inner stillness and re-energise, then get back to spinning your magic. The universe is extending its endless love and support to you.
Love and relationships:
Surrounding yourself with people you love will raise your vibration this week. Keep in mind, all beings travel together, but on our own journeys.
Work and finance:
Travel is indicated by the cards, double check your itinerary for a smooth ride. New opportunities are headed your way, pay attention to the details.
Aquarius (January 20 – February 18)
Aquarius, you are known for your frankness and your keen insights and observational skills, when balanced. When out of balance you have a tendency to get burdened by exactly that which you are good at. You can't help but notice things or details that could have been done better, and you can't help saying exactly what's on your mind (this is not always received well). You then feel hurt and misunderstood, retreating into your mind bubble, isolating yourself from the others (usually without any explanation). This week mercury is going retrograde so it's important for you to stay balanced and patient, communication is slow and needs more attention. Try not to get irritated by delays or imperfection, in fact turn your observation to the beauty in chaos. You are a part of this ever changing, ever growing natural system. Transformation is a process and you have a vision of what the future holds for you, your community, and the larger collective. Approach this vision with a sense of curiosity and playfulness, remember being playful doesn't mean you are not seriously involved, it means you are not throttling the vision by trying to control the outcome. When in balance, you know the song of the universe and you can sing along joyfully.
Love and relationships:
Direct your energy into a healthy current and allow balance to flow into your relationships. The universe has your back.
Work and finance:
Stay balanced and playful. Your dreams are coming true and your visions are manifesting.
Pisces (February 19 – March 20)
A week for new cycles and soul connections. As you cross the threshold of transformation, you must make room for the new to flow in and let the old stuff go. Time to master the subtle senses so you can understand the underlying reasons why some things work out and others don't. Don't linger in the past, you have come so far and you have overcome so many obstacles, now you are a different vibration altogether. By reminiscing and lingering in the past you are blocking your own forward momentum. You have emerged a butterfly now focus on what you want to do with your new set of wings. Delve into your spiritual curiosity and set off to explore, when you open your heart the guru appears. Mercury is retrograde so pay attention to details when travelling and communicating. A beautiful time to learn something new or deepen your existing practices. New ceremonies or rituals may prove comforting and rewarding. Work on your personal energy to find clarity and stillness.
Love and relationships:
You may find yourself in the company of a soulmate, someone eccentric but a creative visionary.
Work and finance:
Prosperity and wealth is indicated by the cards. You are sowing new seeds. Be ready to be amazed by the beauty you are creating.
Artwork: Vinisha Mohan