Holi 2021 is here and this year, it's all about social distancing and having fun with your loved ones in your own little circle. The one question perhaps on everyone's mind is: how do I manage to stay safe and play with safe colours? The answer lies in your family circle – if you are staying at home and keeping it close, then celebrating Holi in smaller groups is better. And as far as the colours are concerned, going organic and skin-friendly is the way to be this Holi. Herbal or eco-friendly colours or Gulal are mandatory these days and that means, going for ones that have a natural fragrance and are completely safe for kids and adults alike. Here are the best places to buy organic Gulal or holi colours this festive season.
Holi 2021
Okhai Multi Color-Petalists Eco-friendly Holi Colour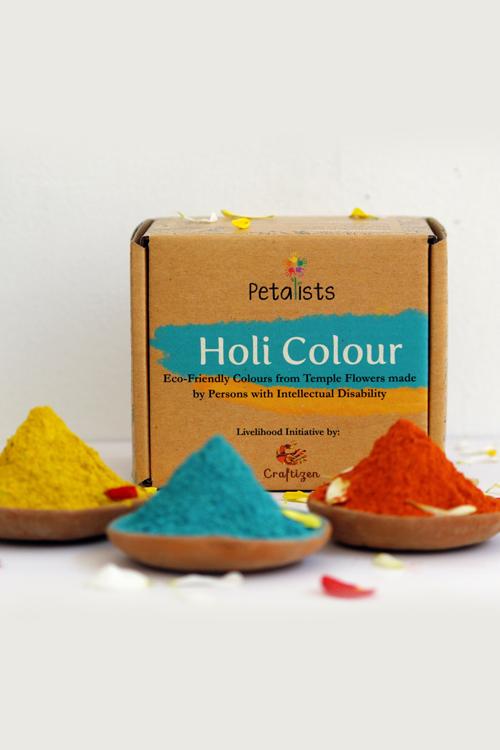 These eco-friendly holi colours come from recycled temple flowers and are soft and smooth to touch and the fragrance comes from the flowers used. Made by an NGO to create livelihoods for the mentally disabled.
Phool Organic Gulaal
The mad colours are made from rich flowers, herbs, rice powder, and wheat powder and are chemical-free too. They are soft and easy to remove as well and contain essential oils to give you that natural soothing fragrance.
iTokri Organic and Herbal Holi Color
Stain-free, safe for the environment and safe on kids and pets, these organic colours by itokri are made with natural flower extracts, are non toxic and safe for all skin types.
My Pooja Box Herbal Gulaal
This luxe box comes with 100% herbal colours for Holi and you can even add in a silver-plated pichkari with a bucket. The herbal gulaal is made using herbs, flowers, edible materials, fruit and vegetable extracts so they're safe, non-toxic and easy to remove.
Green Practices Holi Colours
The organic colors from Green Practices are completely safe and come with a natural fragrance. They are also really soft on the skin and don't need much to wash them off.
Antarkranti's Herbal Gulal
Handmade herbal Holi colour that is safe on skin and eco-friendly, it is made of Edible Grade Maize starch, food colours, flower petals and other edible ingredients. It is made by prisoners and provides livelihood and rehabilitation opportunities to them.
Other places to buy organic Gulal / Holi colours: Organic India; Safe Colour Herbal Gulal Ama Herbal; Serenus Homes Shri Ganesha Amora 100% Herbal Holi Gulal; Crafts Stock Natural Herbal and Organic Holi Powder